Realme 2 Pro screen replacement is available here, and if you are dealing with a broken Realme 2 Pro display, we can help. On this page, we offer a brand new and 100% original screen replacement for Realme 2 Pro, which can be used to replace a broken display or touch screen glass.
Please note that display and touch screen glass both parts are attached together, and we don't suggest replacing them individually. Many people want to replace the only glass of Realme 2 Pro without understanding that glass is combined with the display. Although it is quite possible to replace only the glass yet, it is not recommended for people who don't want to compromise with the display quality. Many people opt for cheap solutions to replace a broken screen and later realize that the quality is nowhere as good as It was before.
How Do We Test Each Realme 2 Pro Display
We know you always worry about receiving a defective display when you purchase it online. This fear is somewhat true because if the seller is not testing the screen before dispatch, It can be really defective. At Touch LCD Baba, testing each screen is a mandatory step before sending it to our clients. We have recorded this video for our clients so that they can see the testing process and how we take care of their products.
How can I replace only the touch screen glass?
We never recommend replacing only the glass, and It is not the recommended way to go. Even service centers and anyone doing quality screen replacement will always suggest replacing the broken display with an original combo. That is because the combo is 100% flawless, offers the same quality, and is very durable. After replacing with an original combo, you will never feel any reduction in the quality. This is because the display comes from the same OEM manufacturer who makes for the company.
These days all mobile phones are made on folder technology, which means display and touch screen glass are combined. Many mechanics, as well as customers, act like highly qualified engineers and do all sorts of experiments with their phones. We don't understand why customers buy a costly phone when they can't afford the repairs.
Mechanics Love Doing Experiments on Your Phone
Mechanics always want to do experiments on customer's phones to enhance their experience as they think that they have got nothing to lose. They try to separate the display and touch screen, and if both parts break during the separation process, there is no responsibility of the mechanic. They will hand over the broken phone to you, and then the combo is the final solution.
Just for the sake of cheap price, few customers can go to any limit which includes giving their phone to people who put cheap quality parts on the phone. Customers are happy that they are getting it for cheap without understanding that when they had to go for cheap options, what was the point of buying a quality phone? The combo you see here is not cheap but it is 100% original guaranteed to provide 100% original display quality and smooth touch screen experience.
Always buy a tested product and save yourself from any kind of hassle that comes from defective products.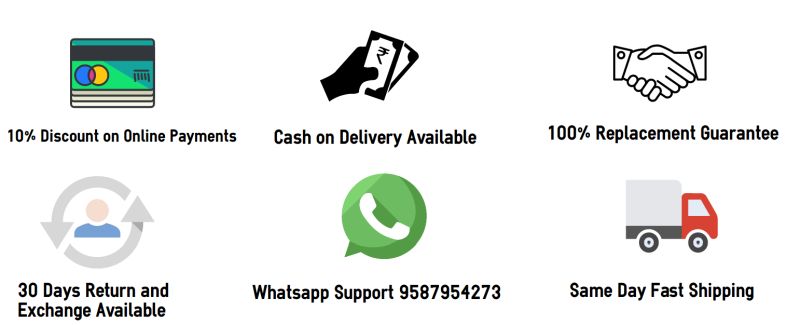 Realme 2 Pro Combo Specifications
| | |
| --- | --- |
| | This is 100% original and brand new combo of Realme 2 Pro suitable for model number RMX1801 / RMX1807. |
| | The Realme 2 Pro display size is 6.3″, display type is IPS LCD and display resolution is 2340 x 1080 at 409 ppi. |
| | Realme 2 Pro combo can be used to replace a scratched glass or display. |
| | It is a complete unit of display and touch screen combined together. |
| | The main touch screen glass is protected by Corning Gorilla Glass 3. |
| | This combo offers 100% same brightness, colors and sharpness as your genuine display |
| | We test each combo on an actual Realme 2 Pro motherboard and then dispatch. |
| | Our products are passed by highly skilled technicians so no chance of receiving defective products. |
| | We offer 30 days hassle-free, returns, refunds and replacements. |
| | Realme 2 Pro folder is readily available in stock and shipping time is very fast. |
| | You can order the product using Cash on Delivery or Online Payment. |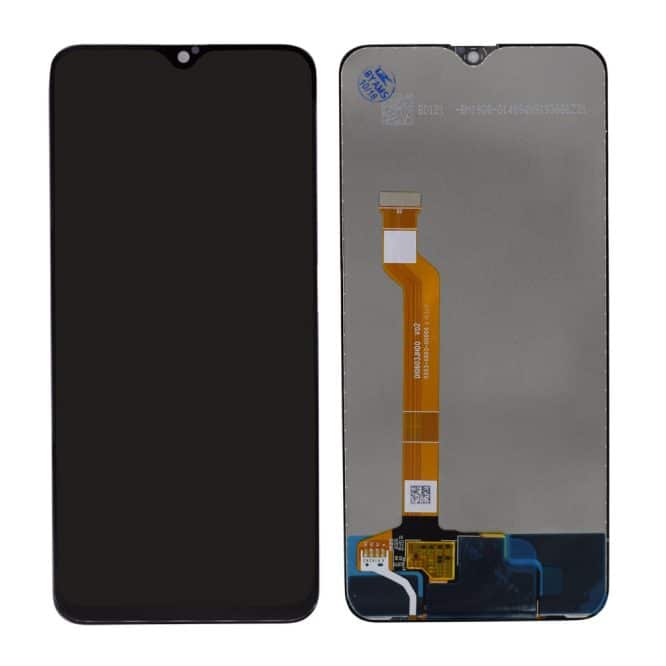 Frequently Asked Questions
Q: How much does it cost to replace a broken Realme 2 Pro display in India?
The price of a 100% original Realme 2 Pro display replacement is around Rs 2800-3000. If you buy a first copy screen replacement, then the combo costs about Rs 1300-1500 in India. Please note low price usually means a first copy duplicate display, so buy wisely.
Q: Do I need to replace the broken Realme 2 Pro display immediately?
You don't need to replace the broken Realme 2 Pro display immediately if everything is still working fine. You might not have enough money to replace the display instantaneously, and there is nothing wrong with using a slightly scratched phone. In case the damage is intensive, and the broken glass is hurting your hands, you should consider replacing the folder immediately.
Q: How can I differentiate between a first copy and an original display?

 
It may not be easy for a layman customer to differentiate between a first copy and an original display. But if you test the duplicate display on the motherboard, you can easily see dull colors, low brightness, and a strange type of feeling when using the display. That is because the first copy display offers a 60% quality of the original one.
On the other hand, the original display comes from the same manufacturer who makes for the company, so there won't be any difference in the overall quality. The color reproduction will be wonderful, and brightness will be the same as before, and touch works will work super smoothly.
Q: Why is the price so high of the original display? 
Mobile phone companies use the best quality material to manufacture the original display. The cost of raw material is high, and genuine components are used to craft the display. That's why the quality of the display is awesome when you buy a new phone.
Now, if your Realme 2 Pro touch screen glass is scratched and you use the same original display, there will be no reduction in the display quality. As the original display is manufactured by the OEM vendor who supplies to the company, the price is always high, but the display quality is so gratifying.
Additionally, the first copy display is produced by third-party manufacturers to reduce the cost, and they use substandard raw material, which results in a very poor quality screen. Such screens are loved by customers just because they are cheap. You can't expect quality from first copy screens.
Q: Can I replace the broken display myself at home?
Realme 2 Pro mobile phone is not very easy to open and repair. So, we don't suggest that you try screen replacement at home. It would be a wise decision if you take the new combo to a technician and have him fix it for you. The technician will charge Rs 200-300 from you, but you will be free from all the troubles.
Q: What can I do if the new display is not compatible with my phone?
We have already sold thousands of Realme 2 Pro screens with a 100% satisfaction rate, and the credit goes to our testing engineers. Still, if you buy a display from us and face any issue, you can easily return the product or get a replacement for no charge. So far, a defective screen has never been a case, but we know customers worry all the time, so we've got you covered.
Q: I'm getting a display for a low price in the local market. Why should I buy online?
The vendors in the local market mostly sell first copy screens, and you won't find originals there. That is because customers are easily attracted to low prices and don't care about the display quality. Mechanics in the local market call such first copy duplicate screens as OG and sell them for low prices. There is a huge quality difference between the first copy and the original. Buy wisely and choose the best product.
Q: I bought a duplicate display before, but it broke again in a few days why? 
The Gorilla Glass does not protect the first copy display, but it is a plain glass that can't withstand even minor pressure. That's why the first copy display breaks so easily. The same thing stands true if you replace only the glass from the market because that glass is also duplicate and very fragile. That's why subpar solutions never last long, no matter how carefully you use your phone.
Q: Do you accept returns?
We happily accept returns provided you return the product in unused condition. We supply brand new, original, and tested products to you, so in case you have got a problem with your phone, or you want to return the product due to other reasons, you can freely do that but return the merchandise in unused condition.
Shipping, Return and Refund Policy
All the products supplied by us come with 30 days return, refund, and replacement guarantee. To return a product, It should be in the same condition as we sent. You can't use or fix the items If you want to return. For complete details about Shipping and Returns, please click here.