The Realme 6 Pro is a very popular phone offering all the features like a wonderful display, a very sharp camera, and bigger battery life. Everyone knows that mobile phone screens are much prone to damage and It can happen to anyone. The customer feels completely heartbroken when the Realme 6 Pro screen damages, but you can easily replace the broken screen with an identical new screen.
Some customers believe that now It is not possible to restore the phone to its earlier state, and everything has ended. Even more, some friends and colleagues will inform you that It is not possible to find the original Realme 6 Pro display and all that stuff. We suggest that you don't pay attention to rumors as original screens are available in huge quantities.
Try to consider a scenario when a company makes millions of Realme 6 Pro phones and sells them in the market, so obviously, the original screens also take shape in bulk quantities. The OEM manufacturers also keep a large stock of standalone screens so that they can supply them to customers who need a screen replacement. So if you thought that the original Realme 6 Pro display is not available anywhere, you are mistaken.
How is it possible to source an Original Realme 6 Pro Display?
The original screens arrive from a certain manufacturer who crafts these screens for the company. After fulfilling the demand for screens that go into new mobile phones, the OEM manufacturers often make surplus screens which they can sell in the open market to the customers who need an original display replacement.
Now, the main core concept is, If you want a 100% original screen, you must source it from the OEM manufacturer, or you will not get the same quality as before. It is where we specialize, and that's why we can offer an original product to you with so much confidence. We buy our products directly from the OEM manufacturers, and the price is high, but there is no compromise on the quality.
Does everyone source the screens from the OEM Vendors?
All the suppliers who sell Realme 6 Pro screens in the local market never buy from the OEM manufacturers because the price is very high. You might be surprised to know that only 1% of sellers buy screens directly from the OEM because of their passion to source the original screens. All other importers/wholesalers always buy first copy duplicate screens from third-party manufacturers for low prices as they want to make as much money as possible.
There are lots of third-party manufacturers who make low-quality screens purposefully to capture the customers who are looking for cheap solutions, and this is what you get in the local markets. So if you bought screens from the market before, you might have realized the quality issues. So that you know, the main culprit in this business is the customer's natural inclination towards buying cheap Realme 6 Pro screen and hoping for the 100% gratification. If you are buying a display for a low price, don't even expect the same features because quality costs money.
What do customers always get duplicate screens locally?
In the local market, you will find a complete chain selling duplicate first copy products. The wholesaler buys products from the importers who sell first copy duplicate screens. The mechanics buy from a wholesaler who only sells duplicate products. So It is a complete chain where everyone has a counterfeit product, which gets frequently marketed as the original one.
Customers often try to find original screen replacement in such places where no one has them. We proudly source original products directly from the factory, and we know that many customers are unhappy about our high prices. We care for customers who have actually bought from us and now understood the value of an original part. If you can't afford to buy the original screen, there are other sources to buy first copy screen replacements but don't get offended. We buy our stock of Realme 6 Pro screens for rather high prices and simply can't sell them for low prices to make a loss.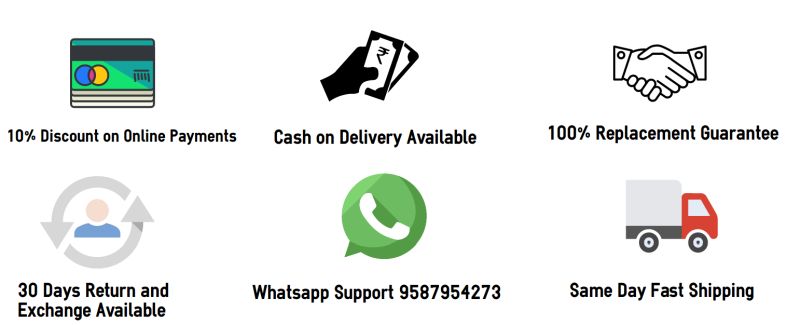 How can you differentiate between the original and first copy display?
We can isolate the original Realme 6 pro screen easily because we have ample knowledge of OEM manufacturers. However, for general customers, It might not be possible to pinpoint an original or duplicate product easily. Mechanics market the products in such a cunning way that you will not be able to understand, but we can tell you some tips and tricks which will certainly help you :
Always ask the mechanic that you want to test the screen before fitting.
The duplicate Realme 6 Pro screen has much lower brightness and dull colors when compared to the original.
If you swipe your fingers over the corners of the main touch screen glass of the duplicate display, It will feel so thin and cheap.
If you compare your broken screen and the local screen from the backside, you'll find huge differences.
The original screen speaks itself, and if you test the screen before fitting, you can notice the anomalies of first copy screens.
The duplicate screen will be laggy as It won't support the 90 Hz refresh rate.
Your phone will often start overheating if you fix a duplicate screen in it.
We test screens daily, and It is straightforward for us to isolate the differences. That's why we request customers to don't invest time and money unnecessarily in the scrutiny of screens. Just buy from a reliable source and stay away from all the headaches. It is not your field, so positively, it makes sense to trust someone who is well versed in this field.
Realme 6 Pro Display Specifications
| | |
| --- | --- |
| | This Combo is 100% Original, brand new, and suitable for Realme 6 Pro, Model Number RMX2061. |
| | The Realme 6 Pro display size is 6.6 inches, and the display type is IPS LCD, and display resolution is Full HD+ 2400 x 1080 Pixels. |
| | The main touch screen glass is protected by damage and scratch-resistant Corning Gorilla Glass 5. |
| | We source the display from OEM (Original Equipment Manufacturer) vendors, and quality is 100% original. |
| | The Realme 6 Pro screen we supply is 100% identical to what comes with a brand new phone. |
| | By convention, we test each screen on the motherboard before sending it to customers. |
| | The Combo is readily available in stock, and shipping time is very fast. |
| | You can order the screen using Cash on Delivery or Online Payments. |
| | We back our products with a solid 30 days money-back guarantee. |
| | The shipping is done via all the major services like Bluedart, Ecom Express, and Delhivery. |
| | We pack your products very carefully in rigid plastic boxes for maximum safety. |

Frequently Asked Questions
Q: How much does it cost to replace a broken Realme 6 Pro display screen in India?
The price of a 100% original Realme 6 Pro display replacement is around Rs 4500-4800. If you buy a first copy screen replacement, then the Combo costs about Rs 1600-1800 in India. You may have to pay additional repairing charges on top of the display's price to a mechanic.
Q: Can I still enjoy the 90 Hz refresh rate after replacing the display?
Yes, as we sell 100% original combo of Realme 6 Pro, you can enjoy all the features of the original display. You won't even realize that you've replaced the display and It is the real beauty of replacing the broken part with an identical one.
Q: What is the meaning of the Realme 6 Pro display Combo?
The simple meaning of a combo is a complete set of display and touch screen glass combined into one unit. This unit is called a Realme 6 Pro combo or folder and can be used to overcome any issues related to the display or touch screen functionality.
Q: How can I be sure that the new display is in working condition?
It is very important to test the display before you fix it permanently. Many customers ask us how they can trust that the display is in working condition. Although we test all the screens when we send shipments from here yet a customer's mind will not accept that. Customers want to assure the working condition themselves, and that is possible only after receiving the product.
For the sake of customer satisfaction, we allow customers to test the screen before they fix it on their phones. It is also a routine process to check the screen, and we allow a 30 days time period to test the screen. If you have received your package just today, you have 30 days time period to test the screen. It means that you've 30 days in your hands to check and verify the display and report any issues. We also call it a 30 days return and replacement period.
To test a new screen, simply connect it to your phone's motherboard and turn on the phone. If the display is in working condition, the phone will start, and you can see everything clearly on display. At this point, you can test the new Realme 6 pro display to your satisfaction and then fix it.
Contrary, if you face any issues while testing the screen, you're protected by our 30 days return and replacement policy. Just make sure that you don't paste the item on your phone or remove its screen guard. It is mandatory to return the item to us in the same condition as you received. You can test the product, but you can't tamper with its seals and protection film.
Q: What If the new display is not working on my phone? 
We rigorously test all the screens and leave no room for any defects. So far, we have never had such a case when the screen supplied by us is not working. It is only possible if you've some sort of fault in your phone's motherboard or some other issues with the phone itself. Even in those conditions, we do accept returns provided you return the item to us in original condition, without tampering.
If your phone is in perfect shape, practically there is no chance that the new Realme 6 Pro display will not work on your device. We also use the same phone as you've to test the screen, and when everything is equal, the screen is bound to work without any issues. If the screen is working on our Realme 6 pro phone, It will work with your device also.
Q: How can I claim a broken display under the official service center warranty? 
The official service center never covers a broken screen under warranty. So if you drop the phone, intentionally or unintentionally, you've to pay full price to replace the display. The service center will replace the display for you, but you've to pay a hefty price.
These days, many people go to a finance facility for buying the phone. Sometimes, phone insurance is a mandatory part of the finance scheme and you've actually paid the insurance premium when you bought the phone. So you might want to confirm if the phone is covered under insurance and then you can claim the screen damage in insurance which will be free of cost to you.
Q: Can I exchange the broken phone and get a new phone? 
Some customers want to exchange their broken phone, pay some additional money, and then get a new phone. To the best of our knowledge, Realme has not launched any such scheme which facilities this type of exchange. You can't exchange a broken phone with Flipkart or any other retail company.
You can sell the broken phone in the local market but you'll get peanuts in return. So the best approach will be repairing the phone and if you don't want the original display, you can find first copy screens and at least repair your phone.
Q: I replaced the display locally but totally dissatisfied. Why? 
Almost all technicians in the local market base their business on first copy duplicate screens and market them as the original. This tendency is ongoing for so many years and now people have started to grasp the actuality of duplicate screens.
If you bought a local display before and its quality didn't please you, It is because It was not designed to please a choosy customer. Contrary, such screens are manufactured to please the masses who need low-quality cheap solutions for their phones.
Q: How can I replace only the touch screen glass and reuse the same display? 
The theory of replacing only the glass is a very thriving one and It is the biggest moneymaker for technicians. They use counterfeit glasses which are worth Rs 60-80 and extort up to Rs 2000 from the customer.
We never advocate only glass replacement as It is more or less buying duplicate parts. You are not buying anything new with your money but you are just paying so much money for a subpar quality glass which will break again in no time. You are free to opt for this solution but we are just not into it.
Shipping, Return and Refund Policy
All the products supplied by us come with 30 days return, refund, and replacement guarantee. To return a product, It should be in the same condition as we sent. You can't use or fix the items If you want to return. For complete details about Shipping and Returns, please click here.