A broken Realme 8 5G display is distressing because you need to invest additional money in replacing the display. Additionally, finding an original less is not an easy task, and that's why it is a double-edged sword. You need to spend money and are unsure about the replacement display's quality. In such situations, Touch LCD Baba comes as a savior because we offer 100% authentic screens that offer the same quality as your factory-fitted display.
Most customers go to the local market to buy a new Realme 8 5G display because they are unaware of all the available options. In local markets, you'll mostly find duplicate screen replacements or products with questionable quality. Many customers who have bought local products face issues repeatedly and can't get the desired display quality. You'll surely not get the original quality with first-copy screen replacements, the only available products in the market. If you need a truly 100% original Realme 8 5G display with an outer frame, please feel free to order from our store.
What is the use of the middle chassis in display replacement?
The middle chassis is the display's base and is used to keep the display firmly in place. Sticking a display combo is impossible if you don't have the middle frame in good condition. Oftentimes when the mobile phone is seriously impacted, the front side frame loses its flat shape and deforms. In such conditions, buying a display combo isn't enough because the front chassis is not in the right shape. To assemble the new display, you also need a display that comes with the frame, and the product available on this page meets that requirement.
The product sold on this page is a 100% original display assembly of Realme 8 5G that comes pre-installed in the outer frame. You effectively get the front half portion of your phone in brand-new condition, and you need to swap the broken display with the new display assembly, and that's all. The display with a frame completely renews your phone, and you'll feel like you've bought a new phone. The frame display always wins over a without-frame display, and customers who don't want to compromise the quality will always buy a with-frame display.
What are the additional benefits of a frame display?
If the outer frame of your Realme 8 5G is not fully damaged and you want to know about some additional benefits of this product, please continue reading. First, you can buy this display even if the old frame is good; many customers do that because they don't want to use the old one. Here are the major benefits of this product :
You don't need glue or double tapes to assemble the display manually.
We supply a factory-installed display completely free from any glue or installation marks.
A factory fitted never bulges out of the frame, while a manually installed display might protrude outwards after some time.
You don't need to heat the old display and use a pry tool to take it out because you don't need the old frame anymore.
It is easy to install a display that comes with a frame because manual pasting isn't necessary.
The durability of a with-frame display is much better than a without-frame display.
A with-frame display feels truly mesmerizing and worth the investment.
The official service centers always use a with-frame display to replace broken screens.
We've outlined the prominent benefits of a frame display. You can buy a without-frame Ralme 8 5G display if that is what you want. We've just outlined the necessary information so customers can easily make informed decisions based on their requirements and facts about our offering. If you purchase original products, you don't have to worry about your phone's durability in the long term.
Realme 8 5G Display With Frame Specifications
| | |
| --- | --- |
| | This combo is 100% original, tested, brand new, and suitable for Realme 8 5G, model number RMX3241. |
| | The screen size is 6.5″, the display type is an IPS LCD, and the resolution is 1080 x 2400 Pixels. |
| | You get a 100% original display unit immaculately pre-fitted in the outer frame. |
| | This display is like buying the front half portion of your phone in brand-new condition. |
| | You don't need to paste the new display manually, as it comes pre-assembled. |
| | You get 100% original colors, quality, and brightness as your factory-fitted display. |
| | You can easily test the display before you install it permanently on your phone. |
| | After replacing the display, you won't face any degradation in the display quality. |
| | We pack the products cautiously in hard plastic boxes with additional protection. |
| | We guarantee 100% the same colors, quality, and brightness as your initial display. |
| | You can order the product using Cash on Delivery or Online Payments (additional 10% discount). |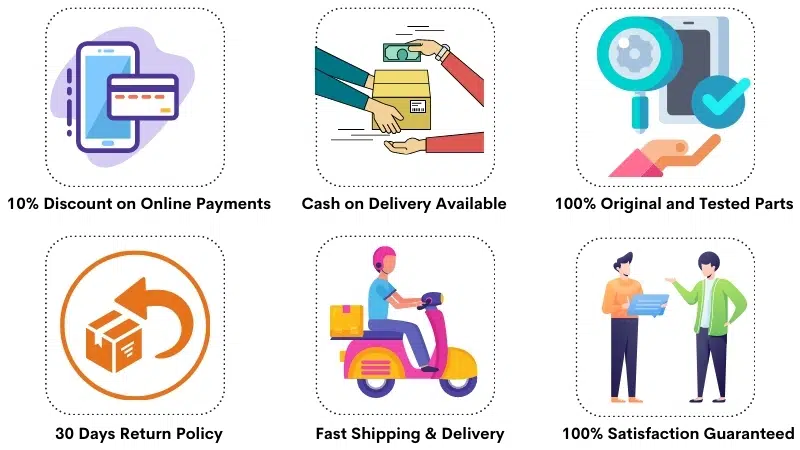 Frequently Asked Questions
Q: How much does it cost to replace a broken Realme 8 5G display in India?
The price of a 100% original Realme 8 5G display replacement with middle chassis (model number RMX3241) is around Rs 3800-4000. If you purchase a duplicate display (first copy/diamond quality ), the combo costs Rs 1500-1700 in India. The quality difference between the original and a first-copy display is massive.
Q: Can I buy the display and frame separately to save costs?
Some customers try to buy the display and frame separately, but that defeats the purpose of buying a frame display. Here is why :
You'll not get an earpiece dust filter when you buy a frame separately.
Pasting the display manually in the frame is not squeaky clean, and you'll see glue all over the frame.
You should forget about perfect fitting if you buy a duplicate display and a duplicate frame.
We don't think it is wise to reinvent the wheel. When you can easily get a factory-assembled display, you should not assemble things manually, as you can damage the display during installation in the frame. We suggest sailing on the safer side and buying a 100% ready-to-use display replacement for your Realme 8 5G phone.
Q: Is it mandatory to buy the new display with a frame?
It is not mandatory to buy a new display with a frame, but that depends on the situation. Buying a display with a frame becomes a compulsion if the existing middle frame is broken, bent, or curved.  If the existing outer frame of your phone is in good shape and you don't want to buy a new frame, that's perfectly fine. You can purchase a without-frame display as per your preference and manually assemble it using glue or double tape. Manual installation is not always bad if done diligently.
Moreover, customers who want the best display replacements for themselves tend to buy better products even if the price is a bit on the higher side. If you save Rs 500 but face a lot of hassle, that's not worth your time, and you shouldn't do that. The official service centers always follow the same terminology to provide customers with a 100% mesmerizing experience.
Q: Is it possible to install a new Realme 8 5G display at home?
Yes. It is possible to install the new display at home, but you should have the basic know-how. You'll need several tools, including the hot air gun, pry tool, screwdriver, etc. You can assemble the display at home without issues if you know how it works. Here is the basic outline of display replacement :
First, you need to remove the back panel to access the motherboard.
Then take off relevant screws from the motherboard and other locations of the phone.
Shift the motherboard, battery, and other components from the old frame into the new frame.
Please note that some components will be stuck on the frame, and you need to shift them gently.
To transfer on off flex, vibrator, and battery, you need special expertise, or you'll damage these parts.
If you're unsure about your expertise, visit a nearby technician and pay Rs 200-250 to install the display on your phone. Mobile phone mechanics do this daily and have skilled hands when replacing displays. The operations that might perplex you are very easy for a technician, and that way of installation is often more beneficial for a layperson.
Q: How do you test the new screens before shipping them?
We've several tools in our arsenal to test and verify the screens. First, we use a Realme 8 5G motherboard to test the display, and one of our team members will thoroughly test the display in real-time like a technician does before installation. We use touchscreen testing apps and other procedures to verify everything is on order.
After that, we verify the product's physical condition, like dents on the frame, scratches on display, and other similar issues. In rare cases, if we find any such flaw in the product, we don't ship such products to end customers. As an end customer, you'll get 100% defect-free, fresh, and shiny products in your hand. If you pay premium dollars for your products, you should surely get what you pay for.
Q: Where do you purchase your products?
We buy our stock from the OEM manufacturers who make and supply original screens to the parent company. These products are costly, hard to source, and not accessible to everyone. In local markets, such products are unavailable because selling them is tough and maintaining their stock requires significant investment.
Only buying the screens is not enough because testing screens requires additional investments like motherboards and tester machines. Our primary goal is to provide 100% original screens to our customers so that they know that original products are easily available. If you don't want original products, we don't have a solution for you, but you can easily fulfill your needs in the local market.
Q: What If I receive a damaged display or it doesn't work?
We protect you with a 30 days return, refund, and replacement policy. If you receive a product that doesn't work upon testing, you can easily contact us and opt for a return, refund, or replacement. Please note that only unused products are eligible for this policy, and it is not feasible to return a product after removing its protective films and warranty stickers. If you've any specific questions about this policy, please get in touch with us at 9587954273, and we'll be happy to assist you further.
Realme 8 5G Display With Frame Photos
These images represent the Realme 8G 5G with frame display combo you'll get after your order. It is a pre-assembled display unit, and you will surely love the quality we offer. If you've any questions about the product, please get in touch with us at 9587954273.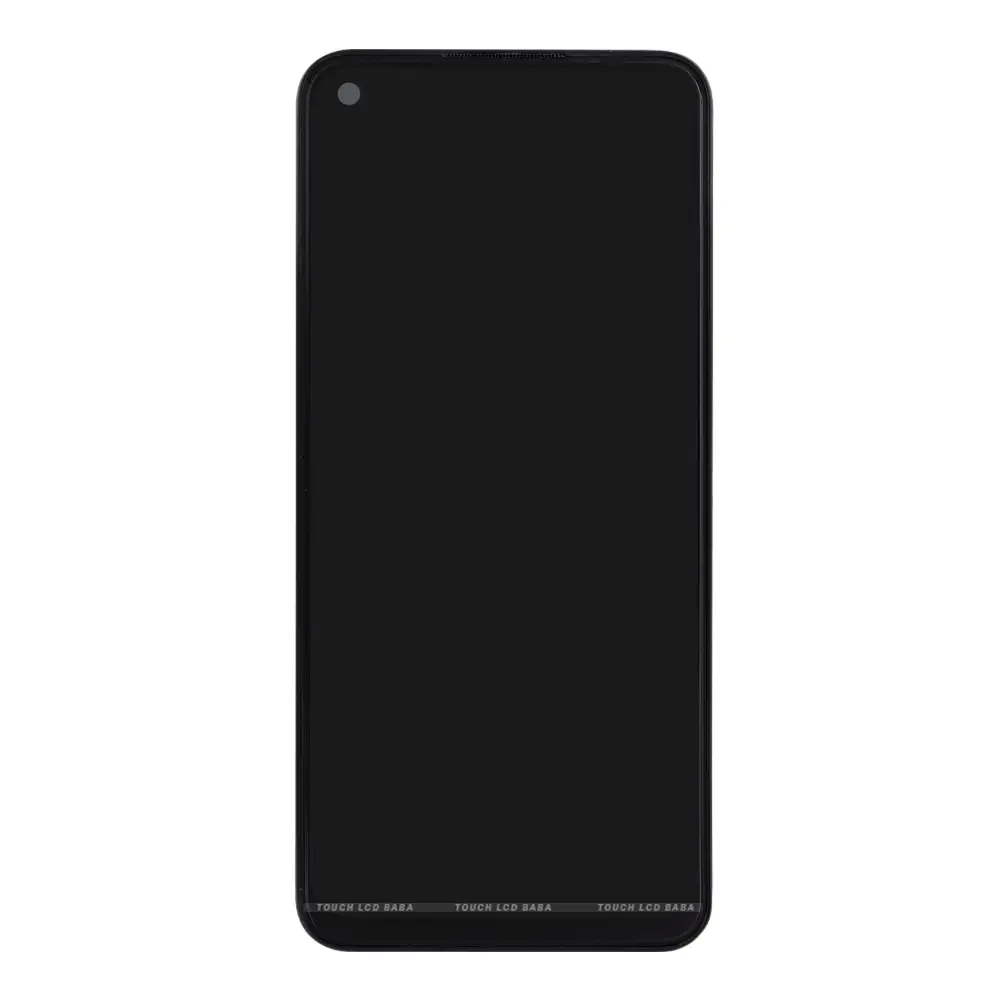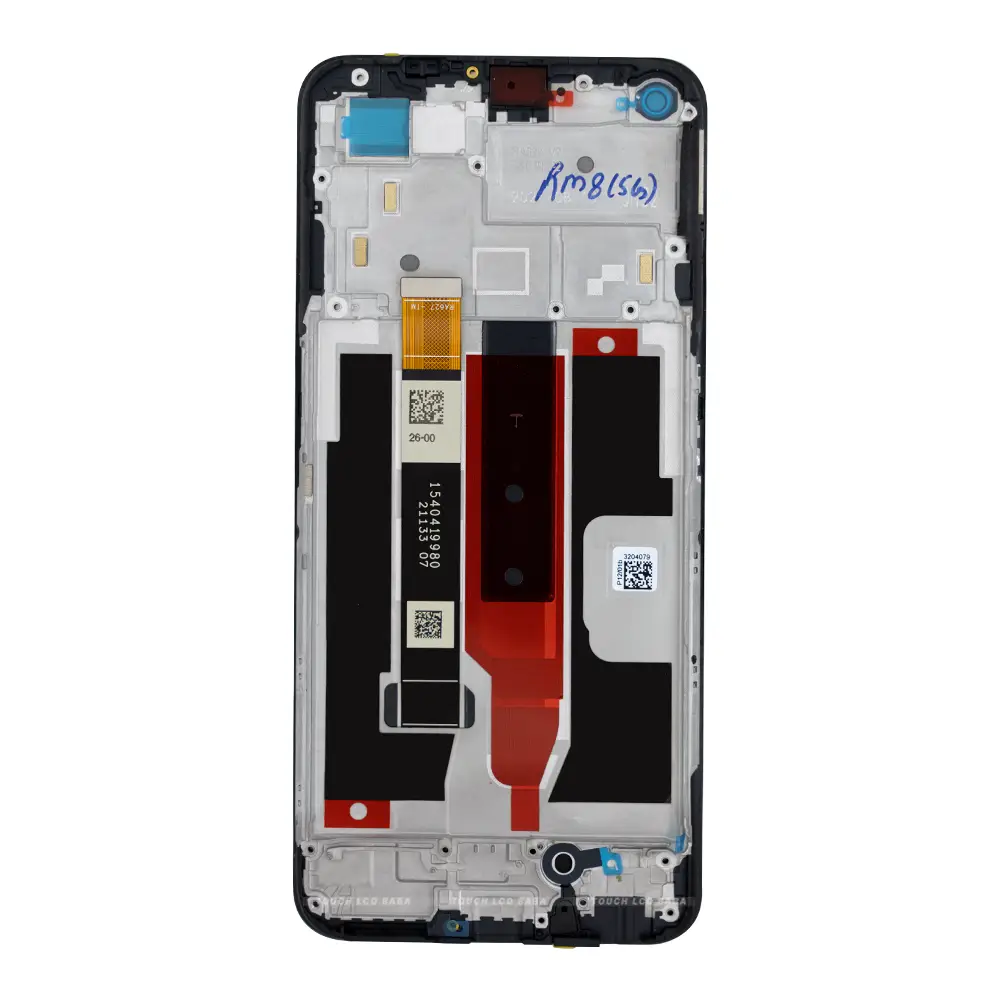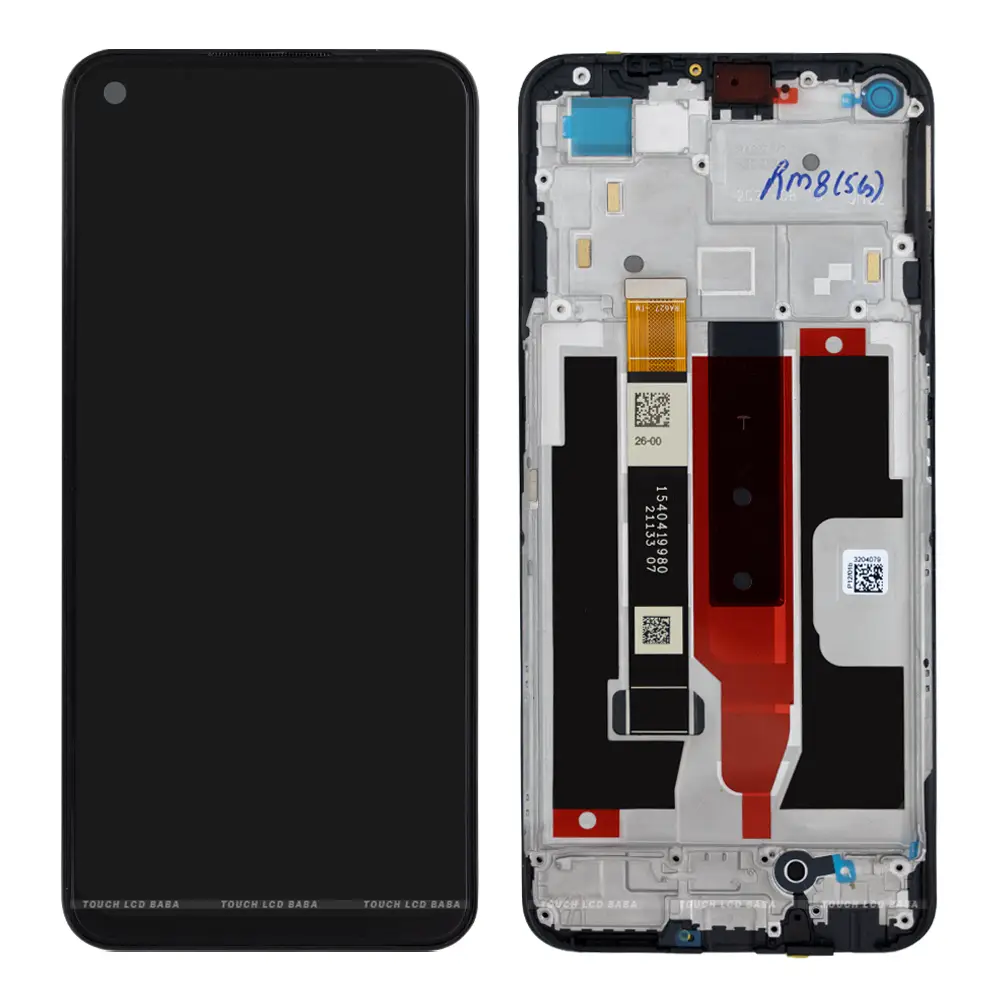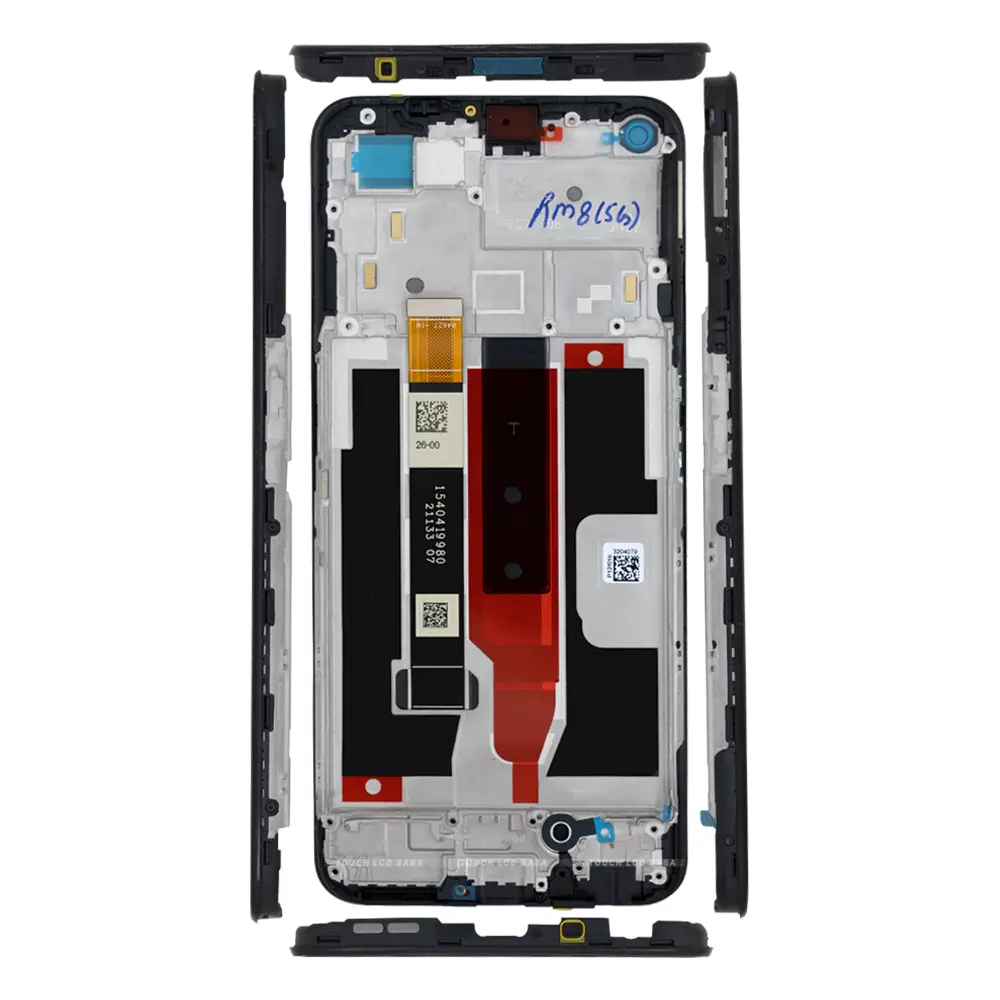 Shipping, Return and Refund Policy
All our products come with 30 days return, refund, and replacement guarantee. To return a product, It should be in the same condition we sent. You can't use or fix the new Realme 8 5G with frame display if you want to return it for any reason. For complete details about Shipping, Returns and Warranty, please click here.