A broken Realme 9i 5G display prompts the user to replace it immediately because it is impossible to live with it for a long time. To replace a cracked display or touchscreen glass, you need another brand-new spare part, where most customers are stuck and thinking about what they should buy. On one side, they want to spend less money; on the other, they don't want to compromise on the display quality. If you are also in such a situation and can't decide which Realme 9i 5G display is right for you, please read all the helpful information on this page.
Before you think anything else, you must decide if you want to buy the original or a copy display. It is the most vital part of this process because once you've decided on the display quality, you can filter the available options and choose the best one for yourself. Most customers want to buy the original display for the lowest price, which is impossible. If you want inexpensive display replacements, that's fine, but you shouldn't keep your expectations high as most customers do and later feel like they've been cheated. You'll never get the original display if you don't invest the amount needed.
What is the Realme 9i 5G display combo, and why do you need it?
To replace a broken display or touchscreen digitizer glass, you need a brand-new replacement screen, and that's a display combo. It is a new product that comprises the inner display and front layer of touchscreen digitizer glass. You eject the broken display using the proper technique and install a new one. That's all you need to do to overcome a cracked display or touchscreen glass.
Please note that display and touch screen digitizer glass function as one, and to preserve the inherent display quality, you should always replace the broken parts with new ones. Many customers try to replace the parts individually, like replacing only the touch screen or the glass, but those techniques are sub-optimal. The glass replacement is a counter-productive solution and not a worthy solution.
What is wrong with replacing only the broken glass and reusing the inner display?
When you buy a new phone, you get an original display with durable touchscreen glass. We all accidentally drop our phones several times, but only an intense hit breaks the original display. If you replace the original touchscreen glass with a duplicate one, you lose all the durability of our device. The display will crack on the next drop, and you must replace the glass again.
If you buy subpar products, you'll buy hassle for yourself. Glass replacement is not equivalent to the original display's quality, and you should know that. Many customers opt for glass replacement to save money, but the outcome is not always worth it. The display often becomes patchy and pale in comparison with the original quality. A refurbished display is not as joyful as the original brand-new display. You can get the same original quality only if you replace the broken display unit with a new original display unit.
Realme 9i 5G Display Specifications
| | |
| --- | --- |
| | This combo is 100% original, tested, and suitable for Realme 9i 5G, model number RMX3612. |
| | The screen size is 6.6″, the display type is an IPS LCD, and the resolution is 2408 x 1080 Pixels. |
| | Each display goes through strict testing procedures before shipping. |
| | You can enjoy 100% original colors, quality, and brightness with the new display. |
| | We buy our stock from the OEM manufacturer to ensure 100% original quality. |
| | We buy our stock from the OEM factory to ensure you get the same original display without compromising quality. |
| | We securely pack your parcels in hard plastic boxes with additional protective layers. |
| | You can resolve all the display and touchscreen issues by replacing the combo. |
| | We back our products with a 30 days return, refund, and replacement guarantee. |
| | You can always contact us on WhatsApp or our support team at 9587954273. |
| | You can order the product using Cash on Delivery or Online Payments (additional 10% discount). |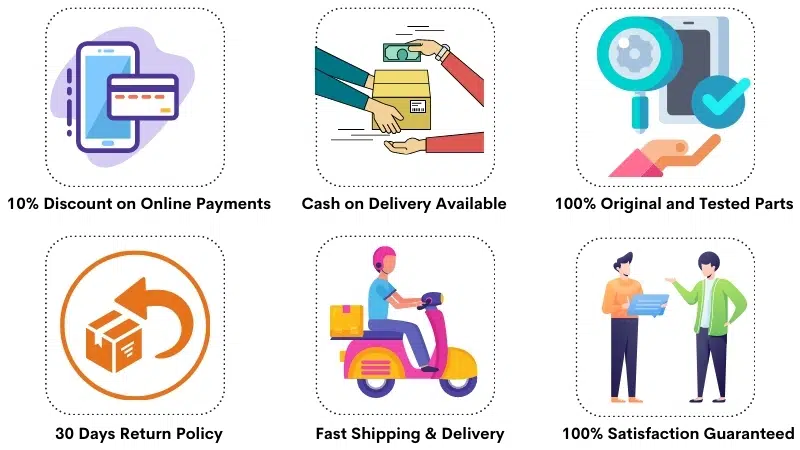 Frequently Asked Questions
Q: How much does it cost to replace a broken Realme 9i 5G display in India?
The price of a 100% original Realme 9i 5G display replacement (model number RMX3612) is around Rs 3500-3600. If you want to purchase a cheaper product, you can go for the first copy screens, which offer 50% quality of the original, and their price is also budget-friendly.
Q: I heard that the original Realme 9i 5G display is never available outside the service center. What's reality?
We would say that it is nothing more than a rumor circulated purposefully among customers, which creates confusion for you. Many customers call us and say that the original display can never be available outside the service center, and they have heard it from someone. Such techniques effectively make you feel that you can't get original parts anywhere, and you'll never even try other solutions.
Please note that mobile phone screens are not magic but manufactured in a certain factory. These factories are well-known as OEMs, and all products from this factory are 100% original and assembled into brand-new phones. We buy our products from the OEMs, and you'll always get a 100% original display replacement without any quality compromise.
Q: Can you please summarize your return policy?
Our return policy allows you to return a product within 30 days after delivery. If you install/fix the display on your phone and remove its warranty stickers and screen guard, you can't return it to us. To summarize, you can't return a used/tampered product because that violates the return policy. You can connect the display's flex cable to test it on your phone but don't remove its warranty seals, stickers, and other things. So the summer is :
Always return the display in unused condition without tampering with it.
Don't remove the screen guard and warranty stickers from the product.
Never paste, assemble or break the product when in your possession.
The return period is valid for 30 days after delivery.
You can easily test the new Realme 8i 5G display before installation to ensure its working condition.
Q: What are the major benefits of buying the original display?
We offer a 100% original display for Realme 9i 5G because it is the most desirable product for a customer. Before you rush for a local display or a cheap quality product, always consider these points and then make a decision. Most customers can easily afford the original display, but the greed of buying a product for a low price becomes counterproductive for them. Here are the benefits of original display you'll never get with a counterfeit product :
Full Brightness: Brightness is the most vital aspect of a display; only the original display offers 100% brightness levels which drop to 50% in a duplicate display.
Vivid Colors: Only the original display offers sharp vivid colors, while the color reproduction of the first-copy display is scratchy and dull.
Touchscreen Smoothness: You know how smooth an original touch screen is, while a duplicate touch screen lags much, and you must tap harder to make it work.
Durable Glass: The original display's glass lasts long, but the duplicate display breaks easily on the next drop.
No typing issues: Original digitizer works perfectly on input commands, while the duplicate works weirdly even when you type correctly.
Most customers who buy a fake display repent of their decision. You'll discover many issues you never faced with the original display when you use the phone for a week. You'll dearly miss your original display, but you might feel bewildered because you paid money for a product, and now you want to change your decision, but you can't. A technician will never accept a used product back, as that's never possible.
Q: Is this display also suitable for the 4G variant?
Please note that the Realme 9i phone is also available in a 4G variant, and the display on this page is unsuitable for the 4G variant. The product on this page is meant for the Realme 9i 5G variant. Please also note that Realme 9i 4G and 5G screens are visibly different. The 4G variant has one connection, while the 5G variant's display has two connections.
Before you order the display, you should closely check and verify the model number of your device. If you're confused, you can seek our help, and we'll help you find the right model number. Please don't worry if it takes one day to ascertain the model number because later, you don't need to go through any hassle from ordering the wrong products.
Q: Who will install the Realme 9i 5G display if I buy it online? 
Please note that installing the display on your phone is not a major concern as you can find many technicians in the market. Most technicians charge Rs 200-300 to install the display on your phone, and that's not an issue. Millions of customers order screen replacements online, and now technicians are not reluctant to install the display because many customers ask for that.
A technician normally charges Rs 200-300 for installing the display, and that's a good earning for him. If they can install three screens a day, they can easily make a living, and mobile phone technicians get a lot of work these days. You can't make your own house, and you must hire other people to do it for you. Similarly, you need to hire a trained person to install the display for you; nothing is wrong with that approach. Everyone has their own set of skills, and there is no issue with paying reasonable charges for a job to anyone.
Q: What is the Realme 9i 5G display price in the official service center?
The Realme 9i price is around Rs 4500-5000 in the official service center. If you want the display from the service center, please search for the relevant information on the Realme India website. Please note that service centers are unavailable in all locations, and you can't avail of their services. Buying the original display is much more convenient if you can find a good technician to install it on your phone.
Realme 9i 5G Display Photos
Please refer to the images below to see the display's appearance before ordering. If you've any questions, please call us at 9587954273.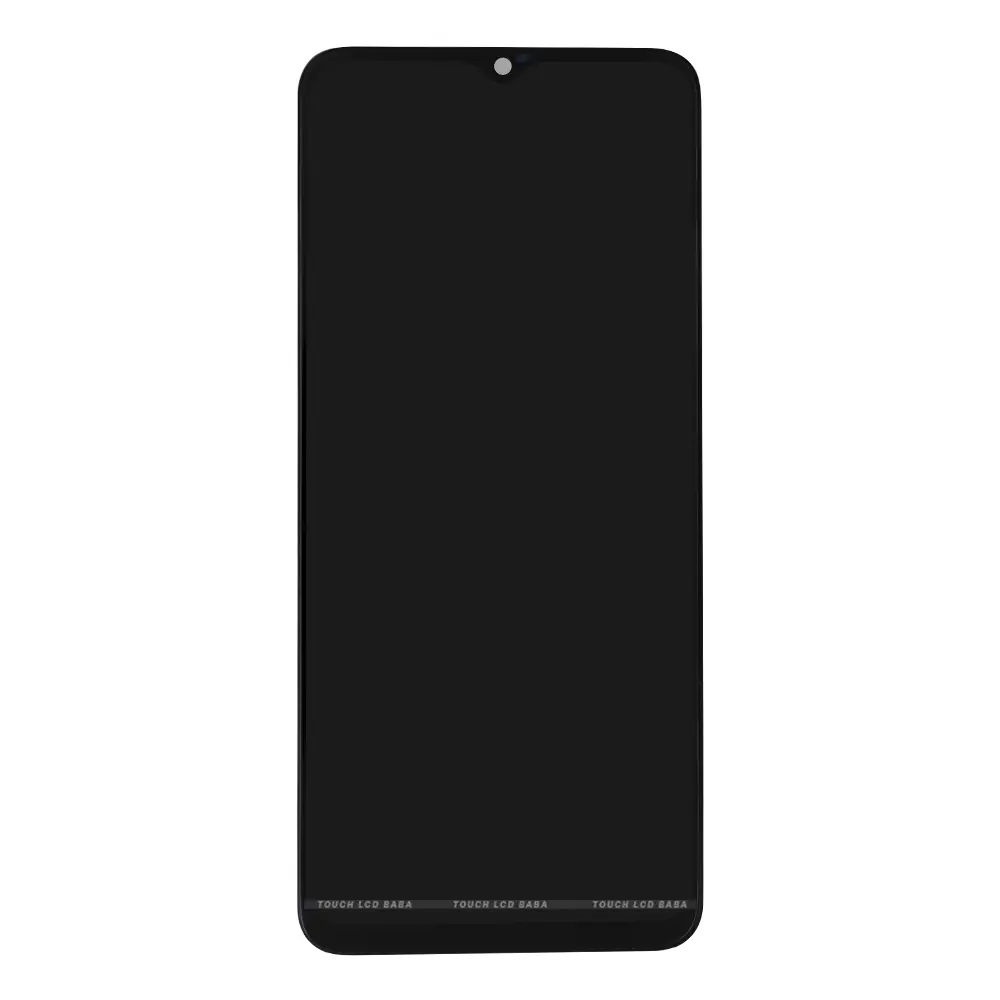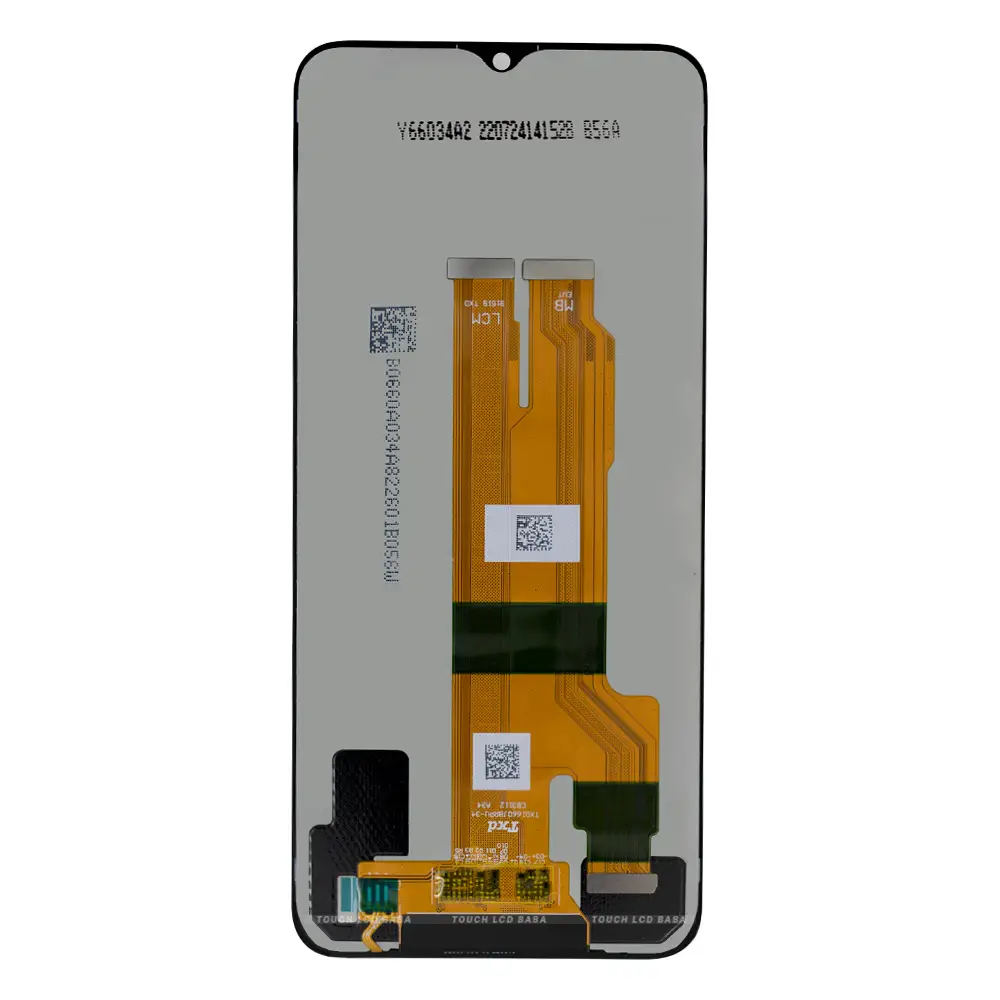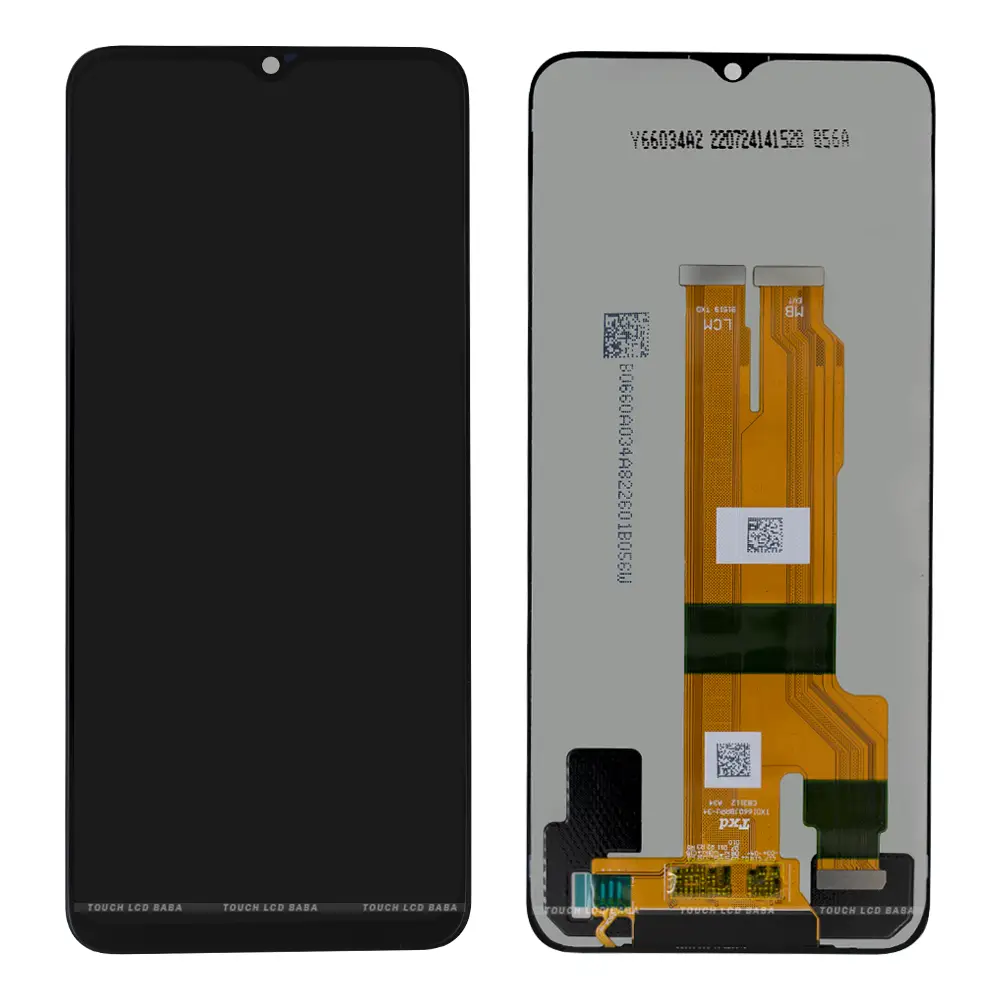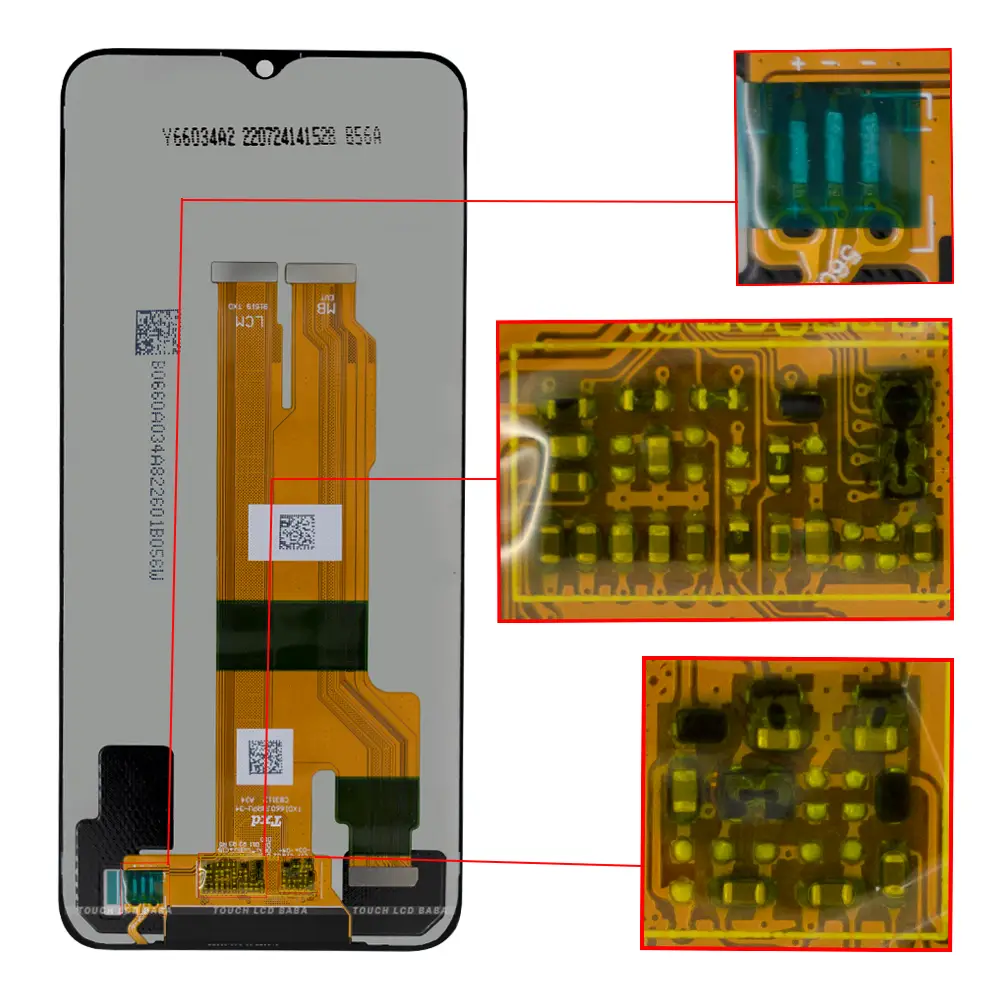 Shipping, Return and Refund Policy
All our products come with 30 days return, refund, and replacement guarantee. To return a product, It should be in the same condition we sent. You can't use or fix the new Realme 9i 5G display if you want to return it for any reason. For complete details about Shipping, Returns and Warranty, please click here.