The display of Realme C12 can break easily with an inadvertent drop because it is a delicate piece of glass with a complex mechanism integrated into it.  Please be extra cautious while handling a smartphone as the display is fragile, and as soon as the display (or touch screen glass) breaks, the phone will stop functioning. Our life has become so reliant on smartphones, and living without a smartphone, even for a day, seems like such a long time.
Touch LCD Baba offers you 100% original display products at reasonable prices so that you get the perfect display replacement for your Realme C12. We do not compromise on quality and source our products directly from the OEM vendors who make for the company. On this page, we'll discuss all the aspects of Realme C12 display replacement and help you make an informed decision.
What is the meaning of the Realme C12 display combo?
The display combo is a set of IPS LCD and touch screen digitizer glass, which helps in all cases of display damage. If you drop the phone and break the display (or touch screen glass), you can buy a new combo and replace the broken part with a new one. The combo consists of the top layer of touch screen glass and the inner layer of the display.
You need to decouple the broken screen from your phone and install the new display in place of it. The combo replacement is widely accepted as the only solution for broken screens. Evidently, only a new screen can replace a broken Realme C12 display, which is what the combo replacement does. All the service centers and local technicians use brand new combos to repair the broken screens.
Realme C12 Display Specifications
| | |
| --- | --- |
| | This combo is 100% original, brand new, and suitable for Realme C12, Model Number RMX2189. |
| | The Realme C12 display size is 6.5″, the display type is IPS LCD and the resolution is 720 x 1600 pixels.. |
| | It is a complete set of display and touch screen glass layered into one unit. |
| | We buy our stock from OEM manufacturers to ensure 100% original display quality. |
| | Our testing engineers test each display on the actual motherboard of Realme C12. |
| | We make sure that defective screens never go into our customers hands. |
| | After testing the new screens, it is impossible for a customer to receive a non-working display. |
| | We back our products with a 30 days return, refund and replacement guarantee. |
| | The new display supports all the gestures as well as multitouch features. |
| | The screen is readily available in stock and turnaround time is very fast. |
| | You can purchase the new display by using Cash on Delivery or Online Payments (10% discount). |
Are you confused about which screen replacement you should purchase?
Customers often get very confused and tired of looking around for display replacement options because the markets are swamped with them. Making a choice gets difficult with these many options available, and customers can't decide the option they should opt for. The local market offers screen replacements at low prices, but these are all duplicates marketed as first-copy screens. The quality of such screens is around 40-50% of the original, and technicians call them OG quality, 99% quality, diamond quality, etc.
If you look in the market, you will find thousands of products which are much cheaper than ours, but the reason behind their low costs is quite different. As a customer yourself, you would be attracted to cheaper products because you want to save money. However, if you know why these local market products are so cheap, we are sure that you will instantly stop purchasing items from there. We offer 100% original products, whereas the products you get in the market are simply duplicates of the original display products.
We do not compromise on the quality, and if you install a duplicate display, you will surely see the display quality drop down massively because the material used for making these duplicates is of inferior quality. The brightness goes down, the colors become dull, and the touch screen works stiffly with duplicate products. That's why we always insist on purchasing original screen replacements for 100% satisfaction and durability.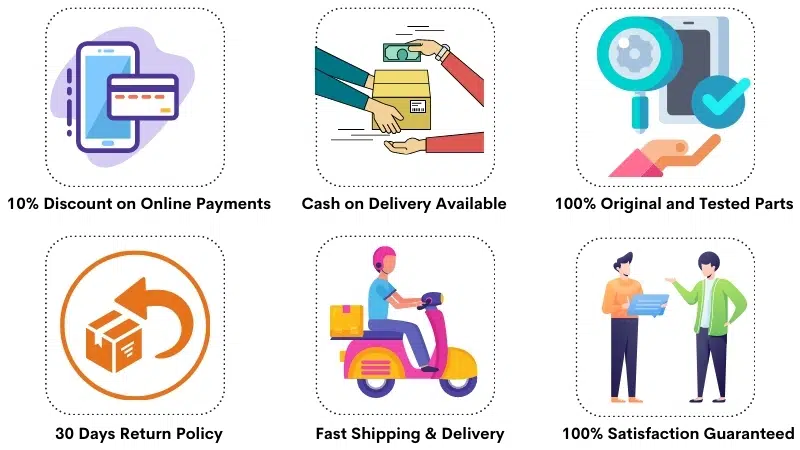 Why are the first copy screens terrible for your phone?
While the market is ready to offer you extremely cheap display products, you should always pay attention to its quality and not just the price. Your decision should be based on the quality a display will offer. We know cheaper products are better for saving money, but you shouldn't put your smartphone's display quality and overall functionality at risk. Here are the consequences of imitative products :
The low-quality cheaper alternative causes great damage to your phone, and the CPU starts overheating, and the battery drains much faster.
As duplicate screens' longevity rate is shallow, they turn out to be more expensive in the future than the original display itself.
You'll run into unforeseen issues like ghost touches, touch screen not working properly, and other similar frustrating issues.
You'll observe major issues with brightness, saturation, contrast, and color distribution because everything drops down massively.
The duplicate touch screen glass breaks very easily and can't withstand even the slightest drops.
We have put up all the points you should consider before buying a duplicate, cheaper alternative for your smartphone. There is more harm than good, and you will truly regret it if you install a duplicate display. The price of the original display might seem high, but it is totally justified.
Why should you get a complete combo replacement?
If you get a complete combo for your smartphone, you buy a brand new part for your phone.  The display and the touch screen glass are two parts that are glued together very tightly, and they are both quite delicate by nature. It is quite tough to separate these two parts, and the only glass replacement involves their separation because it is required so that a technician can replace the glass separately.
This procedure is risky, and it fails most of the time, leading to the display's damage entirely. If, luckily, you do get this replacement done successfully, you will notice that the display has lost all its glory, and it is nowhere near as good as it used to be. That's why you should remain on the safer side and choose combo replacement because this procedure involves no risk like this, and the display quality remains top-notch (the same as it comes with a brand new phone) after the display replacement. The original screen lasts much longer, and the satisfaction rate is 100%.
Frequently Asked Questions
Q: How much does it cost to replace a broken Realme C12 display in India?
The price of a 100% original Realme C12 display replacement is around Rs 2800-3000. If you buy a duplicate screen replacement, then the combo costs about Rs 1100-1300 in India. Touch LCD Baba sells only original spare parts, and duplicates are not the core of our business concept.
Q: Why do the duplicate display products cost less in the market?
The cost of a product always depends on the quality of the product. As you know, the duplicate display products are very subpar in quality, and this is why it is available at a meager cost as well. Duplicate display products are made of very low-quality material, dim light reflectors, and that's why these are cheaper. The third-party manufacturers reduce the display quality by 50% and come up with cheaper products, and that's why you buy for low prices, considering them as originals, but they are not.
Q: How the duplicate first copies increase the repeated business?
The duplicate products are deficient in quality, and that's done on purpose. If you purchase a copy display, you'll surely need to purchase another within 3 months on average, and you'll go back to the vendor. On the other hand, if you purchase an original display, that will surely last long, and you don't have to spend again and again. The manufacturers who make duplicate screens purposefully use low-quality glass so that screens don't last and you have to replace them again and again. Their low price will always attract you, and that's how duplicate screens increase the business for merchants.
Q: Why is it hard to find the original display screen of Realme C12?
The demand for duplicate screens is growing exponentially, and that's why you'll find such products in the whole market. It's the simple rule of demand and supply. Why would any seller get stocks of those products that aren't selling well and bring meager profit? The demand for duplicate displays is very high because of their low prices. The sellers keep stock of duplicate screens because they are easy to sell and bring in more profit.
On the other hand, original displays are costlier; this is why the customers prefer not to buy them, and for the same reason, the sellers avoid selling them. This is why it is challenging for you to find an original Realme C12 display in the local market.
Q: Do you test the display before shipment?
Yes. We do test each Realme C12 display by using the actual motherboard of the same phone. Every product that leaves our building is approved for delivery only when it passes all the tests and works perfectly. We have hired an entire team of highly educated professionals who ensure that every display product is tested and checked inside out.
Q: What can I do if the new Realme C12 display doesn't work?
We make sure that you are never served with any faulty display, and therefore you should never worry about our products. We do not want our customers to face any issues, so we thoroughly test the display product. As we do not approve a display for delivery before testing it, it is improbable that we sent a faulty display to you.
Still, we offer a 30 days return, refund, and replacement period for our customers. Under our 30 days Return and Replace policy, we will offer you a replacement or refund on the display if you face any problems while testing the product. Please note that to avail of this policy, the display should be completely unused.
Therefore, you have to ensure that the product is not glued to your smartphone and never peel off the protective film. If you paste a display on your phone, it self-affirms that you had tested the product and found it working satisfactorily. Only unused parts are eligible for a replacement, and it is elementary to test the new display without installing it on your phone.
Q: Can I do the self-replacement at home?
If you are a trained technician, then you can certainly perform a self-replacement at home. It requires skill and experience to perform this procedure, and therefore no one who is not a professional should ever attempt self-replacement at home. Please do not risk your smartphone's functionality by performing this without any knowledge. Your one tiny mistake has the potential to ruin the smartphone, its display, and its functionality entirely.
We would advise you to appoint a technician for this job. You can easily find a technician in the market who can perform this display replacement for you at a meager cost. At least your phone will remain in safe hands because a technician is a complete professional. They will barely charge you an amount of 150-250 rupees, and maybe even lesser depending on your location.
Shipping, Return and Refund Policy
All the products supplied by us come with 30 days return, refund, and replacement guarantee. To return a product, It should be in the same condition as we sent. You can't use or fix the items if you want to return them. For complete details about Shipping, Returns and Warranty, please click here.