We all use the mobile phone so many times every day, and It has become the most vital part of our daily life. The Realme C3 is a very popular feature-packed budget phone loved by millions of customers. As you know, mobile phone screens are very fragile, and the Realme C3 display is not an exception to this.
If someday is a bad day for you, It is likely to drop the phone accidentally and end up having minor scratches on the touch screen glass. We know how disheartening it feels at that time when your brand new phone breaks, and you've not even paid all the installments of the phone yet. Many people buy phones on installments, and when the display cracks, It is a double kill for them.
Luckily, you can easily purchase a brand new original display of Realme C3 and restore the working condition of your phone. You can't prevent your phone from accidental damage because that happens without any intuition, but you can certainly replace the display and go back to the point when everything was normal. Surely, It will cost you money, but life goes on, and anyway, you can't live without the mobile phone.
What usually happens when the Realme C3 phone drops?
Consider a scenario when you are talking over a phone call while driving, and suddenly your grip on the phone loosens, and you drop the phone on the road or a hard surface. You pray that your phone is safe, but sometimes, the touch screen glass gets scratched. In most cases, only the touch screen glass will scratch when the damage is not that severe and just an average drop.
In other cases, when you throw your phone, or it slips out of your hands from the 3rd floor, the damage will be much more intensive. When that happens, the display and touch screen glass will demolish altogether.
Now in both scenarios, you will need to replace the complete display unit. That is because the touch screen digitizer glass is firmly attached to the display, and due to this, you can't replace the parts individually, and that would not be a recommended approach either.
What is the meaning of the Realme C3 Display Combo?
The simple meaning of the Realme C3 display combo is a full unit of display and touch screen glass. As two parts combine into one, such units are called as Realme C3 combo or folder. So If someone says that you need to replace the complete combo, you can understand that he is referring to replace the display and touch screen glass both.
Why do the technicians in the local market ask me to replace only the glass?
If the display of your phone is safe and you visit the nearby repairing market, everyone will convince you that you replace only the glass. The mechanics usually convince the customers that glass replacement is the best option, and the customer can still enjoy the original display. It is a straightforward trap for the customers, and they get ready to pay Rs 1000 for a glass that costs nearly Rs 60 to the mechanic.
At this time, the glass replacement is the biggest moneymaker for the technicians, and this is the sole reason they preach for it. If they can replace 2-3 glasses every day for different customers, they can easily earn a living. As we don't advocate workarounds, we don't recommend the glass replacement. In any case, the display quality will not remain the same, and there are lots of other risks involved.
The mechanics will never bear the risk if they break your working display during the glass replacement. Their statement is, It is a manual process, and things can go wrong sometimes, and we don't take any responsibility. If an event when the display also breaks, you've to replace the complete combo at the final stage. So It proves that glass replacement is just a workaround while combo replacement is the only permanent solution.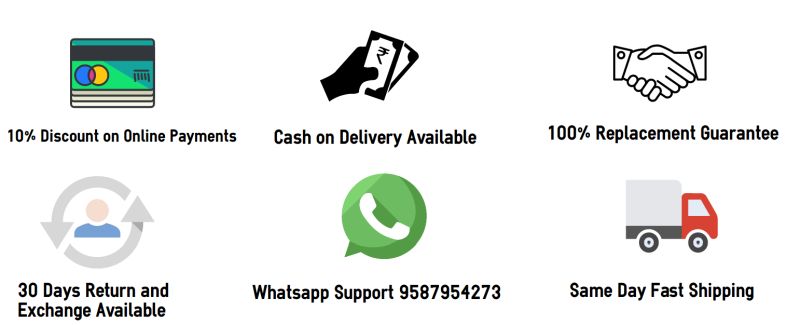 Which problems will rear their ugly heads after glass replacement?
Many people will still go for only glass replacement no matter how much we warn them. So considering a situation when you've replaced the glass, you will often see these problems with the resultant display :
The brightness tint of the display will change forever, and reduced brightness is a normal thing.
Often you'll see tiny dust spots, yellow and white spots between the display and touch screen glass, which are permanent.
The overall graphic quality of your screen will also take a hit, and now colors are not as vivid as they were before.
Many times, some dead pixels appear in the display because of the manual glass replacement process.
The glass used by technicians is exceptionally fragile and can't withstand even the most minor drops.
The duplicate touch screen glass is very thin, and the touch screen won't work as smoothly as before.
Some multitouch features or touch gestures may stop working completely.
If the display also breaks during the glass replacement, you've to go for combo replacement.
You will pay money out of your pocket and still have a compromised display in your hands.
Also, for your knowledge, the official service center never replaces only the glass because they know everything about the potential problems. We also work on the same quality protocol and don't suggest poor quality solutions to our customers. If you want to embrace such solutions at your own risk, after all, it is your choice.
Realme C3 Display Specifications
| | |
| --- | --- |
| | This combo is 100% Original, brand new, and suitable for Realme C3, Model Number RMX2027. |
| | The Realme C3 display size is 6.52 inches, and the display type is HD+ and display resolution is 720 x 1600 pixels. |
| | The main touch screen glass layer is protected by the advanced Corning Gorilla Glass 3+. |
| | You are buying a complete set of inner display and the top layer of touch screen glass. |
| | Any kind of issue that directly correlates with the display and touch screen will resolve with this combo. |
| | It offers the same brightness, colors, and clarity as your factory fitted display. |
| | We always test the combo on an actual motherboard for flawless working and then ship it to the customers. |
| | It comes with 30 days replacement, return and refund guarantee for manufacturing defects. |
| | We sell truly OEM parts and contact the OEM factories directly for original products. |
| | The display is readily available in stock, and we can ship it out very fast. |
| | For your convenience, we accept Cash on Delivery and Online Payments both as payment options. |

Frequently Asked Questions
Q: How much does it cost to replace a broken Realme C3 display screen in India?
The price of a 100% original Realme C3 display replacement is around Rs 2800-3000. If you buy a first copy screen replacement, then the combo costs about Rs 1300-1500 in India. You may have to pay additional repairing charges to a mechanic who will fix the display for you.
Q: Why is the price of display lower on the other websites?
In any industry, the pricing structure depends on the quality. If you buy a non-branded generic item, It is cheap, and if you buy a quality product, It is always dearly. The same concept also applied to this business.
If you buy a screen for peanuts, It is certainly a first copy display which you can easily get in the local market as well. So you don't need to overreact that you found a wonderful deal and scold others who indeed sell the quality products. If you can't afford originals, there is nothing wrong with that; you can buy the product as per your desire and affordability, but don't criticize others just because you can't afford it.
Q: My target is buying the original display for less than Rs 1000. Can you help?
The parts are not going to get cheaper just because you can't afford them. Some have asked on our WhatsApp support that they want to negotiate the price to Rs 1000, but they will not pay more than that. We humbly decline to such customers as there is no point in further discussion. If you need a screen replacement for low prices, please visit the local market for that.
Q: The official one year warranty is not over yet. Does it help? 
The official one year warranty does not apply to any kind of physical damage. Many customers think that the official service center warranty is going to protect them, and they will get a display replacement for free, but that isn't possible. The official service center considers any kind of physical damage to be out of warranty without any exceptions.
Q: How safely do you pack the parcels?
We pack your parcels very securely because we are more concerned about the in-transit damage. First, we wrap the display in bubble wrap and then place the content into a hard plastic box. After that, we use multiple layers of thermacol and corrugated boxes to protect the content even further, and then we seal the parcel in a tamperproof bag. We do everything in our control to make the package fully secure from any in-transit damage.
So far, the results are very promising, and we've never had a case of damage during transit. Still, we buy insurance for each package that goes out from our facility, and if you receive anything broken, you are entitled to a free replacement. You can always record an unboxing video and forward it to us in case of any anomalies.
Q: How can I test the new display to make sure It is in working condition?
You can test the new Realme C3 display only when your mobile phone is in the open condition. It is very easy to test the display, and the best thing is, you don't even need to paste the display for that. You can easily test the display when your mobile phone is in an open condition.
All you need to do is, connect the display to your phone's motherboard temporarily and turn on the phone. The new display will show graphics, and you can use it just as you use your phone. The only difference is, the display is not fitted yet and in an open condition. When you've tested the display thoroughly, you can go for the final fitting.
Q: Can you supply only the touch screen glass for me? 
We don't sell only the touch screen glass or facilitate such activities. If you want to purchase duplicate products willingly, it is up to you but we can't help you in this regard. There are lots of websites selling such counterfeit products and you can buy from them.
Q: Do you test the screens before shipping to the customers?

 
Yes. We test each display for 100% perfect working before shipping to the customers. We also keep a brand new Realme C3 phone in our office and make sure to test each screen that goes out from our facility. This testing is not only beneficial for customers but also boosts our confidence, and we are so confident about the satisfaction of our customers.
Shipping, Return and Refund Policy
All the products supplied by us come with 30 days return, refund, and replacement guarantee. To return a product, It should be in the same condition as we sent. You can't use or fix the items If you want to return. For complete details about Shipping and Returns, please click here.