Your search for a 100% original display replacement for Realme Narzo 50A ends here on Touch LCD Baba. On this page, you can buy a 100% authentic display combo for Realme Narzo 50a and efficiently resolve all the issues associated with the display and touchscreen glass. We understand that you don't want to purchase duplicate screen replacements in the offline market, so you are trying to find the best resources online. Touch LCD Baba is a great place for customers who want to buy original screen replacements without hassle.
We don't offer budget solutions because selling original screen replacements is our passion. If you are hunting for the lowest price deals like all innocent customers, you will surely be a victim of duplicate screens. Almost all customers want a 100% original display replacement for Realme Narzo 50A. Still, only a handful of customers are willing to pay the price it takes for an original display. Many customers want original screens for super low prices, so they never get the desired display quality.
Realme Narzo 50A Display Specifications
| | |
| --- | --- |
| | This combo is 100% original, tested, brand new, and suitable for Realme Narzo 50A, model number RMX3430. |
| | The screen size is 6.5″, the display type is an IPS LCD, and the resolution is 1600 x 720 Pixels. |
| | You get a complete display unit with an inner display and a front layer of touchscreen glass. |
| | You get an OEM display replacement 100% identical to a brand-new phone. |
| | Before you assemble the new display, you can easily test and use the new product to your satisfaction. |
| | We test and verify each display's perfect condition, then ship the product to our customers. |
| | The new display replacement is 100% identical to the factory-fitted original display. |
| | After replacing the display, you won't face any degradation in the display quality. |
| | We pack the products cautiously in hard plastic boxes with additional protection. |
| | We buy our stock from the OEM manufacturers who make and supply original screens to the company. |
| | You can order the product using Cash on Delivery or Online Payments (additional 10% discount). |
What is a display combo, and why is its quality so important?
A display combo is a unit of IPS LCD, and touchscreen digitizer glass merged into one. Whenever you break the display or touch screen glass, you must replace the display unit, and that's called a combo/folder. The folder consists of two items: IPS LCD and touchscreen digitizer glass. Mobile phone manufacturers combine both parts into one and manufacture a display combo.
You can buy a phone that captures the best photos, but it becomes useless if you install a duplicate display. That's why the display quality is so important because if you buy a low-quality product, all the features that rely on the display will take a nosedive. As you know, the camera quality, videos, photos, and all the multimedia content depend on the display quality. Your phone becomes an unworthy gadget when you install duplicate screens on it.
Why should you buy an original Realme Narzo 50A display?
You surely don't want to face new troubles daily, which are very common with duplicate screens. Customers often install local screens on their phones, and new problems appear daily that they never encountered with the original display. A duplicate display is a temporary solution, and you'll never get original alike quality. If you test the local display in an open condition, you can quickly discover its dull colors, low brightness, and laggy touchscreen response.
Most people fall for duplicate screens because technicians typically say these are the best-quality or diamond-quality products. If you are a first-timer, you have no idea what's good or wrong and trust what the technician says. Later, when you use a duplicate display, you face many issues, and some customers report that a duplicate show hampered their work in many ways. You certainly don't want to buy display replacement once every three months (because duplicate screens break easily), so you should never opt for local screen replacements.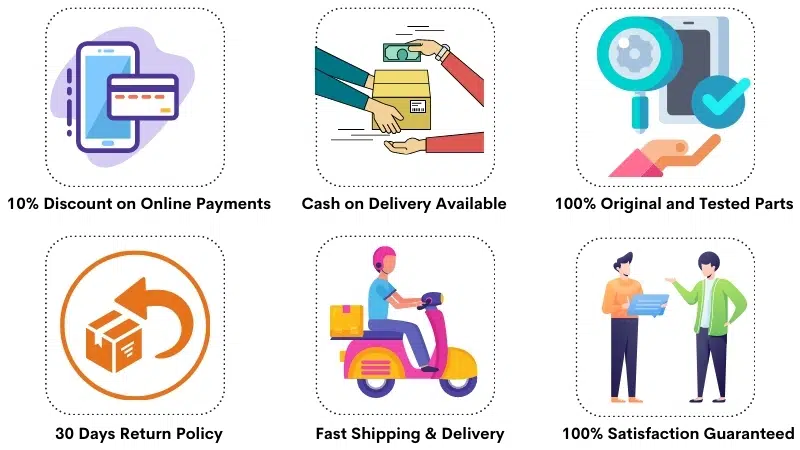 Frequently Asked Questions
Q: How much does replacing a broken Realme Narzo 50A display in India cost?
A 100% original Realme Narzo 50A display replacement costs around Rs 2300-2500. If you purchase a duplicate display (first copy/diamond quality), the combo costs Rs 800-1000 in India. The quality and price difference between the original and a first-copy display is massive.
---
Q: Do you have a return and refund policy?
Yes. We have a 30-day return policy which allows you to return/refund products in unused condition. The 30-day return period is only for returning the products in the same condition as you received them. You can't return a display after installing it on your phone or changing its original condition.
You are free to test the display in open condition, and the return policy automatically voids once you use/install the product, remove its screen guard, or change its original condition in any way. We supply our clients with 100% fresh and brand-new products and can't accept used returns. If you have an issue (like ordering the wrong models, dead motherboards, etc…) and want to return the product, you must pay two-way shipping charges. If there is some issue from our side, you don't need to pay any charges, and everything is on us.
---
Q: Why should I buy the Realme Narzo 50A display replacement online?
Many customers think buying a display online is meaningless because they can easily get it in nearby shops with installation services. That's your point of view, but you probably don't know that offline markets don't offer the original display replacements. Once you damage the phone, you never get the original screen replacement again and keep buying duplicate screens.
Local market products are the best for you if you want to buy the lowest quality screen replacements and repair your phone within an hour. However, by chance, if you don't want to make a compromise on the display quality and need your phone in its 100% epic condition, you should certainly try Touch LCD Baba once. You'll love the experience of original screen replacements and save much money in the long term.
---
Q: How does an original display replacement save you money?
Once your original display cracks, you rush and buy a first-copy display for approx Rs 1500. The price of an original display replacement is around 3200, which will seem expensive, and you'll probably think buying a duplicate display is the best bet. However, the duplicate display will crack repeatedly in the long term, and you'll need to replace it several times a year, as many customers do.
If you do the math and sum up all the repeated investments, the duplicate screen replacement costs Rs 6000 a year because you must replace the display 3-4 times a year. At the same time, one original display costs Rs 3000 and saves you from quality issues, repeated visits to the local market, and all the hassle. The original display doesn't crack easily; most customers can enjoy it for years.
---
Q: I'm worried about a defective display. Can you help?
You'll not get a defective display from us, and that's a promise. Our products are never defective because we test each display three times before shipping it to the end customers. A display can be defective only if the seller has not verified the working condition of a product. We diligently test screens one by one, and that's why you'll never receive a non-working product.
---
Q: What is a first copy display? Is it a good one?
A first-copy display is a poor-quality product for a very attractive price. Most customers buy duplicate screens because of their lower prices and are ready to face minor problems while using the display or touchscreen. We don't assert that first-copy (or OG Quality / Diamond Quality) screens are good, but these are middling products.
If you compare an original and a first copy on the scale of display brightness, if the original display's brightness is  400 units, the duplicate display offers 160 nits of brightness. The same thing applies to the other vital aspects of the display, and that's why a first-copy display costs half of the original display replacement.
---
Q: How can I test the new display before installation?
Testing the new display before installation is essential, and you should never assemble the display without testing it first. Testing the display helps you verify the product and then install the display without any hesitation. When you test the display, you rule out any chance of a defective product, and you'll surely feel more confident when installing the display. Here is how to test the display in open condition :
First, dismantle the phone and unscrew the necessary screws to test the display.
Eject the old display's connection from the motherboard and connect the new display's flex in the right direction.
Turn on the phone, and you can test the new display in open condition without any problems.
Please note that you can easily test the display on the rear side of your phone without removing the broken display from the frame. It is enough to connect the display's flex cable to the motherboard and turn on the phone to take a trial. You can always opt for a return, refund, or replacement if you find any issues during the trial phase.
Realme Narzo 50A Display Photos
If you want to see actual Realme Narzo 50A display replacement product images, please refer to these images. If you've any questions about the product, please don't hesitate to call us at 9587954273.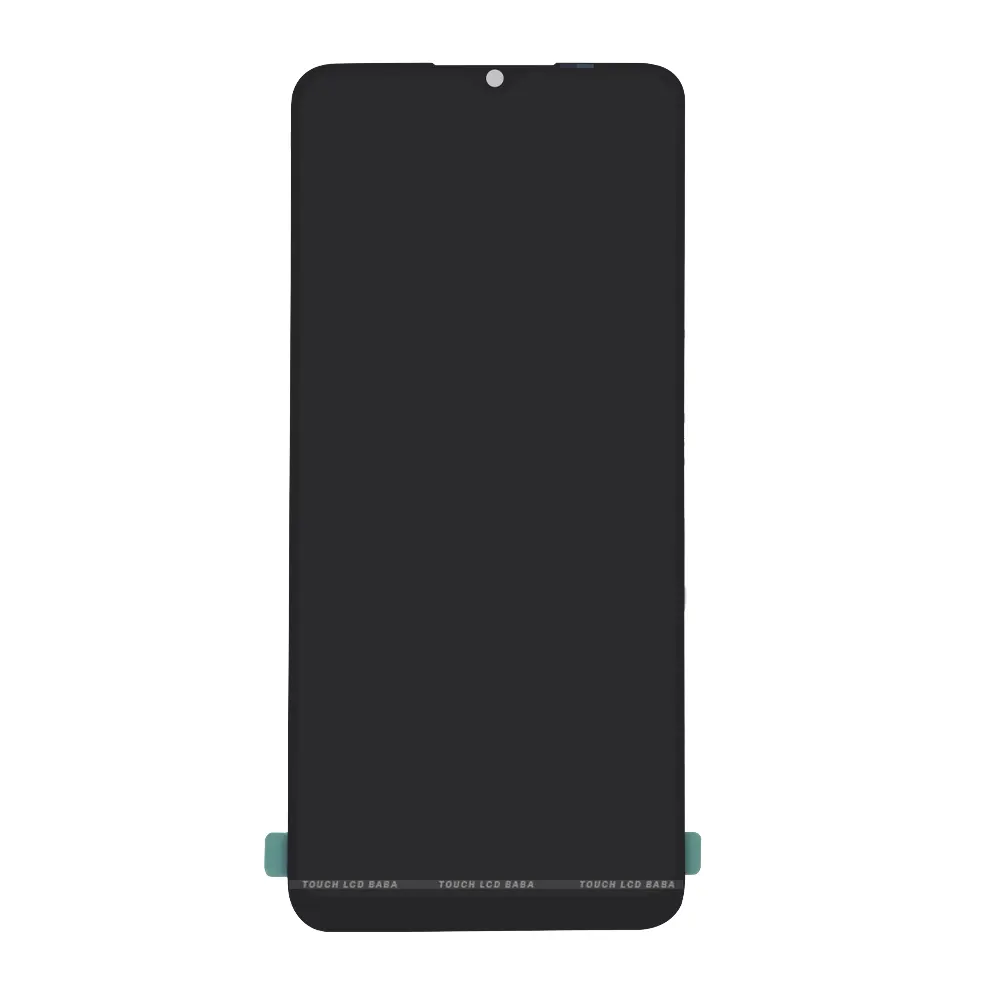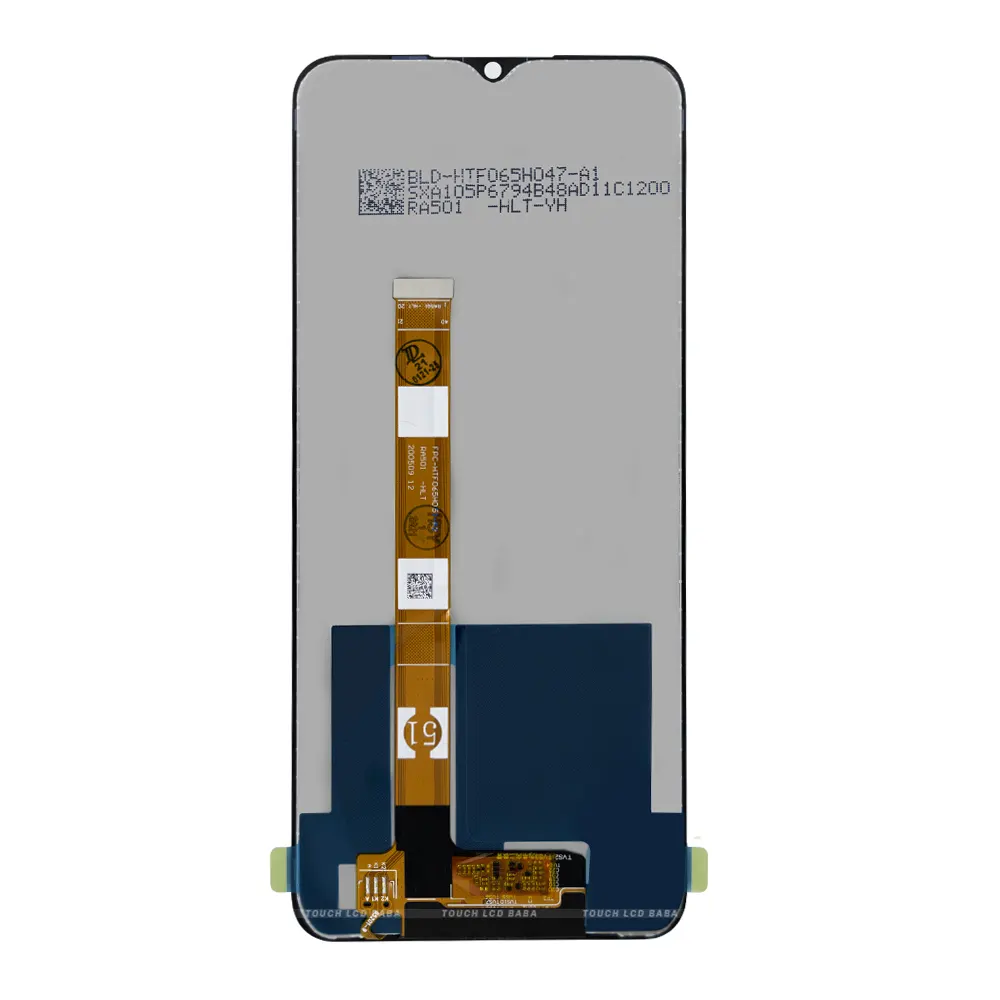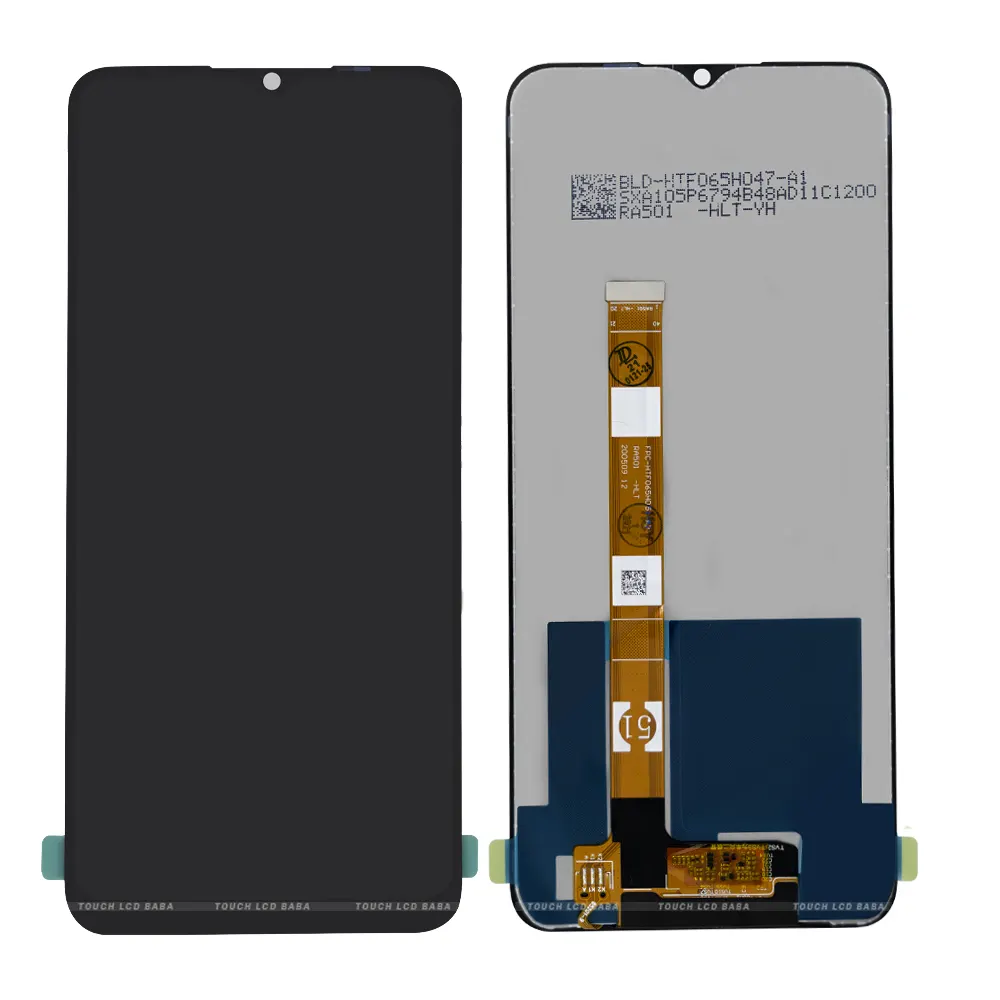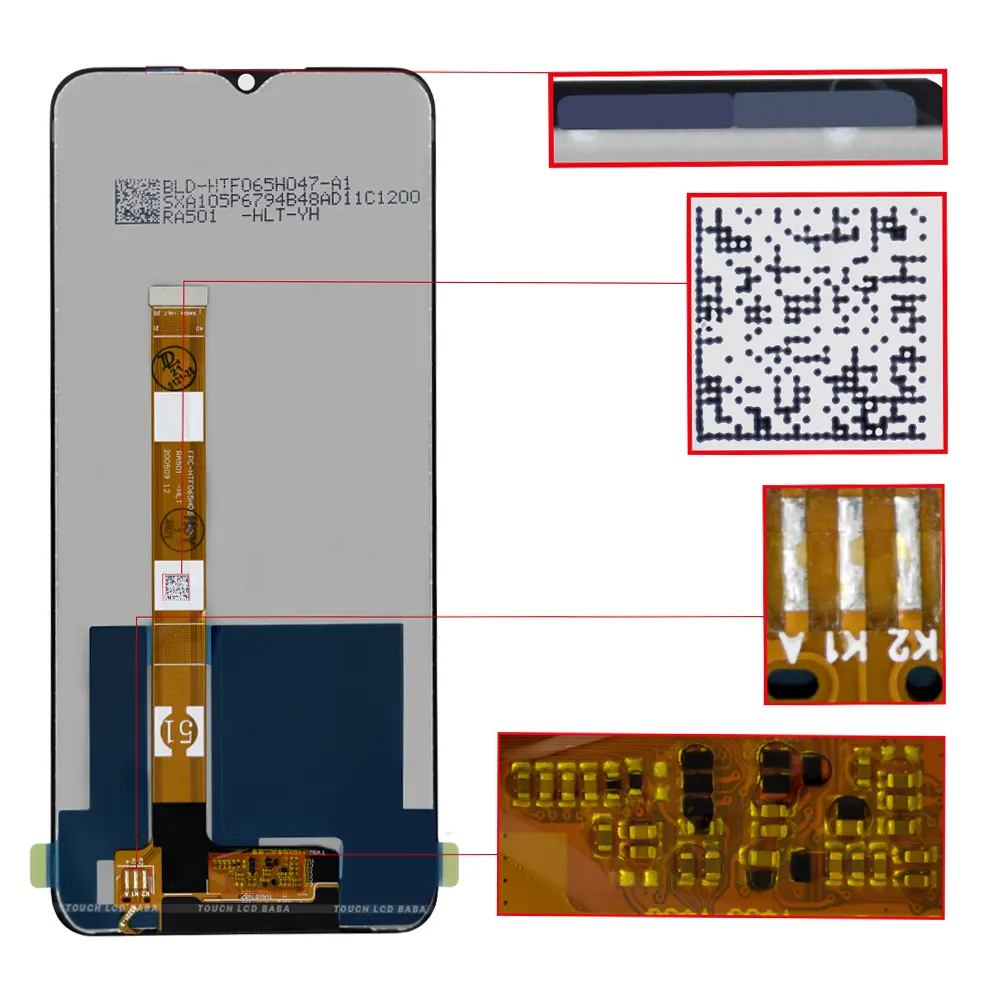 Shipping, Return, and Refund Policy
All the products we supply come with 30 days return, refund, and replacement guarantee. To return a product, It should be in the same condition as we sent. You can't use or fix the new Realme Narzo 50A display if you want to return it. For complete details about Shipping, Returns, and Warranty, please click here.