Realme Narzo 10 is a very popular budget-friendly smartphone owned by lots of customers. We can't imagine our daily life without mobile phones, and often the phone drops inadvertently. The mobile phone companies are using sophisticated technologies to protect your device from minor drops, but still, the mobile phone screens can't stand up against major drops. So If you've broken your Realme Narzo 10 display and looking for a replacement, we are here to assist you.
On this page, we offer a 100% original and brand new display replacement for Realme Narzo 10, which is very useful for customers dealing with either a broken display or touch screen glass or both. You can resolve all the problems related to the display and touch screen by replacing the combo of the Realme Narzo 10. A broken screen will certainly make your life miserable, but you can easily replace the damaged part with an identical part.
Are you worried about a broken Realme Narzo 10 screen?
People often excessively worry about a broken touch screen glass, and it feels very depressing to them. We totally understand that after a broken screen, you might feel slightly disappointed because you broke the original display. Still, luckily, you can easily replace the damage with a brand new display without facing any compromise on the screen quality.
The screen replacement is a very easy process, and lots of technicians are doing this stuff in every city. You will often find mobile repairing shops offering easy screen replacement solutions, but the main problem in local markets is poor quality products. Surely, the screen can be readily available in your city, but it might not be the OEM display, and hence, you can't enjoy the same quality again. We will discuss this problem in the next section.
Did you get a very low-quality screen in the local market?
There are two big problems in the mix which we need to understand, and we also need to understand why the original screens are not easily available in local markets. The first problem is the customer's tendency towards getting a screen replacement for low prices, and the second problem is a plethora of counterfeit goods in the local market.
When customers ask for the best price, the vendors are forced to source cheap goods from unreliable sources. It is very evident that no-one wants to lose the business, and that's why first copy duplicate screens are piled-up in the markets. The shopkeepers worry that If they ask for a higher price for the original screen, they might start losing business, and their competitor selling for cheap will gain all their customers. That's why first copy screens are marketed under different names. Such duplicate screens are often called First Copy, OG, compatible, or 99% quality screens.
Surely, the prices are low, but you don't get the desired quality, which in turn badly affects your usability experience with the phone. After getting a screen replacement locally, you will often notice very low brightness, off-the-wall colors and weird working of touch screen glass. You will feel like you can't use your phone properly now, and it has become just a compromise. The low-quality screens are very easy to break, and you might end up paying more in the long run.
Why the customer's mindset is a hurdle in getting the original screen?
When customers buy a phone, they look at all the specs and other information very minutely. However, the same customers try to find the cheapest screen replacement options when it comes to replacing a broken Narzo 10 display. Please note that lower prices can never yield a quality product, and It is true in all business segments. Whatever you buy for low prices from the market, for example, cheap clothes, shoes, or electronics, is rarely quality stuff.
Many people search online and even believe unrealistic things very easily.  Many of them are trapped into buying an original screen for Rs 1300, and later when they receive the actual product, It is a substandard china copy. These kinds of decisions will never help you because if you tend towards cheap prices, you are a very easy target for counterfeit goods.
People often consider themselves the best deal finder on the planet but honestly, no such deals exist in this business. If you want a 100% original screen replacement for your phone, you've to pay a justified price for that. Any other stuff, you get for low prices online/offline is not up to the standards. Surely, you can buy low-quality stuff If that is what you want to get intentionally. If you are low on budget or don't want to invest much, you can certainly go for a counterfeit display but don't pat on your back thinking that you got the original one.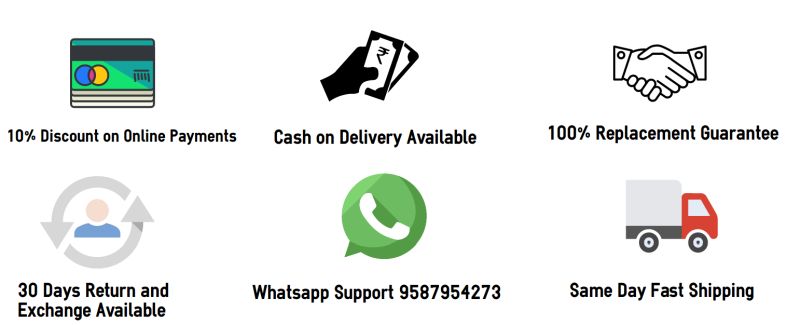 Realme Narzo 10 Display Specifications
| | |
| --- | --- |
| | This combo is 100% Original, brand new, and suitable for Realme Narzo 10, Model Number RMX2040. |
| | The Realme Narzo 10 display size is 6.5″, and the display type is HD+ and display resolution is 720 x 1600 pixels. |
| | The new combo comes with the advanced protection of Corning Gorilla Glass 3. |
| | It is a complete display unit consisting of the inner display and top layer of touch screen glass. |
| | We make sure to verify each display for 100% flawless working before dispatch. |
| | The display comes from the OEM manufacturer and offers the same colors, quality and brightness. |
| | We routinely test each display for 100% perfect working and then we dispatch it. |
| | You can also test and verify the working condition of the display very easily before fitting. |
| | We buy our stock directly from the OEM factory so that you can enjoy the quality. |
| | The screen replacement is always ready to dispatch without any hiccups. |
| | You can order the product using Cash on Delivery or Online Payments. |
Frequently Asked Questions
Q: How much do I need to pay to replace a broken Realme Narzo 10 display?
The price of a 100% original Realme Narzo 10 display replacement is around Rs 2800-3000. If you buy a duplicate screen replacement, then the combo costs about Rs 1100-1300 in India. The duplicate screens are very popular in the local market, but we are not dealing with them.
Q: The local technician is quoting Rs 1700-1800 to me. Why is that?
The technicians in the local market sell only the first copies, and they don't have originals available with them. Often, you will find such technicians condemning the online business, and they always tend to poison the ears of the customers. Such people are backbiter, and It is just an attempt to save their own business because people are swiftly moving towards online shopping, and it puts a dent in the business of local vendors.
The screen sold in local markets can be easily found for Rs 1000-1100 in the wholesale markets. It is the source of such screens, and these are obviously the counterfeit screens sold under ambiguous names like OG, 99% quality, and first copy. If you are buying such a screen, beware, because the quality will be nearly 50% of the original one. Buy such screens only if you can live with a screen having very dull colors, very low brightness, and poor build quality.
Q: I've found a very good deal online, and your price is high. Can you convince me?
No, we are not into convincing business because customers have a natural tendency towards low prices for obvious reasons. Many customers even believe that everything is the same, and It is not possible to source the original screen, but it is simply not true.
As per our experience, customers learn only from their experience. Once they get a counterfeit screen for a low price and realize their mistake, they start looking for the original one. After getting a fake screen, customers are literally baffled and start suspecting all the vendors. Now, everyone who claims that their screen is original, they ask for proof and certificates, etc., but such things don't even exist in this business.
The original screens come directly from OEM manufacturers, and you'll not get them for low prices anyway. It was your mistake to trust the cheap sources, and obviously, you were looking for the best possible deal. We assure you that we offer a 100% original display, and there is a 30 days return policy to enhance your experience. You can test the display (without pasting it in your phone, in open condition), and if you don't like the quality, you can easily return to us in unused condition for a 100% refund. Our prices are on the higher side, but we supply 100% pure original and tested screens to our clients.
Q: Can I get a new screen for free under service center warranty? 
If you have a physically damaged display, you can not get a replacement for free. The official service center warranty covers very limited aspects of the display, and any internal or external damage is out of warranty.
In some cases, even if the screen is not visibly damaged, you will not get a replacement because many times, internal damages happen to screen, which are obviously not covered in the warranty. Any water damage is also not covered in the warranty. So It is very unlikely that you'll get a free replacement in such cases when the fault is entirely yours.
Q: What if the display breaks during transportation? 
The mobile phone screens are very fragile, and If not packed well, there is a considerable risk of in-transit damage. We know that our customers worry about that, but we take the utmost care to pack the screens and even buy insurance for the parcels in transit. Any in-transit damage is our responsibility, and we replace a broken display for no charge if any in-transit damage occurs.
To be eligible for a replacement, you should record an unboxing video of the parcel for your safety. You are advised to record the video from the very beginning. First of all, show all sides and corners of the parcel so that It becomes evident that you are opening a sealed pack parcel. We humbly take care of all genuine requests regarding breakage and provide immediate replacements. Please know that we know our packaging and our products very well, and any forgery attempts will be easily caught.
Q: How can I check the display quality myself? 
We suggest that you should always check the display quality before you fix it on your phone. Many people go to repair shops and just handover the phone to the technician and don't even take a trial of what he fits on the phone. They always fit the first copy screens and later even if you complain that the screen is not up to the mark, It is already fitted and they can't take it off from the phone.
That's why you should always check the quality yourself regardless of where you buy the product. To test the new display, you just need to connect the display's flex cable to your phone's motherboard in an open condition, and you can easily test the display. Once everything is working perfectly, and you are satisfied with the quality, you can fix the display permanently.
Q: What is the difference between an original and first copy display?
The main difference is the manufacturer who crafts these screens. The original display of Realme Narzo 10 comes directly from the OEM manufacturer, who makes these for the actual company, and the quality is 100% identical to what comes fitted in a brand new phone. Such screens are costly but worth the money.
On the other hand, the duplicate (or fist copy, 99% quality, OG quality) screen comes from 3rd party manufacturers who make these compatible screens using low-quality materials to reduce the manufacturing costs. These screens are very widespread in the local market, and that's why the prices are low. These kinds of screens do work, but you will not get the same colors, quality, brightness, and feel as before, so we consider such screens as a very futile investment.
Shipping, Return and Refund Policy
All the products supplied by us come with 30 days return, refund, and replacement guarantee. To return a product, It should be in the same condition as we sent. You can't use or fix the items If you want to return. For complete details about Shipping and Returns, please click here.