When we accidentally break the display of our smartphone, Realme Narzo 10A, our whole life comes at a sudden halt. The entire pace of our life slows down, and with our work remaining incomplete, everything gets messy. It is so disappointing when the Realme Narzo 10A breaks, and you can't use your phone for your daily activities. Undoubtedly, life is very much dependent on smartphones, and It is hard to live with a broken screen.
If you take your phone for repairs to the official Realme service center,  the cost is going to be on the higher side. If this makes you worried, we would like to chime in and say, do not worry about anything. Touch LCD Baba is here at your service, with the 100% original screen replacement for your phone. Touch LCD Baba promises you that all the display replacement products you buy from us are 100% original and authentic. We offer the best Realme Narzo 10A display and touch screen combo, at the lowest prices and source from the OEM manufacturers. We supply the same parts as you get with brand new devices, and there will be no compromise in the screen quality.
Why does the display break despite having the Gorilla Glass protection?
If you are also wondering how come the display can break despite having a Gorilla Glass 3 protection, then we want to clear up your doubts. The Gorilla glass is an additional layer of protection, and It is very strong when compared with the ordinary glass. Still, It is not a panacea and can't protect the display or touch screen from major drops. It is true that gorilla glass is tougher but still it is not invincible.
Dropping and breaking things is in our nature as human beings. Smartphones are no exception to this phenomenon, and after a broken display, It is your responsibility to restore the phone to its original condition without any compromise in the quality. Surely, there are lots of cheap options available in the market, but none of them will offer the same quality. If you want to retain 100% quality of your phone, buying the original display is the only choice and that is exactly what we offer.
Why should you purchase from Touch LCD Baba?
Why should you choose us when there are tons of replacement options available in the market? Realme Narzo 10A deserves the best quality display replacement to do justice to its original high-quality display. The tons of options you find in the market are just plain duplicates (or say first copies) of the original products, so you need to be careful when choosing the best replacement option for your phone. These duplicate products cost much less, which makes them attractive to the customers, but they are not worthy of your hard-earned -money. They will cost you more in the long run, and it drags the entire display quality down too.
You cannot replace an original display with a duplicate product and still expect the same display quality. It is precisely why you should choose LCD Baba because we do not give you some duplicate rip-offs, and we will only provide our customers with authentic, verified, and OEM displays. For the smooth functioning of your smartphone again, you need the best display replacement, and LCD Baba promises you nothing but the best. Take our Realme Narzo 10A Display and Touch Screen Glass Combo, to do justice to your phone.
Combo Replacement Vs. Only Glass Replacement.
Many people are usually confused about the type of replacement method they should choose so that they can get the original replacement for their display. Should they get a "Complete Combo Replacement" or an "Only Glass Replacement"? Our team at LCD Baba often gets these types of inquiries from a lot of customers. So, our team has taken the effort and made it easier and simpler for you by mentioning everything that you need to know about Combo Replacement and Only Glass Replacement and which would be a better choice for you.
A) The cost.
The very first priority of a customer is the price of the display replacement. Customers often prefer display replacement options that do not cost much and fit their pockets. To be very truthful, we would like you to know that the complete combo replacements are relatively costlier than the only glass replacements. There is a solid reason for combo replacements being relatively expensive, and that because they are a package that consists of all the essential display parts that will help in replacing the broken display entirely.
This combo replacement is actually an identical part of what comes fitted in your phone and includes the display and touch screen gorilla glass both. However, if you get an only glass replacement, you will only get one thing replaced, the touch screen glass and even that would be a duplicate one. The only touch screen glass costs just around Rs 50 and mechanics charge self-willed prices from customers. We have often seen customers paying from Rs 1000-1500 for glass replacement and actually wasting their hard-earned money.
B)

The success streak.
The only glass replacements are not often successful because it is a hazardous procedure. The two significant pieces, the display, and the touch screen glass, required for the functioning of any display, are glued together firmly; this is why they are regularly considered one unit rather than two.
Now separating them is an extremely complicated task, and it is so risky that it might damage the display and the touch screen glass entirely. This method of replacement is not worth spending your hard-earned cash on. The complete combo replacement is undoubtedly expensive, but it is a secure option to proceed with for a display replacement. The only glass replacement is risky and often ruins the entire experience of using a Realme Narzo 10A and even if you get a successful replacement, the compromise in screen quality is another drawback.
C) Longevity.
When it comes to the field of technology, one should always think ahead, think about longevity. Only Glass Replacements are not the ones you would want to go for if longevity is one of your prior concerns because they often wear out shortly. The glass used for replacement is not the gorilla glass but a very weak think glass that breaks again in no time. You will undoubtedly have to get your Realme Narzo 10A another display replacement in the future. In the refurbished display, you will also see issues with your display like uneven color distribution, incorrect contrast, and under or over-saturation.
You encounter these issues because it is the touch screen glass that you replaced with a new one, not the display screen working underneath it. It remains old and will function similarly, this will cause an imbalance between the two, and you will soon have a display and touch screen issues. The manual process of separating the glass and touch screen will reduce the display quality to a great extent. The only glass which gets pasted on the display is a duplicate one and that's why the glass replacement never lasts long. If you wondered why the original display doesn't break so easily and duplicate one does, It is the sole reason.
D) Assurance.
Realme Official Service Centers never offer glass replacement to customers at first since they are aware of the consequences this method of replacement involves. To make some easy cash and to attract customers for low priced replacement, the local technicians offer only glass replacement and they certainly would not guarantee or assure you regarding the success and effectiveness of this method because it involves a lot of risks.
So the entire risk is yours and technicians don't want to lose their money because of this. They get their share of money regardless of the replacement succeeding or not, and it is only you who might lose its money. If the technicians damage both parts during replacement, It is your risk and no guarantees are involved.
E) Conclusion.
The choice is yours at the end of the day. You have to pick the method of display replacement that best suits our needs and budget. We have tried to give all the information regarding this that might be important to you. We would always suggest you the complete combo replacement. It might be relatively expensive, but it 100% justifies the quality for the price you pay.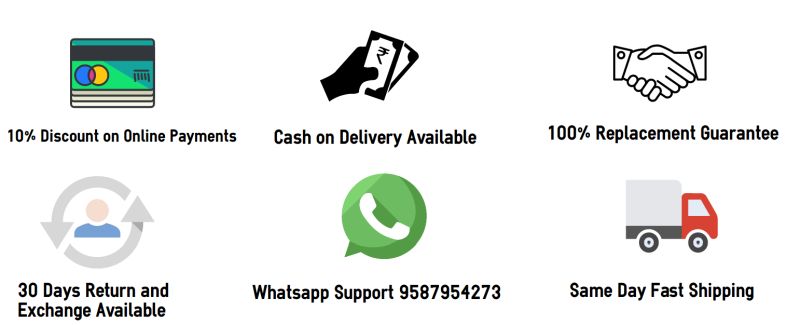 Realme Narzo 10A Display Specifications
| | |
| --- | --- |
| | This combo is 100% Original, brand new, and suitable for Realme Narzo 10A, Model Number RMX2020. |
| | The display size is 6.5″, the display type is HD+ and display resolution is 720 x 1600 pixels. |
| | We offer 100% original screen replacement which comes with Corning Gorilla Glass 3. |
| | It is a complete display unit consisting of the inner display and top layer of touch screen glass. |
| | We test each screen manually for 100% flawless working and then dispatch. |
| | The stock we sell comes from the OEM manufacturer and we sell exactly 100% original. |
| | Our QC team verifies each display for 100% perfect working and defective screens never go to customers. |
| | You are also free to test the display and verify the working condition of it before you fit it. |
| | Please note that we don't sell any kind of compatible products and that's why our prices are high. |
| | The screen replacement is ready to buy and we can ship it out very fast. |
| | You can order the product using Cash on Delivery or Online Payments. |
Frequently Asked Questions
Q: How much does it cost to replace a broken Realme Narzo 10A display?
The price of a 100% original Realme Narzo 10A display replacement is around Rs 2800-3000. If you buy a duplicate screen replacement, then the combo costs about Rs 1100-1300 in India. We don't offer duplicate screen replacements but such cheap screens are very popular in local markets.
Q: What is the meaning of a complete display combo?
It means that you are replacing an entire unit of the display as well as the touch screen glass. The combo replacement is always the right way to replace a broken screen but make sure that you buy the original one because lots of duplicate combos are also easily available. You will see many companies selling products for cheap prices and that is possible only if they sell the duplicate ones. As a seller, we don't deal with counterfeit products and offer 100% original quality to our customers.
Q: For what reasons do the duplicate display-screens cost less?

 
The quality of the product decides the price of the product. If the quality of the product is high, then the price will also be higher certainly. If the product's quality is low, then the product's price will also be less, certainly. Duplicate display products cost very low because they are made of low-quality material, and that's why cheap screens never last long. The original screens come from OEM manufacturers while the duplicate ones come from third-party manufacturers. The price difference always translates to quality differences.
Q: Can only the glass be replaced without replacing the whole combo?
It is also known as the only glass replacement. You can get it done, but it is not recommended and we have provided all the details of it above. You are probably trying to save up some money through this, but you should know that it causes more harm than good, and you will witness this in the future. The procedure itself is risky and rarely successful, and even if it is successful, you will not get the desired quality back for your Realme Narzo 10A.
Q: Do you offer a warranty on a broken display screen?
At LCD Baba, our team's sheer focus is to provide all our customers with only the best display products in the market and make sure that all our customers have a smooth experience of buying and using the product. We make sure to pack your products very well with several layers of protection and still we buy insurance for your parcel during transit. Any kind of damage during transit is solely our responsibility and to be eligible for a replacement, you will need to provide a video of unboxing. A broken screen is never a case but still, we suggest you record the video for your own safety.
If you find anything damaged, we will gladly replace it but you'll need to share the unboxing video. Don't make a video after opening the package because that is not acceptable. We have to keep our security tight because lots of customers try to do fake claims and want to return their broken screens to us. Any kind of forgery attempts are ignored and any genuine customer has nothing to worry.
Q: Does the new display have gorilla glass along with it?
The Realme Narzo 10A display comes with a Gorilla Glass 3 pre-installed in it. So the display you buy from us is having the exact same specs as you get with a brand new phone.
Q: Do you test the display before shipment?
We test every single detail about the display product before we send it to you. Our team of experts uses various techniques to test the display to make sure that it works the way it should. One of our techniques includes getting the actual Realme Narzo 10A motherboard to test the display in a real environment. Our team takes all the potential measures to ensure that all our products work perfectly fine and do not bother our customers in any way.
Shipping, Return and Refund Policy
All the products supplied by us come with 30 days return, refund, and replacement guarantee. To return a product, It should be in the same condition as we sent. You can't use or fix the items If you want to return. For complete details about Shipping and Returns, please click here.