If you are looking for the Realme U1 display price, we can help. A broken Realme U1 display can cause many problems, but you can replace it easily with a new combo. On this page, we offer a 100% original and a brand new combo of Realme U1, which you can use to replace a broken display or touch screen glass.
Please note that modern technology has changed the way mobile phone screens are manufactured. Now all the screens come with folder technology, and the recent trend is going mostly towards notch display and waterdrop display. A broken Realme U1 display can be easily replaced with a new one.
The display offered on Touch LCD Baba is 100% OEM and tested for working. It is 100% Original Equipment Manufacturer part so that you can expect precisely the same quality without any compromise. In more straight words, It is a 100% Original display of Realme U1, precisely the same as comes fitted in a brand new phone. You can expect 100% original colors, quality, and brightness with our product. We are not selling any compatible products on Touch LCD Baba, so rest assured about the quality.
Although it is possible to separate display and touch screen glass yet why one would like to render the phone next to useless. Only glass replacement solutions provide very cheap quality of the glass and destroy the overall usability experience of the phone. For this reason, It doesn't matter If the display is broken or touch screen glass is cracked, you always need to replace the complete set of the display as well as touch screen glass. If you have any questions about Realme U1 screen replacement, please feel free to call us at 9587954273.
Product Specifications
| | |
| --- | --- |
| | The model number of Realme U1 is RMX1831 and the combo offered on this page is 100% original and brand new. |
| | Realme U1 display size is 6.3-inch, display type is  FHD+ and resolution is 2340 x 1080 Pixels. |
| | Realme U1 touch panel's glass type is 2.5D and it is protection Gorilla® Glass 3. |
| | It is a complete unit of display and touch panel glass combined together. |
| | The combo comes with Gorilla Glass 3 Protection with Super Responsive Touch Screen |
| | It offers the same colors, brightness and smoothness as your genuine display. |
| | We test it on actual Realme U1 motherboard before dispatch. Watch the Video below. |
| | The combo comes with 30 days replacement Warranty For Manufacturing Defects. |
| | We offer 100% Hassle Free Returns, Refund, and Replacement. |
| | The spare part is always available in stock. |
| | We also offer Cash on Delivery services all over India. |
How Do We Test The Realme U1 Display?
If you are worried about receiving a defective product, watch this video and clear out any doubts from your mind. If you order a display from us, we will test it like the way you see in the video. This is why our products always work without any issues. Please note that testing the product is very important otherwise you can't know If it is working or not.
Always buy a tested product and save yourself from any kind of hassle that comes from defective products.

When you order and receive the Realme U1 display, you can also connect it to the motherboard and test it the way we are doing. There is no need to fix the display permanently but you can test the display in open condition. The main benefits of a tested display are :
You receive a 100% working product in one go.
You will never face any issues with a tested product.
There is no need to waste your time on returns and replacements.
The combo supplied by us always works, so your confidence in online shopping boosts a lot.
A completely hassle-free experience is guaranteed because you bought a tested product.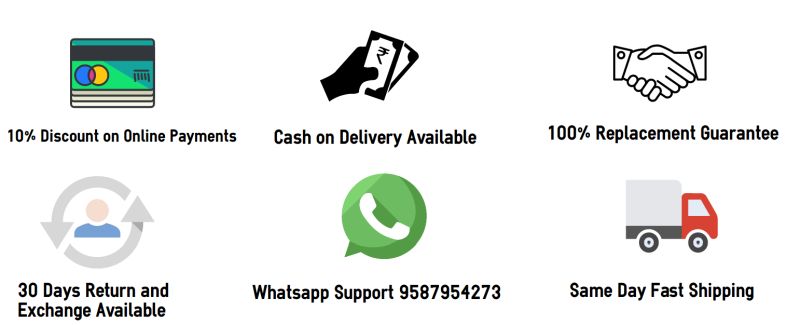 Frequently Asked Questions
Q: What is the price of Realme U1 display replacement in India? 
The price of a 100% original Realme U1 display replacement is around Rs 2300-2600. If you buy a first copy screen replacement, then the combo costs about Rs 1100-1300 in India. You may have to pay additional repairing charges on top of the display's price to a mechanic.
Q: I bought a local display before, but it has broken so easily. Why? 
The word local itself means that you bought the first copy. Most customers rush to the local market or contact the known friends to ask them about the display replacement. Now in local markets, only first copies are available, and originals are not available. Customers usually get a screen replaced in the range of between 1500-1800 rupees. This price generally also includes the installation charges, and you can be sure that you bought the first copy.
The original display costs way more, and Gorilla Glass actually protects it. While on the other hand, a first copy display comes with plain glass and thus very prone to breakage. If you also noticed dull colors and reduced sharpness in the display, you got what you had paid! Always invest in original spare parts as they are way more durable and long-lasting.
Q: I tested a display in the local market, but touch is not working. Why? 
The mechanics usually try to use Universal first copy versions, and such screens work in more than one model. If you tried a display in the local market and its touch screen didn't work, It is because of the version issue. The first copy screens come with huge problems, and nothing is predictable. If the screen works, mechanics will fix it in your phone, and If it doesn't, they will blame your phone or ask you for more money.
Mechanics also try to come up with non-existent issues to extort money from customers. They will say that there is an IC problem on the phone, and you have to pay an additional Rs 700, but in reality, nothing such exists. Beware of such mechanics, and don't rush for display replacement without doing your homework.
Q: I thought the original display is cheap. Isn't it so? 
For your information, quality is not cheap in any business. In any industry, If you want to enjoy quality, you have to pay the price. The same concept also applies to this business. The Original combo of Realme U1 is pricey, hard to source, and even harder to sell. It is because a vast majority of customers are running behind cheap solutions.
When customers buy a phone, they pay the price for the quality. After that, when it comes to screen replacement, they start looking for the cheapest solution in the whole universe and don't care for the quality. Such attitude and thinking always result in lots of hassles later, but no one understands this without suffering from it for once.
Q: Do you offer any discounts on the original display replacement?
We don't offer any discounts on Cash on Delivery orders. If you do a prepaid order, we offer a flat 10% discount on the listed price. The discount is automatically applied when you checkout, no coupons are required.
Q: How can I replace only the touch screen glass without replacing the display?
We never suggest or advocate only glass replacement because It comes with so many quality issues.  Even If the glass replacement is successful, you will typically face these issues after a glass replacement :
You will see lots of dust particles between the display and touch screen.
After replacing only glass, the brightness of the display will reduce up to 30%.
The quality of the touch screen glass will be inferior, which breaks again so quickly.
You will see many Dead Pixels and yellow spots on display.
In local markets, lots of technicians are doing this stuff because It makes them money. They can easily extort Rs 800-1000 from a customer for the material, which costs them Rs 60. So they are making handsome money, and If they replace the original combo and ask for a higher price, the customer will move to another shop. The customer's mindset is responsible for low-quality screen replacement, and If you want the same quality as before, purchase the original screen replacement for Realme U1.
Q: The mechanic in my city says that Original Display is not available anywhere. Is this true? 
This is not true at all, and when mechanics can't source original goods, It is better to say that It is not available so they can retain the customer. The original display is not available easily, and mechanics don't care if the quality of the display is ruined. They want to have money from the customer and have no feelings towards customers' phones.
We have worked as a wholesaler in the local market, and even when we warned mechanics that this item is not good, 99% of them say that they don't care as the customer is not paying them enough money for the original one. So If you are a bargainer, we have warned you.
Shipping, Return and Refund Policy
We test each combo for 100% perfect working before shipping it to the customer.  Still, our products come with 30 days return, refund, and replacement guarantee. For complete details about Shipping and Returns, please click here.