A broken Realme X3 display looks bad and prohibits you from using the phone properly. If you want to buy a 100% original display replacement but can't find an original display in your city, you can easily purchase it online. We offer a 100% original display combo for Realme X3 with the outer frame, the best and most durable display replacement you can buy. Using this display combo, you can easily replace the damaged screen and restore your phone's pristine condition in no time.
You'll undoubtedly feel disappointed when the display or touchscreen glass of Realme X3 breaks. You can't use the phone and invest more money to replace the display. The Realme X3 display is not easy to find in the local market, and mostly, you'll find only duplicate screens for this model, which are not good. If you buy duplicate screens, you'll lose all the quality of your phone, and as duplicate screens break very easily, you must keep buying new screens every 1-2 months.
Why do you need the outer frame or the middle frame?
The outer frame is the essential part of your phone because it holds the display firmly in place. If the front side plastic frame is bent/curved/broken, you can't make use of a new display because you can't paste it without a frame. In severe damage cases, the outer frame loses shape, and buying only the display combo doesn't solve the problem. In such cases, you must buy a display and touch screen combo which comes pre-assembled in the outer frame because other types of screens will fail to resolve the issue.
If you smash your phone on a wall or if a vehicle runs over your phone, it will surely lose its shape. As long as the motherboard of your phone is good, you can buy a new display with the outer frame and easily replace the broken display of your phone. The Realme X3's middle frame acts as a base of your phone, and if you examine a new with-frame display, you'll feel it like the front half portion of your phone in brand new condition. A with-frame Realme X3 display is expensive, but it is worth the investment. After replacing the broken display, your phone becomes brand new.
What are the benefits of a factory-fitted display replacement?
If you want to understand the benefits of a factory-fitted display, you need to travel back in time and remember how shiny and clean your brand-new phone was. You get the same fitting and finishing when you buy a Realme X3 display with an outer frame. If you are considering buying duplicate screens for your phone, beware because you'll never get the original quality and touchscreen smoothness. You get these benefits only if you purchase the original display replacement :
You get a 100% original Realme X3 display pre-installed in the frame.
The front side portion of your phone renews completely.
You won't see any gaps between the display and the middle frame.
A factory-fitted combo is 100% perfect, and the display light will never come out from the corners.
The touchscreen glass works perfectly without any lags or incorrect responses.
The biggest benefit of an original display is its durability; you can easily use it for three years or more.
If you want to repair your phone without leaving any signs of repair, buying a display with a frame is the best option. After fitting the display, you can't tell if you've ever replaced the display. The colors, brightness, touchscreen smoothness, and camera quality stay 100% of the original levels.
Realme X3 Display With Frame Specifications
| | |
| --- | --- |
| | This Realme X3 display is 100% original, tested, brand new, and suitable for Realme X3, model number RMX2081. |
| | The Realme X3 display size is 6.6 inches, the display type is IPS LCD, and the resolution is Full HD+ 2400 x 1080 Pixels. |
| | You get a 100% original display combo with Corning Gorilla Glass 5 protection. |
| | We buy our stock from the OEM factory to ensure 100% original display quality, colors, and brightness. |
| | This display replacement is 100% identical to what you get assembled with a brand-new phone. |
| | Our testing team tests each display for 100% flawless working before dispatch. |
| | The display combo is available in stock, and we offer same-day shipping (Delivery in 3-4 days). |
| | You can order the display using Cash on Delivery or Online Payments (10% discount). |
| | We back our products with a solid 30 days money-back guarantee. |
| | The stock is readily available, and the turnaround time is speedy. |
| | We pack your products very carefully in rigid plastic boxes for maximum safety. |
Frequently Asked Questions
Q: How much does replacing a broken Realme X3 display in India cost?
The price of a 100% original Realme X3 display replacement with a middle frame is around Rs 4800-5000. The combo costs about Rs 1600-1800 in India if you buy a first copy screen replacement. After delivery, you'll need to find a technician to install the display on your phone, which would cost you extra.
Q: Do you offer the original frame separately without the display?
No. We don't offer original frames separately, as they are available only with the original display. If you buy a frame separately, that would be a duplicate one, and you'll not get a proper fitting with such frames. Customers buy duplicate frames and hope that everything will be perfect, but when you buy copycat items, you'll discover many issues. The display will not fit perfectly, you'll see gaps on the side after installing the display, and the middle body will not fit edge to edge with such frames.
Q: I want to buy the original display, but what if I get a defective product?
We test each display carefully before shipping, and you won't receive a defective product from us. Many customers feel that buying a Realme X3 display online is risky, and many friends will poison their minds against online shopping. However, there is absolutely no risk, and we back our products with a 30 days return policy. If you face any issues or don't like the product, you can return it within 30 days after delivery.
Please note that typically you'll never get original screens in the offline market, and mobile phone technicians will continue looting you. They will sell duplicate products and charge high prices from you to make more profit. This practice is widespread in the local market when shopkeepers fool you and later deny returning your money.  These people will typically stop you from buying online so that they don't lose their business. If you never purchase a display replacement online, you'll never understand the quality differences.
Q: Do all the websites sell original screen replacements online?
No!. Most websites offer low prices to attract customers and sell counterfeit screen replacements to you. If you visit Touch LCD Baba and see that the original display costs Rs 5000, you'll surely try to find cheap alternatives. Then, they will say that they will give you the display for Rs 2500, and you'll easily trust them because of your inclination toward low prices. After delivery, you'll realize that you've been duped, which is to be expected because such decisions will always result in a bad outcome.
If you bought a mobile for RS 25000, on what earth do you expect the original display to be available for Rs 2500? It would be best if you always were practical when buying spare parts online because duplicate products are extremely popular in this industry. You shouldn't expect the original display's brightness and color reproduction if you buy a spare part for a low price.
Q: How does the original Realme X3 display differ from the duplicates?
The original Realme X3 display comes from an OEM manufacturer that supplies original screens to the parent company. These screens offer mesmerizing display quality, sharp colors, and excellent onscreen brightness. If you buy a local display, all the essential properties come down to 40-50% levels, and that's what a duplicate display is.
A duplicate display comes from third-party manufacturers who make local products using a low-quality material. Their sole goal is to reduce manufacturing costs so customers can buy screens for lower prices, which means more business. Mostly all the screens available in the local market are duplicates, and you'll never appreciate the quality. If you are a customer who doesn't care about the brightness and whether the touch screen works, you can surely buy the cheapest products online/offline.
Q: Can I return the new display if it doesn't work?
If you face any problems while testing the display and it doesn't work, you can always return it to us for a refund. Please note that we send the product to you after testing it properly, and a brand-new display is as good as a new mobile phone. You get a 30 days return period, and only unused returns are accepted. You can't return a display after installing it on your phone.
Q: How would I know if the display works without installing it?
Customers ask us how they will know if the display works without installing it first, and we want to clarify this doubt here. You should install a display permanently only after testing it, and testing a display is easily possible in an open condition. You can follow these steps to test the new display :
First, dismantle the phone and take off the necessary screws.
Locate the old display's connection and gently eject it from the motherboard.
Connect the new display's flex cable to the motherboard and turn on the phone.
You can test the new display like it is installed on your phone and test everything you want to.
Please note that you don't need to remove the screen guard or assemble the display into your phone to test it. The open condition testing is 100% accurate, and all mobile phone service centers rely on this technique to test the display before installation. We hope you understand how it is possible to test the display without modifying its original condition.
Realme X3 Display With Frame Photos
You surely want to see the actual product photos to finalize your purchase decision. If so, please look at the original product's photos below and get an idea of what you'll get after your order. If you have any questions or need clarification, please get in touch with us at 9587954273, and we'll be delighted to assist you further.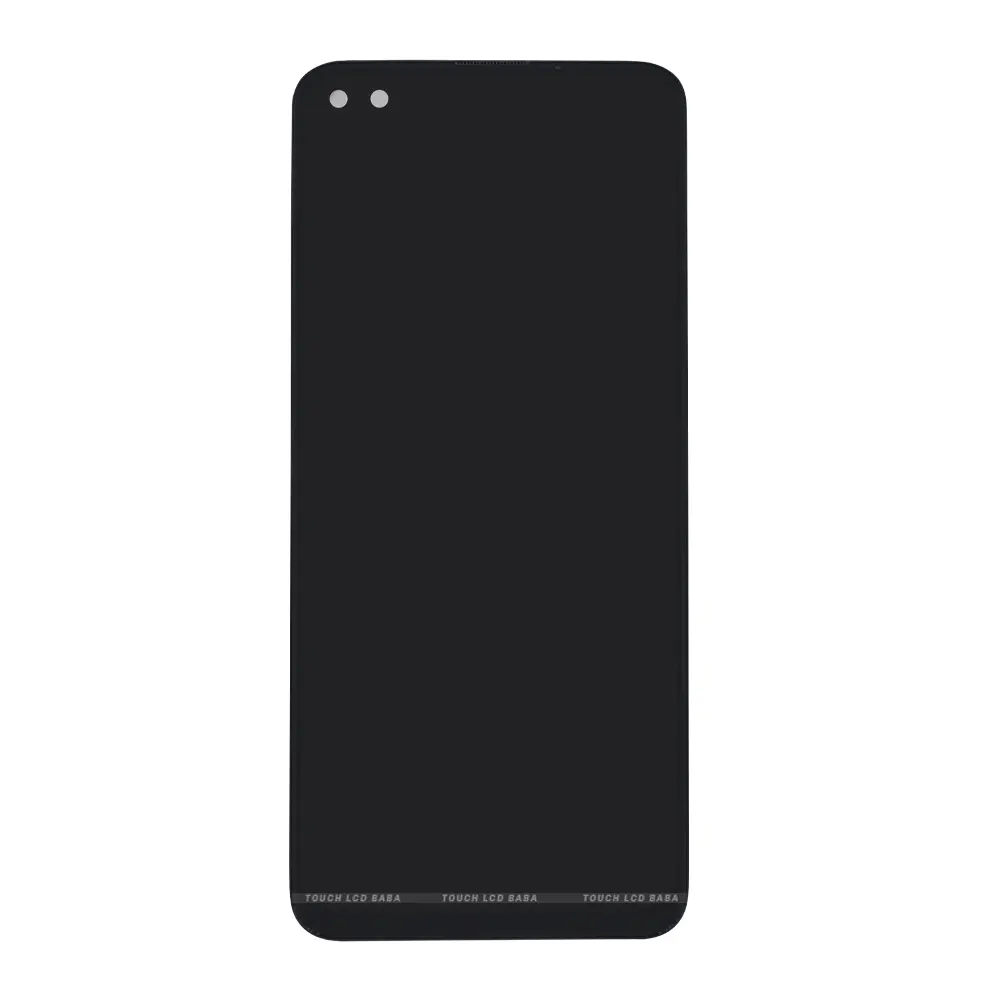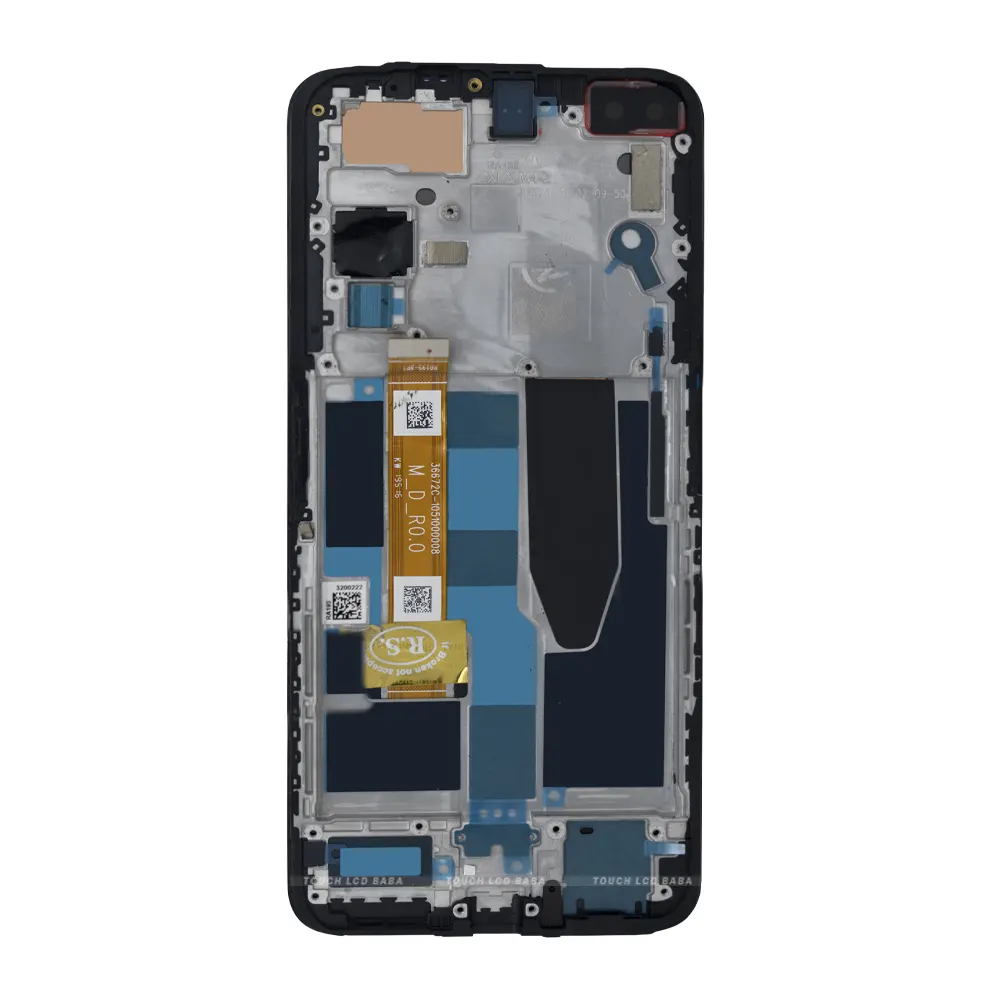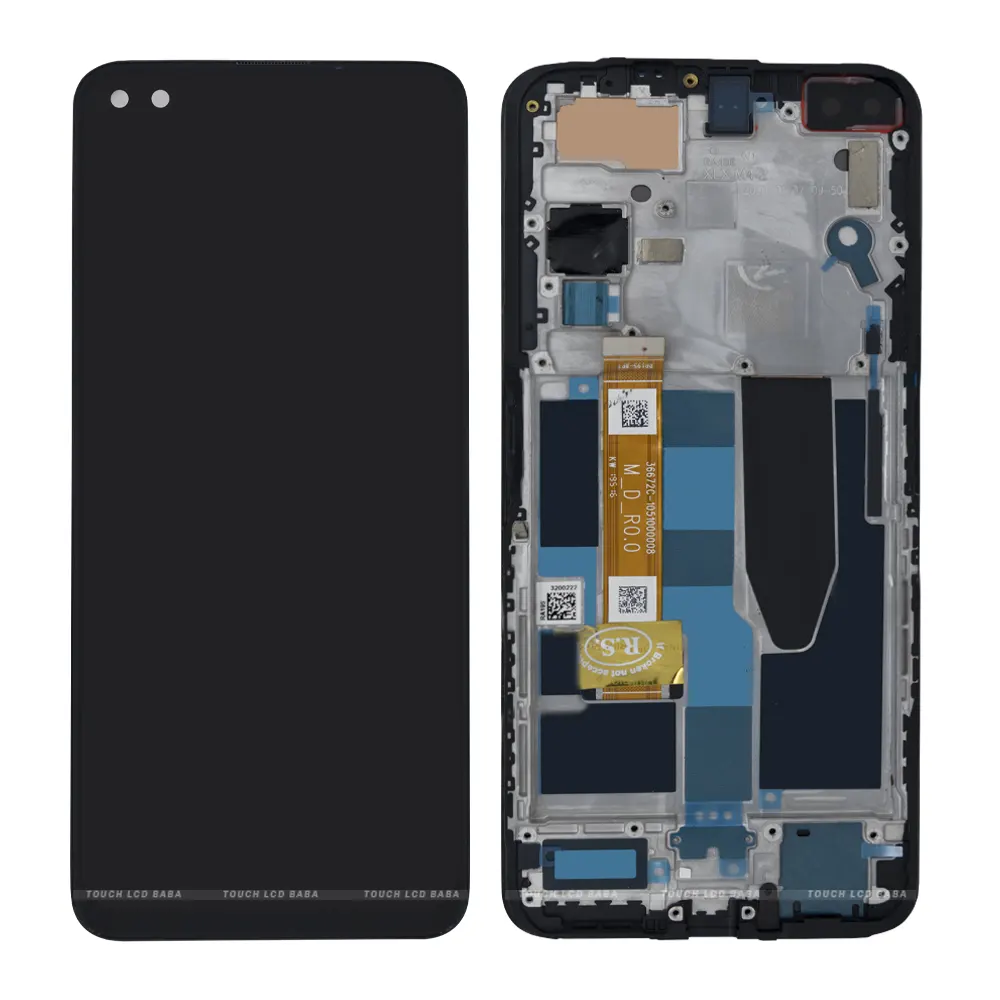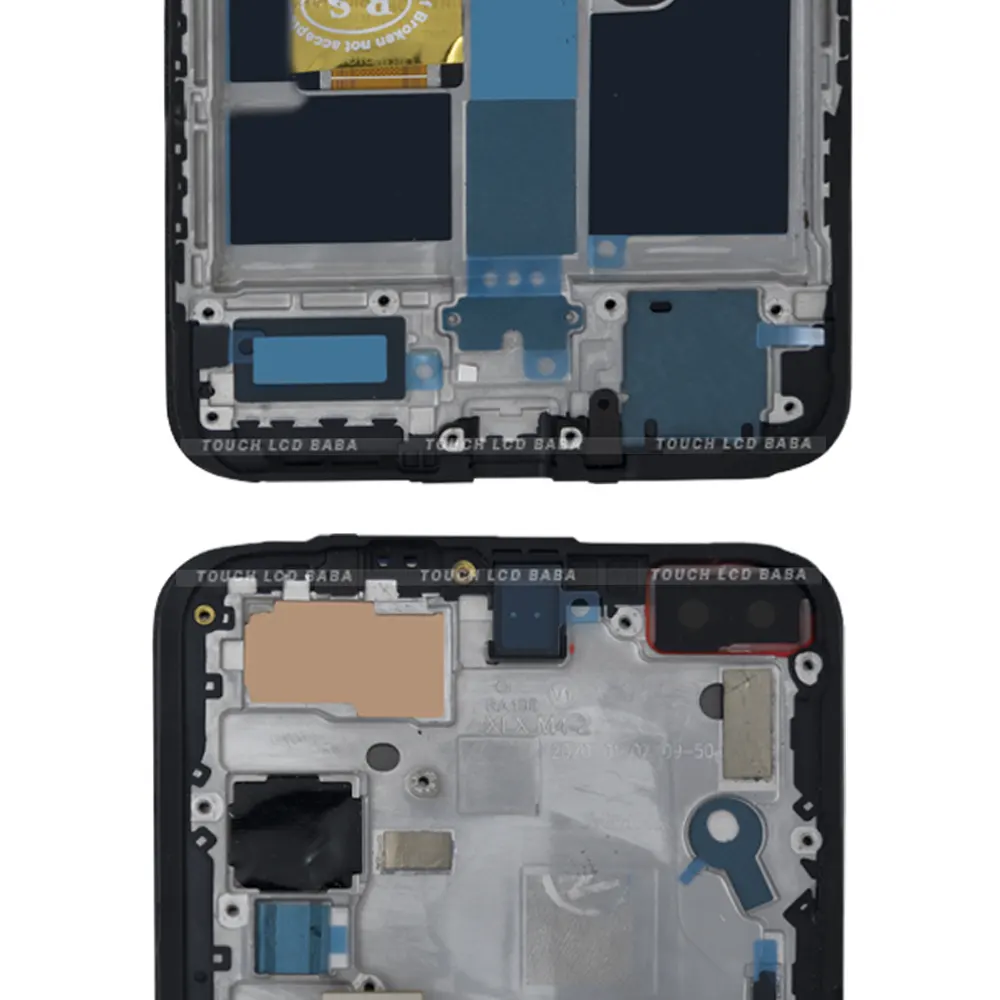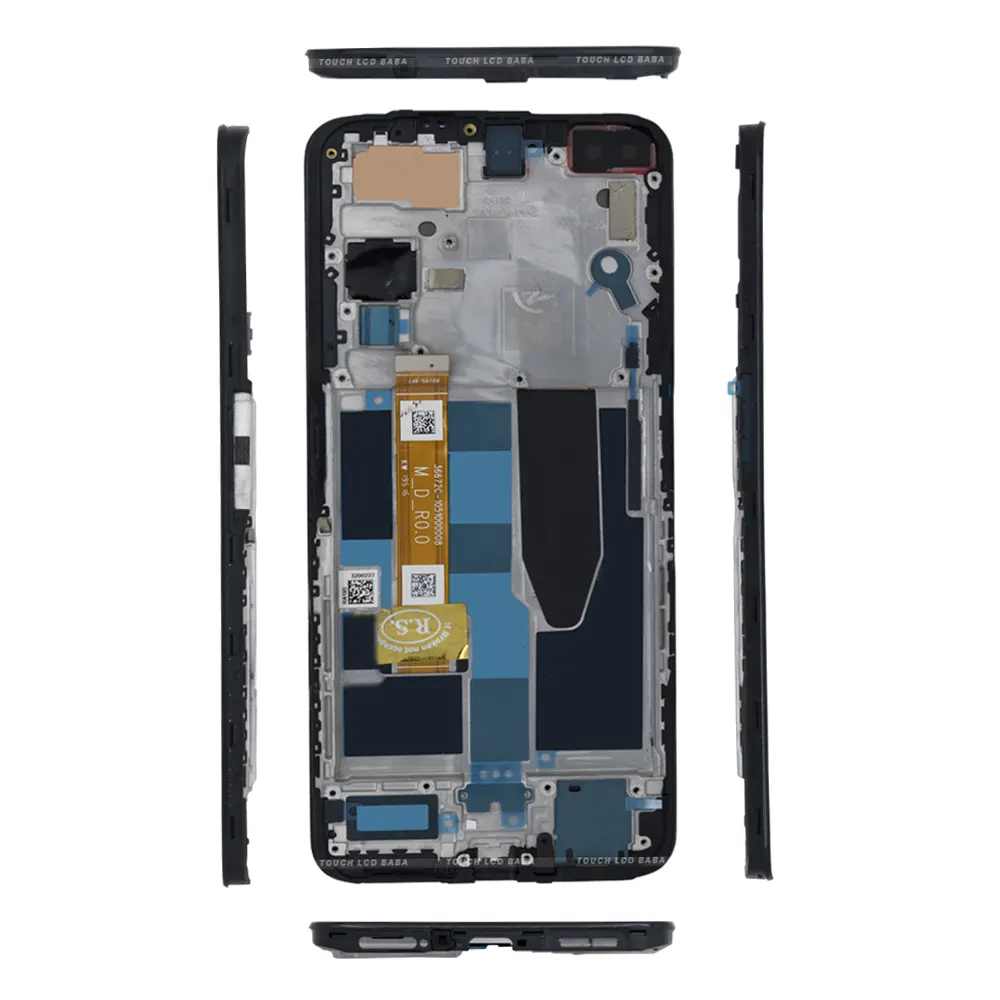 Shipping, Return and Refund Policy
All our products come with 30 days return, refund, and replacement guarantee. To return a product, It should be in the same condition we sent. You can't use or fix the new Realme X3 display if you want to return it. For complete details about Shipping, Returns and Warranty, please click here.