If you dropped and damaged the Tecno Spark Go Plus display, you must purchase a new display assembly to replace the broken part. The Tecno Spark Go Plus is a very popular model in India, also known as BB4K. Tecno offers budget phones, and that's why so many customers have bought Tecno phones and need screen replacements whenever they break the display or touch screen glass.
Tecno is still an emerging brand in India and mostly offers budget phones. If you live in a village or a remote area and own a Tecno phone, it might be really tough for you to find the original screen replacement. We all know that small mobile repairing markets exist in every town, but usually, they don't have the complete range of screens or mostly offer duplicate screen replacements for high prices.
On this page, we'll discuss Tecno BB4K display replacement so that you can make an informed decision and invest your money wisely. On a side note, BB4K is the model number, and Tecno Spark Go Plus is the model name. Therefore don't get confused because both terms refer to the same model.
What is the meaning of the Tecno Spark Go Plus display combo?
When you drop the phone and break the inner display or top layer of touch screen glass, you need a new part to replace the broken part. In other words, a new display unit of Techno Spark Go Plus is called a combo because it consists of an inner display and a top layer of touch screen digitizer glass. A display unit always consists of two individual parts, and you should always keep that in mind.
Please note that mobile phone screens are fragile, and a harsh drop can result in a broken display or touch screen digitizer glass. When this happens, you feel distressed and worry about how you would get the same original display. This fear is realistic because local markets are full of duplicate screens that don't offer the same quality as before. You can surely get duplicate products for low prices, but if you want to enjoy the same original quality as before, you must purchase an original display combo as sold on Touch LCD Baba.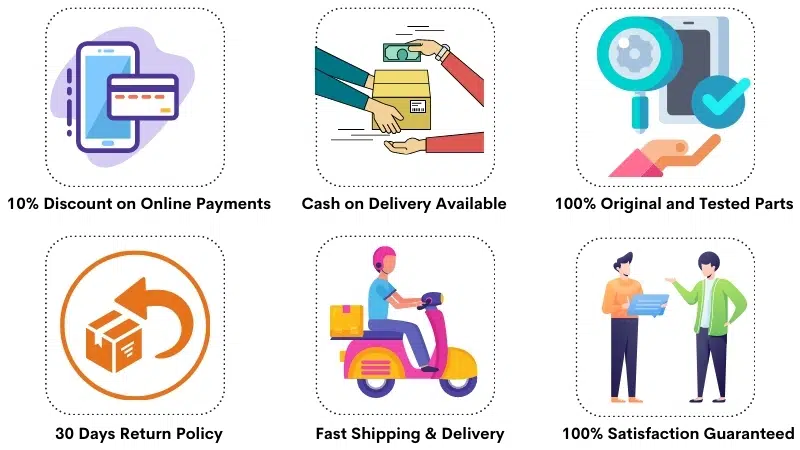 Glass Replacement Vs. Combo Replacement
Many customers are confused about whether they should replace the complete combo or only the glass. In many cases, when only touch screen glass breaks, the mind starts to learn about alternative solutions to save money. The touch screen glass replacement is such a low-quality solution totally reliant on using duplicate spare parts.
The glass replacement impacts the overall display quality and introduces flaws like white spots, dust spots, and other flaws, which irritate the eyes. The quality of the display won't stay the same as before, so the glass replacement is considered a shallow solution. If you replace the broken display with an original display like the one we sell here, the results will be amazing, and you'll not even realize if you've ever repaired the phone. It's the real beauty of original combo replacement, but you've to invest a bit of cash for that.
Tecno Spark 4 Plus BB4K Display Specifications
| | |
| --- | --- |
| | This display is 100% original, tested and suitable for Tecno Spark Go Plus, BB4K. |
| | Tecno BB4K display size is 6.52″, the display type is IPS LCD and the resolution is 1600 x 720 pixels. |
| | It is a complete combo of display and touch screen digitizer glass merged into one. |
| | You can use this combo to replace a broken inner display or top layer of touch screen digitizer glass. |
| | We always test each display for 100% flawless working before dispatch. |
| | We guarantee the same colors, quality, brightness and fluid experience as you enjoyed with original display. |
| | Our stock comes from the OEM manufacturer who makes these screens for the company. |
| | We back our products with a 30 days return, refund and replacement guarantee (In unused condition). |
| | You can always contact us at 9587954273 or Toll Free number 1800-123-6231. |
| | The Tecno BB4K display is readily available in stock and turnaround time is very fast. |
| | You can order the product using Cash on Delivery or Onlne Payments. |
Frequently Asked Questions
Q: How much does it cost to replace a broken Tecno Spark Go Plus display in India?
The price of a 100% original Tecno Spark Go Plus BB4K display replacement is around Rs 2800-3000. If you buy a first copy screen replacement, the combo costs Rs 1300-1500 in India. You may have to pay additional repairing charges on top of the display's price to a mechanic.
Q: Why are the prices low in the local market and high on your website?
People buying in the local markets often don't know that they are buying duplicate stuff. Prices are indeed lower in the market, but please note that the quality of such folders is also abysmal. Customers often compare prices on various websites or shops to get a general idea and then buy from the cheapest source. If you buy a display from a very big e-commerce platform, that doesn't mean that you are buying an original product. All the vendors offering low prices sell duplicate screen replacements only, which has been proven over the years.
Many customers buy from big brands and later realize that they wasted their money. If you want to get a cheap deal, you better buy from your local city because buying online (from 99% of sources) will get you the same duplicate product with additional risks. At Touch LCD Baba, we offer 100% original screen replacements, and that's why our prices are high. We know that customers want cheap, but we are not willing to move in the wrong direction. You're most welcome to buy if you want a 100% original display and if you need cheap, you've got a plethora of other options.
Q: Many Videos on YouTube promote glass replacement techniques. What is that?
The glass replacement is advertised mostly by technicians because it is the biggest moneymaker for them. Please note that all the videos on YouTube exhibiting glass replacement are uploaded by the technicians to motivate all customers for this solution. The glass replacement is the cheapest quality solution designed to make money for technicians.
Here is the basic overview of glass replacement so that you can understand why it is promoted. The glass replacement is based upon duplicate spare parts, and the repairing costs to technicians are less than Rs 100. Now, if the glass replacement is successful, they will charge around Rs 700-800 from you, and if the display also breaks during glass replacement, they will hand over the broken device to you. The technicians don't owe any responsibility for what happens during glass replacement, and it is a win-win situation for them. They will clearly say that if something bad happens while replacing the glass, they are not responsible.
The glass replacement is the local market's favorite, but the official service center never does or recommends this approach. They know that solutions based on duplicate parts are never worthwhile, and we also follow the same path. You can try your hands on glass replacement if you prefer, but we don't recommend this approach.
Q: I'm ready to buy the original, but how can I verify the quality myself?
It is a great question, and you should always verify the display quality yourself before the product is permanently put on your device. Most customers don't test the display and leave this decision to the technician, which is not right. A technician will always get a first copy display and install it on your device because he doesn't have any emotional attachment to your device, but his purpose is completely commercial. If he can make more money by installing a duplicate display, he'll do so and charge nearby the original display's price.
To test the new display, there is no need to install/glue it to your device. You don't even need to depart the broken display from your device. You can connect the display to your phone's motherboard in an open condition by removing the back panel of your phone. This is how it works :
First of all, decouple the back panel of your phone.
Open all the screws on the motherboard, take off the old display's connection, and connect the new display's flex there.
Turn on the phone, and the new display will start working as usual.
You can test the display's colors, quality, brightness, and smoothness.
When you are satisfied with the quality, you can install it on your phone.
If you verify the display yourself before installation, you can easily notice the characteristics of a duplicate display and stay away from it. A duplicate display is easily detectable at first sight because of its low-quality output like dull colors, very low brightness, hard-working touch screen glass, and other similar issues. Only the original display can offer the same quality as before.
Q: What is the source of your original Tecno Spark Go Plus display?
It bothers many customers that how come we can source the original screens while our competitors can't. The answer lies in the selling price because we are not vying to offer the lowest price on the planet. We want to offer 100% original display replacement to our customers, and so far, we see tremendous success in doing so. We are not concerned about the price because original screens are always costly.
We buy our stock from the actual OEM factories that manufacturer original screens for the actual company. These factories are widely known for their high prices, and that's why most vendors stay away from them. A duplicate display usually costs half of what the original display costs. That's why mostly all wholesalers buy from third-party manufacturers who can offer duplicate screens for low prices. Surely, their prices are way lower than ours, but they are far behind when considering the quality.
Q: What if the new display doesn't work on my phone?
We test the new Tecno BB4K on the actual motherboard, and there is literally no chance of any defects. Still, you also get 30 days testing guarantee on all products. What it means is, once you get the product, you have got a 30 days time period to test the product on your phone without installing or pasting it. By doing this, any issues come to light even before installing, and you can even return a product to us in unused condition. It is vital to test the product because you can't return it after installing it.
Shipping, Return and Refund Policy
All the products supplied by us come with 30 days return, refund, and replacement guarantee. To return a product, It should be in the same condition as we sent. You can't use or fix the display if you want to return them. For complete details about Shipping, Returns and Warranty, please click here.