If you arrived here searching for Tecno Camon 12 Air display, we would welcome you on Touch LCD Baba. Here, you can find a complete display and touch screen combo for Tecno Camon 12 Air, which you can use to replace a broken touch screen glass or the display. On this page, we will answer all the questions hovering in your mind so that you can make a wise decision.
What is the meaning of a Combo?
The simple meaning of a combo is display and touch screen pasted together in a single unit. You can also call this as a folder or display assembly. The mobile phone screen is always the most fragile part of the phone, and if you drop the phone accidentally, the front glass or the display will damage. To reverse the damage, you need a new combo, and this is what we offer on this page. You can't simply throw away the phone when the display is damaged, and this is why combos are available separately so that you can restore the working condition of the phone.
What to do when the display damages accidentally?
It is very common to drop the phone and damage the screen accidentally. It happens to everyone at some point, but you can easily take care of such things. That is why companies have opened service centers so that customers can easily repair their phones.
Once you drop the phone, make sure to backup all the data in a secure place in case something happens. Then you need to purchase a new combo of Tecno Camon 12 Air and get it fixed on your phone. There are several ways to repair your phone, and we will discuss all those methods later in this article. If your phone is damaged,  don't panic as It is very normal and you can easily replace the screen.
When do I need to go for the display replacement?
It depends on your pocket and urgency for the replacement. Generally, you don't need to rush for the replacement if the phone is still functioning properly, and everything is visible on display. A broken screen looks bad in front of your colleagues and friends. It is also unpredictable when the screen will stop working completely. If you are traveling and the broken screen stops responding, you can be in real trouble.
If the screen is slightly scratched and doesn't interfere with the daily use of the phone, keep using your phone until everything stops working. It is because sooner or later, you have to pay the price for replacement as the warranty is not useful when the device is physically damaged. So you have enough time to replace it.
In case the damage is intensive, and the screen has gone black, and touch is also not responding, then you need to replace it immediately. You can buy a 100% original combo from our store and replace it with the help of a mechanic. Our clients get the 100% original and tested spare parts, which come with 30 days replacement guarantee as well.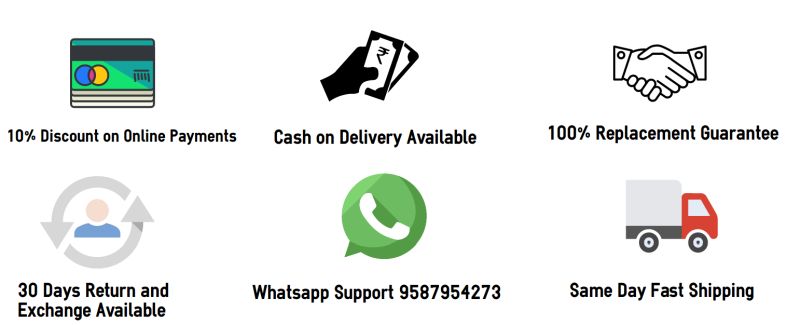 Product Description
| | |
| --- | --- |
| | The part you see here is a 100% original combo of Tecno Camon 12 Air. |
| | Tecno Camon 12 Air display size is 6.55-inch and display resolution is 720×1600 pixels @268 PPI. |
| | You can use this combo to replace a broken display or the front touch screen glass. |
| | This part consists of the display as well the touch screen glass. |
| | The display is protected by Corning Gorilla Glass 3. |
| | It offers 100% original brightness and clarity as your stock display. |
| | We test the display for 100% perfect working before we send off to our customers. |
| | We also offer 30 days replacement and refund guarantee on our products. |
| | You can always contact us at 9587954273 or Toll Free number 1800-123-6231. |
| | We have its ready stock available and turnaround time is very fast. |
| | We also offer Cash on Delivery services all over India. |
Frequently Asked Questions
Q: How much does it cost for a Tecno Camon 12 Air screen replacement in India?
If you purchase an original display replacement, it costs you something around Rs 2600-2800. In case you are happy with a low-quality display, you can buy it for as low as Rs 1200-1400 in the local market or other online shops who are selling first copy displays for low prices.
Q: Is it good to replace only the touch screen glass without replacing the display?
The main touch screen glass is combined with the display, and when the glass is scratched, you need to replace the complete display unit. Recently, In local markets, mechanics have started a new business, and that is called only glass replacement. There is no guarantee of successful glass replacement, but lots of customers try such options because they are looking for cheap solutions.
The mechanics in local markets always try to convince the customers towards the glass replacement. They will tell you that glass replacement offers many advantages and you can re-use the old display, which is good yet. Mechanics never take the risk in case something goes bad during replacement. If the glass replacement is successful, they will charge you a hefty price, and If unsuccessful, you will be asked to replace the combo.
In our opinion, glass replacement is the worst thing you can do with your phone. The quality of the glass is so poor that your phone will break very easily again in no time. When you had the original display, you had a solid glass, and now you have a very fragile glass. Due to quality reasons, the official service center and we don't recommend this option.
Q: I couldn't find the Tecno Camon 12 Air display in the local market. Can you help?
You likely bought the phone online, and you may not find spare parts of such models in local markets. It is because lots of models are in fashion now, and It may not be possible to stock parts for all models in existence. We still maintain a huge list of models, and that's why we have this part available in stock. If you need the display and touch screen combo, you can order it online and get doorstep delivery. After that, visit a technician and get it installed on your phone.
Q: Who will install the display on my phone after ordering from you? 
We don't install the display on your phone as we can only deliver the parts to your doorstep. We supply a 100% original and tested part to you, and when you receive the part, you can visit a nearby mobile repairing shop and ask for installation. Mechanics normally charge around Rs 150-250 for installing the display on your phone.
Q: How can I make sure that the display is working before fixing it?
You don't need to fix the display right away as it is effortless to test it before fixing. To do that, when you visit the mechanic for installation, he will open your phone. When the phone is in open condition, you can connect the new screen to the motherboard for testing purposes. At this point, there is no need to paste the display or remove the warranty seals. Just connect the flex cable to your phone's motherboard and turn on the phone.
The phone will turn on as usual, and you can use the new display just like you use your phone regularly. Please place the display on a flat surface (or on bubble wrap) and don't put pressure from sides; otherwise, the display will malfunction. After placing the display on a flat surface, you can test everything to your satisfaction. Once you are satisfied, you can go for the final fitting.
Q: Can I fix the broken phone myself without any help?
In our opinion, It is possible if you are capable of doing that. It is very easy to fix a new display provided you have the tools, and you know what you are doing. In case you are not technically sound, please visit a technician who does this stuff regularly.
Q: Why are other sites offering me a very low price for the display?
As happens in every business, the price depends on the quality. If you purchase a first copy display, it will certainly be cheap, and this is very normal. If you see a website selling for low prices, sure enough, they are selling first copies. It is not possible to sell the original display for low prices as the manufacturing costs are twice as high.
Q: Can I get the broken display replaced under warranty from a service center?
All companies offer a 1-year standard warranty for our peace of mind, but you can never claim physical damage in warranty. Many customers argue that they bought the phone three months ago and they want to get a display replacement for free. Some customers say that gorilla glass should never break, and If it does, the company must replace the display for free. Sorry to disappoint you but such excuses are not going to work, and you have to pay full price for the replacement
Q: How much do I need to pay to a technician for installing the display?
The price of installation depends on the availability of technicians in your area. If you live in such a place where only one technician is available, he can ask for high prices. If mechanics are easily available in your area, then the standard installation price is Rs 150-250.
Shipping, Return and Refund Policy
All the products supplied by us come with 30 days return, refund, and replacement guarantee. To return a product, It should be in the same condition as we sent. You can't use or fix the items If you want to return. For complete details about Shipping and Returns, please click here.