Welcome to Touch LCD Baba, and here you can order a 100% original Vivo V27 display replacement. Broken mobile phone screens are a common problem, and we provide authentic spare parts to customers who don't want to compromise on quality. You're not alone if you have trouble finding an original display replacement for the Vivo V27 phone. Customers don't have easy access to spare parts in many places as local shopkeepers don't stock expensive screens, and service centers are far from customer's locations.
If you broke your Vivo V27 display or touchscreen glass, you already know it is an expensive AMOLED display. Please also understand that the online marketplace offers good price benefits, and you can save around 2k on the original display but don't expect an original product to be available for a throwaway price. Most customers think that way and make the mistake of ordering duplicate spares for low prices. What we offer on this page is identical to what you get assembled in a brand-new phone. On this page, you can learn more about all the display replacement information you should know about.
Vivo V27 Display Specifications
| | |
| --- | --- |
| | This display is 100% original, tested, and suitable for Vivo V27, model number V2231 | V2246. |
| | The Vivo V27 display is a 6.78″ Full HD+ AMOLED display, and the resolution is 1080 x 2400 Pixels. |
| | You get a complete assembly of display and touchscreen digitizer glass. |
| | We always test and verify each display for 100% flawless working before shipping it. |
| | We source original screens from the OEM manufacturer, like your factory-assembled display. |
| | You can easily test the new display before installation to ensure its perfect condition. |
| | We offer a 30-day return, refund, and replacement period (In unused condition without installation). |
| | The new display offers a 120Hz refresh rate, HDR10+, and 1B colors. |
| | We pack fragile products very carefully, accompanied by additional protective layers. |
| | Our delivery service is available all over India, and you will also get the tracking details. |
| | You can order the product using Cash on Delivery or Online Payments (10% additional discount). |
What is the meaning of the Vivo V27 display combo?
Most customers are unsure about what is a display combo because they have never bought it. If this is your first time buying a display replacement, a display combo is a unit of inner display and a front layer of touchscreen digitizer glass. The display assembled into your phone has the same structure, and any damage to the display or touchscreen glass warrants a complete replacement of the display unit. So, if you've damaged only the display or touchscreen glass, you must replace the complete display assembly shown on this page.
Replacing the display combo is the easiest way to restore your broken phone. You need to open the device, remove the broken display unit, and install a new display unit on your phone after testing it. The new display can be easily tested before installation, so no risk is involved. Before installing the new display, you can easily check it in open condition, verify all the aspects, and proceed with installation.
What is the right approach when only the touchscreen glass cracks?
While you may find many workarounds in the market, complete combo replacement is the only perfect way of restoring broken screens. Glass replacement is a popular technique in the market, and technicians promise to replace only the top layer of broken glass and reuse the inner display. This is to reduce the display replacement costs, but you also compromise a large chunk of display quality. Before approaching someone for glass replacement, you should know about these drawbacks and make a final decision.
Glass replacement is a technique completely based on using duplicate touchscreen glass.
Please know the original touchscreen glass having Gorilla Glass protection is never available separately, and there is no way to source it.
You give up on the Gorilla Glass protection of the original display.
After replacing the glass, your phone becomes 5 times more fragile, and any future drop will again damage the display.
Glass replacement is not always successful; in 60% of cases, the display will also crack during this procedure.
Mobile phone technicians don't take any responsibility if the display cracks during replacement.
After replacing the glass, you'll see flaws like white spots, dust spots, and other issues inside the display.
A duplicate glass costs Rs 100, and you pay around Rs 2500 for replacement, so all the money goes to the technician.
The glass replacement never comes close to the original display replacement in any aspect.
Glass replacement is quite popular, and there is no doubt about that. However, you must compromise on the display's quality and durability. Customers try glass replacement to repair the broken display for the lowest possible price. Even if the display is compromised, customers want to use the phone as long as the touchscreen works. So you can try glass replacement, but it will not restore the original condition of your phone. Glass replacement is never an option in the official service center, and you must replace the complete combo.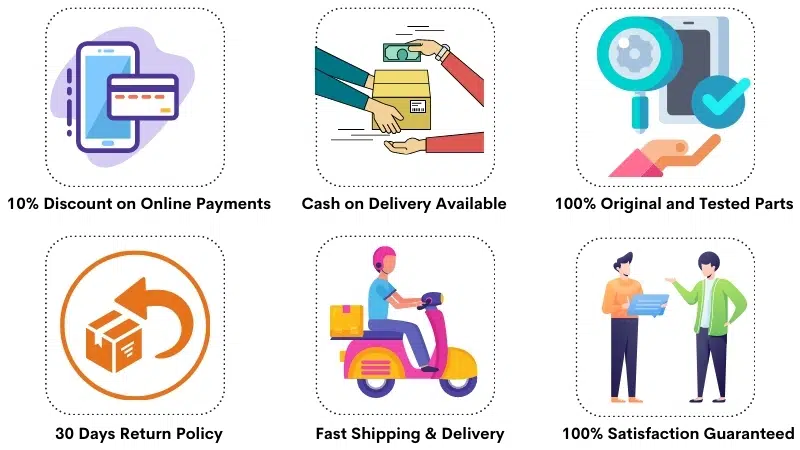 Frequently Asked Questions
Q: How much does replacing a broken Vivo V27 display in India cost?
A 100% original Vivo V27 AMOLED display replacement costs around Rs 7800-8000. This price gets you a 100% OEM display, the same as the company assembles into a new phone. The display quality is AMOLED and supports in-display fingerprint and all other features. After replacement, you won't even realize if you've replaced the stock display because the feel and smoothness are 100% the same. If you buy a duplicate display, the price can be lower, but quality issues always persist with such products.
---
Q: Is this an AMOLED or IPS Display?
Vivo V27 display is AMOLED, which we offer on this page. In local markets, you can find duplicate screens in TFT/IPS LCD quality, but such screens don't support fingerprint, and their overall quality is 30% of the original. The Vivo V27 display is curved, and such screens are rarely available in copy quality. So, if you're trying to find a duplicate display for this phone and can't find it, that's normal.
---
Q: What are the benefits of buying an original display?
Please note that only the original display supports 100% immaculate quality, and no other quality can be compared to this one. The original display offers a host of benefits that are not available with any other product, and these benefits are :
100% accurate colors, contrast, brightness, and smoothness.
The touchscreen works with 100% accuracy, without lags, and offers a smooth experience.
The in-display fingerprint scanner works perfectly without issues.
Original displays are optimized for battery usage and don't impact the battery's performance.
You don't need to worry about easy damage as the original screens have inherent Gorilla Glass protection.
You can play games and enjoy multimedia content without any issues.
The original display offers a mesmerizing experience, and that's the reason all customers want original products. It is worth mentioning that original screens are unavailable for low prices; hence, you shouldn't invest your energy searching for the lowest possible price. Many customers think the online marketplace is magic where they can get products for throwaway prices, but that's not true. The greed of buying original displays for cheap will lead you into trouble.
---
Q: Should I install the new Vivo V27 myself display at home?
We don't recommend self-installation unless you've done similar work many times before. AMOLED screens are quite slim, sensitive, and fragile in open condition. If you make a wrong move, overbend the flex cable, and put excessive pressure on the display corners, the display will crack without you knowing. Customers trying self-installation always face the consequences, and we suggest you avoid this.
To install the new Vivo V27 display, you should visit an expert technician's shop, and you can easily find such a technician from your contacts. The local markets are quite big, and hundreds of technicians provide services. To install the new display, always seek a professional technician's help, and don't hesitate to pay Rs 300-500 for professional services as that makes sense.
---
Q: Does the new display support in-display fingerprint unlocking?
The under-display fingerprint scanner is the favorite feature of many customers, and they always want to know if it works. Customers often consider that if the in-display fingerprint works, the display is surely original, and this assumption is true. The original AMOLED display supports the fingerprint, and what we offer on this page is 100% perfect for your needs. You can register new fingerprints and use old fingerprints without any problem.
---
Q: Does the 120Hz refresh rate work with the display?
The 120Hz refresh rate has become a prominently sought feature among customers. The display feels much smoother with higher refresh rates, and our display supports 120Hz refresh rates. We always test all these things because customers who play games on their phones need an immaculate display, and we never leave room for errors.
---
Q: I need only the touchscreen glass. Do you offer it?
We are sorry, but only touchscreen glass is not available with us. As we focus on offering original solutions to our customers, we don't deal in duplicate products. The only touchscreen glass is categorized as a duplicate product; you can easily find that in the local market. We can also easily source this product but don't sell it because of quality issues.
---
Q: I can't afford the original Vivo V27 display. Don't you have a budget solution?
We are sorry, but we don't have a budget solution because original screen replacements are expensive. You can't buy a 100% original display for a budget anywhere under the sky. We are unaware of any counterfeit products available for this model. The situation might change if duplicate screens become available in the market. Please search for duplicate screens in the market, as they are a good source of such products.
---
Q: How can I test the new display before installation?
You can easily test the new display before installation as that's very easy to do. All mobile phone technicians test and verify the new display's working condition before assembling it and that's a routine process. Here are the steps you can take  :
First, you need to remove your phone's back panel to make all inner parts visible.
After removing the back panel, please remove the screws from the bottom speaker/charging section.
There, you'll find the old display's jack connected to the charging PCB of your phone.
Disconnect the old display's connection from the charging PCB and move it a little away.
Connect the new display's flex cable to the charging PCB in the right direction.
Turn on the phone, and you can easily test the new display as if assembled on your phone.
Please note that testing the new display is quite easy, and you don't even need to remove the old display. Open condition testing allows you to see the color reproduction brightness and use the touchscreen. The only limitation of open condition testing is that you can't test the fingerprint, but you can do it later when you place the new display in the frame after removing the old display.
Vivo V27 Display Photos
These images show the actual product you'll get after your order. If you've any questions about the Vivo V27 display replacement, please call us at 9587954273.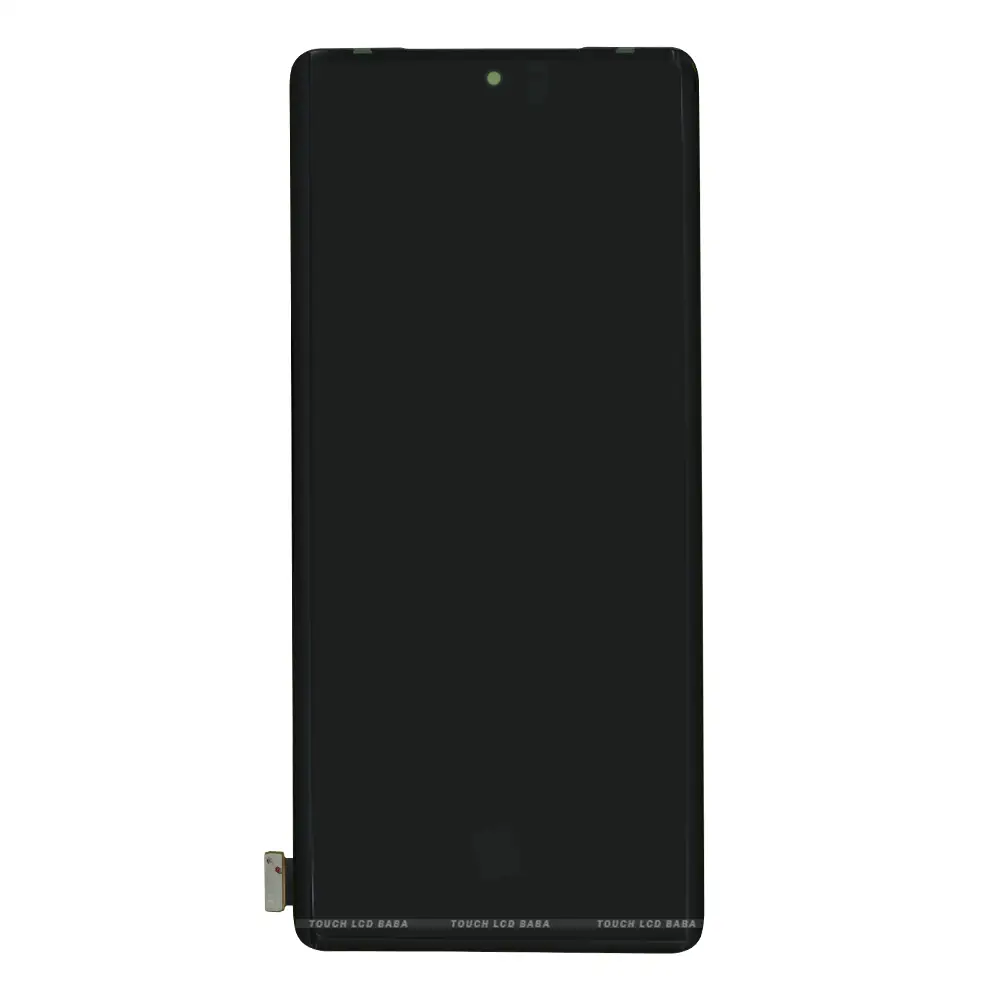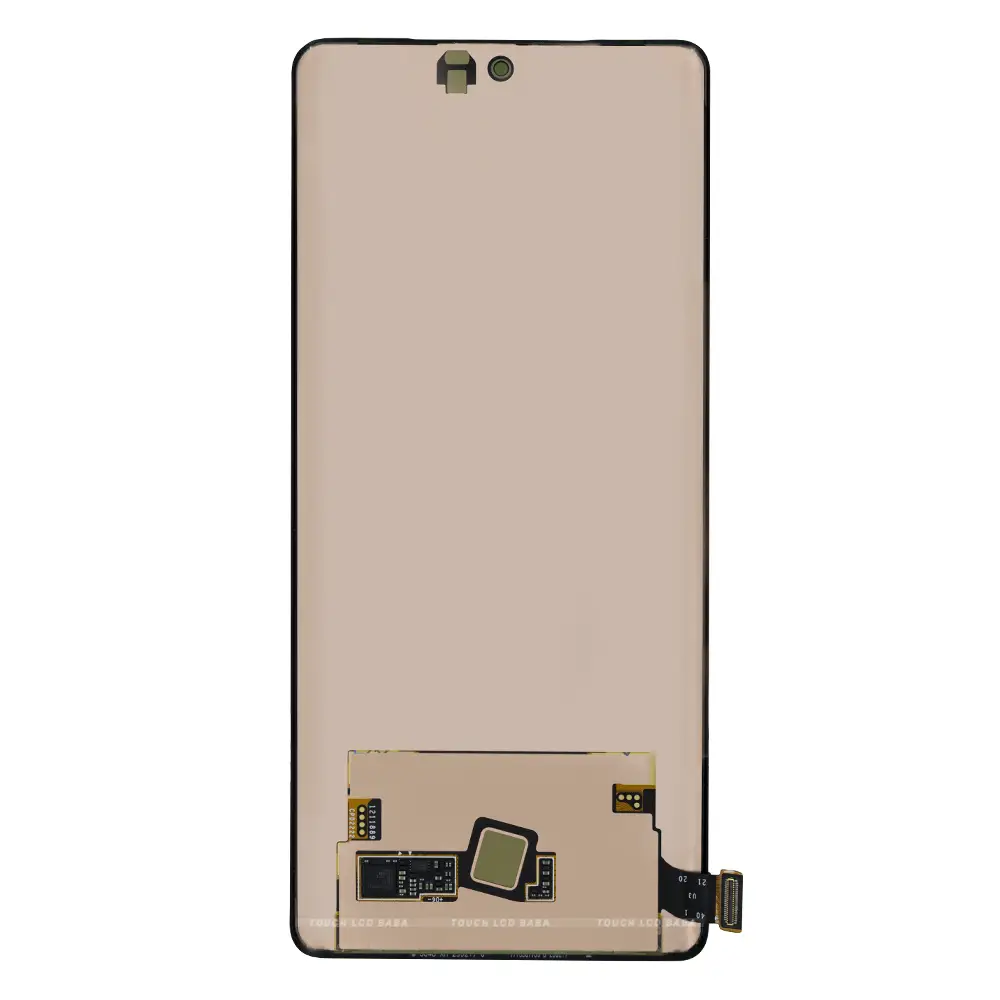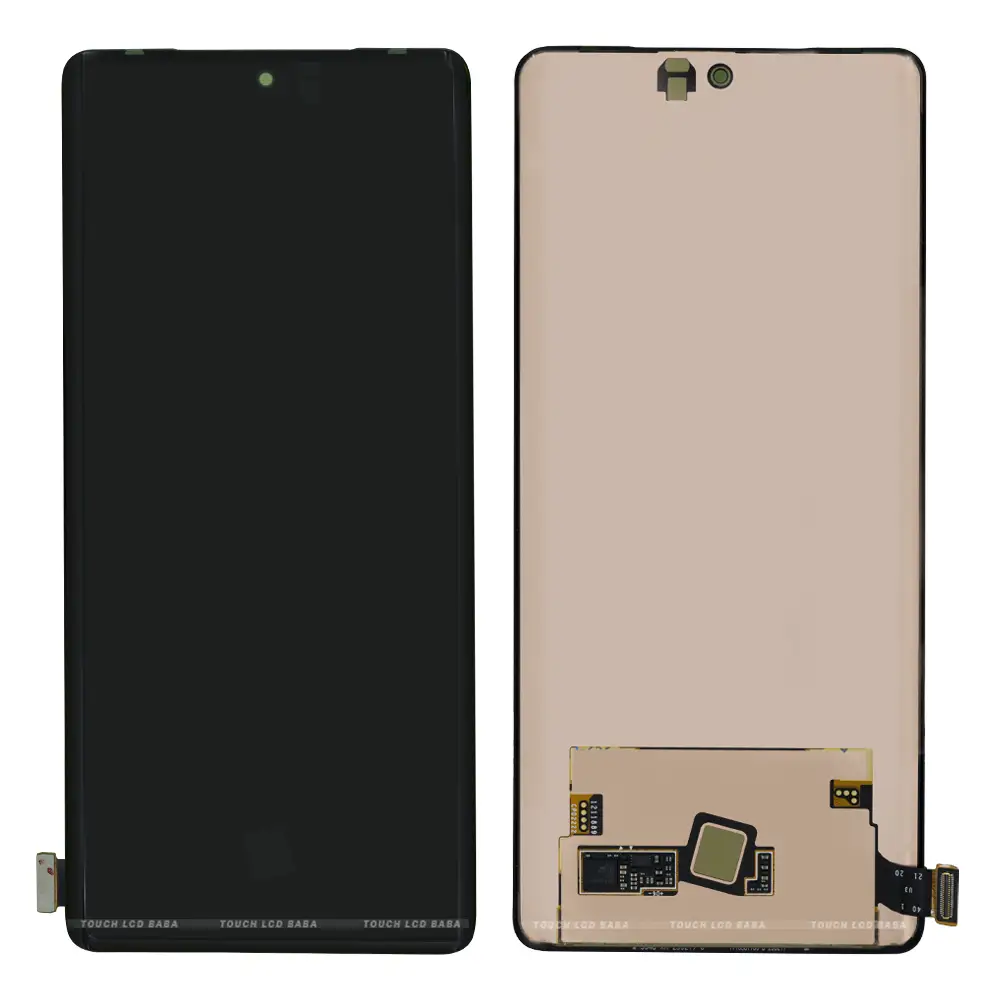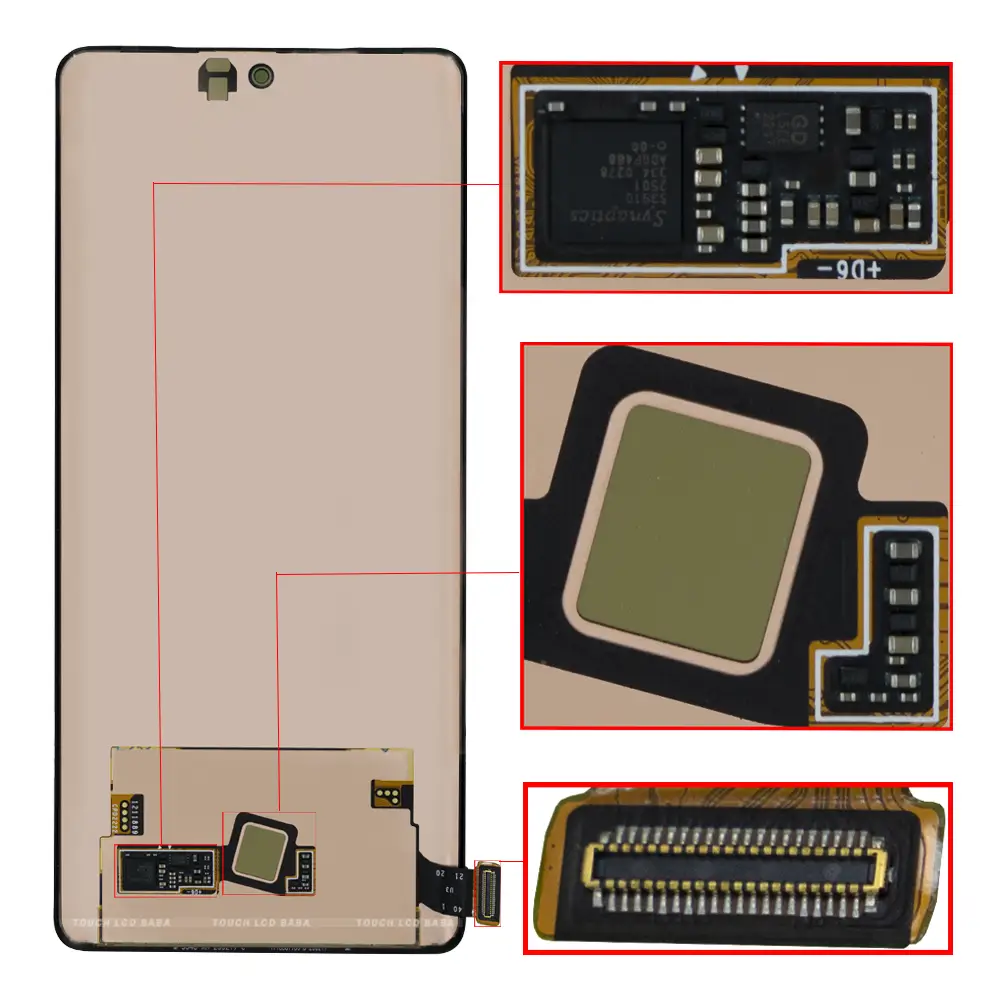 Shipping, Return, and Refund Policy
All our products come with 30 days return, refund, and replacement guarantee. To return a product, It should be in the same condition we sent. You can't use or fix the new Vivo V27 display if you want to return it. For complete details about Shipping, Returns and Warranty, please click here.