Redmi 9 is a popular budget device, and here you can purchase a brand new display replacement for the same. If you broke the Redmi 9 display, you certainly need a brand new original display to restore your phone's previous pristine condition. Touch LCD Baba is here to help you with all the display and touch screen glass-related issues.
You never know when you drop the phone and end up with a damaged display or touch screen digitizer glass. When this happens, your phone may stop working altogether, or some portions of the touch screen glass might not respond to the input commands. In some cases, everything will continue to function normally, but you need to replace the Redmi 9 display as soon as possible.
How to replace a broken Redmi 9 Display?
You can replace a broken display or touch screen glass using an identical brand new part. The combo replacement is the easiest way to repair your phone without losing its quality and fluidness. It is easy and fast and allows quick repairs even in the smallest towns and villages.
Many customers opt for only glass replacement and other low-quality alternatives, apart from combo replacement. All these alternatives are low-priced, but their output quality is terrible. For example, a duplicate display you typically buy in the market offers 40-50% brightness of the original. Remember one rule, The lower the quality, the lower the price.
What is the meaning of a Redmi 9 display combo?
A display combo consists of an inner display and a front glass layer. Mobile phone manufacturers combine the inner display and front layer of touch screen glass using LOCA glue for maximum brightness and a long-life dust-free experience.
The display combo is very beneficial for the customer, but it increases the repairing costs. When you drop the display and break it, you need to replace the entire combo to maintain the quality. If you opt for cheap workaround solutions, you can't get the same display quality as before.
Redmi 9 Display Specifications
| | |
| --- | --- |
| | This display is 100% original, brand new, tested and suitable for Redmi 9. |
| | The Redmi 9 display size is 6.53″, the display type is IPS LCD and the resolution is 720 x 1600 pixels. |
| | This display is suitable for all variants and colors of Redmi 9. |
| | Before shipping, out testing engineers test each display one by one. |
| | We back our products with a 30 days return, refund and replacement guarantee. |
| | We buy our stock from the factories who supply the original screens to the company. |
| | You can also test and verify each display for 100% flawless working before dispatch. |
| | We back our products with a 30 days testing guarantee after delivery. |
| | All the orders are securely packed and insured during transportation. |
| | The display replacement is readily available in stock  and turnaround time is very fast. |
| | You can place your order using Cash on Delivery or Online Payment (additional 10% discount). |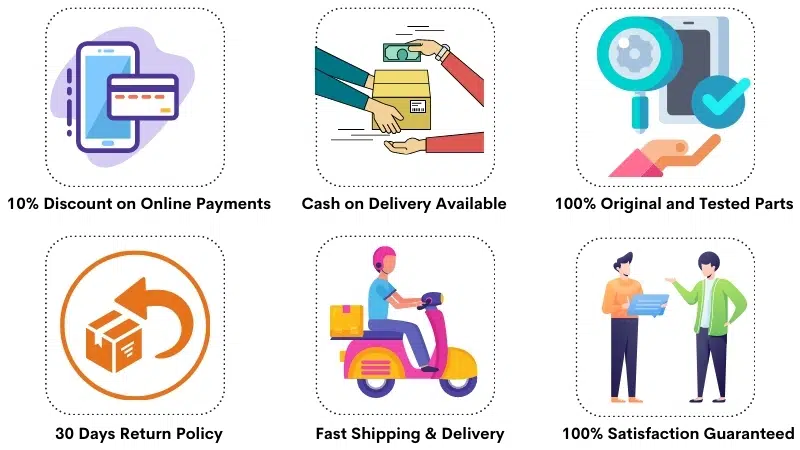 Frequently Asked Questions
Q: How much does it cost to replace a broken Redmi 9 Display in India?
A 100% original display replacement for Redmi 9 costs around Rs 2800-3000. If you buy a first copy screen replacement, the folder/combo costs Rs 1300-1400 in India, including installation. A copy display offers very low brightness and dull color reproduction.
Q: What is the cheapest method of replacing the Redmi 9 display?
Many customers want to purchase a display replacement for the lowest possible price. The only solution in such cases is to purchase a first copy display or opt for glass replacement. A first copy display is a fake product available for a low price, but its quality is very bad. If you install this display, you'll get dull colors, stiff working touch screen glass, and typing problems.
A duplicate touch screen's response is never accurate and can't work properly according to the input commands. However, the final choice is yours if you want to make a compromise on the quality or you want to purchase an original display for your phone.
Q: Is only the touch screen glass replacement a good choice?
Some customers want to replace only the touch screen glass and salvage the inner display. The sole purpose of this thinking is saving money, but such tactics are not worthy. When a technician tries to separate the display from the touch screen glass, the display can also break. Some other issues like black spots, dead pixels, white spots can also appear during glass replacement.
The touch screen glass available separately is duplicate merchandise and doesn't function like the original. So it is not a good idea to replace only the glass, but if you don't have the budget to purchase an original display, you can replace only the touch screen glass.
Q: How to test and verify that the new display is perfect?
Customers are always skeptical and overly worried that the new display might not work as desired. Many customers call us and ask what will happen if they receive a defective or non-working product.
We want to ensure you that you'll always receive a tested display, and you can also do that yourself. After getting the delivery, you get a 30 days time period to test and verify the display. Here is how to test the display:-
Disassemble the phone and access the motherboard.
Eject the old display's connection and connect the new display's flex there.
Turn on the phone, and you can test the new display like it's assembled on your phone.
After verifying that the new display is working perfectly, you can install it.
If you face any issues with the new display in an improbable event, you can easily return or replace it. Our replacement policy covers the display if you test it and face issues. However, It is impossible to return a display after pasting/fixing it on your phone.
Q: Can I open the box, test the display and then pay money?
We are sorry, but we don't allow open delivery. You can't open the package before payment as that is against the terms of service. We understand your concerns and provide the following facilities for your safety :
You can record an unboxing video when you open the parcel.
We back our products with a 30 days return and replacement policy.
We allow all customers to test the new display without pasting it on the phone.
We believe that a 30 days return period is enough for your safety. If you are concerned about an empty package, you can record an unboxing video to prove the item you received. In our opinion, you shouldn't worry a bit because everything will arrive in perfect shape.
Q: Is it possible to return a fixed/pasted display?
No. We don't accept any used returns because that violates our return policy. We provide original, brand new parts to our customers, and you can't return a used product to us.
Once you paste the display on your phone and then try to take it out, the display can damage. A used display is not eligible for a return, and therefore, please don't assemble/paste the display if you want to return it. It is not bad to return a product, but you should not modify the original form of the product in any way.
Q: Why should I pay more when the price is low in the local market?
The answer to this question lies in how much you value your phone. You can indeed purchase a display for less price in the market, but you should also be aware that it is a first copy display, not original. If you compare the prices, you should also compare the quality because we offer only original display replacements on Touch LCD Baba.
A low-priced display is a copy display that offers around 50% lower brightness than the original display. Don't be surprised because that's what you have been buying locally for years.
Many customers can easily spot the difference in quality, but the shopkeepers make some fancy excuses and ignore you. If you want to purchase a 100% original display, you'll need to pay more; otherwise, hundreds of websites provide local screens, which would be a good buy for you.
Q: What is a First Copy/OG Quality/Diamond Quality display replacement?
A fake display is called with words like OG Quality/First Copy and Diamond quality. A first copy display is a mediocre product that is not as good as the original display. If you purchase and install a substandard display, it will surely work on your phone, but you'll feel a massive usability difference.
You will also notice that this display is not as bright as your factory-fitted display, the touch screen isn't working smoothly, and the colors on display are very pale. Therefore, you shouldn't keep your expectations high from first-copy screens as they are cheap for a reason.
Q: Can I return the new display if it doesn't work?
We test all Redmi 9 displays before shipping them to our customers. In our view, you'll never receive a defective product from our store because we've invested substantially in ramping up our testing capabilities. Still, if you face any problems with our products, you don't have to worry a bit. Just call our support team at 9587954273, and we'll promptly assist you accordingly.
Redmi 9 Display Photos
These product images refer to the actual Redmi 9 display you'll get after your order. It is a complete combo of the inner display and a top layer of touch screen digitizer glass merged into one. You can use this combo to resolve all the display and touch screen-related issues.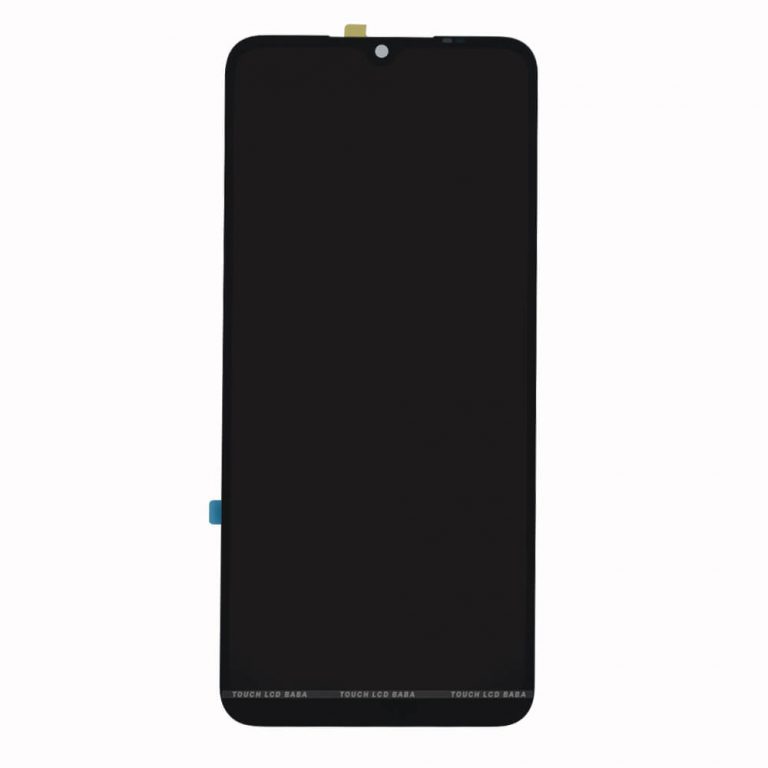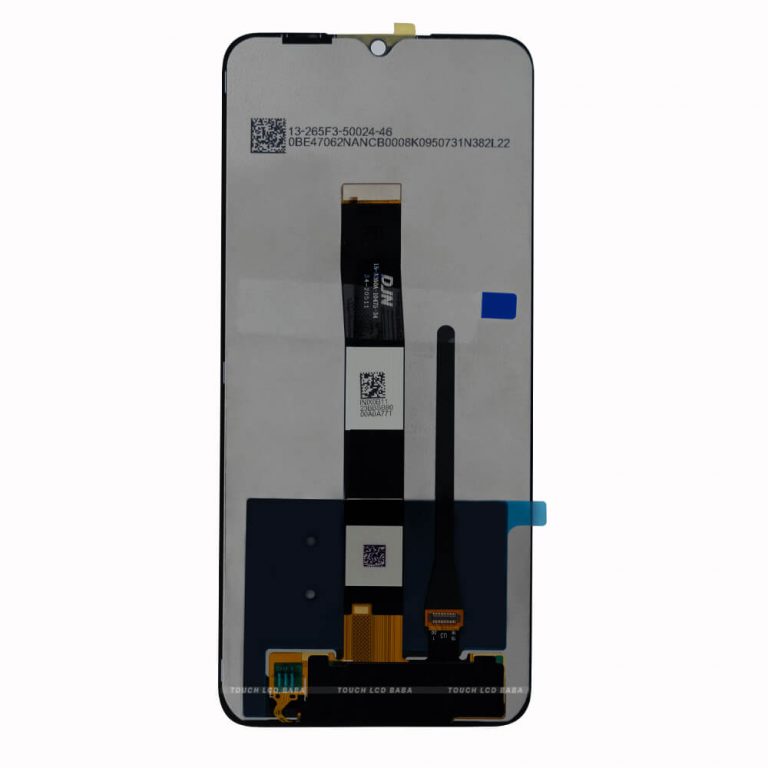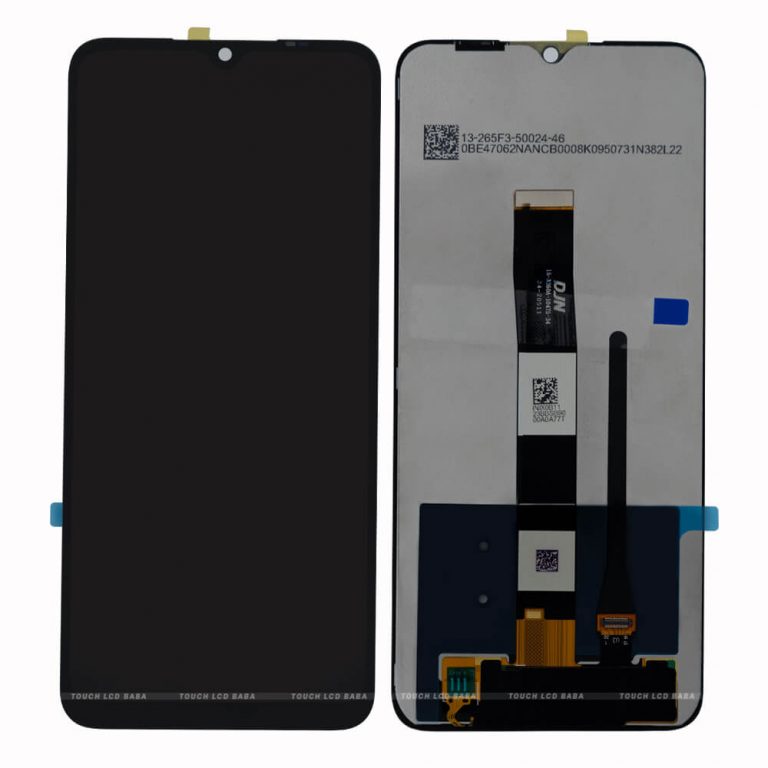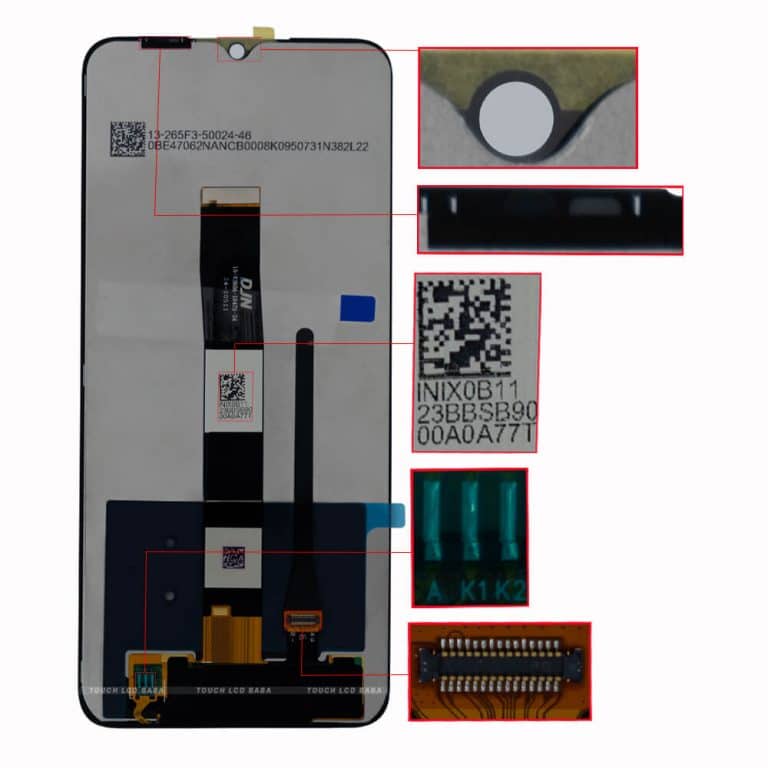 Shipping, Return and Refund Policy
All the products supplied by us come with 30 days return, refund, and replacement guarantee. To return a product, It should be in the same condition as we sent. You can't use or fix the new Redmi 9 display if you want to return it. For complete details about Shipping, Returns and Warranty, please click here.