A broken display is not always easy to repair, and especially if the side frame is also chipped off, then you might not be able to replace the screen easily. When this happens, you can't fix a new display in the broken frame because the frame acts base for pasting the screen. If the outer casing of the screen itself is not in the perfect shape, you can't affix a new display properly. In this situation, you can buy the Redmi Y2 Display combo with an outer frame to solve the problem.
What is Redmi Y2 Combo With The Outer Frame?
The outer frame is the plastic casing that holds the display securely in place. If you buy a Redmi Y2 combo with the outer frame, It is just like purchasing the front half part of your phone in brand new condition. In other words, you are completely replacing the front side portion of the phone. The combo that comes with frame is very easy to fit, and even nontechnical customers can assemble it very easily.
The Redmi Y2 display with frame consists of the LCD, touch screen digitizer glass, and the outer frame. You need to disassemble the broken half portion from your phone and fix the new part in place of it. It hardly takes less than 15 minutes to replace the screen at home, and your mobile phone will look completely brand new once again. The main advantages of this combo are :
It helps in situations when the outer frame is not in usable condition.
The Redmi Y2 display and the touch screen come pre-glued in the frame, and manual pasting is not required.
You can easily replace the screen at your home without any mechanic's assistance.
As the part is 100% original and brand new, the front side of your phone becomes completely new.
This durability of this part is outstanding as the factory itself pastes the display in the frame.
Can I still buy this display If the outer frame is not damaged?
Yes, even if the outer frame is not damaged, you can still buy this combo. If you paste the display yourself with glue or double tapes, you can't achieve the same finish as fitted by the factory. We also have a Redmi Y2 combo available without the frame, which you can find here.
Frankly, there are lots of cheap alternatives available when it comes to the display replacement of Redmi Y2; however, none of them will come closer to this screen when you compare the quality. At Touch LCD Baba, our focus is providing 100% original quality to our customers, and we are not into selling cheap spare parts that customers usually buy in the local markets.
The Redmi Y2 Combo With Frame is what you get in the official service center. It is 100% original, durable, and the best display replacement you can buy for your phone.


How can I replace only the touch screen glass?
The display is mainly constructed using the LCD and the touch screen digitizer glass. Many customers don't want to spend money on Redmi Y2 display replacement, but they want to get the repair done in the least possible amount. It is the time when customers usually think about replacing only the touch screen glass without replacing the complete display assembly.
First of all, we don't recommend only touch screen glass replacement as with a duplicate glass; you will experience touch screen lags, incorrect touch screen operations, ghost touch issues, and other similar problems. That is because the IC chips in a copy screen touch never work correctly as the original chips do. That is why customers who buy cheap spare parts face lots of issues later because the quality control on first copy parts is very poor, and nobody cares to test them properly.
We deal with lots of such customers who opted for cheap solutions before and now they want to get a quality product. They have faced so many troubles with the touch screen functioning that now they understand the concept of quality. Such customers are willing to spend money on a hassle-free experience, and this is why we recommend the Y2 display with the outer frame.
How do we test each display of Redmi Y2?
We understand that sometimes words and not enough to understand the actual product. This video shows how we test each Redmi Y2 display for flawless working before shipping to our customers. Please watch the video and see how we test the combo. You also get the same product if you order from our website. Our Redmi Y2 display is 100% original, tested and free from defects. Watch the video:
Redmi Y2 Display Specifications
| | |
| --- | --- |
| | This is 100% original and brand new display of Redmi Y2 with the outer frame / outer ring. |
| | Redmi Y2 display size is 5.99″, display type is IPS LCD display having a resolution of 720 X 1440 at 269 PPI. |
| | The combo consists of the display, touch screen glass and the outer frame. |
| | The folder is already glued in the frame and manual pasting is not required. |
| | You can replace this display at home by watching a video on YouTube. |
| | We guarantee 100% brightness, exact colors and lag-free touch screen experience. |
| | This Redmi Y2 display comes from the same manufacturer whose parts are fitted in a brand new phone. |
| | We offer 30 days replacement and refund guarantee on all our products. |
| | In case of any issues, we pickup the part from your address. |
| | We have its ready stock available and turnaround time is very fast. |
| | We offer Cash on Delivery and extra 10% discount on prepaid orders. |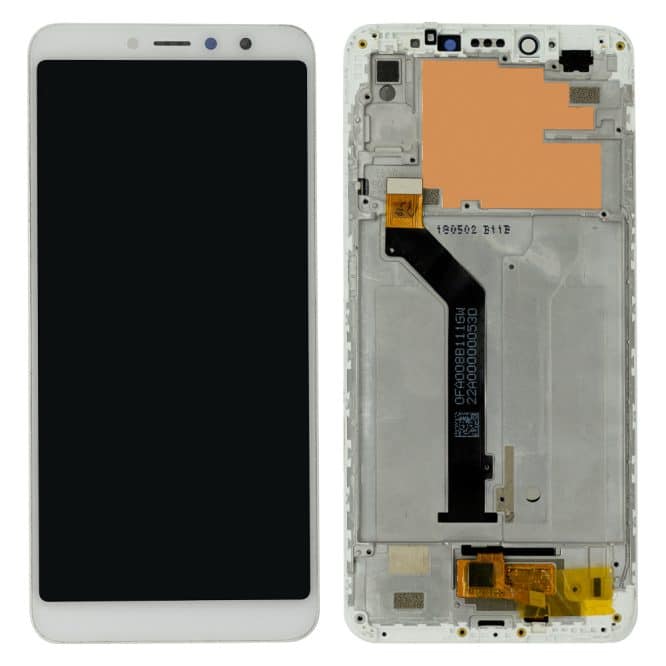 Frequently Asked Questions
Q: How much does it cost to replace a broken Mi Redmi Y2 display in India?
The price of 100% original display replacement for Redmi Y2 is around Rs 2400-2600. If you wish to spend less, you can purchase a low-quality first copy display for Rs 900-1100 from the local markets. Please note that low prices usually mean a low-quality product.
Q: How can I claim the broken display under an official service center warranty?

 
The official service center offers 1 Year limited warranty on the phone and six months warranty for the charger and battery. Many customers believe that the service center will replace a broken display in a warranty while It is not a valid claim. If you drop your phone and scratch the display, It is always out of warranty regardless of if one year is elapsed or not.
Surely, you can visit the service center and ask them to repair the display, but you have to pay the full price for the spare part and installation charges. If the spare part is not available in the service center, you have to wait for a longer period, which might not be suitable for all customers.
Q: Can I install the new display myself at home?
Yes! The display with the outer frame is relatively very easy to install, and customers having basic skills can do this easily at home. For guidance, you can watch a Youtube video to get a basic idea of how all this works. Always be sure to move on slowly when you are doing repairs to avoid any harm to the phone. Don't hastily do things, and it's all good.
Q: Earlier, I bought the first copy locally but felt like cheated. Can you assure me about the quality?
Absolutely! We are thrilled to announce that we are dealing with original spare parts only. Contrary to what customers think, the parts you buy in the local market are first copies being marketed as 100% authentic by the mechanics. It takes time and expertise to identify the original parts, and there is no magic formula to understand the things in one day.
If you take a spare part to a mechanic that you have not purchased from him, It is always duplicate because of his conspiracy theory. Mechanics are not working based on honesty, but their ultimate goal is fooling customers with counterfeit goods. We admit that our prices are not lower, but the quality is something you'll remember for the years to come.
Q:

I always find original parts for a very low price. Is it possible? 
A tremendous amount of customers are deal finders, and they believe that cheap is always the best. It is like using a price comparison app to compare the prices, but 99% of customers don't know that they are comparing original and duplicate screens on the same scale.
It is a business for all online sellers, including us, and we are not here to make a loss. The sellers who sell for low prices are into selling first copies because customers are fully biased towards low prices. If they sell the original products for a high price (like us), still 99% of customers try to buy from other websites and easily get fooled with low-quality products.
We are very happy with our sales volume, and we never deceive our customers with duplicate products. We sell our products with pride, and once a customer buys from us, his experience of buying mobile phone parts changes completely. After that, he is our regular customer for a lifetime.
Q: I have trust issues buying products online. What about that? 
When you are buying the Redmi Y2 display online, you might feel uncomfortable thinking that you will get a lousy product. It is a problem for many customers who are afraid of buying online because they are not sure of the quality. We understand that sometimes It can be hard trusting a seller, but we want to reassure you about Touch LCD Baba. We sell 100% original products and also offer 30 days returns and replacements for the sake of customer satisfaction. You've got nothing to lose with us, Buy with Confidence.
Q: How long can I use the display provided by Touch LCD Baba?
The original display replacement lasts up to 3 years, provided you keep it safe. The original display never goes bad at its own until something bad happens with it. The things which can cause a display or touch screen to go out of order are :
Hard pressure on the touch screen.
Not protecting the touch screen glass layer with a tampered glass.
You are charging your phone with counterfeit low-quality chargers.
Using the phone to watch movies at night and then sleeping on the phone inadvertently.
You are placing the phone in a pocket with other objects like keys, coins, and other similar stuff.
Dropping the phone multiple times and always hoping for the best.
You are using the phone with wet hands without worrying about the water damage.
Above are some reasons which can cause display or touch screen issues. According to our experience, you won't run into problems until you do something terrible or drop the phone accidentally. The original display works for a long time, and it is worth the investment.
Q: What If I receive a damaged product or the screen is not compatible with my phone?
We always make sure to test the part before shipping, so to the best of our knowledge, we always ship a 100% working Redmi Y2 display to our customers. Still, you can return a product within 30 days if you face any problem. Our replacement and return policy are valid for 30 days after receiving the parcel.
We buy insurance for all the in-transit parcels, and If anything bad happens, It is our responsibility. We advise our customers to record an unboxing video, and If they find something damaged, we will provide a 100% free replacement to them. The damage during transit is very uncommon, but still, our customers don't need to worry about that.
Shipping, Return and Refund Policy
All the products supplied by us come with 30 days return, refund, and replacement guarantee. To return a product, It should be in the same condition as we sent. You can't use or fix the items If you want to return. For complete details about Shipping and Returns, please click here.