An exhausted Xiaomi Mi 9T Pro can prevent a perfect phone from working because a mobile phone can't even start without a battery. After using the phone for two years, the battery becomes raddled because of continuous use. We all charge the battery daily; a battery's life depends on its charging and discharging cycles. Once those are over, the battery performance degrades, and there is no way to rejuvenate it. You can only replace a worn-out battery with a new one, and that's how everyone does it. If you thought about enhancing the battery life by repairing it, that's simply impossible.
A battery can go bad in several ways; it can stop providing enough standby time or swell and pressurize the display or the back panel. When the battery puffs up, you'll feel a bulge inside your phone, and you should replace the battery immediately in such conditions. It is not a good idea to keep using a swelled battery for a long time. On this page, you can find a 100% original and brand new battery replacement for Xiaomi Mi9T Pro and overcome all the battery-related issues.
Xiaomi Mi 9T Pro Battery Specifications
| | |
| --- | --- |
| | This battery is 100% original, fresh, tested for full capacity and suitable for Mi 9T Pro (Phone model number M1903F11G) |
| | The Xiaomi Mi 9T Pro battery model number is BP40 the capacity is 4000 mAh. |
| | Max Voltage 4.4V. |
| | Nominal Voltage 3.85V |
| | Rated Capacity 3900mAh |
| | Typical Capacity 4000mAh |
| | You can resolve all the battery related issues by using this product. |
Which problems indicate a raddled Xiaomi Mi 9T Pro battery?
Battery problems are very common, and most customers misidentify them, leading them to wrong solutions. If you haven't dealt with battery problems before, you will feel like there are some hardware issues on the device. You'll consult with a mechanic, and they will try other things to resolve the issue. Finding a solution is impossible if you don't narrow down the problem correctly.
If you've already used the battery for around two years and facing issues with your phone's standby time, please look for one of these problems. If you are facing similar issues, most likely, you are dealing with a worn-out battery. Please note that you can easily identify hardware problems but battery problems are strange. You'll face these kinds of issues :
The battery drains much faster than before, and standby time has become lesser than before.
Your phone reboots automatically without any obvious error message or reason.
The battery is puffed up, and you can feel a bulge inside the phone.
You charge the battery to 100% levels, suddenly dropping to 50% or so.
The charging percentage decline is not gradual but exceptional.
You see a random battery percentage when you lock/unlock the device.
After a certain percentage, say 15%, the phone turns off itself.
The battery doesn't take charge even when the charger is connected.
You must keep a charger plugged in to use the phone.
Your phone automatically restarts several times daily, and you don't know why.
All these problems indicate a worn-out battery, and we keep updating this section as we discover more issues reported by our customers. If you want to discuss a particular problem, please don't hesitate to call us at 9587954273, and our support team will be more than happy to assist you further.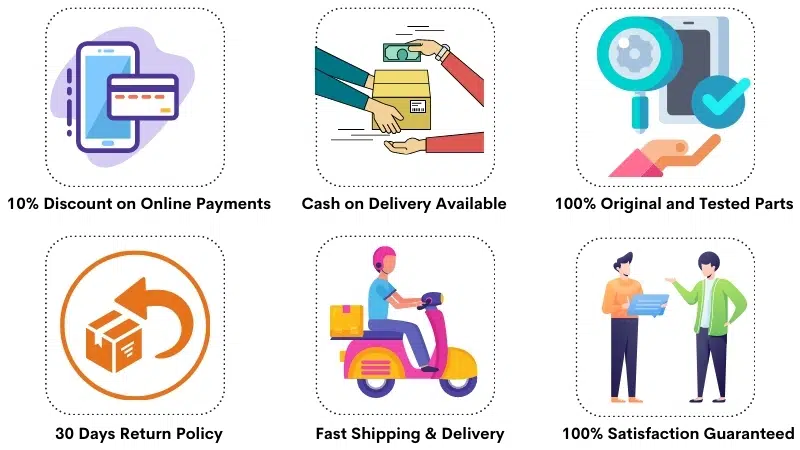 Common Customer Questions
Q: How much does it cost to replace a worn-out Xiaomi Mi 9T Pro battery in India?
The price of a 100% original Xiaomi Mi 9T Pro battery replacement is around Rs 1300-1400. You can buy compatible/duplicate batteries for bargains, but their backup/standby time is 50% of what you get with the original one. We suggest you don't try to save money when purchasing a battery because it is the most vital component of your phone.
Q: Is it a 100% original battery for Xiaomi Mi 9T Pro?
Yes. We offer a 100% original battery for Xiaomi Mi 9T Pro, as you get with a brand new phone. Some customers ask us about the mAh capacity, backup time, and other things, but we believe when you order a genuine product, you don't need to worry about the individual aspects of a product. That's because you get an identical product assembled in your phone. When we say you get an equivalent battery as your factory-fitted battery, we also buy our stock from the OEM manufacturer.
Q: Should I replace the battery on my own at home?
We recommend self-repairs only if you know what you are doing. If you've no experience doing such work, you shouldn't undertake this task because you'll make mistakes that can damage other parts of your phone. For example, you might not know how to remove the charging PCB, and if you pull it harshly, it will break. Therefore, you should perform a self-battery replacement only if you are competent for that kind of job; otherwise, please seek a local technician's help, which would be the best way to go.
Q: How do I change the battery in my Mi 9T Pro?
Here you can find a basic overview of how it works, and if you want comprehensive details, you can watch pertinent videos on YouTube. Here is how it works ;
First, you should remove the back panel by employing the appropriate procedure.
Then open the coverings and relevant screws from the motherboard.
After that, you must apply a little heat and chemical solution to take off the battery.
Taking off a pasted battery is tricky and not everyone's cup of tea.
After taking off the old battery, you need to insert a new battery and assemble everything back together.
Battery replacement is easy, but for a person without experience, it is not doable in most cases. Instead of doing experiments, you should always seek a professional technician's help and pay him around Rs 200 to replace the battery. You can contact us for assistance if you have questions about the repair process.
Q: How can I check a battery for problems?
To check the battery performance, please navigate to your phone's Settings-->Battery section. Here, you can see the battery consumption details, which app is taking the most battery power, and other vital information. If you see that a particular app you no longer use is eating much more battery power, you should uninstall the application to enhance the standby time.
You can also see a battery performance graph, and typically, you will see a gradual decline in the graph. If you see abrupt ups/downs in the graph, that indicate a battery problem. For example, the graph shows that the battery is charged to 100% levels, and then suddenly it drops to 50% levels, which means that the battery has some issues.
Xiaomi Mi 9T Pro Battery Photos
If you want to see the actual product photos of the Xiaomi Mi 9T Pro battery, please refer to the below images. If you've any questions about the product, please call us at 9587954273, and we'll answer all the related questions.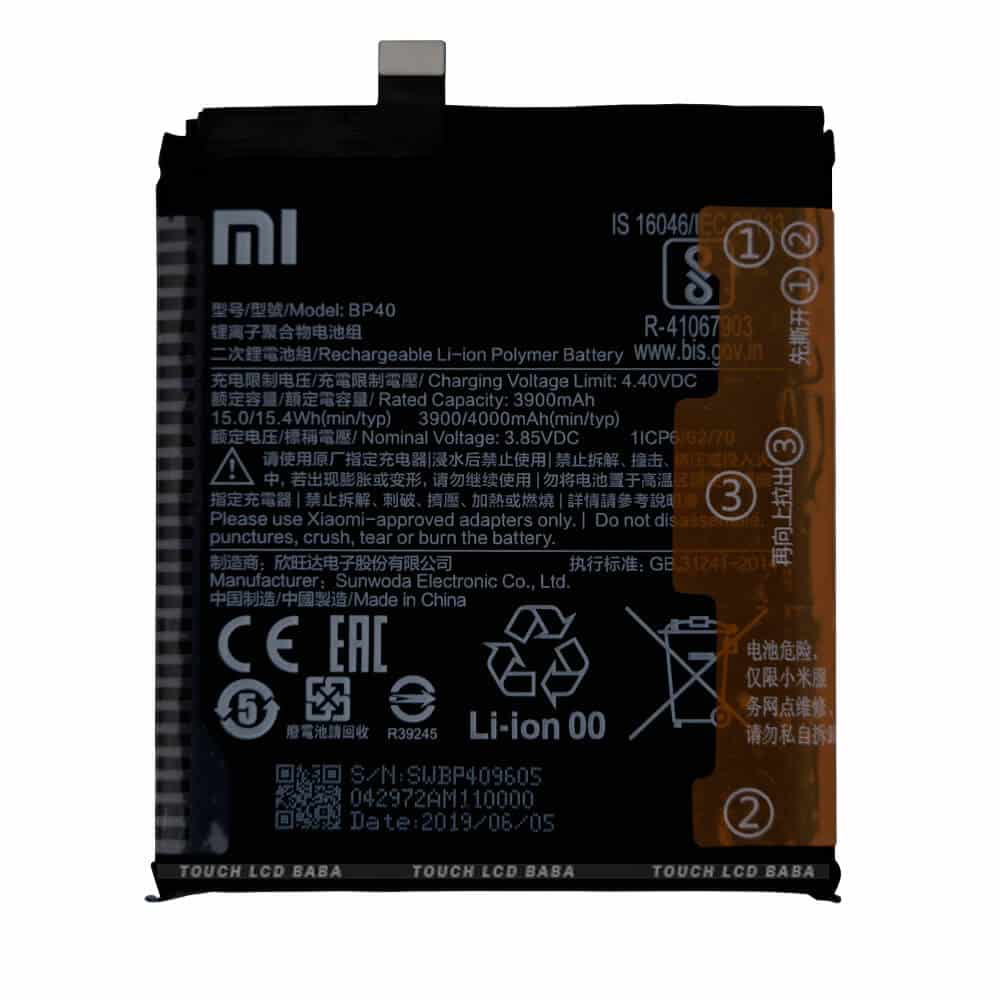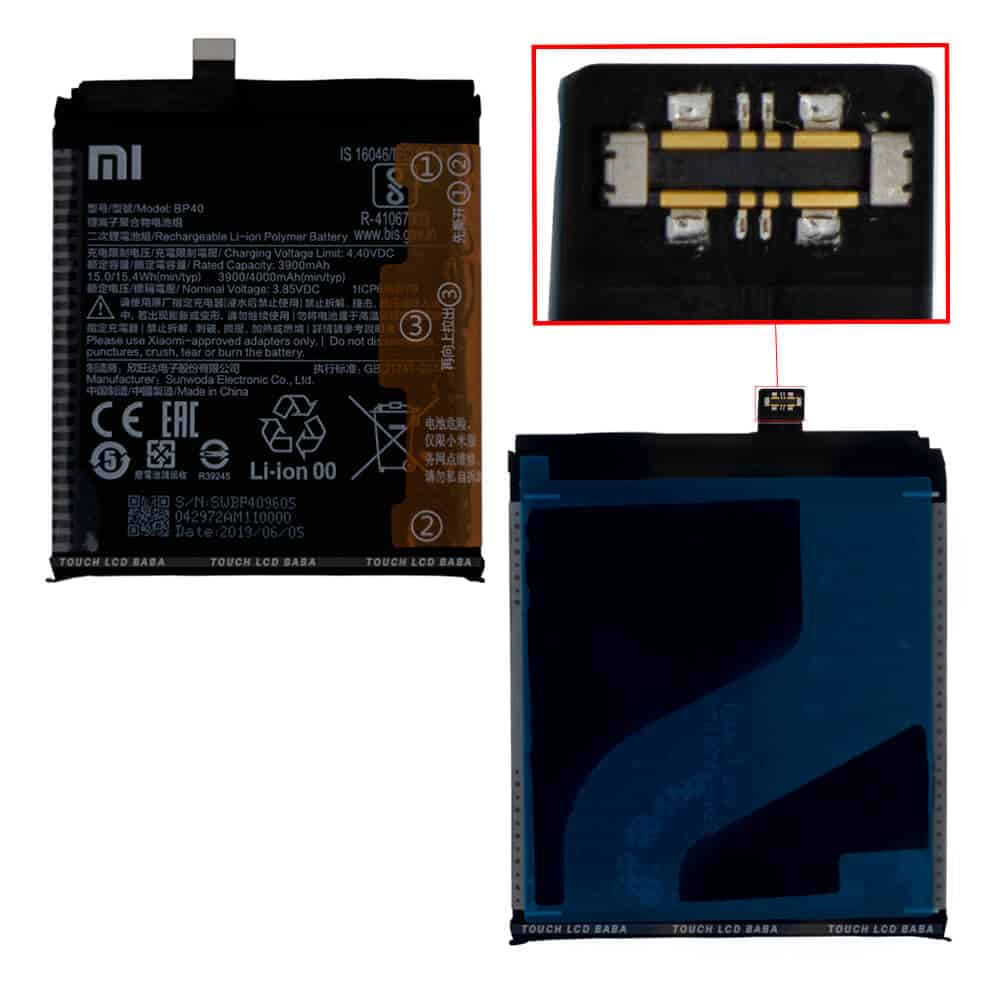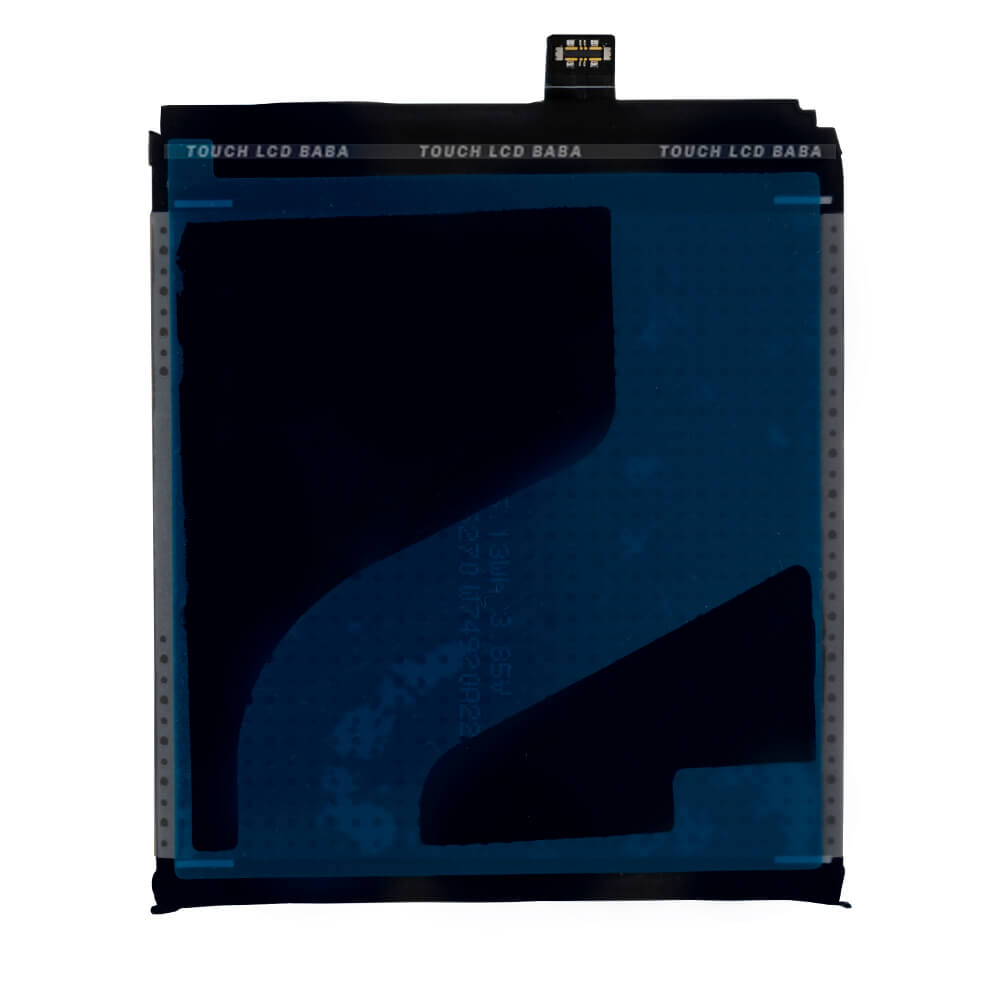 Shipping, Return and Refund Policy
All our products come with 30 days return, refund, and replacement guarantee. To return a product, It should be in the same condition we sent. You can't use or paste the new Xiaomi Mi 9T Pro battery if you want to return it. For complete details about Shipping, Returns and Warranty, please click here.