The Redmi Note 6 Pro phone comes with a 4000mAh battery, and it is one of the most powerful smartphones on the market. However, all batteries will eventually wear down and need to be replaced. If you're using your Redmi Note 6 Pro for basic tasks like calling, texting, and browsing the web, you can enjoy a battery life of up to 3 years. But the battery will wear out soon if you're using your phone for more intensive activities like gaming, heavy photography, or other multimedia purposes.
If you need to replace your Redmi Note 6 Pro battery, there are several places to buy one. You can find replacement batteries from large e-commerce websites, but you probably don't know that most are compatible or non-original. Before you order a battery, always check the specifications, as some cheap batteries don't offer the original backup and standby time.
What happens when the Redmi Note 6 Pro battery wears out?
If your Redmi Note 6 Pro's battery is worn out, it will eventually stop holding the charge. This can cause issues with your phone, including battery drain, slow performance, and random shutdowns. If you notice that your phone's battery is draining quickly or isn't holding a charge as long as it used to, there may be something wrong with the battery, and you'll need to replace it. Even after charging the battery to 100% levels, it will drain much faster than expected, and replacing it becomes a mandatory requirement.
What should you do to maintain the good condition of a battery?
It is your responsibility to maintain the excellent condition of your battery, and you should never abuse it in any way. Following all the good practices will prolong the battery life and save you from random hiccups. Please always make sure the followings :
1) Avoid overcharging your phone: Overcharging your phone can lead to battery damage over time.
2) Don't install unnecessary applications on your phone: One of the best ways to conserve your battery is to keep your phone clean and not install unwanted bloatware. Many customers install games and other useless applications that consume battery power in the background without their knowledge. Keeping your phone clean will help reduce the power required to run your phone, enhancing the battery life.
3) Always use the original charger and cable:  Please note that counterfeit accessories are the most significant reason behind the early failure of original batteries. If you use a duplicate charger and cable, the battery never gets enough power and behaves erratically. Therefore, always buy the original charger and cable because they are good for your phone's overall health.
Redmi Note 6 Pro Battery Specifications
| | |
| --- | --- |
| | This battery is 100% original, fresh, tested for full capacity, and suitable for Redmi Note 6 Pro (Battery Model BN48) |
| | The Redmi Note 6 Pro battery model number is BN48 the capacity is 4000 mAh. |
| | Max Voltage 4.4V. |
| | Nominal Voltage 3.85V |
| | Rated Capacity 4000mAh |
| | Typical Capacity 4070mAh |
| | You can resolve all battery-related issues by using this product. |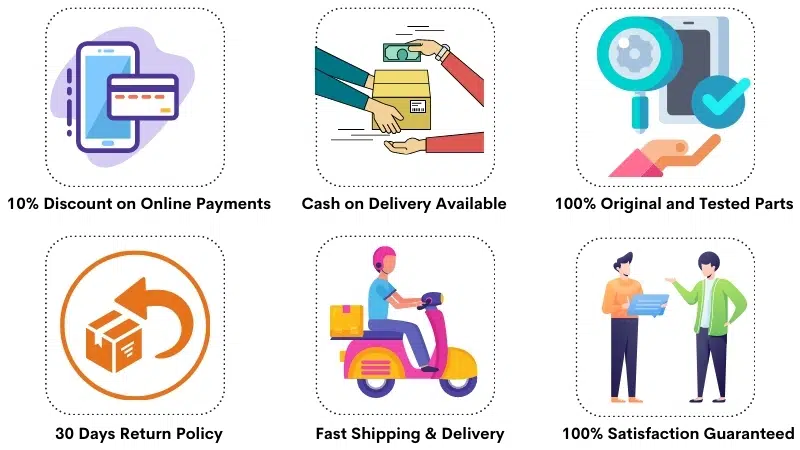 Common Customer Questions
Q: How much does it cost to replace a worn-out Redmi Note 6 Pro battery in India?
The price of a 100% original Redmi Note 6 Pro battery replacement is around Rs 1300-1400. You can buy compatible/duplicate batteries for bargains, but their backup/standby time is 50% of what you get with the original one. We suggest you don't try to save money when purchasing a battery because it is the most vital component of your phone.
Q: How to precisely identify a problematic battery?
If you're experiencing any of the following problems, it may be time to replace your Redmi Note 6 Pro battery:
Your phone has become slow and freezing when using certain apps
The battery constantly drains even when the phone is not in use
The phone shuts down unexpectedly and reboots without your knowledge.
After charging the battery to 100% level, it doesn't hold the charge as long as it used to.
The battery percentage doesn't increase after charging it to a certain percentage.
The remaining battery percentage shuffles up and down without doing anything.
Q: Is it a 100% original battery for the Mi Note 6 Pro?
Yes. We offer a 100% original battery for Redmi Note 6 Pro, the same as you get with a brand-new phone. Please note that several OEM (Original Equipment Manufacturer) factories make original batteries for the company, and it is not essential that the battery on your phone and what we offer must match bit by bit. The battery manufacturer can be different, but the battery is 100% original, as used in brand-new phones.
As you know, a mobile phone company makes millions of phones, and it is impossible to only source parts from one factory. The company sources original parts from several factories and assembles them into brand-new phones. We are clarifying this so you can easily get a bigger picture of where the original batteries come from.
Q: How to fix the battery drain temporarily?
To fix the battery drain in the Redmi Note 6 Pro, please disable the unwanted apps and restrict their background usage. Sometimes an app can be using too much power and causing battery drain. If you use social media way too much, you should understand that a mobile phone battery has limited capability and is not a powerhouse. Therefore, you should always use the battery moderately to avoid problems.
Q: Is it possible to replace a built-in battery?
Some customers think replacing a built-in battery is impossible, but that's not true. The battery is assembled inside the phone and pasted on the frame, but it is easily replaceable. You'll need to dismantle the phone to replace the battery, which needs some expertise. Please note that replacing the battery without technical skills is impossible.
Please also note that you shouldn't undertake a task you're not qualified to do. If you try to remove the battery by pulling it up or using sharp tools, you could explode the battery or erupt other important flex cables of your phone. Therefore, please always be cautious and don't try things yourself when unsure.
Q: What is the average lifespan of a battery in a Redmi Note 6 Pro?
A battery typically lasts around two and a half years. However, taking care of your battery is essential to ensure that it lasts as long as possible. If you don't use the phone heavily, you can use the battery for more time (around three years), and once the charging and discharging cycles are over, you must replace the battery.
If you buy an original battery, you'll not face any troubles for another three years, and that's the lifespan of a phone. We suggest you always avoid duplicate products and invest in originals. If you buy a compatible battery and save Rs 500, you'll face issues daily because of the shortened standby time and the need to charge the battery more often.
Redmi Note 6 Pro Battery Photos
Please refer to the images below to see the product photos of the battery. If you've any questions about the product, please call us at 9587954273, and we'll answer all the related questions.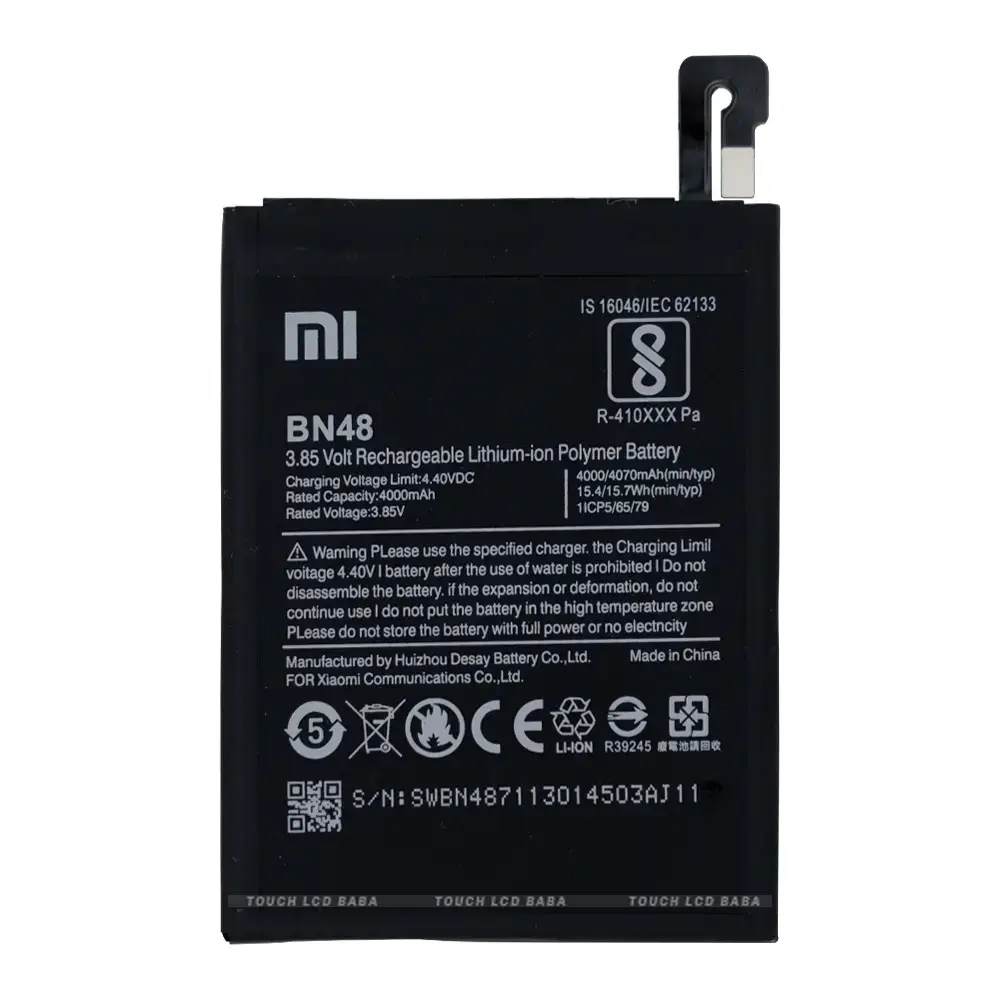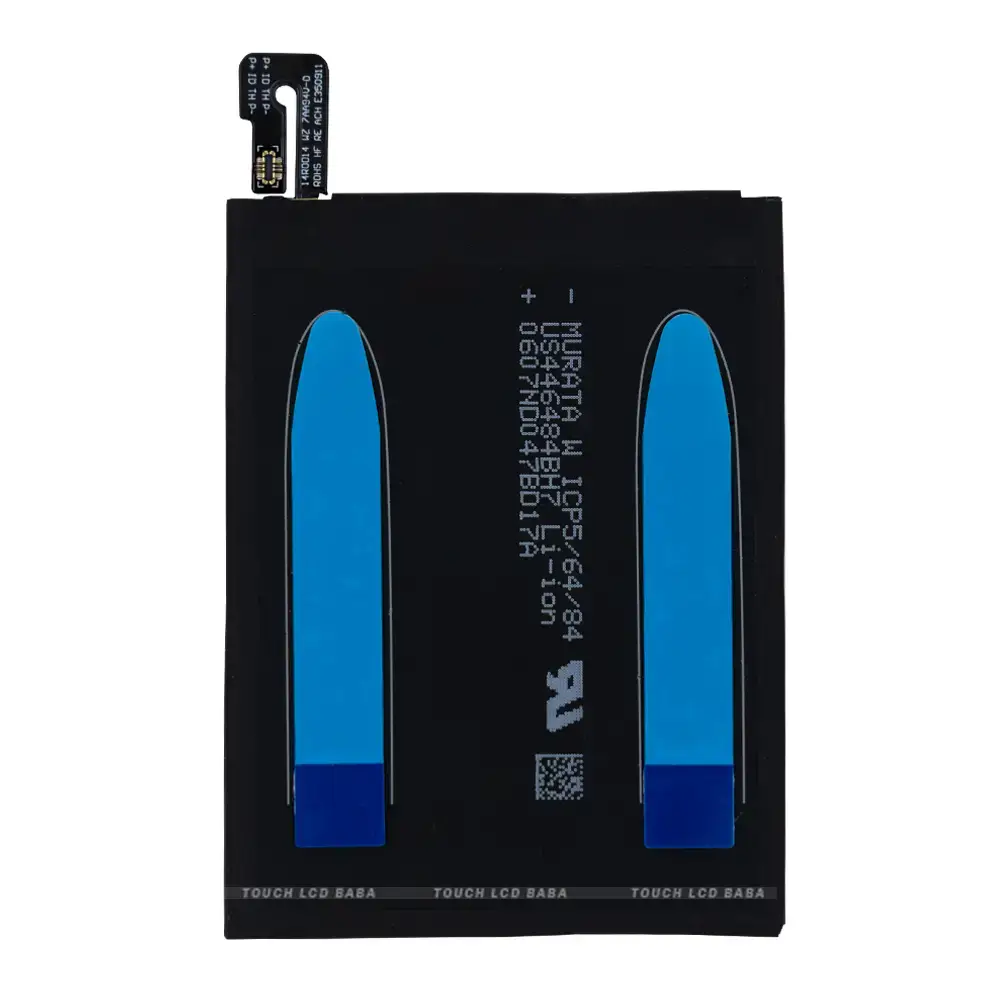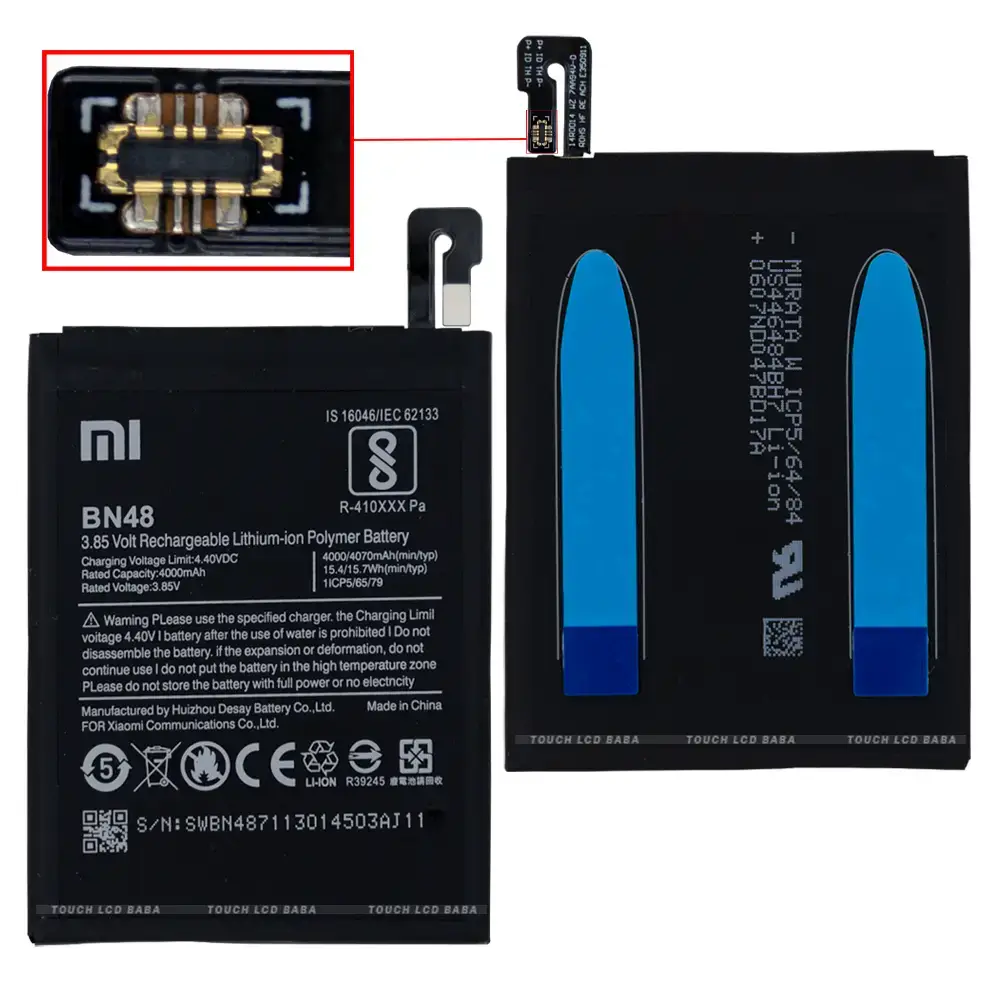 Shipping, Return and Refund Policy
All our products come with 30 days return, refund, and replacement guarantee. To return a product, It should be in the same condition we sent. You can't use or paste the new Redmi Note 6 Pro battery if you want to return it. For complete details about Shipping, Returns and Warranty, please click here.