A broken Mi 11 Lite display is painful because it halts all your routine work on the phone, and you must invest money to replace the broken display. When your glistering phone cracks after an accidental drop, it feels like the end of the world because mobile phones are not less than a family member. Luckily, you can restore your device to its pristine condition by replacing the display and touch screen glass combo.
All screens do not break in the same way or from the same place. Sometimes, you might end up with a cracked touch screen glass and still be able to use the phone. In some cases, the display and touch screen glass will shatter altogether, and you can't use your phone any further. The situation becomes more difficult to handle when you can't use your phone, and replacing the broken display unit remains the only viable solution. On this page, we'll discuss all the aspects of the Mi 11 Lite display replacement so that you can make an informed decision.
What is the meaning of the Mi 11 Lite display combo?
A display combo is a new spare unit that helps you replace the broken part (display or touch screen glass or both). It is natural that to replace the broken part, you need a new display unit, and that's where a display combo comes in handy. A Mi 11 Lite display combo comprises the inner display and front layer of touch screen digitizer glass. You just need to depart the broken display from the phone and install a new one in place of it.
It doesn't matter if you've broken only the display or touch screen glass; you must replace the complete display unit in all the cases because the display and touch screen are combined together. The mobile phone technicians, service centers, and other entities use new display combos to replace the broken parts. On a side note, all mobile phone screens are not equal in quality; we'll discuss that in the next section.
Original Vs. Duplicate Display – What are the differences?
It is easy to purchase a new mobile phone but hard to buy the original display when it breaks. The same goes for this mobile phone; many customers rush to purchase duplicate screen replacements because the original one is costly. When a customer buys a new phone, the price tag doesn't matter much, but if the display breaks, customers want to purchase a product for the lowest price and still get the best quality.
Please note that you can't get the best product for the lowest price as most deal finders expect. All original mobile phone screens are costly, and you can't buy them if your budget is not plenty. Many customers have a budget of Rs 2000-2500 to replace the broken display, and only fake screen replacements can help you in that budget. Here are the major differences between an original and a duplicate product :
The original display comes from the OEM manufacturers, while a duplicate display is a third-party product.
You can find a fake display in every other shop, but original screens are hard to source.
The original display offers 100% brightness, while a copy display offers 50% brightness at maximum levels.
The color reproduction and touch screen smoothness are perfect only on the original display.
You'll get dull colors, shattered brightness, and a hard-working touch screen glass on a duplicate display.
The original display lasts a long while a duplicate one breaks very easily.
Only the original display can provide the same joyful experience, while a copy display is a headache.
Many customers buy a fake display due to budget constraints, and that's fine. However, it would help if you never assumed that original and duplicate screen replacements are equal in any aspect. These are two different products that target different segments of customers, and there is no alternative to an original display.
Xiaomi Mi 11 Lite 5G Display Specifications
| | |
| --- | --- |
| | This display is 100% original, tested and suitable for Xiaomi Mi 11 Lite, model number M2101K9AI. |
| | The Xiaomi 11 Lite display size is 6.55″, the display type is Super AMOLED Dot and the resolution is 2400 x 1080 Pixels. |
| | 90Hz Refresh Rate, HDR 10, 1 Billion Colors, Auto-brightness : 800 nits,  Manual 500 nits (typical). |
| | Our testing team tests and verifies each display for 100% flawless working before dispatch. |
| | We test and verify all the screens one-by-one to ensure their working condition. |
| | It is exactly the same display as it comes assembled with a brand new phone. |
| | You'll not face any quality degradation issues because the display is 100% original. |
| | After replacing the display, all the quality aspects will remain the same as before. |
| | This display perfectly works with all variants of Xiaomi Mi 11 Lite. |
| | The display replacement is readily available in stock and turnaround time is very fast. |
| | You can place your order using Cash on Delivery or Online Payment (additional 10% discount). |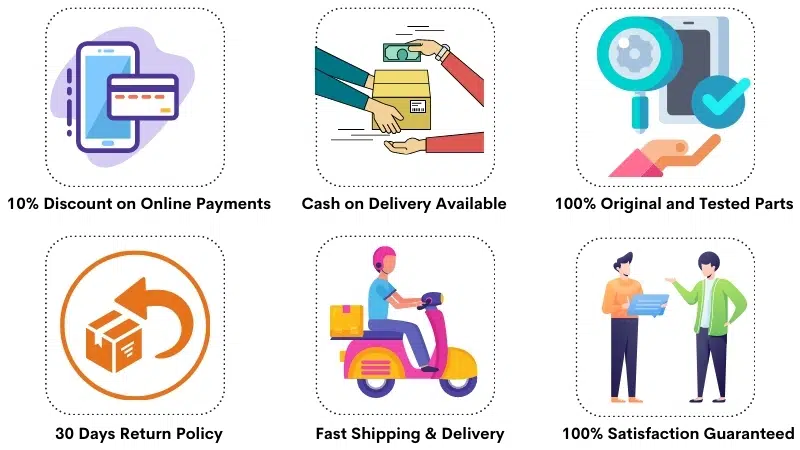 Frequently Asked Questions
Q: How much does it cost to replace a broken Mi 11 Lite display in India?
The price of a 100% original Xiaomi Mi 11 Lite 5G display replacement (Super AMOLED) is around Rs 6600-6800. If you want cheaper products, you can go for duplicate TFP/IPS quality screens that cost around Rs 1500-1800. You'll not get the original quality with duplicate screens, but at least you can use your phone.
Q: I found an AMOLED display for a low price. Should I be happy?
If you are a customer searching for the original AMOLED display by paying peanuts, you will surely become a victim of online scams. The customer's greed to purchase original spare parts for low prices is the main reason for their dissatisfaction. That's because you can't get a Rs 6000 product for Rs 1500 anywhere, and that's a fact. If you try, you'll waste your money and won't get the desired product.
Many customers trust anything low-priced because of their natural inclination toward saving money. You should save money, but if you order a Rs 1500-2000 display and expect it to work like the original, you'll always get duped. It would help if you weren't happy to see the low price because you don't know about the actual product you'll get. If you ask such sellers to share the actual product's image, they will never do that.
Many shady websites write wrong product descriptions and offer the lowest prices to lure customers into purchasing their products. Under the hood, they sell a TFT/IPS quality display which you can get for Rs 1500 even in the local market. Therefore, don't trust low-priced products because they are cheap for a reason you don't know.
Q: Can I replace a broken/faulty display for free under warranty?
A broken or faulty display is always out of warranty because that's a result of your actions. If you buy a product,  break it later, and expect other entities to bear the loss for you, that will not happen unless you've bought insurance beforehand. Please also note that the lining on the display or a white display directly results from damage. That doesn't make sense if you try to justify that nothing is physically damaged, and it should be eligible for a warranty. Internal damage is also a form of damage that is very common, and only the customer is responsible for that.
A mobile phone screen can turn bad because of many reasons, including but not limited to heavy pressure, water damage, accidental drops, and strikes against hard objects. If you keep your phone and coins together in a pocket, that can also damage the display. That would be unintentional, and you might think it happened automatically. However, only the customer knows the underlying reasons and rarely tells the truth.
Q: Does replacing only the glass restore the original Mi 11 Lite display?
You'll often have a broken touch screen glass, and everything else will function normally, including the touch screen. However, that doesn't mean you've not lost anything because that touch screen glass comes in conjunction with the display. The inner display might also break if you try to separate the broken glass.
Glass replacement is a popular solution because customers want to repair the phone for a low price. This solution relies on using a duplicate touch screen glass worth Rs 100 and extorting money from you. The whole glass replacement cost is around Rs 150, but a technician will charge Rs 1000-1500 if successful.
On the other hand, if the display also breaks while separating it from the broken glass, it is not the technician's fault/responsibility. So you bear the responsibility for any mishaps during the replacement. The glass replacement is a hack designed to save money if successful. Even if the glass replacement succeeds, you'll get a refurbished display that can never match the quality of a factory-assembled display.
Q: Do you have any shops in my local city?
No. We don't have any shops in your city as we offer our products online only. If you thought about purchasing our products from an offline store, that's not possible. You can order a display replacement online, and we'll deliver it safely to your doorstep. We supply original, tested products with a 30 days return period. Please note that 30 days are for testing the product and the warranty is void apply after installing the display.
Q: Do I get a warranty after installing the display on my phone?
Please note that Mi 11 Lite display comes with a testing guarantee. It means that you can test the display in real-time and then install it on your phone. After installation, there are no warranties because a working display can malfunction for many reasons, and a seller will never know what happened behind the scene. Therefore, you should test and verify the display yourself without installing it, and after that, we don't entertain any complaints.
Some customers believe they get a 30 days guarantee after installing the display, but that's not true. Once you install the display and remove the screen guard, the warranty is void. A working display never turns bad itself, and as you own the mobile phone, it is your responsibility to safeguard the display from drops, pressure, and other unfortunate occurrences.
After verifying the display yourself, you can't blame anyone else for the further consequences. The reason is that a display is very fragile, and even if a newbie tries installing it using improper techniques, it can internally break. Many customers damage the products with negligence and try to shy away from their responsibility. Some of them would even say that it is a bad quality product and that's why it broke. However, these are all baseless arguments, and you must take the pain if you damage the product.
Q: How on earth can I test the new Mi 10 Lite display without installing it?
If you thought installing a new display was mandatory to test it, that's a misconception. You can easily test a display without installing it by following these steps :
First of all, dismantle the phone by following a proper procedure.
Open the relevant screws to access the display's connection at the bottom right of your phone.
Eject the old display's connection and connect the new display on the rear side of your phone.
Place the display on a bubble wrap and turn on the phone using the power button.
The new display will show graphics, and you can easily test it to your satisfaction.
Please note that open condition testing allows you to test and verify the display for any defects. The whole mobile phone industry relies on this technique to test the new screens before installation, proving this method's trustworthiness. If the display perfectly works when you test it and turns bad after installation, that would mean something bad has happened to the product while installing it.
Xiaomi Mi 11 Lite Display Photos
Please refer to the images below to see the actual product photos. As you can see, the display and touch screen glass are both combined and form a single unit.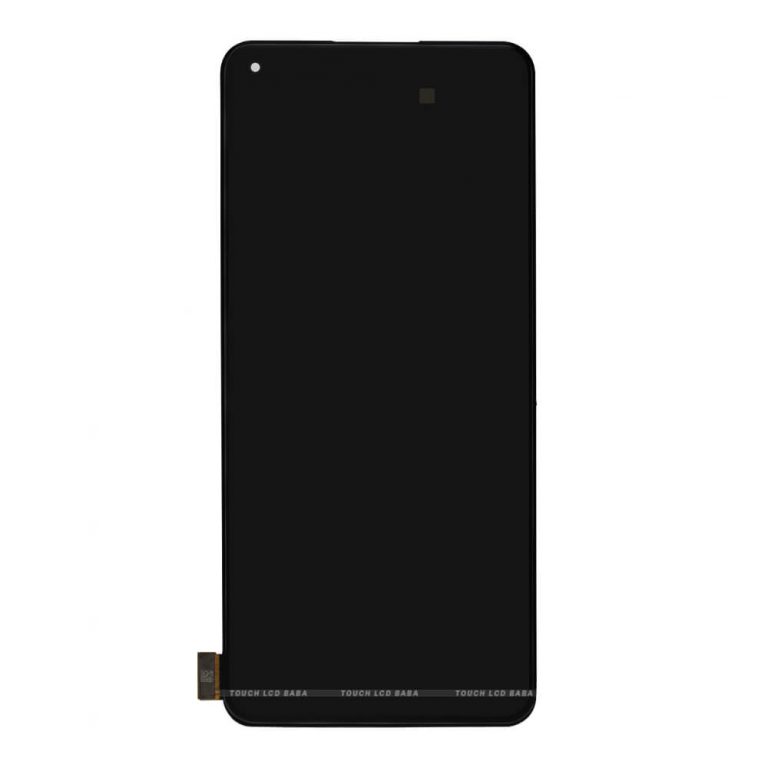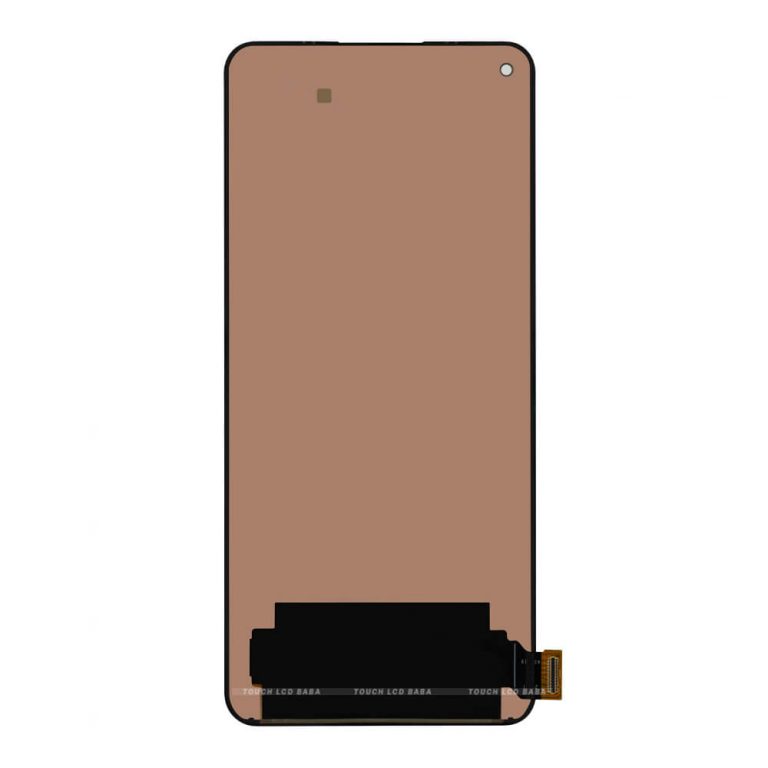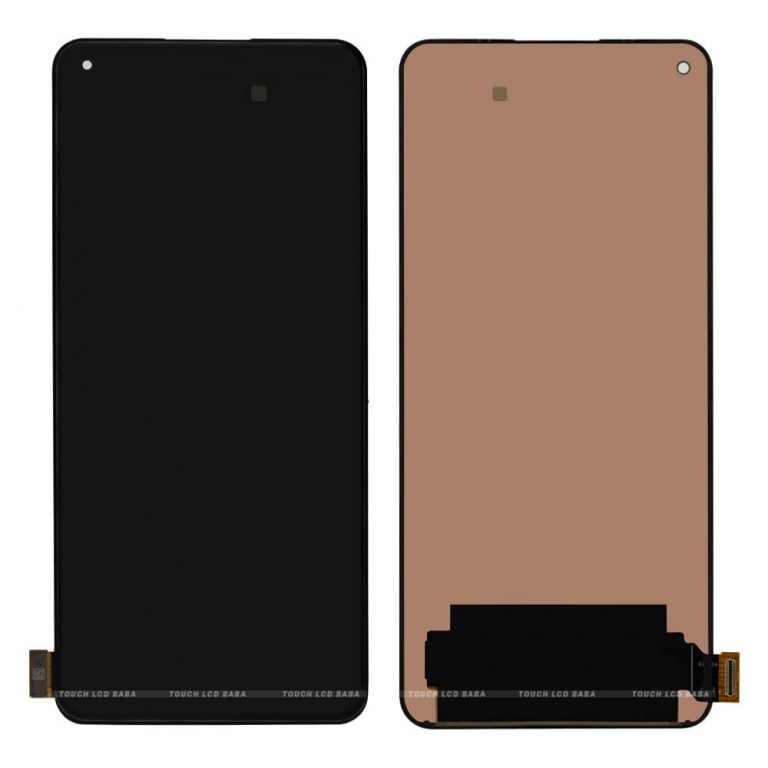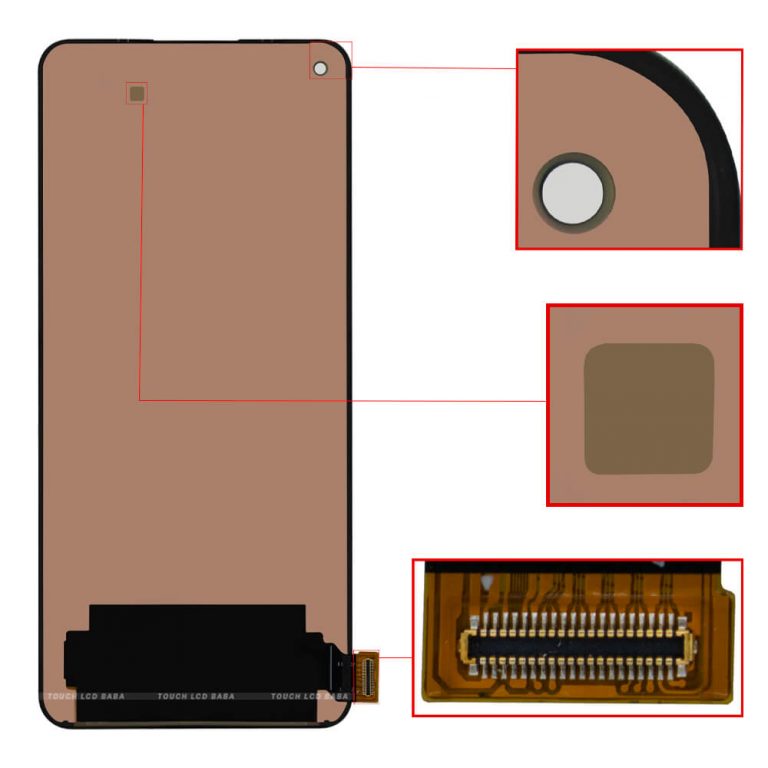 Shipping, Return and Refund Policy
All our products come with 30 days return, refund, and replacement guarantee. To return a product, it should be in the same condition we sent. You can't use or fix the new Xiaomi Mi 11 Lite display if you want to return it. For complete details about Shipping, Returns and Warranty, please click here.