The Asus Rog Phone 2 is a beloved device of gamers and probably one of the best gaming devices ever. Customers owning Asus Rog Phone 2 want to maintain the immaculate condition of their phone, and thus any ordinary display is not suitable for such premium phones. Additionally, finding duplicate screens for Asus Rog Phone 2 is not worth it because you'll give up on all the joy of using a premium phone.
A damaged Rog 2 display is nothing new, which happens accidentally when the phone skids from your hands, and it certainly breaks our hearts. We believe no one will intentionally want to break the phone because that will cost considerable money. The only solution to overcome the broken display issue is to replace the broken display with a brand-new one.
Please note that Asus Rog Phone 2 is a premium phone, and many customers expect an original display for this phone for less than Rs 5000. Every day, many customers inquire about a compatible display that costs them way lesser than the service center's price, and that's probably daydreaming. If you own a phone like Rog 2, you'll not get an authentic display for peanuts. The prices of the original screens vary depending on whether they are fresh or second hands but still, you've to spend nearly 15000-17000 for an original display for this model. The display's price is indeed high, but there are no alternatives.
Why is the Asus Rog Phone 2 display so expensive?
The price of a 100% original Asus Rog Phone 2 display replacement is Rs 16000-17000. Please note that Asus Rog 2 phone comprises an AMOLED display that supports a 120Hz refresh rate. Such screens are premium because they aren't installed on mid-budget ordinary phones. These screens have their unique identity in the market, and the manufacturing costs of such screens are sky-high. The official Asus service center or the OEM manufacturer offers these screens for a premium price, and that's why you can't get them for a throwaway price unless the display is a second-hand product in some aspect (like glass changed or a restored/refurbished display).
The original screen of Asus Rog 2 comes from a particular factory, and we source our products from the same factory whose screens go into brand new phones. We can't tell where such screens take their shape, but you should know that the display assembled on your phone and the one we sell come from the same source, and that's why we are so sure about the quality.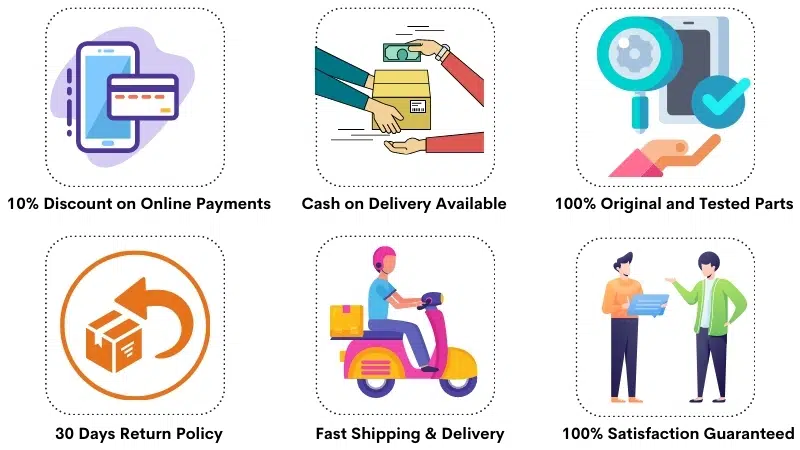 Asus Rog Phone 2 Display Specifications
| | |
| --- | --- |
| | This display is 100% original, tested, and suitable for the Asus Rog Phone 2, model ZS660KL. |
| | The Asus Rog 2 display size is 6.59″, the display type is AMOLED, supports 1B colors, 120Hz, and HDR10. |
| | The display resolution is 1080 x 2340 pixels, and touch screen glass comes with Corning Gorilla Glass 6 protection. |
| | The product comes exactly as you see in the photos, with an outer frame, display, and touch screen glass. |
| | We manually test each Rog 2 display for flawless working and then dispatch it to the customer. |
| | We buy our stock from the OEM manufacturer to ensure 100% original quality. |
| | It is easy to test the new display before doing the final installation. |
| | The in-display fingerprint scanner also works flawlessly. |
| | The stock is readily available, and shipping time is very fast. |
| | You can order the product using Cash on Delivery or Online Payments (an additional 10% discount). |
Frequently Asked Questions
Q: How much does it cost to replace a broken Asus Rog Phone 2 display in India?
The price of a 100% original Asus Rog Phone 2 display replacement is Rs 16000-17000. If you get a display for a low price, most likely it's a duplicate or refurbished, and you should be very careful about that. The installation charges are extra, and you need to find a technician yourself.
Q: Why does the Asus Rog Phone 2 display break despite having the Corning Gorilla Glass 6 protection?
Corning Gorilla Glass 6 is splendid protection, but it also has limits. If you drop the phone from a considerable height or smash the phone on a wall, the display will certainly break. It is risky when the phone drops off its face and the display strikes a hard surface. In such cases, the tempered glass can serve as an additional layer of protection, but it also can't withstand harsh strikes.
Many customers don't apply tempered glass on the phone because it softens the touch screen response. In such cases, the phone is more prone to damage because no protection is installed on the main display. It might be overwhelming when the display breaks, but that will only happen if the damage is harsh and puts a lot of pressure on the touchscreen glass.
Q: The touch screen still works even after damage. Does it mean that everything is good?
Please note that durability is the most prominent feature of this display, and in most cases, the touchscreen glass will continue to work. The Asus Rog 2 display unit comprises the inner display and the top layer of touch screen digitizer glass. The actual layer of the touch screen digitizer merges with the display unit itself, and the top layer is a glass shield by Corning Gorilla Glass 6.
The touch screen functionality doesn't fuse with the glass but lives on the display. That's why the touch screen supplies stay safe even if the glass breaks because they are on display themselves. Even if you remove the front layer of glass and touch the display directly, the touch screen will still work because a very thin film sits on the display, which provides the touch screen functionality. Therefore, it is normal for the touch screen to work properly without any issues, but that doesn't mean everything is good. You still need to replace the complete display and touchscreen glass combo.
Q: Can't I replace only the broken glass and reuse other components?
It sounds like a great solution to replace only the broken glass and reuse all other components, but it is not that easy. Please note that the Asus Rog Phone 2 display has a complex structure, and replacing only the glass is not everyone's cup of tea. The touch screen glass is pasted on display using LOCA glue, and 99% of attempts to separate the glass from the display result in vain.
Glass replacement is a cheap tactic usually recommended in the market, but that relies on a duplicate touchscreen glass. If a technician promises to replace the glass, he'll use a duplicate touch screen glass that costs less than Rs 100 and charge you a hefty amount, up to Rs 5000. Such duplicate spares last less than a month and break again because the replaced glass is duplicate and not protected by the Corning Gorilla Glass 6 protection. If you replace the glass with a duplicate one, the overall quality of your phone will take a nosedive, and you can't enjoy the same experience as before.
Q: What is the difference between a Folder / Combo / Assembly or Display Unit?
You might confuse yourself with terms like combo/folder/assembly and other similar words. Please remember that all these words indicate a unit of display and touch screen glass. In different locations, technicians use different terms, but all the words are similar and indicate a unit of display and touch screen glass.
Q: What do I get if I order the display available on this page?
The display combo available on this page comprises these individual parts :
The inner display.
The top layer of touch screen digitizer glass.
Side Frame
These components are merged and form the front half of the phone, as clearly visible in the photos. We won't supply the parts mentioned above individually, but they all come in a finished format. You'll get a brand new display combo shown in the photo, which is very easy to assemble.
Q: Which model numbers does this combo support?
The Asus Rog Phone 2 combo supports these model numbers :
ZS660KL
ASUS_I001D
ASUS_I001DA
ASUS_I001DE
ASUS_I001DC
ASUS_I001DB
ASUS_I001D
Q: Is it a good idea to search for workaround solutions?
As a customer, you might be extremely frustrated with an Asus Rog Phone 2 display and want to save as much money as possible. We understand it from your perspective, but you are bound to run into additional issues if you try to find low-quality solutions. Please note that duplicate screens don't work as intended, and when you install them, you'll not be aware of all the drawbacks. You'll start facing issues the next day because their touchscreen response is inaccurate, and their color reproduction is way off.
Generally, if you purchase a first-copy display for your phone, you get around 40% quality of what the original display offered. That's why you'll see such a huge price difference between the original and duplicate products. Some customers believe they found the original display for a low price, but you'll be disappointed when you get the actual product.
Q: Is it a factory-assembled display or a manually fitted display?
The Asus Rog Phone 2 display sold on this page is factory fitted and not manually installed. Typically, when you buy a display without a frame, you must assemble it manually using glue or double tape. However, in the case of a factory-fitted display, the manufacturer installs the screens using pre-cut gaskets stickers, and that's why the fitting is 100% immaculate.
A factory-fitted display looks squeakily clean, and you'll feel like buying a brand-new phone. The front side of your phone gets completely renewed, enhancing your device's overall look and life. The badly broken phone easily returns to its original immaculate condition in no time. That's the beauty of a factory-assembled display combo.
Q: Do you recommend installing the Asus Rog Phone 2 display at home?
It is not good to install the display at home because Asus Rog series phones are not easy to repair. Customers often try such things at home and run into additional issues because they are unaware of all the details of display replacement. Therefore, we suggest you seek the assistance of a professional technician and install the display carefully.
The display's installation is not tough, but you must know how it works. If you are a total first-timer and try this stuff at home, you'll likely make mistakes. If you damage additional components of your phone, for example, the back glass, you've to purchase additional parts, which will be a burden for you.
Asus Rog Phone 2 Display Photos
These photos show the actual product you'll get after your order. It is a complete unit of display and touchscreen glass for Asus Rog 2, which comes pre-installed with the frame. You need to place the motherboard, battery, and other components inside the frame, and you're good to go.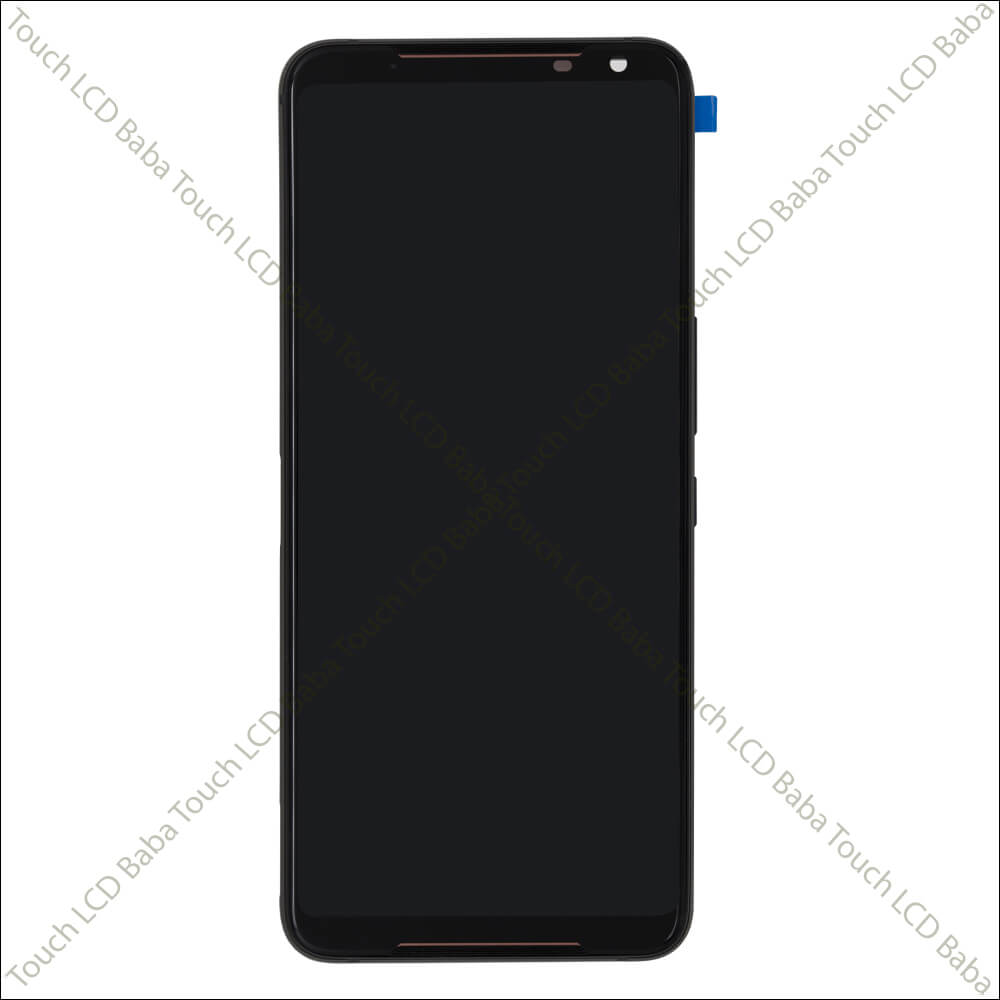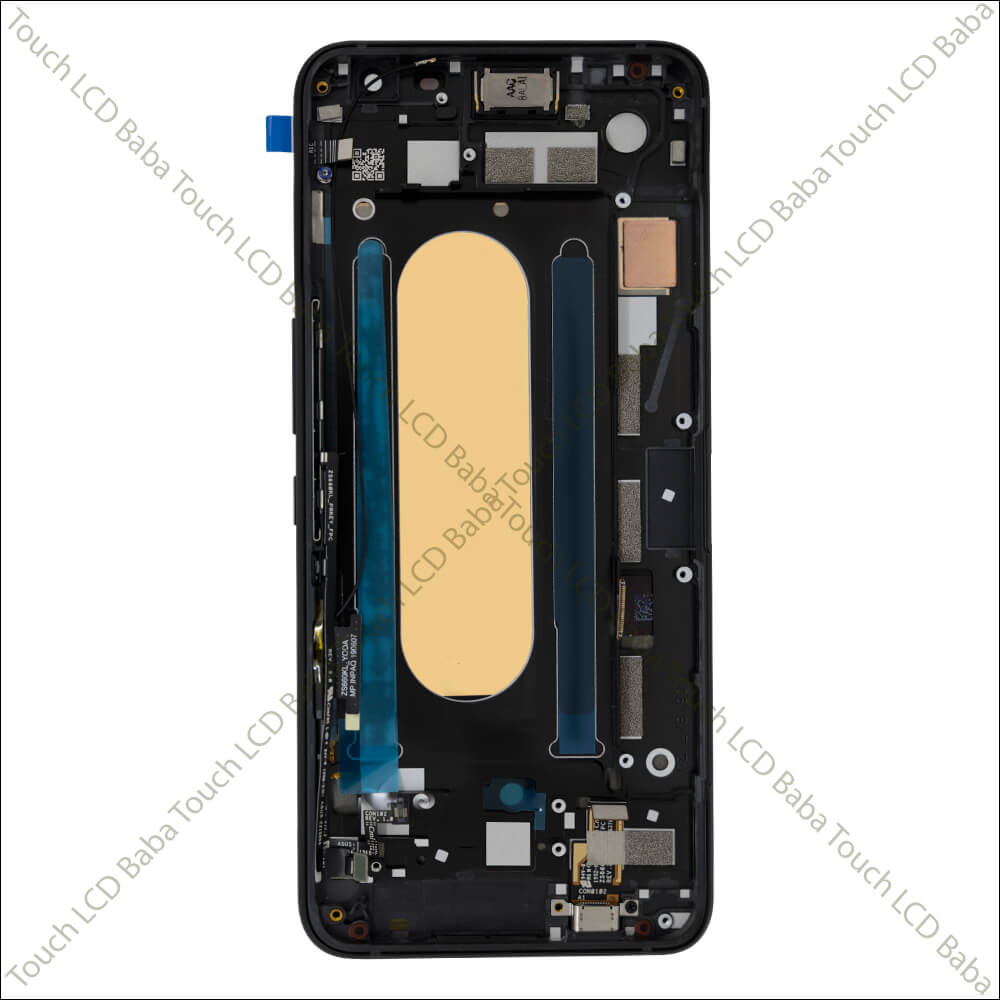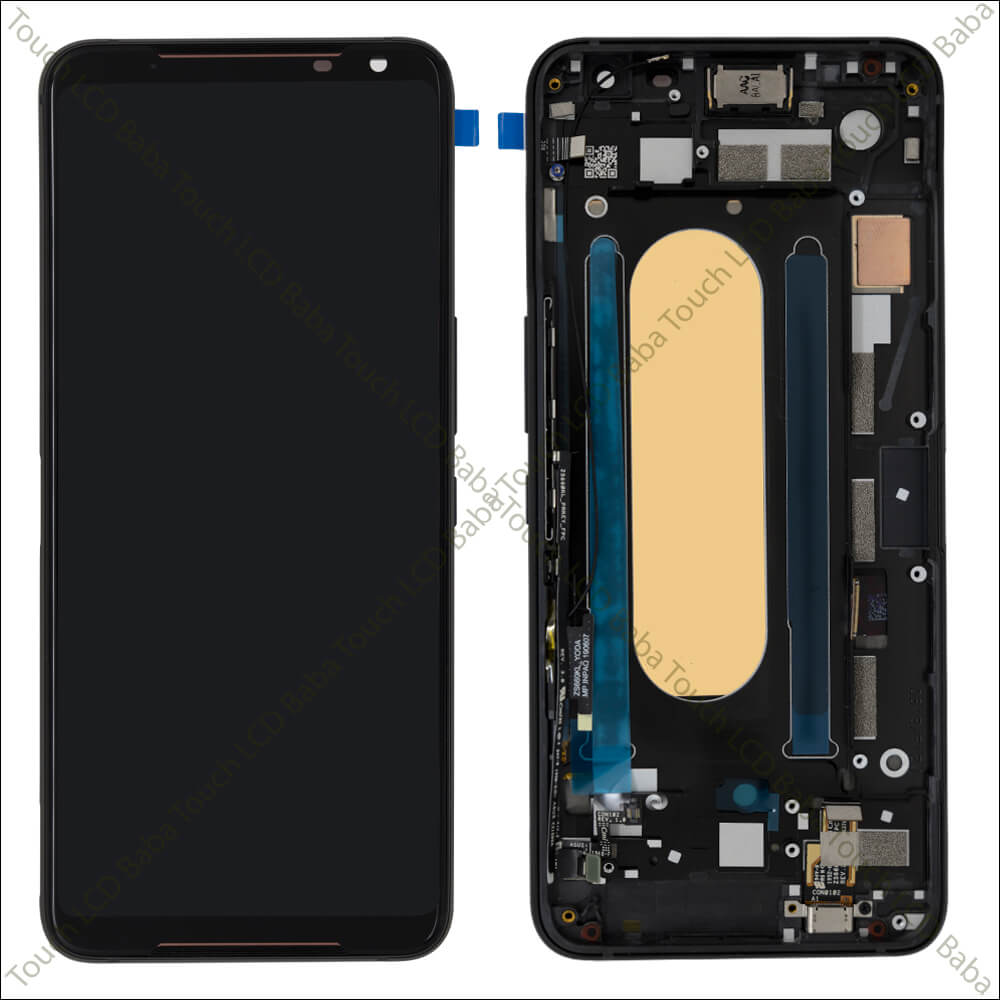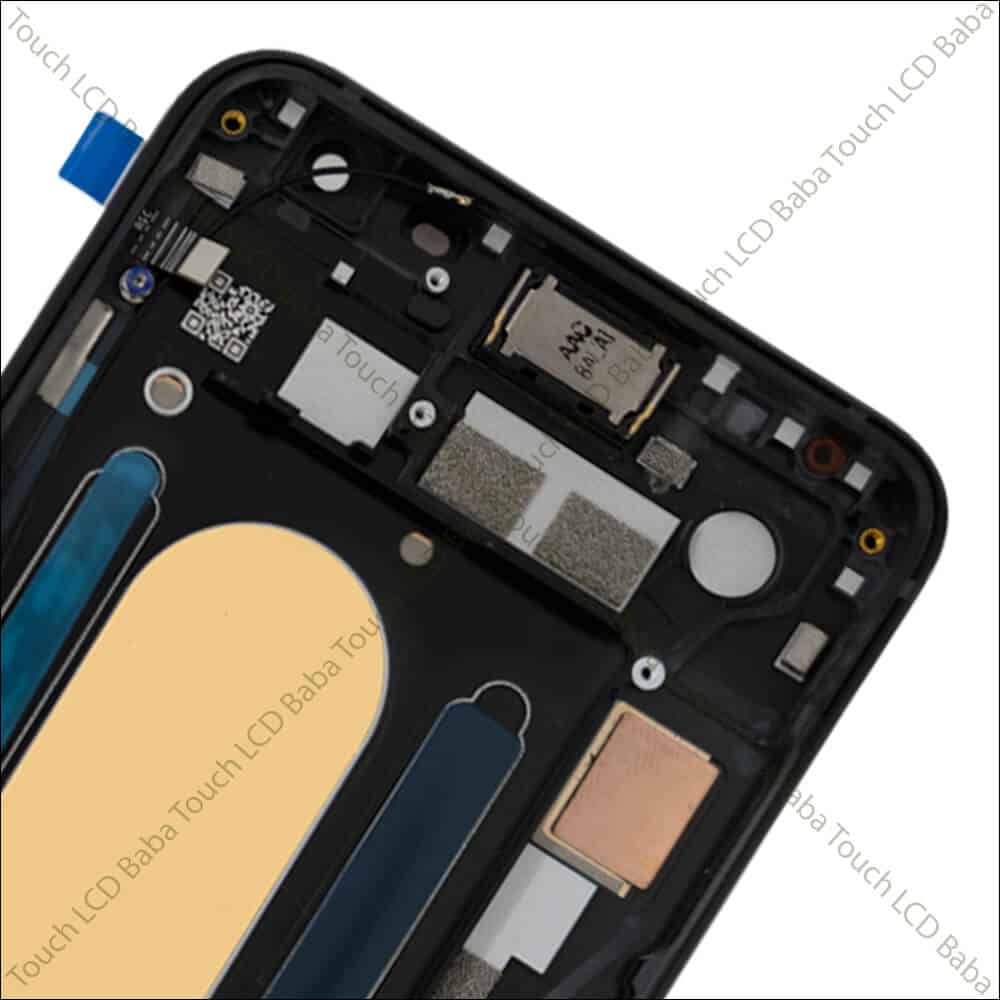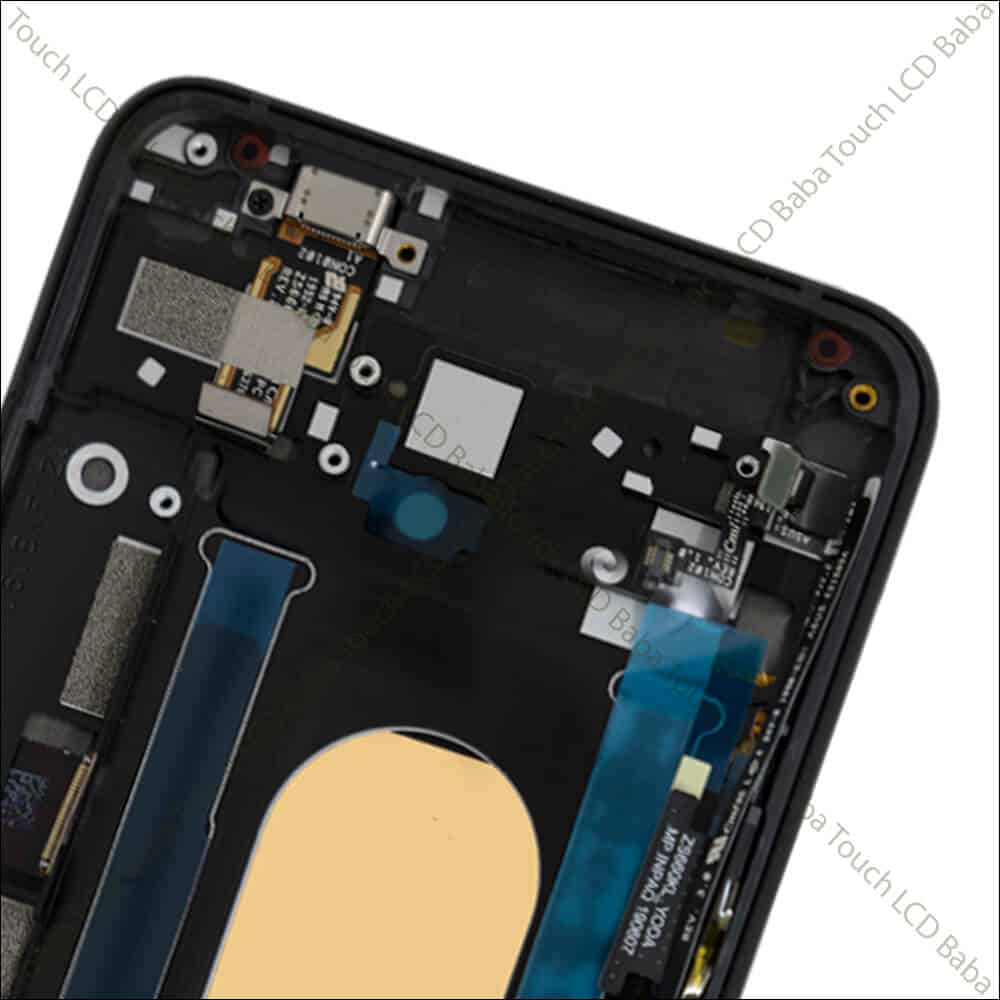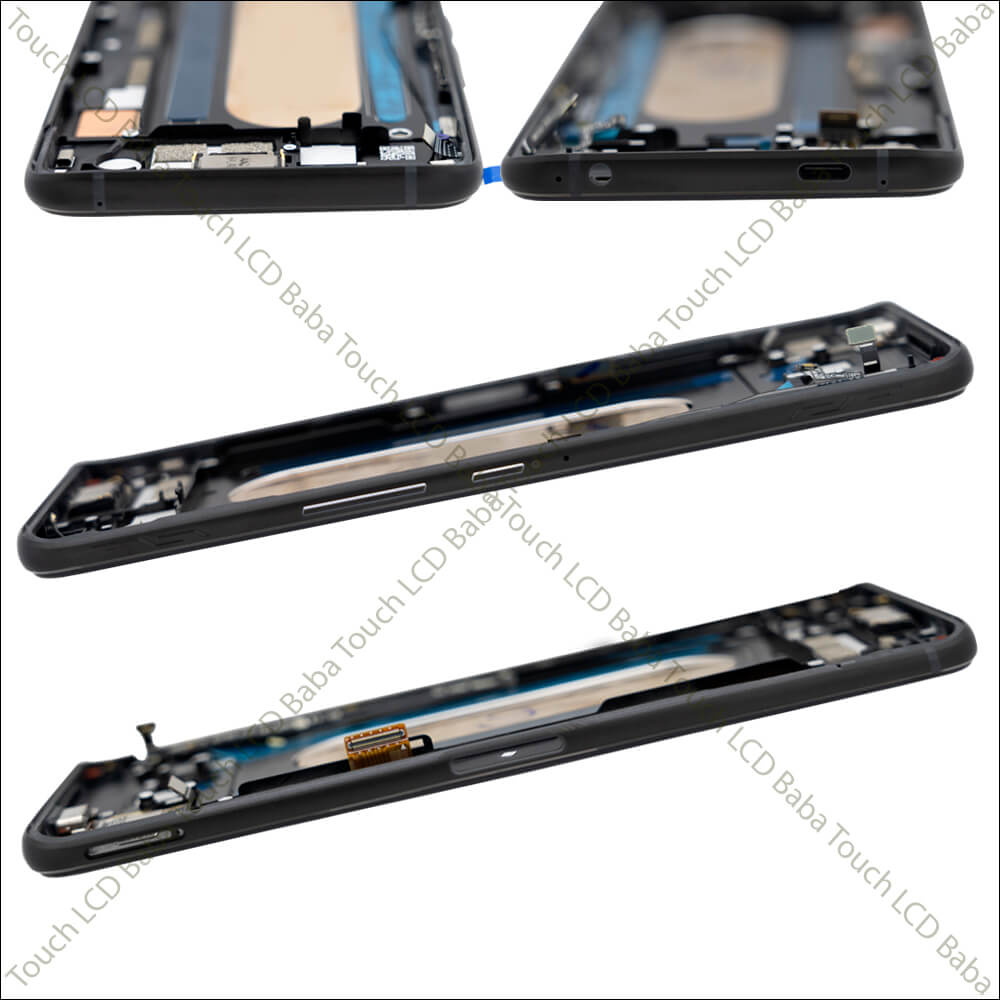 Shipping, Return and Refund Policy
All our products come with 30 days return, refund, and replacement guarantee. To return a product, It should be in the same condition we sent. You can't use or fix the new Asus Rog Phone 2 display if you want to return it. For complete details about Shipping, Returns and Warranty, please click here.