If you want to purchase a 100% original battery for Asus Zenfone Max Pro M2, you've arrived at the right page. A worn-out battery poses a massive problem for the consumer, making it impossible to use the phone properly. You should also know that Asus batteries are not easily available in the market, and without a proper battery, it is impossible to use the phone further.
Touch LCD Baba offers 100% original battery replacement for Asus Zenfone Max Pro M2, which is precisely the same as your factory-fitted factory. You can replace the original battery with this one and eliminate all the battery-related issues. We'll provide complete information about the battery replacement and all other aspects on this page.
How to identify the Asus Zenfone Max Pro M2 battery issues?
As a layperson, you might not be able to understand the early indications of a worn-out battery. Sometimes, you might feel that the phone got discharged quickly but don't investigate it so much. The battery issues are slow to start, and you'll not face issues all of a sudden. First, you'll see some anomalies happening with your phone, and then the problem will amplify even further to the point when you must isolate the issue. These early indications are:-
Your phone discharges very fast, even in standby mode, without using it.
A random battery percentage appears on the screen every time you lock and unlock the device.
The battery shows charging levels at 100% and then suddenly drops to 30%.
You leave a 100% charged phone overnight without using it; the battery drops to 50% or below.
The battery is puffed up because you've already used it for more than two years.
The phone turns off abruptly without any acknowledgment or warning.
Often, the phone reboots itself without any apparent issues.
You might face other similar issues which are directly related to the battery. If you want to discuss some issue that is not straightforward for you, please feel free to call us at 9587954273, and our team will assist you further.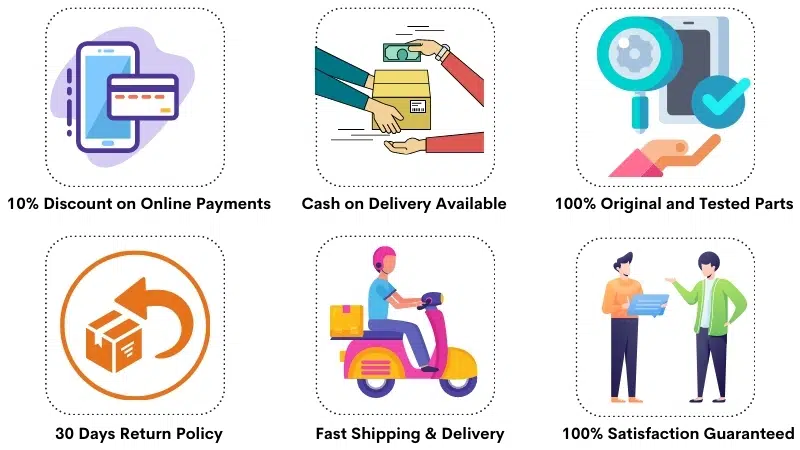 Asus Zenfone Max Pro M2 Battery Specifications
| | |
| --- | --- |
| | This battery is 100% original, tested and suitable for Asus Zenfone Max Pro M2. |
| | The model number of Zenfone Max Pro M2 is ASUS_X01BDA ZB630KL. |
| | The battery's model number is C11P1706 and battery capacity is 5000 mAh. |
| | We source the battery from OEM manufacturer and guarantee 100% authentic part. |
| | We always test each battery for immaculate condition before dispatch. |
| | It is a brand new battery guaranteed to furnish 100% perfect backup time. |
| | The battery is readily available in stock with fast shipping time. |
| | You can order the product using Cash on Delivery or Online Payments. |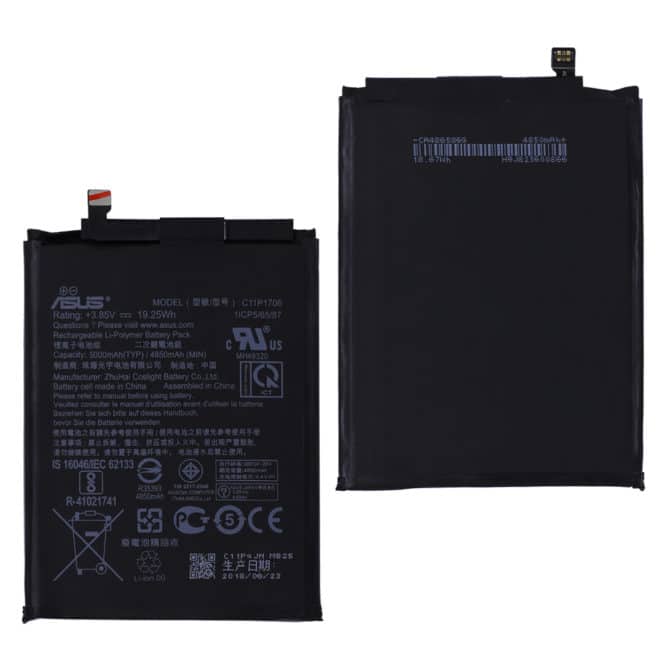 Frequently Asked Questions
Q: How much does it cost for a 100% original Asus Zenfone Max Pro M2 Battery?
The price of a 100% original Asus Zenfone Max Pro M2 battery replacement is around Rs 1200-1400. The model number of the battery is C11P1706, and it is suitable for Zenfone Max Pro M1, model number ASUS_X01BDA ZB630KL.
Q: How the original Asus Zenfone Max Pro M2 battery differs from a fake one?
The battery quality is the main ingredient at play here. An original battery comes power-packed with full capacity, while a fake battery often comes with side fillers. The actual capacity of a copy battery is never up to the market, and all customers who have used a duplicate battery can confirm this.
The manufacturers who make a counterfeit battery write the mAh on the battery, but its actual capacity is too low. Such low-quality batteries are also called half-cell batteries because complete lithium cells are not present inside these batteries. Manufacturers cunningly make a seemingly full capacity battery by inserting other hard objects (like cardboard) all around the corners. This way, the battery feels fuller, but the inside story is entirely different. That's why the standby time of both batteries comes out to be completely different.
Q: Is it easy to replace an in-built battery?
Many customers call this battery an inbuilt battery and believe it is very hard to replace. Some customers even think it is impossible to replace an in-built battery, but that's not true. If a battery goes inside the phone, it is called in-built in general language, but you can replace it like an ordinary battery.
The manufacturer pastes the battery firmly inside the phone with a strong adhesive, and it is a little tough to take off this battery. However, a trained technician can easily do that without any problems, and it hardly takes 15-20 minutes to replace the Asus Zenfone Max Pro M2 battery.
Q: How can I check the battery usage?
Your phone provides a very easy way to check battery usage and see which apps consume the most battery power. You can also check the battery's last charging time and standby time to get an idea of its life. Navigate to Settings-->Battery section, and you can find all the information you need. Sometimes, this information can help isolate the resource-consuming apps, and then you can uninstall them to enhance the battery life.
Q: How to install the new battery?
Installing a new battery is easy, but you need several tools and expertise. Here is the basic outline :
First of all, please open the back panel.
Then open relevant screws on the motherboard.
Eject the battery's connection from the motherboard.
Then you need a chemical solution to take off the battery because it is hardly pasted on the frame.
Taking off the battery is the most tricky part because you can damage other cables during this process.
After pulling off the old battery, you can install a new battery in place of it.
In our opinion, everything is easy but removing the battery from the needs expertise. Some technicians pull off the battery while others use a chemical solution and pull it slowly. If you haven't done such a job before, better visit a technician and pay around Rs 150-200 to install the battery on your phone.
Q: What are the best battery usage practices?
Your usage practices also define the battery life, and we all adopt some bad practices as soon as we buy the new phone. We suggest our clients avoid these things to enjoy the maximum battery life :
Don't use a duplicate charger or cable to charge your phone.
You shouldn't use other brands' chargers because they might not provide optimum power to your phone.
Don't use your phone for prolonged gaming, which heats the battery quite a bit.
Please stay away from local Power banks because their output is erratic.
Please note that a battery's life depends on its charging and discharging cycles. The battery will no longer function as soon as the inherent charging cycles are over. If you play resource peckish games on your phone, you'll need to charge the battery more often, so charging cycles will be over way sooner. Therefore, don't put the battery capacity to extreme test, or you'll need to replace the battery every year.
Shipping, Return and Refund Policy
All the products supplied by us come with 30 days return, refund, and replacement guarantee. To return a product, It should be in the same condition as we sent. You can't use or fix the new Pro m2 battery if you want to return it. For complete details about Shipping, Returns and Warranty, please click here.