If you are looking for an Honor 7x Display replacement, model number BND-AL10, we can provide a 100% original display to you. On this page, we offer a complete combo of Honor 7x, which you can use to replace a broken display or touch screen glass.
We understand that it comes as a shock to many customers when the Honor 7x display breaks inadvertently, but it happens to all of us. We can always do our bit to avoid the damage by using tempered glass and other protective measures, but still, the screen will get scratched. Honor 7x is such a popular feature-rich phone that you can't throw away the phone in a bin when the display breaks.
The best thing you can do is, buy an original screen replacement for Honor 7x and restore the phone to its earlier working state. On this page, we will enlighten you about all the aspects of Honor 7x display replacement so that you can make a wise and informed decision.
What happens when the phone drops accidentally?
Many of us drop the phone inadvertently, and It will not result in a scratched display always. If you are lucky and have not dropped the phone in a way when the display directly touches the surface, most probably, the display will still be safe.
In some cases, when the phone drops from more than 3 feet of height and directly touches the floor (or any hard surface), most probably, the touch screen glass will damage to some extent, but you should still be able to use the phone. In more severe cases, the display and touch screen glass both will damage altogether, and you've to replace the Honor 7x display immediately.
Can I still use the phone for some time after breakage?
It depends on the intensity of the damage. If you see only hairline cracks on the touch screen glass, you should be able to use it for some more time before you proceed to replace the display. In this situation, everything will continue to work as usual, but the phone will look bad. You might feel embarrassed when you take out the phone in public or among your friends.
In our view, there is no harm in using a broken Honor 7x phone if it is not causing you any other issues. Sometimes the damage is beyond normal, and glass pieces start to come out of the touch screen glass. In such situations, you shouldn't use the phone further because the broken glass can hurt your fingers. If the touch screen glass breaks near the earpiece, It can hurt your ears when you talk with someone. So please pay the utmost attention and don't use the phone further If it sounds risky.
What is the meaning of Honor 7x Display Combo?
The meaning of Honor 7x Display Combo is a complete unit of display and touch screen glass combined into a single unit. Please note that display and touch screen glass are not two separate parts, but a single unit. It is because when the company makes the handset, they combine both elements for a dust-free experience. That is why the complete replacement of the display and touchscreen combo is always necessary.
It is true that in many cases, only the touch screen glass will break, and the display will stay intact. Even in those cases, you need to replace the complete Combo because the display is attached to the touch screen glass. There are ways to replace only the touch screen glass, but that approach results in degraded quality of the display and bad touch screen experience.
How can I replace only the touch screen glass for less money?
If you take your broken Honor 7x phone to technicians in the local market, they will try to grasp your mindset. As mechanics deal with so many customers every day, they are aware of one fact, and that is, the natural inclination towards low prices.
The only touch screen replacement is never approved as a solution to this problem by the official service center or anyone else who focuses on offering original quality without any compromise.  The only touch screen glass is the worst quality workaround to the problem that enables you to use your phone some more time.
The cost of touch screen glass is around Rs 120 and god knows how much you will be looted for this low-quality spare part in your city's local market. So if you are thinking about replacing only the touch screen glass, you've been warned. Don't even expect the same quality in any condition.
Honor 7x Combo Specifications
| | |
| --- | --- |
| | This display is 100% original, tested and suitable for Honor 7x, model number BND-AL10. |
| | The Honor 7x display size is 5.93″, display type is IPS LCD and resolution is 1080 x 2160 pixels. |
| | It is a complete unit of display and touch screen combined together in a single unit. |
| | The display we offer is 100% pure original, exactly the same as comes with a brand new phone. |
| | The main touch screen glass is protected by 2.5D curved strengthened glass. |
| | After screen replacement, there will be no degradation in the quality of screen. |
| | We make sure to test each Honor 7x display on actual motherboard of the same phone before dispatch. |
| | Your purchase is protected by 30 days return, refund and replacement guarantee. |
| | We can deliver and pickup the products from your doorstep anywhere in India. |
| | The display is readily available in stock and shipping time is very fast. |
| | You can order the combo using Cash on Delivery or Online Payments. |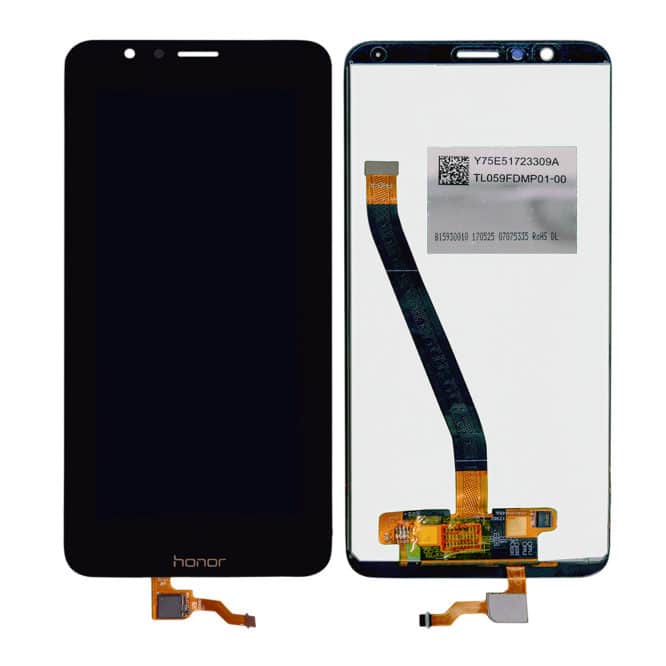 Frequently Asked Questions
Q: How much I need to pay for the Honor 7x display replacement?
The price of a 100% original Honor 7x display replacement is around Rs 2200-2500. If you buy a first copy screen replacement, then the Combo costs about Rs 1100-1300 in India. The installation charges are separate, which you need to pay to a mechanic of your choice.
Q: I want to purchase the original display but for less than Rs 1000. Can you sell it? 
In our dealing with customers, there are a lot of customers who daydream about getting the original Honor 7x display for less than Rs 1000. When they get a third-class product, they start blaming the online business and tell horror stories to their friends. In such cases, they should blame themselves as they desired to buy Gold for the prices of Silver, and they headed for a low-quality product themselves.
If you think that you are brilliant, a deal finder, and you are so lucky that you got the original screen for a throwaway price, we wish you all the best. All the deal finders will burn their hands with super low-quality products and later realize their mistake, but they can't do anything except remorse.
Q: Can I replace the Honor 7x display myself at home? 
Honor 7x display replacement is not a challenging task, but you might not be able to accomplish it without having some prior experience. One can quickly learn the mobile repair via YouTube and other means, but when you've to do it only once, we don't think it makes sense to invest your time in learning how to replace the screen.
The alternative and the best way to replace the Honor 7x display will be, going to a technician and have him replace the display. By going to this route, you just have to pay Rs 150-200 to a mechanic as installation charges, and that's all.
Q: Can you provide me only the touch screen glass?
Our business policy is selling 100% genuine original parts without any sort of compromise. To maintain our ethics, we are not selling any duplicate products, and only touch screen glass is always duplicate.
For your kind information, the OEM manufacturer never sells only the touch screen glass because they always sell only Combos. So if someone says that he will give you an original glass, he is simply fooling you. Don't fall into any traps and always make an informed decision.
Q: How can I test the display without fixing it on my phone? 
It is vital to test the display before you fix it because this simulation allows you to see the functioning of the display, and you can check everything before you fix the part. All the mechanics follow the same process for years to test the screens, and it is a very reliable method.
The testing process is very simple, just connect the new Honor 7x display to your phone's motherboard in an open condition and test the display. You can use the display in the same manner as you used a fitted display. When you are satisfied with the performance and quality of the new display, you can fix it on your phone. In case you face any issues, you can always contact us, and everything is covered by our 30 days return and refund policy.
Q: Can I purchase the product on Open Delivery?
No. We don't offer Open Delivery as our courier partners don't have any such program. Please don't order our products If you've open delivery in your mind as that is not going to happen. If you are worried about a damaged product or anything else, you can always record an unboxing video for your satisfaction. We pack our products very carefully and safely. Still, if you have got a genuine case, we will be more than happy to assist you.
Q: Do you test the new display before shipping to the customers?
Yes. We make sure to scrutinize each display for 100% perfect working before dispatch. We are not sending any items to our customers without testing as It is a routine process for us.
Our testing team keeps a motherboard of Honor 7x handy, and when we ship a product, our technicians take a full trial of the display, and then we send it to our valued customers. If you are buying a display from Touch LCD Baba, rest assured about the quality, packing as you'll be pleased with every aspect of your purchase.
Q: What is the Honor 7x Display price so cheap in the local market?
The local market entirely focuses on selling low-priced first copies that are not the original ones. If you thought that you found a deal in the local market, you are simply over satisfying yourself.
You need to understand the concept which is true in any business, and that is, there are several qualities available, and all those sell for a different price. Once you buy a duplicate first copy, you will understand the difference yourself. Better stay away from cheap products, which will result in more headaches later.
Shipping, Return and Refund Policy
All the products supplied by us come with 30 days return, refund, and replacement guarantee. To return a product, It should be in the same condition as we sent. You can't use or fix the items If you want to return them. For complete details about Shipping, Returns and Warranty, please click here.