If you are looking for Honor 9 Lite display and touch screen combo, we can provide a 100% original display unit to you. On this page, you can purchase Honor 9 Lite display and touchscreen combo, which you can use to replace a broken display or touch screen glass. The combo you see here is a complete assembly of the display, as well as a touchscreen digitizer glass.
What is the Honor 9 Lite Display Combo?
In Honor 9 Lite, display, and touch screen, both parts come together in a single unit, and you can't replace them individually. It merely means that when the company makes the handset, they affix both parts, display, and touch screen together for better quality, clarity, and sharpness of the screen. Now when the display breaks, you need to replace the complete folder of display and touch screen both parts. This entire unit is Honor 9 Lite Combo.
These days, all mobile phones use this folder technology. It means that the display and touch screen act as a single unit, and individual replacement is not the right approach. Therefore, If you've broken Honor 9 Lite display, replacement of the complete combo is the only viable choice. Honor 9 Lite screen replacement is straightforward and can be done anywhere with the help of a technician.
Can't I replace only the touch screen glass?
We are committed to providing 100% quality solutions to our customers, and for this reason, we don't recommend only glass replacement. We are not saying that it is not possible to replace only the touch screen glass, but it is not the recommended approach because of lots of quality issues.
The only glass replacement of Honor 9 Lite is suitable only for the customers who are willingly looking for duplicate products. If you are looking for a first copy or duplicate product yourself, then you can try your hands on the glass replacement. However, please don't expect the same quality as before in any circumstances.
If you head to the local market, the only glass replacement is a thriving business there. The mechanics perform glass replacements just to make money because they know that customers looking for low prices will rush for glass replacements and don't care about the quality.
The only glass of Honor 9 Lite costs around Rs 120 to a mechanic, and he can charge you for any amount he wants like Rs 800 or Rs 1200. The product you get is worth Rs 120 only, and the excess amount you are paying is towards the labor charges.
What is the difference between First Copy and Original Combo?
The main difference between both products is quality and durability. We will explain the characteristics of both products in great detail so that you can base your buying decision upon the real facts.
What is the First copy Combo?
The first copy combo is an appealing name of a duplicate product. The shopkeepers and technicians in the local market often use words like OG Combo or First Copy Combo or 99% quality. All these words indicate a duplicate screen which isn't worth anything.
The mechanics know that if they directly say that they have a duplicate product; you will not buy it, so they rather keep things confused. So they tout the product as an OG display to entrap the customers into repairing their screen. The bitter truth is, a third-party manufacturer manufactures a first copy display by employing low-quality materials. They do this to reduce costs, and the final product is about 40% quality of the original, but people often buy such products blindly because they love low prices.  Surely, they repent of their decision later, but till that time, they have already wasted the money.
What is the Original Combo?
The original combo is slightly pricey, but its features are simply great. The original Honor 9 Lite combo comes from the OEM manufacturers who supply goods to the main company, who later assembles the display on the actual phone. These parts undergo stringent quality control measures, and that's why such screens are flawless as you get with a brand new phone.
You will not face any issues with the display, be it the touch screen or the quality of the display. All the gestures and multi-touch features will continue to work smoothly, and you can sense the quality yourself. As the part is identical to what comes with a brand new phone, you won't even realize If you've replaced the screen before. This is what the service center uses to replace the broken screens.
Honor 9 Lite Combo Specifications
| | |
| --- | --- |
| | This combo is 100% original, brand new and suitable for Honor 9 Lite (Model: LLD-AL10). |
| | The Honor 9 Lite display size is 5.65″, display type is IPS LCD and resolution is 1080 x [email protected] PPI |
| | It is a complete unit of display and touch screen combined in a single unit. |
| | The Honor 9 Lite Combo offers 100% original colors, brightness and sharpness. |
| | The main touch screen glass is protected by 2.5D toughened Curved Glass. |
| | We source the Honor 9 Lite folder from OEM manufacturers and quality is guaranteed. |
| | Our QC team tests each combo for flawless working before dispatch. |
| | We back our products with 30 days return, refund and replacement guarantee. |
| | We can delivery the product anywhere in India, even in the smallest townds and villages. |
| | The stock is readily available and turnaround time is quite fast. |
| | You can order the display using Cash on Delivery or Online Payments. |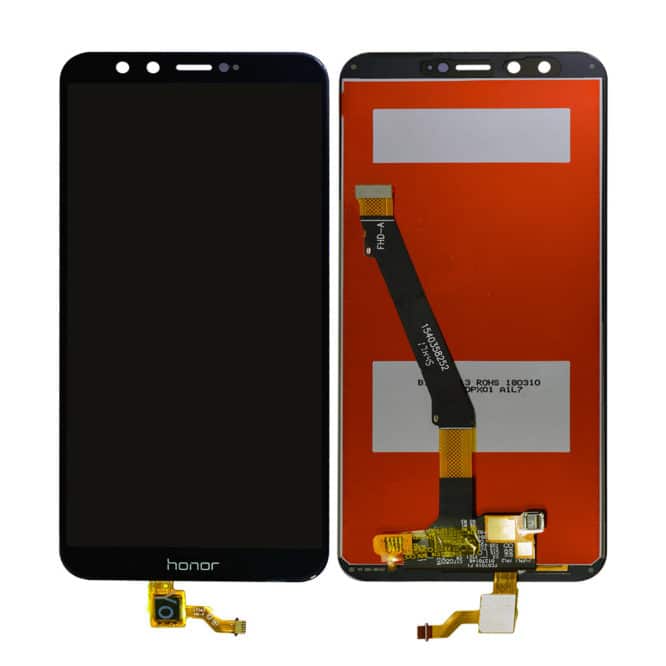 Frequently Asked Questions
Q: What is the price of Honor 9 Lite screen replacement in India?
The price of a 100% original Realme 5 display replacement is around Rs 2300-2500. If you buy a first copy screen replacement, then the combo costs about Rs 900-1100 in India. You may have to pay additional repairing charges on top of the display's price to a mechanic.
Q: Why do other sites offer Honor 9 Lite Combo at lower prices? 
As we've outlined before, anyone who sells a first copy duplicate screen can offer low prices and still make money. So It is nothing surprising to us, and you shouldn't think like you are getting an original screen replacement at a throwaway price. It is simply not possible but just a self-complacency that you are buying original for cheap.
Many customers send links and screenshots of other websites to us and brag that they are getting the display for cheap, but we know they are buying trouble for themselves. When you get the product you bought for a low price, then you realize that you made a wrong decision. Some customers blame online shopping for getting a low-quality product, but they will not sound out that they were looking for the cheapest deals.
Q: How do you verify that the new display is in working condition?
The only way to verify the working condition of a new screen is by testing it on the motherboard of the same phone. It means that we need a brand new Honor 9 Lite phone to verify the working state of a display. It is what we precisely do behind the scenes.
We have a new Honor 9 Lite phone, and we keep it in open condition to test the new screens. Then, we simply connect the new display to our phone's motherboard and turn on the phone. We use this procedure to test each incoming screen, and this process is flawless. After testing the screens one by one, there is no chance of a defective product.  Still, for our customer's satisfaction, we offer a 30 days replacement guarantee.
Q: What's your take on replacing the display myself at home?
It depends on your expertise in the field of mobile repairing. To us, it is an effortless task, but for a customer who has never done this before, It can be cumbersome and tricky. The toughest part will be pulling off the back glass of Honor 9 Lite without damaging it. To accomplish that, you will need a hot air gun, and alternatively, you can also use a hairdryer.
You will also need some other tools and adhesive to put back the display in its place, and it might not be a suitable task for everyone. Surely, you can watch helpful videos on YouTube, but watching the video and practically doing it is always different. If you don't care for another Rs 200 towards installation charges, simply visit a technician and let him install the display for you.
Q: What if the display damages during transit? 
Many customers overly worry about the damage during transit. We want to reassure you that we pack your products very carefully with multiple layers of protection, and so far, we have never had a case of in-transit damage.  Still, each parcel is insured while traveling, and we cover any kind of physical harm during transit.
You can always record a parcel unboxing video, and If you find anything damaged, you can forward the video to us for a free replacement. Our packing convention is so safe that you will love to see how much we care for your order.
Q: Is there any warranty offered on physical damage? 
Any kind of physical damage to the Honor 9 Lite display is always out of warranty. There is no way you can claim it from the official service center unless you have got the insurance. It stands true that physical damage to your device was not intentional, but still, It is your fault.
A mobile company can sell you a phone, but It can't control how you use the phone. So no one will offer a warranty on the circumstances which are out of the hands. You can still request the official service center to replace the display, but you've to pay a hefty price.
Q: What is the average lifespan of a display replacement? 
The average lifespan directly correlates with the quality of the spare part. If you have purchased a first copy display, It will not last more than two months because It is very fragile. After a month or two, either the touch screen will stop working, or you will start facing other strange issues that will require you to replace it again.
On the other hand, the original display is much more durable and will never go bad automatically. According to our experience, you can easily use an original display for three years, and more provided you don't damage it physically. An original display won't' break that easily because the glass is toughened for small drops, and It can survive for a long time.
Shipping, Return and Refund Policy
All the products supplied by us come with 30 days return, refund, and replacement guarantee. To return a product, It should be in the same condition as we sent. You can't use or fix the items If you want to return them. For complete details about Shipping, Returns and Warranty, please click here.