If you arrived here searching for a Motorola Moto G5s display replacement, you are on the right web page. Many customers buy the screens online because they can't find them locally or want to purchase the original screen replacement for their phone. If you also want to purchase a 100% original display for Motorola Moto G5s, we have the right product available for your needs. In case you want to purchase low-priced duplicate products, we are sorry but we can't cater to your needs.
What is the meaning of a Motorola G5s display combo?
In Moto G5s, the display and touch screen both parts are closely combined. It means that you can't separate and replace the broken parts individually because it is not the recommended approach. Although many people want to replace only the touch screen glass yet, it is not easily possible because it is layered on display. For this reason, If you've broken the Moto G5s display or touch screen glass, you will need to replace the complete combo as shown here. If you try to separate the display from the touch screen glass, you'll end up damaging both parts altogether.
As you can see in the photos below, the display and touch screen glass are both combined. The best option to repair your mobile phone is to replace the complete display and touch screen digitizer glass. Replacing the combo gives you the same quality, clarity, and 100% satisfaction. Replacing combo is extremely easy as well, and the life of combo replacement is long. Your handset starts working in no time, and there is no compromise on the display quality or touch screen fluidity.
What are the different model numbers of Motorola Moto G5s?
The Moto G5s phone was launched in all the countries, and depending on the origin country, the model number can be different. All these model numbers belong to Moto G5s.
XT1793, XT1794 (Europe, India);
XT1795 (India);
XT1792 (Brazil)
If your phone's model numbers matches any of the model numbers above, you can purchase the display listed on this page. If the model number doesn't match with your phone or you are in some kind of confusion, please feel free to call us at 9587954273 and our team will be more than happy to assist you further.
Moto G5s Display Specifications
| | |
| --- | --- |
| | This display is 100% original, tested, and suitable for Motorola G5s, model number XT1794/XT1795. |
| | The Motorola G5s display size is 5.2″, the display type is IPS LCD and the resolution is 1080 x 1920 pixels. |
| | The main touch screen glass comes with Corning Gorilla Glass 3 protection. |
| | We test and verify each display for 100% flawless working before dispatch. |
| | The display is available in two colors, Black and Golden. |
| | The new display offers 100% the same colors, quality and brightness as before. |
| | You can also test the new display easily before assembling it on your phone. |
| | All screens sold by us come with a 30 days return, refund and replacement period (in unused condition). |
| | We back our products with a 30 days return, refund and replacement guarantee. |
| | The display is readily available in stock and turnaround time is very fast. |
| | You can order the product using Cash on Delivery or Online Payments (10% extra discount). |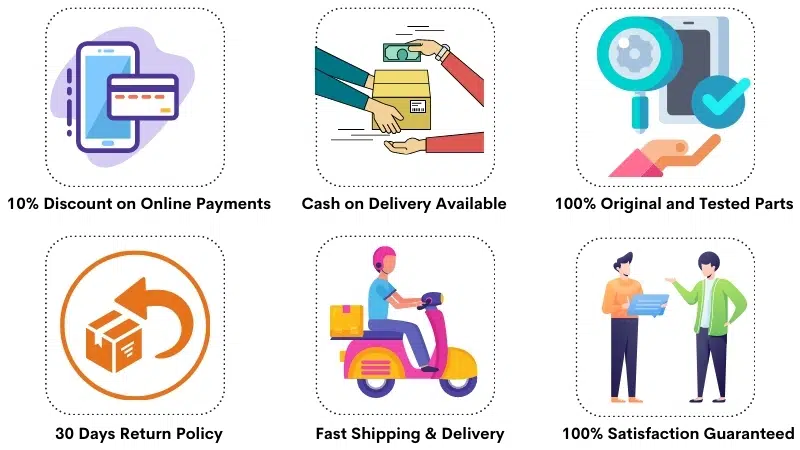 Common Customer Questions
Q: How much does it cost to replace a broken Moto G5s display in India?
The price of a 100% original Motorola Moto G5s display replacement is around Rs 2600-2800. If you buy a first copy screen replacement, then the combo costs about Rs 1200-1400 in India. You need to pay additional charges to a mechanic to install the display on your phone.
Q: Why is it necessary to replace the display when it isn't broken yet?
In many cases, the damage occurs to only the touch screen glass, and the inner display stays safe. In such situations, you might think about replacing only the top layer of touch screen glass, but that isn't the ideal solution to the problem. The display and touch screen glass function as one, and if you replace them individually, you can't avail the same quality as before.
The new display takes its shape in a factory where costly machines craft flawless screens, and once you break the original display, you can't get the same quality from the local repairing market. Customers often think that a broken touch screen glass can be easily replaced and the original display quality can be preserved with ease, but that isn't true. If you rely on the local market's products for your needs, you can't even find any original product there, and that's why all local repairs are a compromise. Surely, you can try glass replacement if you want to reuse your same display, but the final results won't align with your expectations.
Q: Can I use the same display in Moto G5s and Moto G5s Plus?
Some customers easily get confused with different model numbers and end up purchasing the wrong model's display.  Please note that Moto G5s and Moto G5s Plus are different models, and you can't use the same display in both of them. Before you order, you should always verify your device's model number and then place the order. If you order the wrong product, you'll need to return it, which will result in additional hassle.
Q: How do you test and verify the working condition of the new screens?
It is easy to test and verify a new Moto G5s screen's working condition on the same model's motherboard. To test a new display, we use an actual motherboard of Motorola G5s, connect the new display with the motherboard in an open condition, and ensure everything is in order. After conducting this test, we send out the new display to our customers.
Once our customer gets the product, he also gets a guideline suggesting that he must test the new display before installation. Usually, all the technicians know how to test the display before installation, and we also send detailed guidelines on how to test the new Moto G5s display. You must always test the new display to ensure the working condition of a new product. We back our products with a 30 days return, refund, and replacement guarantee, and that's why you should always test the display before installation.
Q: What if the new display doesn't work as intended?
Before we ship a new Moto G5s display combo to you, we ensure its working condition and then send it to you. If you connect the new display with your phone's motherboard and face any issues, we support you with a 30 days return, refund, and replacement period. To be eligible for a replacement, you should keep the product in unused condition without removing the screen guard and never paste it on your phone. A used product is never eligible for a replacement because fixing a product means you had tested it before installation.
Usually, there are no issues with the product but in case your phone's motherboard is bad or there are some unforeseen circumstances, you can at least return the unused product and don't incur any loss on your part. That's why it is essential to test the display because an unused part can be returned and refunded (in the same condition as we delivered).
Q: What if the display arrives in a broken condition?
We pack your products very carefully in hard plastic boxes accompanied by additional layers of protection. Even after that, all the parcels are insured during transit and you don't need to worry a bit about the in-transit damage. The in-transit damage is never a case and you can always record an unboxing video when you open the parcel. If you find anything in damaged condition, please share the unboxing video with us and we'll gladly replace it for you.
Q: Does the display replacement wipe out the data from the phone?
Customers often worry that replacing the display will erase all the data from their phone but it is not true. The data resides on the motherboard while the display is separate hardware. You can replace the display multiple times without causing any change in the data. You can lose the data only if the motherboard is damaged or not working due to extensive damage to the phone's hardware itself.
Motorola G5s Display Photos
These are actual photos of the Moto G5s Display and Touch Screen combo. As you can see. It is a combined part of the display and touch screen both. This is the right part to replace when the display or touch screen is broken in your mobile phone.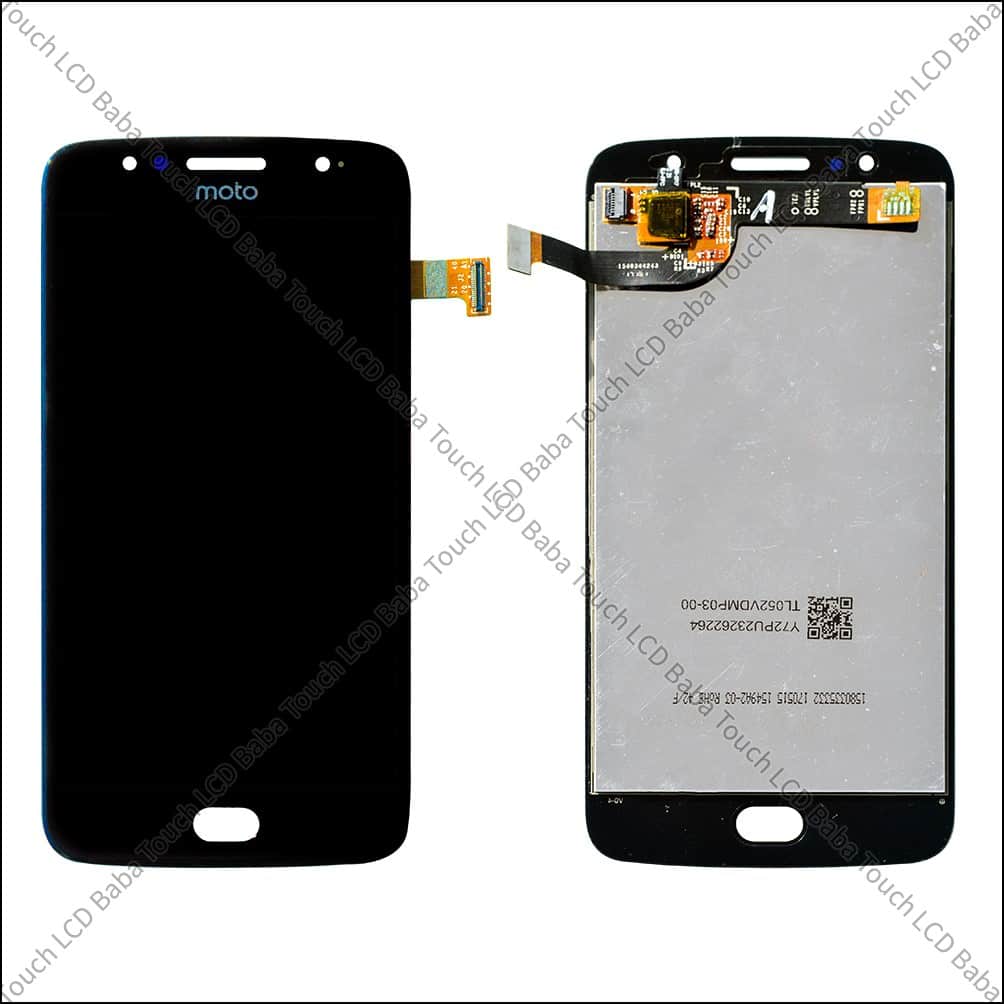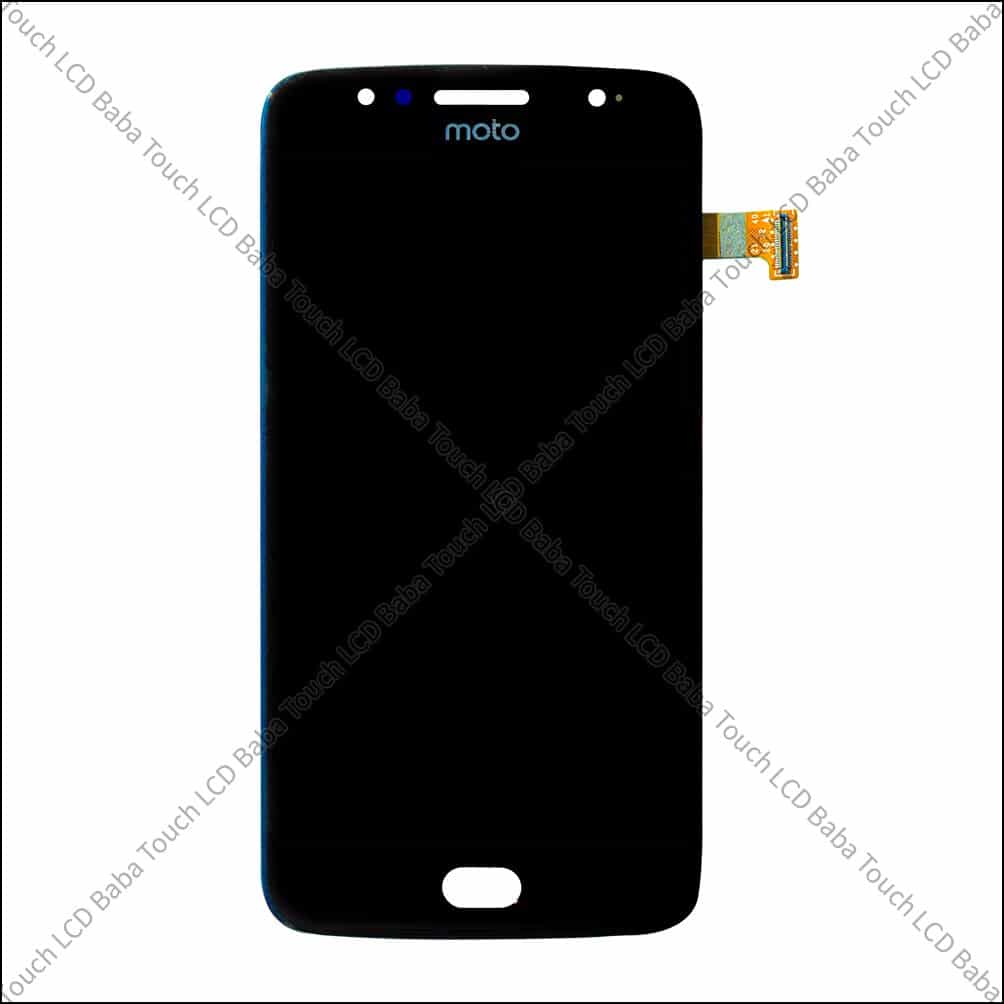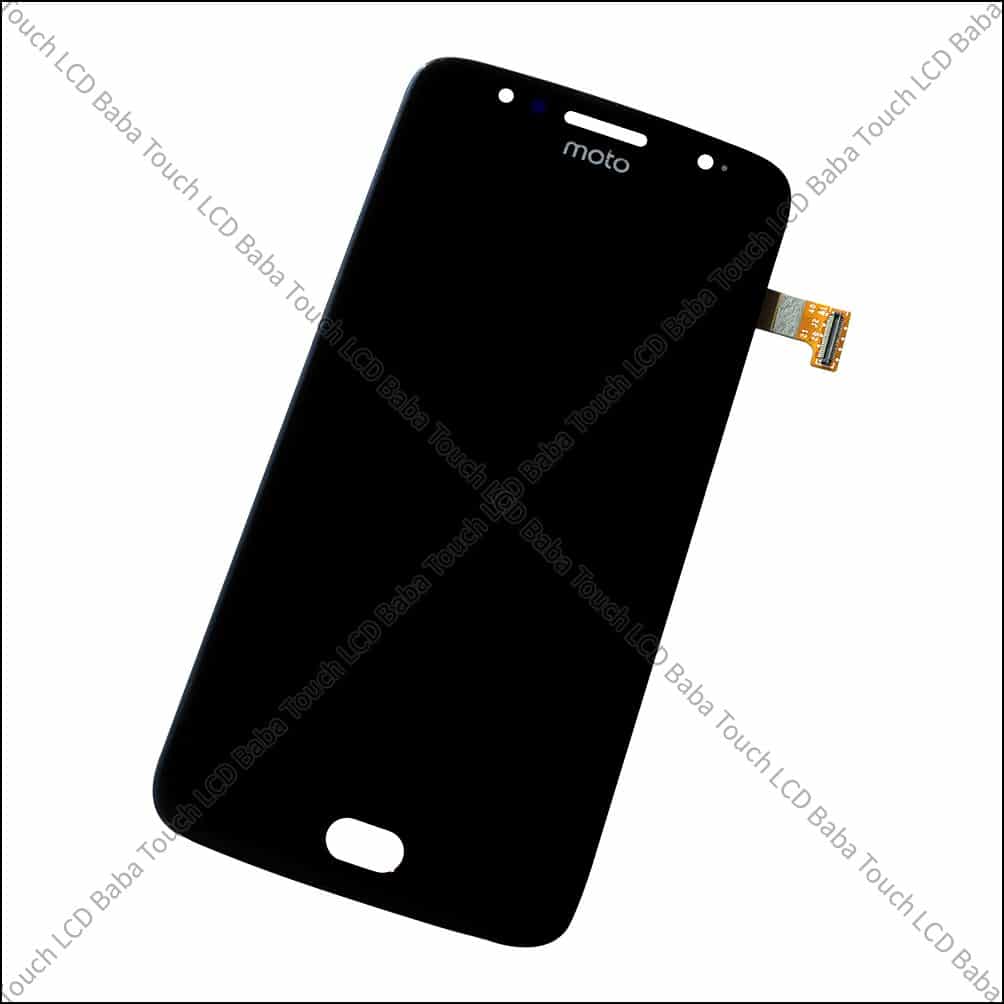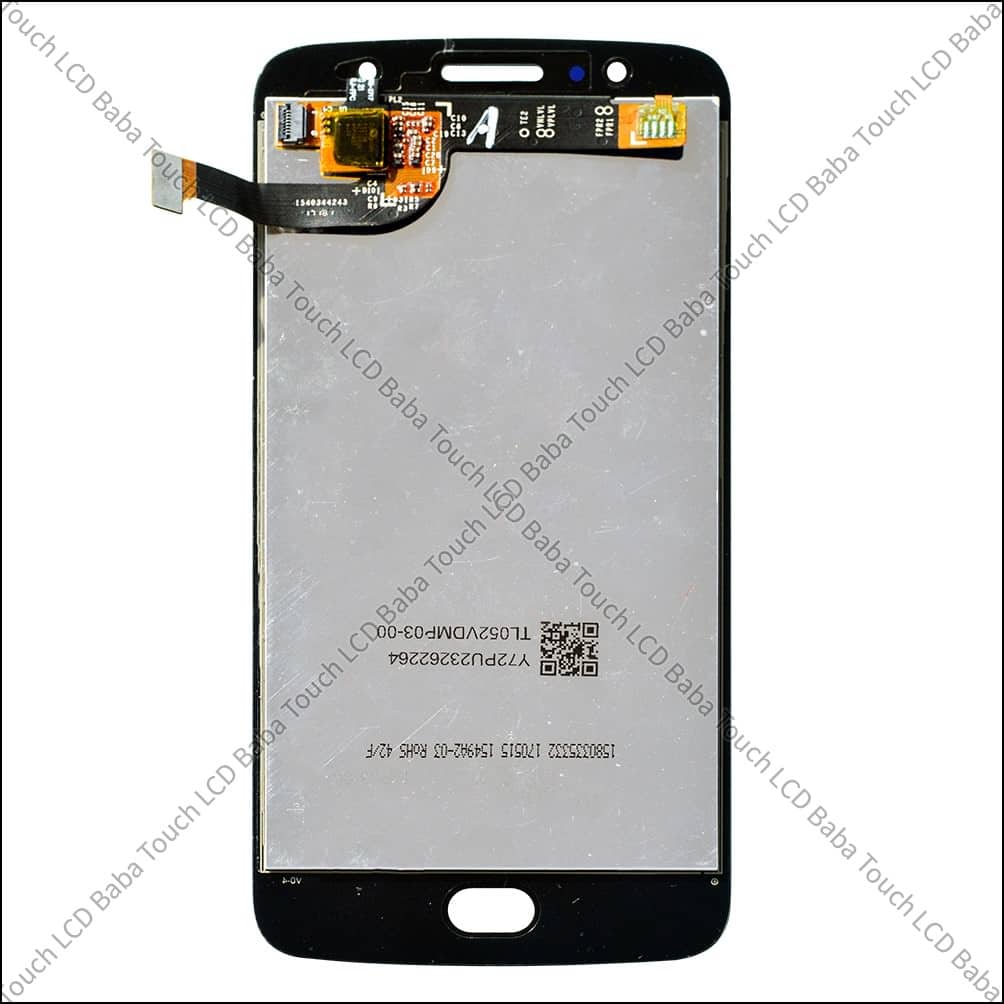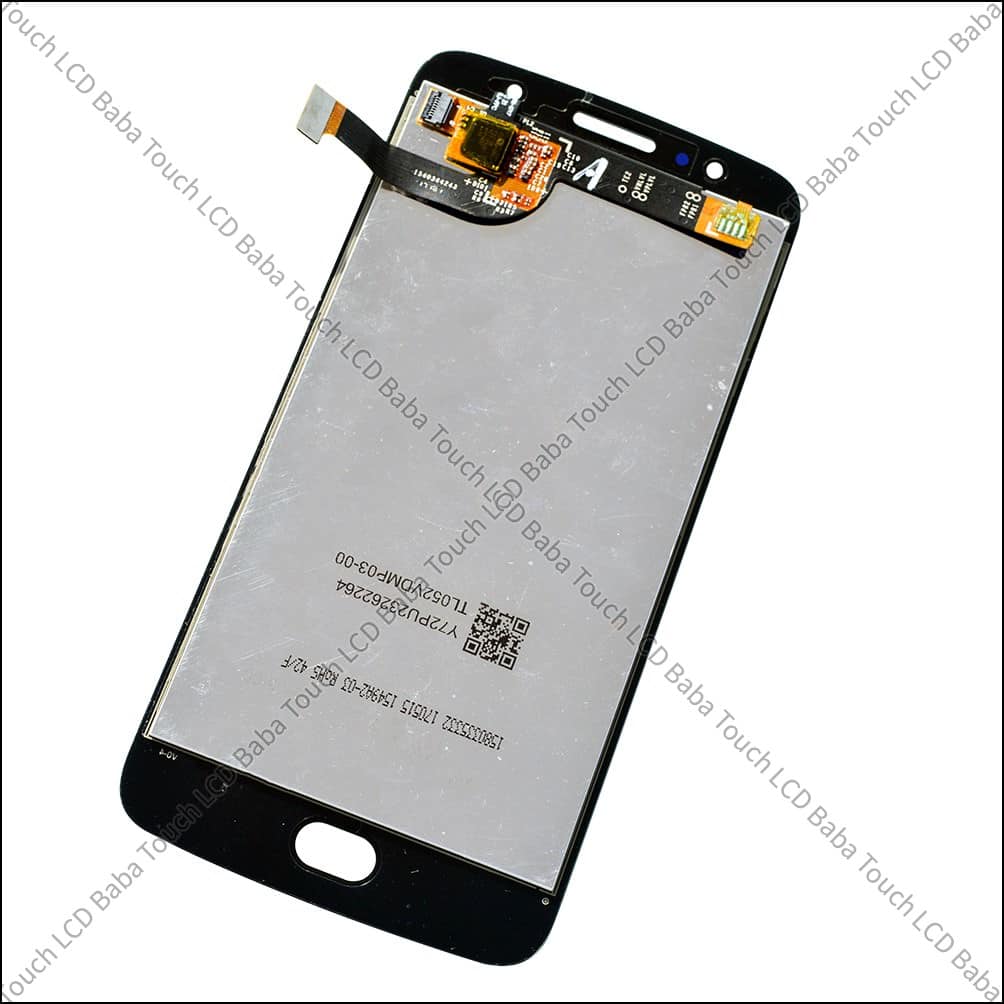 Shipping, Return and Refund Policy
All the products supplied by us come with 30 days return, refund, and replacement guarantee. To return a product, It should be in the same condition as we sent. You can't use or fix the items If you want to return them. For complete details about Shipping, Returns and Warranty, please click here.