The display replacement on this page is suited for Motorola Moto G84, and you can easily resolve a broken display or touchscreen problem with this product. Customers buy phones online from many different locations, and service centers are often not present in most localities. If you're not in a big city or a popular town, you'll have difficulty finding a Moto G84 display replacement. If the mobile phone display breaks, it is compulsory to buy a new display, and most customers buy original screens online because it is convenient and you can get the product anywhere in India.
Motorola G84 phone consists of an AMOLED display, and that's why the replacements are expensive. If you replace the display with a new one, you've to invest a considerable amount for the original display. Additionally, Motorola screen replacements are not easy to find, and most shopkeepers don't have any stock of these models. So, If you've tried to find the display in the offline market without any success, you can easily get the original display from Touch LCD Baba and assemble it in your city with a technician's help.
What is the meaning of the Moto G84 display with a middle frame?
A display combo indicates an AMOLED display and touchscreen merged to form a single unit. As the display and touchscreen work in conjunction, it is essential to combine both parts into one and assemble the display combo in a phone. Whenever the display or touchscreen glass cracks, you need to remove the broken display combo and replace it with a brand-new display unit. A display combo always consists of two parts: the AMOLED display and the top layer of touchscreen glass. The product available on this page also consists of the middle frame, and the combo is already assembled in the frame.
In many cases, only the front layer of glass cracks, and everything else will continue to function well. You can use the touchscreen and use the phone for your day-to-day operations. In such cases, the cracked touchscreen glass looks bad, but that glass is closely combined with the display. To resolve the broken touchscreen glass issue, replacing the complete display combo is the recommended solution.
Isn't it possible to replace only the touchscreen glass?
If everything on your phone is good except the broken touchscreen glass, you'll be tempted to replace only the broken glass instead of the complete combo. This approach is called glass replacement, and you can find many technicians in the market offering glass replacement services. The focus of only glass replacement is saving money on replacements using duplicate glass. While glass replacement is possible, it is not good for customers who don't want to compromise the quality. Here are the drawbacks of glass replacement :
Touchscreen glass replacement is based on using a duplicate glass to replace the original glass.
You give up the look and feel of the original Gorilla Glass and get a duplicate glass, which feels so cheap when you use the phone.
Glass replacement is a surefire way to reduce the display's quality and touchscreen's durability.
A touchscreen made of fragile glass breaks too easily on the next drop.
Glass replacement never gets you the original display's quality and feel.
Often, the display also cracks during glass replacement, and then you must buy the complete combo.
Technicians don't take any responsibility if the display cracks during glass replacement, as it is a hit-and-try method.
Please note that glass replacement is not the recommended approach to repair your phone, and the official service center strongly discourages this practice. Most customers follow this route to save money at their own risk, and the outcome of such procedures is never worth it. Therefore, always replace the broken display or touchscreen glass with an original display and stay away from all the unforeseen issues.
Motorola Moto G84 Display Specifications
This display is 100% original, tested, and suitable for Motorola Moto G84 5G, model number XT2347-2.
The Motorola Moto G84 display size is 6.55″, the display type is Full HD+ pOLED, and the resolution is 2400 x 1080 Pixels.
We offer a 100% original display that supports a 120Hz Refresh Rate, 1300 nits Peak Brightness, and 240Hz Touch Sampling Rate.
Our testing team tests each display for 100% flawless working, and after that, we ship it to our customers.
We pack the content in hard plastic boxes to avoid any in-transit damage.
The display's quality will not degrade in any aspect with the original replacement.
You get a 30-day return and replacement period, provided you keep the product in good condition.
All the display and touchscreen glass issues can be easily resolved by replacing the combo.
We buy our stock from the OEM manufacturer to ensure 100% original quality.
The Moto G84 display

replacement is available in stock, and the turnaround time is very fast.

You can order the product using Cash on Delivery or Online Payments (10% additional discounts).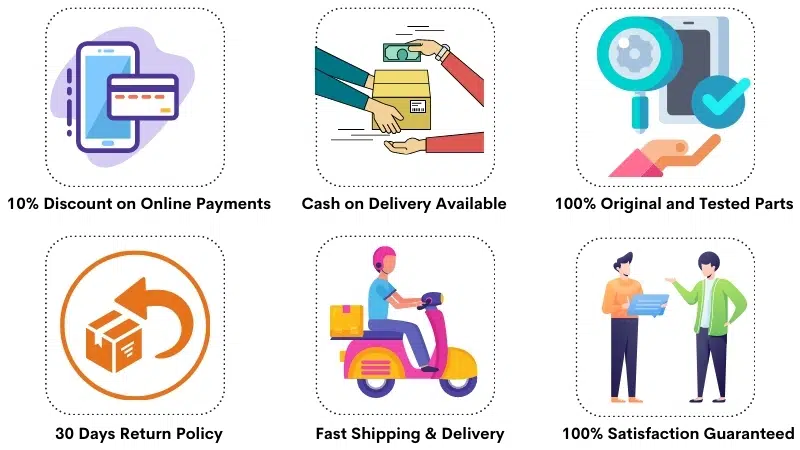 Frequently Asked Questions
Q: How much does replacing a broken Moto G84 display in India cost?
A 100% original Motorola Moto G84 original display replacement costs Rs 6800-7000. Please note that as this phone consists of a pOLED display panel, the replacement parts are expensive. All the phones that have IPS LCD have cheaper screens, while pOLED screens are expensive but offer mesmerizing display quality.
---
Q: I found a Moto G84 display for Rs 1500 in the online/offline market. What is that?
Once the display cracks, not all customers want to buy the original screen replacements. Many customers want fake screens and can't afford to invest in originals. For such customers, many third-party manufacturers make IPS LCD/TFT quality screens, which are cheap. Please note that the original display is pOLED, and the copy display is an IPS LCD, and that's why it is cheaper.
Reducing the price of a product is possible only when the quality is reduced, and the same is true for mobile phone screen replacements. To serve more customers looking for bargains, low-quality screens are manufactured that offer 25% of the original display's quality, but their price is affordable for everyone. These screens are sold in local markets and online for low prices. We offer a pOLED display, so the price is considerably higher than IPS quality screens. We hope, now, you understand the difference and the reason for the low price.
---
Q: What are the main benefits of a display with a middle frame?
The product we offer here is 100% original, and you get the display pre-assembled in the frame. A frame is the front side of your phone, and the display always fits inside the frame. In many cases, when your phone's old frame is bent, curved, or misshaped, you need a new frame to assemble the display. The Moto G84 display replacement sold on this page consists of the display, touchscreen glass, and the outer frame packed into a single unit. You must remove the broken front panel from your phone and assemble the new display combo.
As the display is already glued in the frame, you don't need to use your old frame. You need to open the phone, transfer the motherboard, battery, and all other components from the old frame into the new frame, and make the necessary connections. A with-frame display makes the replacement easier, and you don't need glue or double tapes to stick the display. Most customers believe that pasting/gluing the display is a tough task, and they want to avoid it by using a middle frame display combo.
---
Q: Should I assemble the new Moto G84 display at home?
We don't recommend doing self-installation without experience. In our view, it is very easy to assemble the display because it comes with an outer frame. However, if you're trying to accomplish this for the first time, you might run into issues or damage other spare parts of your phone. A mobile phone consists of several easy-to-damage parts which must be handled with care during replacement. Therefore, you should always seek a professional technician's assistance for replacement and pay Rs 300-400 for complete installation.
---
Q: Why should I prefer the original display? 
You might feel tempted to buy the low-cost duplicate screens, but you're unaware of the problems with such products. The original display offers these benefits you'll never get with duplicate screen replacements. If these features matter, you should always buy the originals.
The original display offers 100% original colors and brightness, while a duplicate display is only 25-30% of that.
The original touchscreen works perfectly, while a duplicate lags way too much.
You can't play games with a duplicate touch because multi-touch isn't supported, and all gamers need an original display.
You can't enjoy movies or multimedia content because of poor display quality.
If you capture photos from the camera, those photos will also appear clumsy.
An original display lasts longer, while a duplicate display is short-lived.
Please be informed that the original display offers so many benefits, and that's why all customers want to buy original spares. Even the customers who buy duplicate screens know that the original's quality is too good, but as they can't afford it and need to use their phone, they settle for low-quality replacements. If you can afford the original, there are no other alternatives that can match the quality.
---
Q: I have broken only the touchscreen glass. Can't I replace it alone?
It is possible to replace only the touchscreen glass, and you can find many technicians in the local market doing the same. Glass replacement means replacing only the broken glass and reusing all other parts from the broken display. Please note that glass replacement is an option only if you've damaged only the front glass and inner display is good and touchscreen also works perfectly. Here are some facts about glass replacement you might not know :
Glass replacement gets you a repaired/refurbished display which is not equivalent to a brand new display.
You lose the original Gorilla Glass and have to settel for a duplicate fragile touchscreen glass.
The display becomes spotty after glass replacement so the quality and brightness don't stay the same as before.
The original display goes through strenuous activity and loses a major portion of its inherent quality.
A glass replaced display feels too different to use when compared with the original one.
Your phone becomes 5x more fragile because now you don't have the Gorilla Glass protection on the touchscreen.
Most customers have to invest money repeatedly on glass replacements, several times in a year.
A duplicate touchscreen glass costs Rs 100 and technicians charge Rs 1500-2000 from he customers.
While glass replacement is possible, it is a risky procedure and all your investment goes into technician's pocket. Glass replacement is popular because it costs less than the original display and technicians are fully interested in doing this as they can easily earn Rs 1000-1200 from each customers and their actual cost is only Rs 200 including all the replacemetn material they use.
Moto G84 Display Photos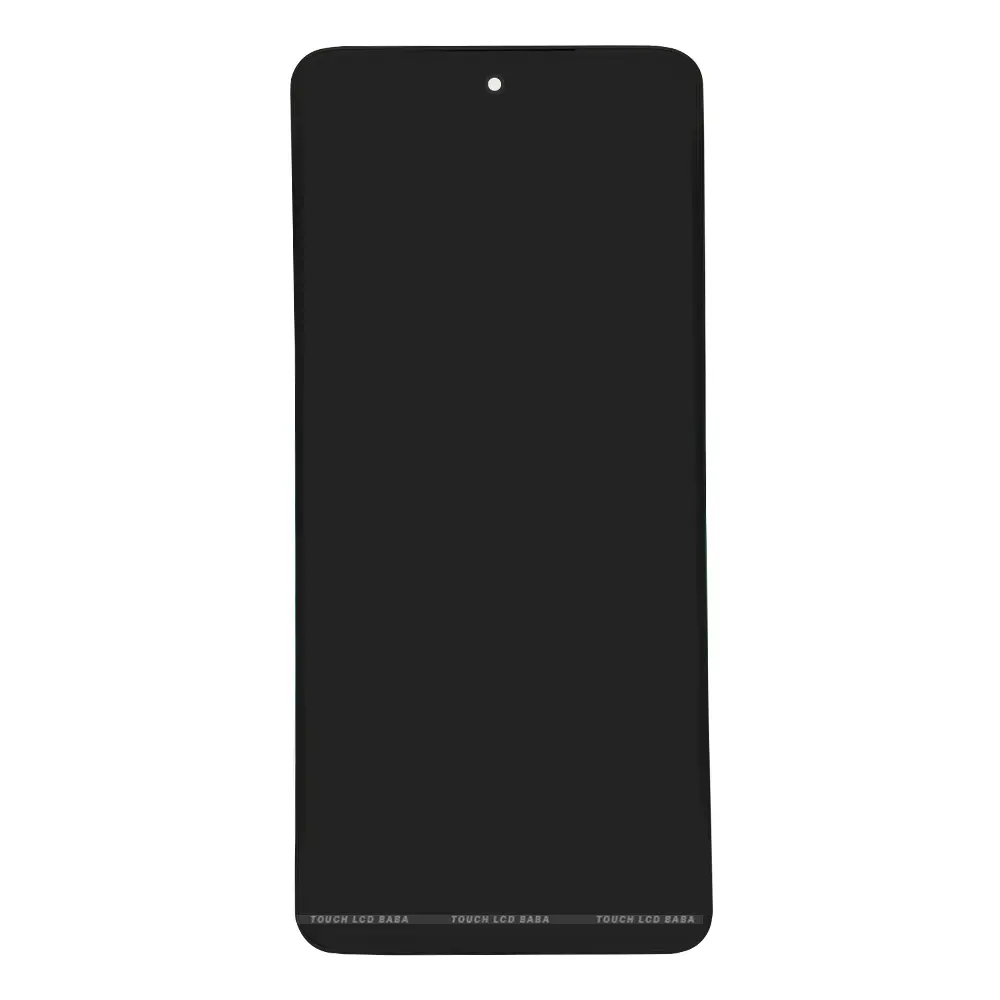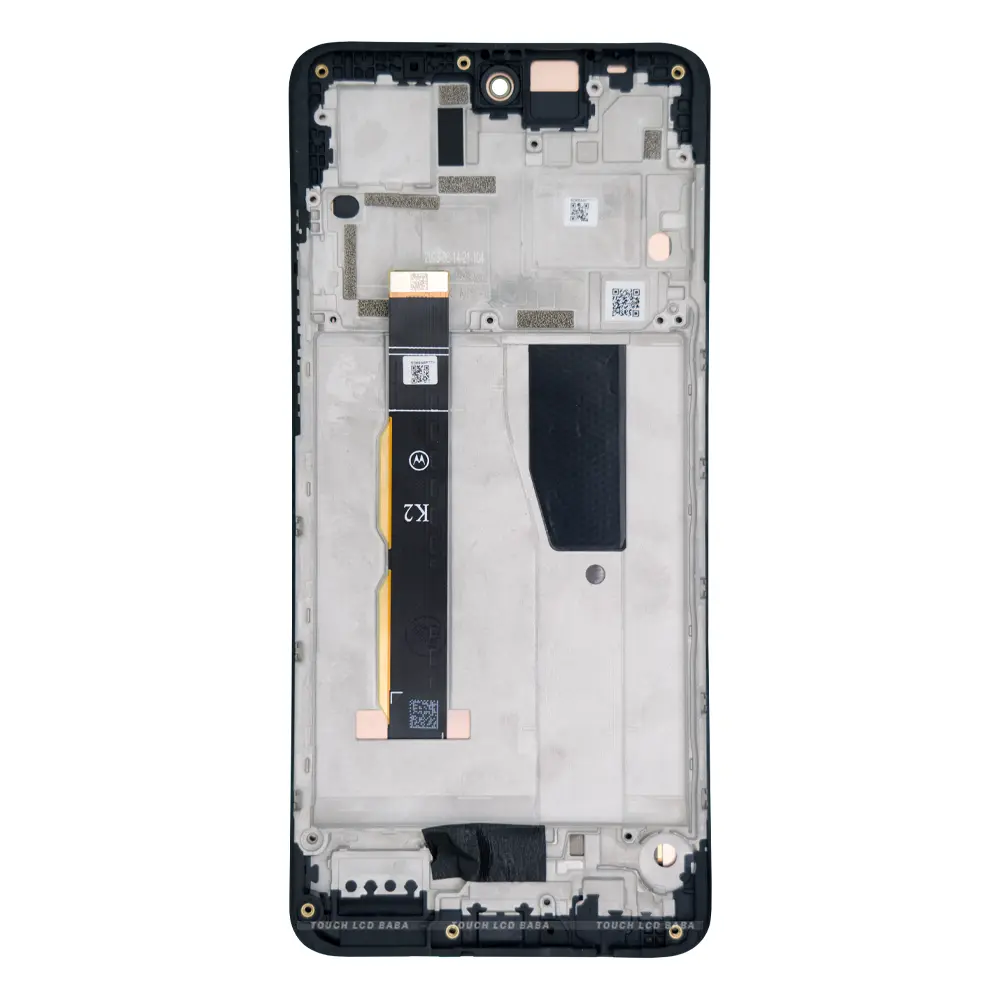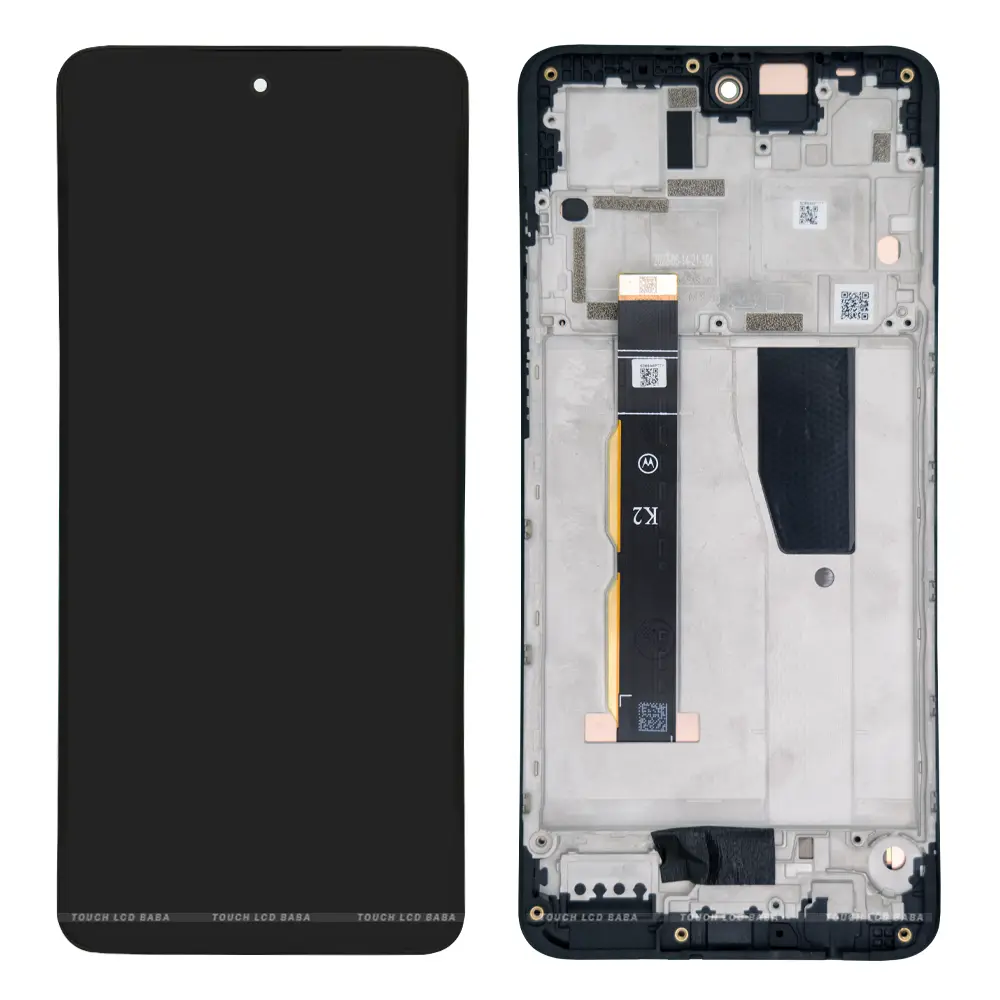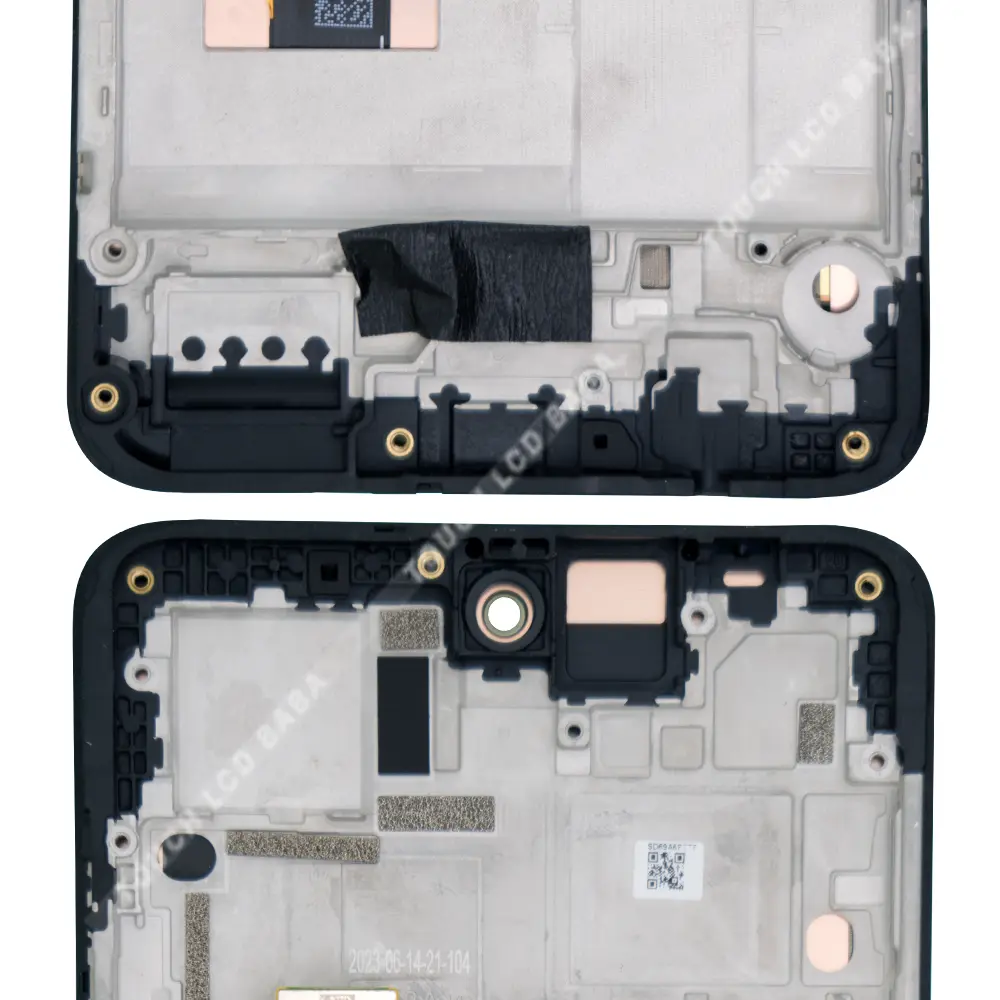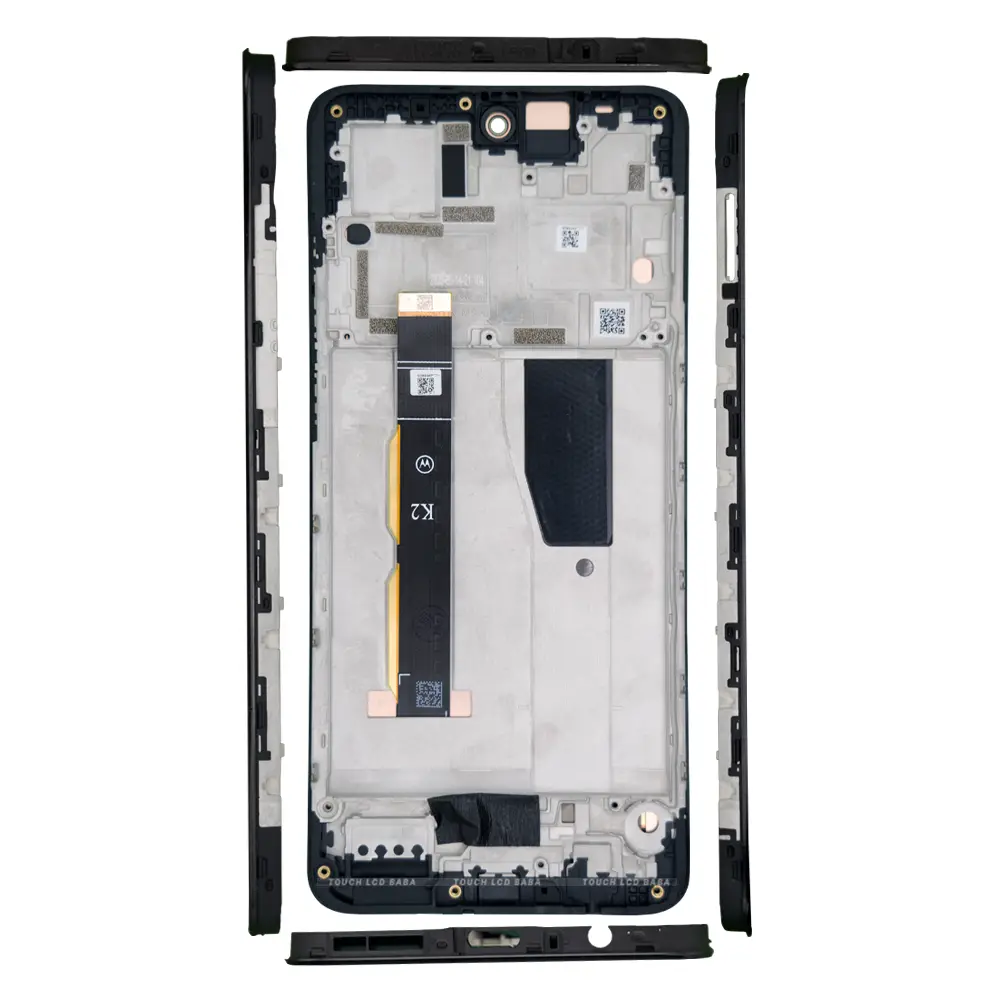 Shipping, Return, and Refund Policy
All our products come with a 30-day return, refund, and replacement guarantee. To return a product, It should be in the same condition we sent. You can't use or fix the new Motorola G84 display if you want to return it. For complete details about Shipping, Returns, and Warranty, please click here.