You are not alone if you dropped the phone and broke the Oppo A53s 5G display or touch screen digitizer glass. Many customers drop the phone and end up with a damaged touch screen glass or inner display. For one moment, it feels like a devastating experience, but you can easily overcome such occurrences by replacing the broken display combo.
A broken display looks bad and hampers your ability to use the phone properly. If the touch screen glass gets scratched, you can't use it in the same way because the broken glass can hurt your hands. You can't freely use the phone among people where your reputation matters. A cracked display is frustrating, but luckily, it is effortless to replace the broken display, and you can purchase one from this page if you need it.
Oppo A53s 5G Display Specifications
This combo is 100% original, tested, brand new and suitable for Oppo A53s 5G, model number CPH2321

.

The Oppo A53s 5G display size is 6.52 inches, the display type is IPS LCD and the resolution is 720 x 1600 pixels.
You get a complete set of inner display and front layer of touch screen digitizer glass merged into one.
We buy our stock from the OEM manufacturers to ensure 100% original display quality.
The new display combo offers 100% the same colors, quality and brightness.
Our QC team tests each display manually for 100% flawless working before dispatch.
We securely pack the display in hard plastic boxes and ensure maximum safety for you.
You can easily test the new display before installation and verify everything.
Any damage during transportation is our responsibility and you don't have to worry.
You can always contact us at 9587954273 if you face any problems with the display.
We offer Cash on Delivery and Online Payments (10% additional discount).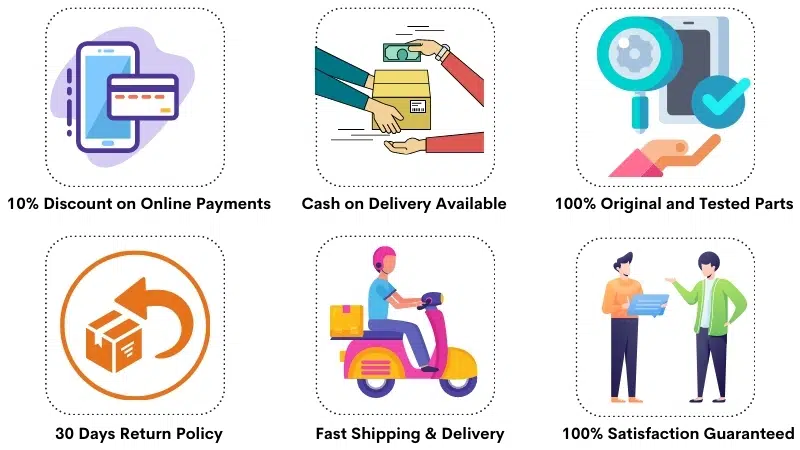 What is the meaning of an Oppo A53s display combo?
If you go to the local market to repair a broken Oppo A53s display, you'll come across terms like a combo/folder. The simple meaning of a combo/folder is a set of display and touch screen digitizer glass. So if someone says that you need to replace the combo, you need to buy a complete display unit consisting of the display and the touch screen glass.
You should also know that display and touch screen glass are two individual parts. When a mobile phone takes its final shape in a factory, they combine the display and touch screen glass using advanced techniques. That is done purposefully to provide better quality and clarity to the customers, but when it comes to repairs, the repairing costs are high because of this combo format.
Combo Replacement Vs. Touch Screen Glass Replacement
If only the touch screen glass has broken and the inner display is safe, you've got two options to choose from:
Combo Replacement.
Touch Screen Glass Replacement
A) Combo Replacement
First, we'll discuss combo replacement, which is the perfect method of replacing the display or touch screen glass. The official service center also replaces the combo, which signifies the importance/value of this method. If you go for combo replacement, you buy a completely brand new original display unit consisting of the inner IPS LCD and touch screen glass.
You get rid of the old broken display and install an identical display in place of it. That's the beauty and reliability of combo replacement, and it helps you restore the immaculate condition of your phone in less than 20 minutes without any quality degradation.
B) Touch Screen Glass Replacement
The touch screen glass replacement is a low-quality solution often embraced by customers who want a deal for the lowest possible price. All customers can't buy the original Oppo A53s 5G display and purchase the cheapest solutions, and glass replacement is one of them.
This solution focuses on replacing the broken original touch screen glass (which is worth Rs 50 in wholesale markets) with a duplicate glass, and hence the outcome is very poor. In many cases, the display also breaks during the separation process, and in that case, you've to purchase the complete combo.
Frequently Asked Questions
Q: How much does it cost to replace a broken Oppo A53s 5G display in India?
The price of a 100% original Oppo A53s 5G display replacement is around Rs 3600-3800. You can also purchase duplicate screen replacements from the local market for Rs 1400-1600, but their quality is not worthy, and life is concise.
Q: Do all the Oppo A53s display combo offer the same quality?
You should know that all display replacements of Oppo A53s are not equal but offer different qualities. For example, if you purchase a duplicate display for a low price, you'll get half of the original display's goodies in terms of colors, brightness, and contrast. So such screens are available in the market for around Rs 1500-1600, but their quality is terrible.
On the other hand, original screens cost twice the duplicate display, but their quality is the same as you get with a brand new phone. That's why original screen replacements are costly, and fake screen replacements are cheap. So all display replacements are not identical, and you should always keep this in mind.
Q: I found an Oppo A53s 5G display online for a low price. Should I purchase that?
It is certainly possible to purchase a display for a low price if you compromise on its quality. You can find many shopkeepers and online websites selling duplicate screens for low costs. These screens work with your phone, but their output is terrible and such products are not durable. Next time, as soon as you drop the phone, the display will break again.
Many customers complain that their original display didn't break after several drops, but the duplicate one broke on a single drop. That's normal because fake screens are designed for repeated business, not for satisfaction or durability. So if you found a display for a low price, that's not a miracle but a simple fact that you are buying a fake product.
Q: What is a first copy display? Is it a good product?
The meaning of a first quality display is a duplicate display replacement. Mechanics call it first copy because it feels offensive if someone directly says he has got a fake display. So if you hear the words like a first copy, OG quality, diamond quality, all these indicate a duplicate product.
A first copy is not an original product but a duplicate one that offers around 40-50% quality of what you had before. The degradation applies to all significant display aspects like brightness, contrast, touch screen smoothness, and typing accuracy. You can use your phone but with much-reduced efficiency and joy than before. You can save money, but you can't get the desired quality with first-copy screens.
Q: What happens if the new display doesn't work?
We test all the Oppo A53s 5G displays one by one and then send them to our clients. We use an actual motherboard of the same phone as our client to test the screens. When you and we have the same device, there is no chance that a product working on our phone will not work on your device.
We cover that with our return and replacement guarantee if you face any issues while trying the display. That means that you can always return a product in case of any problems while testing it. Please note that it is not possible to return the product after installing it on your phone.
Q: How can I test the new Oppo A53s combo before installation?
Testing the display before installation is a routine process followed by all the technicians. It is easy to try the display by following these steps :
First of all, please dismantle the phone and open all the related screws to access the motherboard.
Disconnect the old display's flex from the motherboard.
Connect new display's flex in the right direction and turn on the phone.
You can easily test the new Oppo A53s display like an installed display on your phone.
After testing and verifying everything, you can permanently install the display.
Now, we hope you know how easy it is to test and verify the display. If you face any problems while trying the display, you can easily return it ask for a replacement or a refund. So buying the display online is very convenient, and you get the desired display quality.
Q: How can I identify the original Oppo A53s display myself?
If you want to go into all the nitty-gritty details, you must have several years of experience in this industry. Otherwise, there is no straightforward way for you to identify original parts. Indeed, you can match the manufacturing stamp on your display and compare it with our display, but that's only the part of the story. There is no silver bullet to identify the quality of screens.
The best way to identify the original display will be to test it on your phone. The original display offers the same quality as before, while a first copy will exhibit low brightness, dull colors, and stiff working touch screen glass. In our opinion, testing the display on the motherboard is the best way to identify the original display replacement yourself. That's very easy, and a customer who has used his phone for a long time can easily spot the difference. For any further questions, please get in touch with us at 9587954273.
Oppo A53s 5G Display Photos
These images refer to the actual Oppo A53s 5G display you'll get after your order. You can match the version number of the display with yours. You can also ask relevant questions by calling us at 9587954273.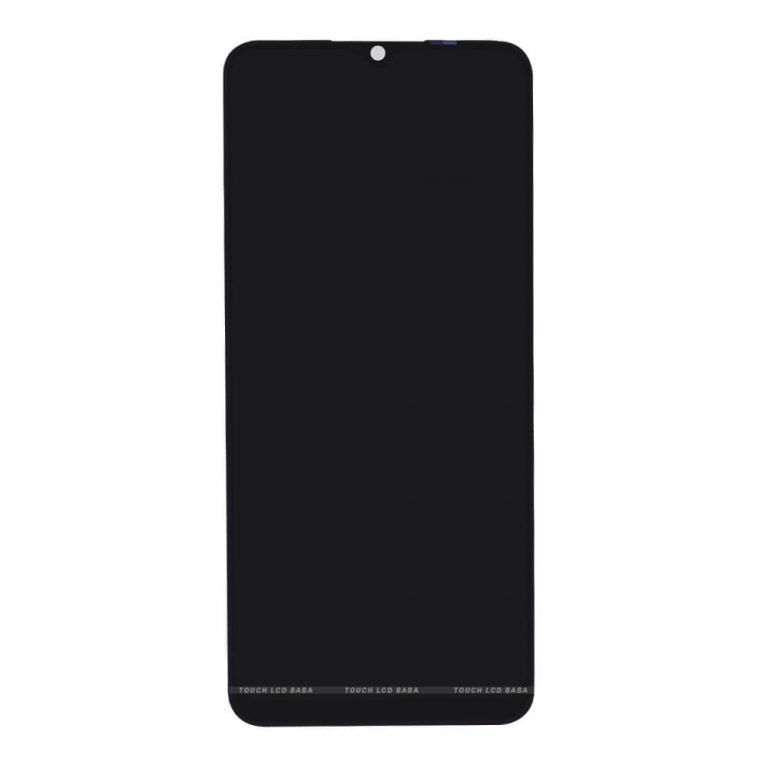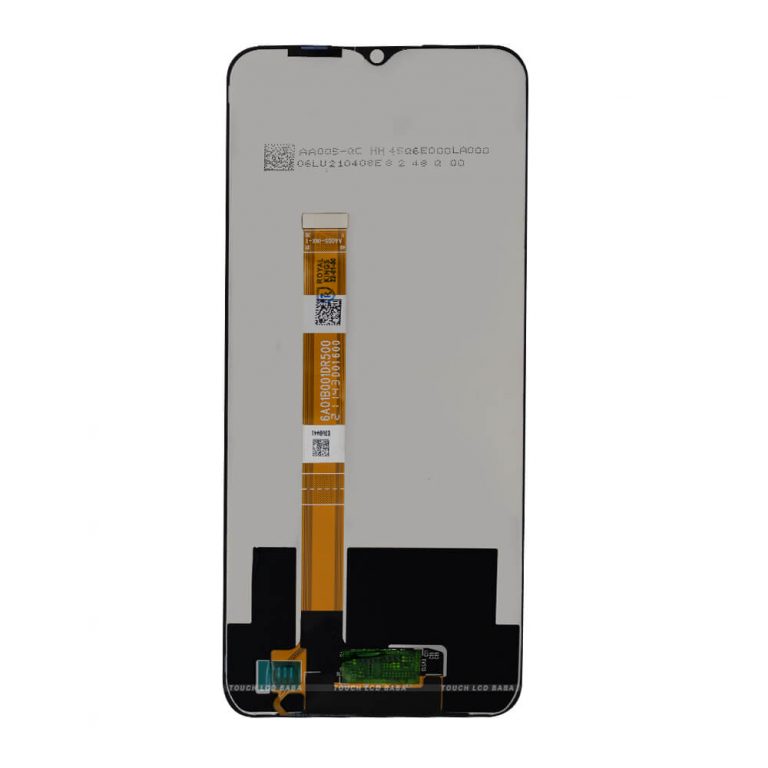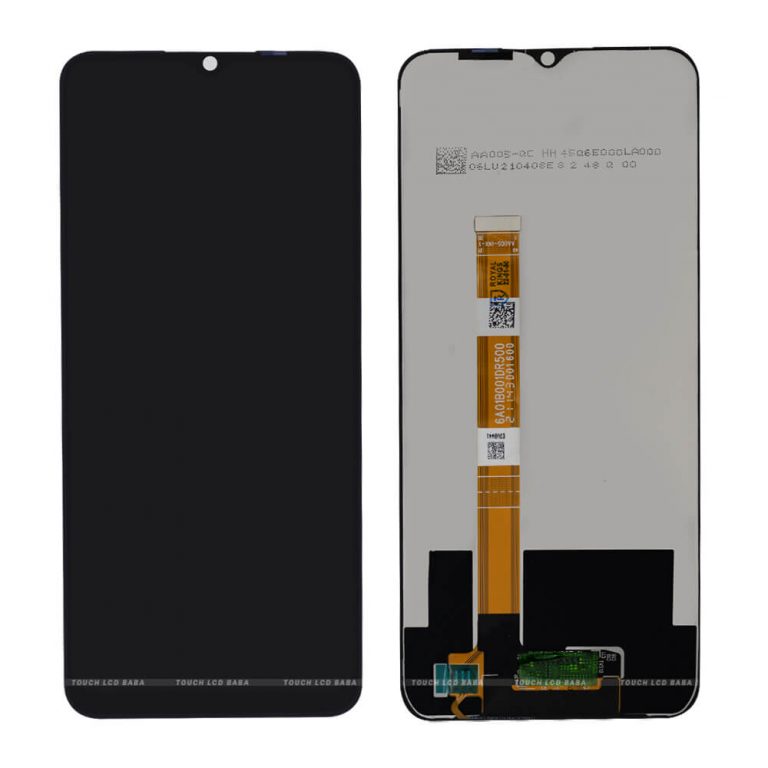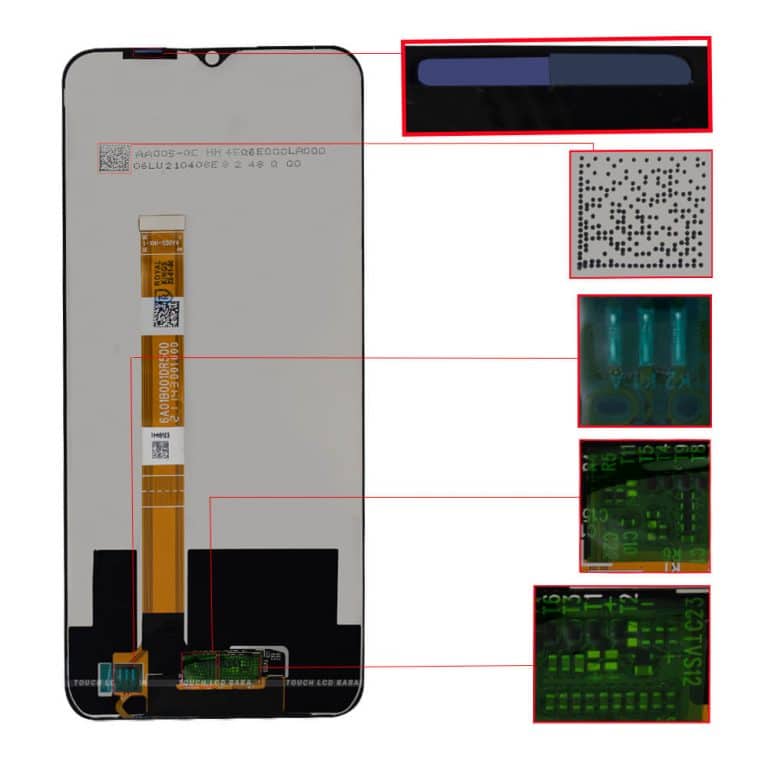 Shipping, Return and Refund Policy
All the products supplied by us come with 30 days return, refund, and replacement guarantee. To return a product, It should be in the same condition as we sent. You can't use or fix the new Oppo A53s 5G display if you want to return it for any reason. For complete details about Shipping, Returns and Warranty, please click here.