How We Test Each Display of Oppo A5s
If you are worried about receiving a defective or non-working product, please watch this video. We have made this video specially for those customers who think that buying Oppo A5s display online is risky, and they can receive the wrong product.
This video shows how we test each screen of Oppo a5s before we dispatch it to you. So there is no chance of getting a defective product because we have already tested it in our Quality Assurance department. Still, all parts come with 30 days replacement and refund guarantee for your satisfaction.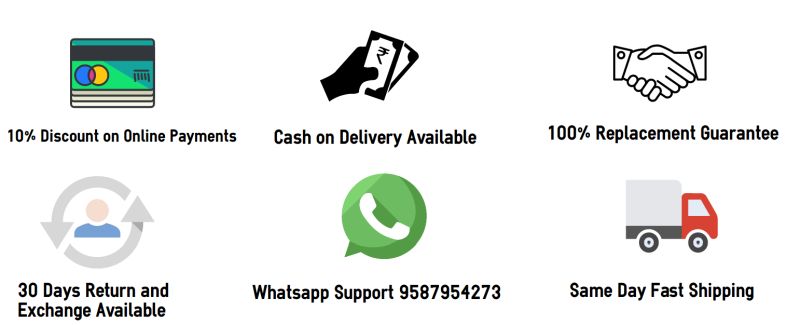 Are you looking for Oppo A5s display price? If yes, then welcome to Touch LCD Baba. On this page, we offer Oppo A5s display and touch screen glass combo, which can be used to replace a broken display or touch screen glass. It is quite easy to damage your Oppo A5s accidentally, but luckily, you can easily replace the display and restore the full life of your phone. Oppo A5s display price is dependent on its quality, and we are selling 100% pure Original Combo for the said model.
Please note that Oppo A5 and Oppo A5s are two different models, and If you need Oppo A5 display instead, please visit
this page
.
What is Oppo A5s Display Combo?
The simple meaning of Combo is a complete assembly of display and touch screen digitizer glass. In Oppo A5s, the display and touch screen glass both parts are pasted in a single unit, and you can't replace them individually. In most cases, when you drop the phone, only the touch screen glass will break. However, as the touch screen glass is combined with the display, you will need to replace the complete display unit.
The Combo shown here is for Oppo A5s, which comes as a whole display unit. In this unit, display and touch screen both parts are combined, and you can't separate them for individual replacement. Many customers still try to separate the display and touch screen and end up damaging both parts.
Can I replace only the glass without replacing the display?
Please also keep in mind that if you visit the local market, the mechanics will try to convince you for only glass replacement so that they can place a duplicate glass on your phone and extort money. Don't fall for this scam as you will end up paying Rs 1000-1500 for a barely Rs 60 product.
It is a widespread practice in local markets where mechanics replace only the glass and place a cheap duplicate glass on the customer's phone and make money. Ask yourself, when you are paying the amount, why would you end up compromising on quality? When you are seeking for only glass replacement, you are just getting your broken display repaired somehow. You are not buying a new product with your money.
Why Should I Go For Combo Replacement?
In Oppo A5s, display and touch screen, both parts are in a single form, and when you try to separate them, you will end up damaging both parts. That's why when the screen damage occurs, replace Oppo A5s Combo to avoid any hassles later on.
It is verCombo replacement is fast, easy, durable, and there is no compromise on quality. For this reason, Oppo A5s combo replacement is the best option when it comes to replacing a broken/damaged display. These days all mobile phones are built on folder technology, and in case of any damage, you need to replace the complete display unit. There are several cheap alternatives available in the market, but they are cheap for a reason.
Oppo A5s Display Specifications
| | |
| --- | --- |
| | This combo is 100% original, tested and suitable for Oppo A5s, model number CPH1909. |
| | Oppo A5s display size is 6.2″, display type is HD+ IPS LCD and display resolution is 720 x 1,520 pixels @271 PPI |
| | You can use this combo to replace a broken display or touch screen glass. |
| | This part comes as a complete display assembly as you see in the photos. |
| | The main touch screen glass is protected by Gorilla Glass 3. |
| | We source our parts from the same factory who makes for the company. |
| | Before shipping, we test the screen first and then dispatch. See testing video below. |
| | We offer 30 days returns, replacement and refund guarantee on parts sold by us. |
| | If you face any problem, we will pickup the display from your doorstep. |
| | The stock is readily available and shipping time is very fast. |
| | You can order using Cash on Delivery or Online Payment. |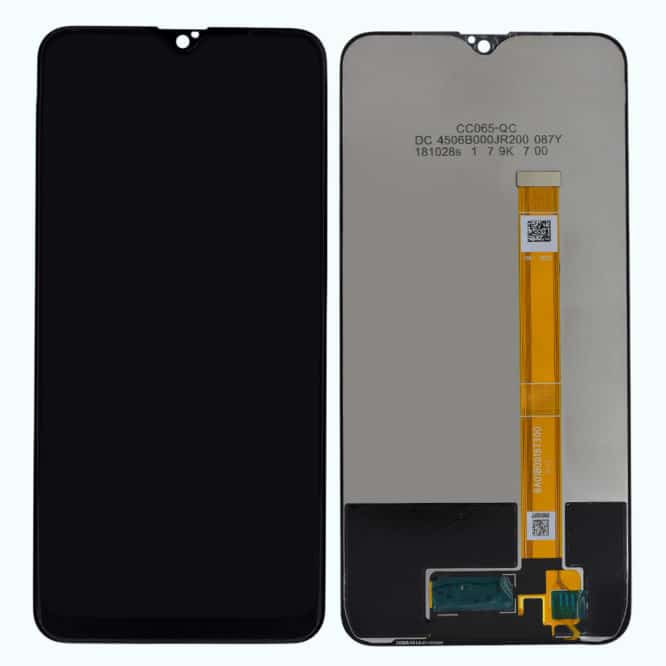 Frequently Asked Questions
Customers have so many questions in their minds, and you can always call us and ask any questions at 9587954273. Still, we want to answer the most frequently asked questions here so that you can find answers quickly.
Q: How much does it cost to replace a broken Oppo A5s display in India?
The price of a 100% original Oppo A5s display replacement is around Rs 2400-2600. If you buy a first copy screen replacement, then the Combo costs about Rs 1200-1400 in India. You may have to pay additional repairing charges on top of the display's price to a mechanic.

Q: What is the meaning of Oppo A5s Folder?
The word folder also means a complete unit of display and touch screen. So If someone says Oppo A5s Folder, you can understand it as a complete combo. Oppo A5s complete display is called using different names like a combo, folder, assembly, screen, etc.. but all these words mean the same thing, which is the complete display unit.
Q: Should I purchase from Touch LCD Baba or Local market?
You can buy Oppo A5s display from either the local market or from our store, but you might be interested in knowing the difference. The local market sells first copy for low prices, and it is a duplicate screen that will not satisfy you.
If your budget is meager and you can't afford to buy the original, you can but the first copy but don't expect the same quality as before. If you come across an online website that sells the Oppo A5s folder for a low price, you can understand that It is the first copy.
At Touch LCD Baba, our prices are high because our business motive is different. We sell 100% genuine original parts, and while our prices are high but we also provide a 100% original display to you. We guarantee 100% satisfaction or full refund!
Q: I'm getting a display for a low price in my city. Are you fooling me?
No, you are fooling yourself. The Oppo A5s display available in the local market is a replica, not the original one. That's why it is available for a low price, and if you are truly attracted to the low price, get the first copy, and see the quality difference yourself.
Q: How can I trust that you provide the original product?
We have made a video to show you the actual display quality and how perfectly it works. We guarantee 100% original display having perfect color reproduction, brightness, and contrast. If you are buying online, you should trust the seller and the presentation of the product.
If you only trust yourself, then we don't want to waste our energy on proving things. We have a huge customer base trusting us blindly, and we always keep our promise.
Q: I want to replace only the touch screen glass. Can you tell me about that?
We don't sell or recommend low-quality products and solutions to our customers. If you are thrilled about saving money on only glass replacement, you can find hundreds of mechanics doing the glass replacement in the local market. If you are interested in buying a cheap glass worth Rs 60 for Rs 800-1000, it is your choice.
Q: I want to sell my phone after fixing the duplicate display. What should I do?
This question may surprise you, but lots of customers have this mindset. They want to fix a duplicate display on their phone and then sell the phone to their friends or relatives for a high price. It clearly explains their mindset, and such customers are dishonest.
Just imagine how you would feel if the same thing happens to you. Customers always worry that such things never happen with them, but many customers do this willfully. Always keep in mind that karma will come back to you!
Q: How do you test the display before dispatch? 
We use the Oppo A5s motherboard to test the display before dispatch. In our office, we have a brand new Oppo A5s phone in open condition, and we use this phone to test the display one by one. After testing the display manually, there is no chance of receiving a defective product.
Q: What If I receive a defective or broken display inside the parcel?
There is no chance of receiving a defective product as we supply tested products only. Still, we back our products with 30 days of returns, refunds, and replacement guarantee. If you face any problems, you always have the option to return.
Furthermore, a broken display is never a case but still, you can record an unboxing video and if you find anything broken, simply forward the video to us to get a free replacement. Please make the video from the absolute beginning till the end. Any kind of deceptive behavior is easily detectable by us.
Shipping, Return and Refund Policy
All the products supplied by us come with 30 days return, refund, and replacement guarantee. To return a product, It should be in the same condition as we sent. You can't use or fix the items If you want to return. For complete details about Shipping and Returns, please click here.