You are likely dealing with a broken/scratched Oppo A7 display and looking for possible solutions to reverse the problem. If so, then welcome to Touch LCD Baba. We offer a 100% original Oppo A7 display and touch screen combo on this page, which you can use to replace a broken display or touch screen glass.
The Oppo A7's display and touchscreen glass are combined to form the display unit, which you need to replace after a broken display or touchscreen glass. It is quite likely that you have slightly scratched your phone, and It is still in working condition; however, If it looks odd to you and you want to do a replacement, then you have to go for a complete Oppo A7 combo (display and touch screen both) replacement. These days all mobile phones are made upon folder technology, and combo replacement is the only way towards a 100% quality screen replacement.
Why is the only glass replacement never a worthwhile solution?
Don't try to fix your phone using the cheap solutions in the market, like only glass replacement, display replacement, and all those. Those solutions never work properly long-term, and you will never get the original quality experience again. If you don't want to ruin your phone with your own hands, stay away from cheap solutions, as they are cheap for a reason.
Glass replacement is preferred by customers who do not have a problem compromising quality. They don't care if the brightness reduces or there are spots in the display, or the touch screen is not working properly. Such customers' ultimate goal is to have a phone that hardly works, and such customers will always do whatever costs them less.
If you don't want to compromise the quality, always go for an Oppo A7 combo replacement. The part shown here is a complete unit of the display and a touchscreen glass. Both pieces are already attached. The person repairing your phone will take out the broken Oppo A7 combo and fix this new combo in place of that.
Why are the screens available in the local market so bad in quality?
The local market mainly focuses on offering low-priced solutions to customers rather than offering quality. Most customers are also fully inclined towards low-priced solutions to repair their phones and want to keep everything within budget. When you mull over the screen replacement worth Rs 1200, you can't expect it to work as the original Oppo A7 display does.
The duplicate screen will also work for some time, but the touch screen will not work as smoothly as you want. The display will not be as bright and vivid as It was before. If you pay a 50% price for the original screen, you also get a 50% quality display. So you can clearly understand that you are not getting the display for cheap, but you are getting a degraded product for a lower price.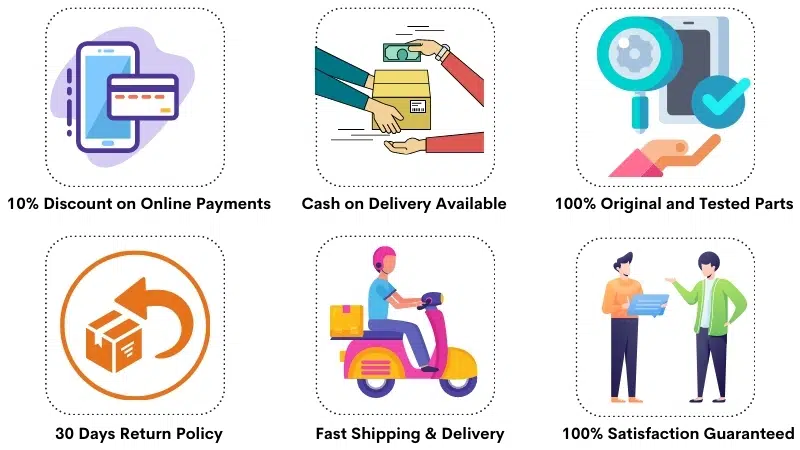 What is the source of cheap duplicate screens, and why are they cheap?
The duplicate screens are often marketed as first-copy screens in the market. The customers get an assurance that this product offers 99% quality of the original, and thus the customers easily get entrapped in the funnel. Please note that a 99% quality statement is to fool you into buying the product, and there is no other purpose for such marketing tactics.
The local screens come directly from China, where third-party manufacturers work day and night to produce low-quality screens for low prices. Such screens mainly target India and other similar countries where more people ask for low-priced products rather than quality stuff. If an average customer gets a screen for a low price, they often buy it without a second thought.
It is not true that original screens are not available anywhere except for the service center. The truth is that original Oppo A7 displays are available, but the price is high, and a handful of customers are willing to pay that price. The original and the first copy screens come from China but from different factories. If you buy from the OEM factory, you get the original product, and If you buy from third-party manufacturers, you get a duplicate product.
Now you might wonder why the first copy screens are cheap. The reason behind this is the use of low-quality material and not paying attention to the advanced features of the touch screen. For example, multi-touch features work in original touch but never in duplicate touch screens.  To cut costs, third-party manufacturers use the cheapest quality material and don't care, even if the customer's phone heats up with such products.
Oppo A7 Display Specifications
| | |
| --- | --- |
| | This combo is 100% original, brand new, and suitable for Oppo A7 (Model: CPH1901) |
| | The Oppo A7 display size is 6.2″, the display type is IPS In-cell LCD, and the display resolution is 1520 x 720 pixels. |
| | This combo can replace a broken display or touchscreen glass. |
| | We source 100% original screens from OEM manufacturers so you can enjoy the quality. |
| | The main touchscreen glass layer is protected by Corning® Gorilla® Glass 3. |
| | The display offers 100% the same colors, quality, and brightness as your stock display. |
| | We verify each display on the Oppo A7 motherboard for 100% perfect working before dispatch. |
| | You also get a 30 days return, refund, and replacement warranty if you face any problems. |
| | We can deliver and pick up the parcels from anywhere in India. |
| | The display is readily available in stock, and the turnaround time is quick. |
| | You can order the display using Cash on Delivery or Online Payments (10% additional discount). |
Frequently Asked Questions
Q: How much do I need to pay for Oppo A7 display replacement in India?
The price of a 100% original Oppo A7 display replacement is around Rs 2600-2800. The combo costs about Rs 1300-1500 in India if you buy a first copy screen replacement. You may have to pay additional repair charges to a mechanic on top of the display's price.
Q: Will I get exactly the 100% original display? 
Yes. We buy our stock directly from the Original Equipment Manufacturers, who are makers of the original screens. So what is fitted in your phone and what we sell is exactly the identical part coming from the same factory, and hence there will be no difference in the quality. Unlike the local market, we don't sell first-copy versions of the Oppo A7 display because they are not good. Surely, first-copy screens also work, but you can't compare them to the original.
Many people are happy that they bought a local display and at least the phone is working, so they don't complain. However, many customers don't want to compromise, especially youngsters who do many activities like photography, education, and entertainment on their phones. So It depends on your preference as to which quality screen you prefer.
Q: My friend said that the original Oppo A7 display is unavailable anywhere. Is this true?
You are not alone, but thousands of such customers have dolt types of friends. They have no knowledge of the industry, but spreading nonsense education is their job, and they will speak anything without knowing the actuality. If you follow the advice of people who don't know the subject, that's not wise.
It is not true that original screens are not available anywhere except for the service center. However, it stands right that most shopkeepers in the market don't have original screens because their business model is selling first-copy duplicate screens and making a profit.
For example, a first copy screen costs Rs 900 in wholesale markets, while if they purchase the original one, It costs nearly Rs 2000. So the shopkeepers think that if they buy the original one, they can't sell it further because of the high price. That's why they always buy the first copies so that at least their business can grow. Thousands of newbies buy first-copy screens in every city and understand them as the original.
Q: If so many duplicate screens are available locally, why do the customers never speak?
Customers have ego problems and don't want to admit that after getting fooled. We have seen that customers can easily isolate the quality difference, and even when they are fully aware that the screen is duplicated, they won't speak anything. It is because they know they are not paying the price for the original one somewhere in their mind.
When customers get something cheap, they want a phone in working condition. While It is evident that they got the duplicate screen, they won't speak because the price was lower, and they don't have the budget to buy the original one.
Q: Can you educate me about how to identify the original screen of Oppo A7?
The original Oppo A7 screen can be identified only by looking at the OEM vendor's stamp and a few other characteristics. We can't educate you to that level in just 5 minutes because It takes years of experience and practical knowledge of testing thousands of screens to pinpoint the subtle differences between the original and the first copy.
Q: What is the price of the Oppo A7 screen in the Oppo Service center?
We are not sure about the service center's pricing as we don't have any affiliation with them. Please visit their local branch in your city or call their toll-free number if you want to know about the service center pricing and turnaround time. We are not able to provide any assistance in this regard.
Q: How can I check the display before fitting it permanently?
To verify the new Oppo A7 display's working condition, connect it to your phone's motherboard, and turn on the phone. The screen will light up, and you can use it like your phone. You can test the screen for 10-15 minutes, and when you are satisfied, you can proceed with the final installation of the product.
Q: Do you accept returns in the used condition?
We don't accept returns in the used condition, as that is beyond our return and replacement policy. We supply brand-new products to you, and if you want to return them for any reason, they must be in the same condition as we supplied them. You can't return a product to us after fitting it in your phone because fitting a product means you've tested and verified it. After that, there is no question of return in our books.
Shipping, Return and Refund Policy
All our products come with 30 days return, refund, and replacement guarantee. To return a product, It should be in the same condition we sent. You can't use or fix the new Oppo A7 display if you want to return it. For complete details about Shipping, Returns and Warranty, please click here.