A broken Oppo A76 display makes you worry, and if the screen replacements are not available handy in the local marketplace, your mobile phone becomes standstill. You'll certainly have some important documents, images, and video inside your phone, and you can't buy a new phone just because its display or touch screen glass broke.
If you are going through such a situation and need an original display replacement, you can buy it from our website. We specialize in mobile phone screen replacements and offer almost all models on our website. Our goal is to sell 100% original screen replacements without any quality compromise because customers love authentic products. On this page, you can find complete information about the Oppo A76 display replacement, and call us at 9587954273 if you've any further questions.
How does an Oppo A76 display combo help?
The only way to replace a broken part is to use a new display unit called a combo/folder. A combo comprises an inner IPS LCD and the front layer of touch screen glass merged into a single unit. Both parts get merged when assembling a brand new phone, and to merge both parts; Liquid Optical Clear Adhesive glue is used.
You can easily replace a broken display unit (LCD and Touch Screen) with a new combo. The combo replacement is all about swapping the broken display unit with a new one, and it is the easiest method to overcome all the display and touch screen glass-related problems.
Why should you buy from Touch LCD Baba?
You should buy from Touch LCD Baba only if you want to buy a 100% original display replacement without compromising the quality. We don't have the best prices on the Internet because compromising the quality and offering the best prices is not our business concept. In this industry, the best prices are possible only with duplicate products and such products are available on almost every website marketed as a first copy display.
All customers are not equal, and many customers wish to purchase the original Oppo A76 display, but technicians dupe them in the market. We work very hard to provide our clients with original screen replacements without wandering here and there. Rest assured about receiving original spares when you purchase from us because we've invested so much time, energy, and expertise to bring authentic products to your table, effortlessly.
Oppo A76 Display Specifications
| | |
| --- | --- |
| | This combo is 100% original, tested, and suitable for Oppo A76, model number CPH2375. |
| | The Oppo A76 display size is 6.56″, the display type is HD+ LCD display and resolution is 1612 x 720 Pixels |
| | The new display offers 100% the same colors, quality and brightness as before. |
| | Our testing engineers test each display for 100% flawless working before dispatch. |
| | We offer original products because we buy our stock from the OEM manufacturers who makes for the company. |
| | You'll get exactly the same product as it comes assembled with a brand new device. |
| | We pack your products securely in hard plastic boxes to avoid any in-transit damage. |
| | You can easily resolve all the display and touch screen issues by replacing the combo/folder. |
| | We back our products with a 30 days return, refund and replacement guarantee. |
| | You can message our support team on WhatsApp at 9587954273 and ask questions. |
| | You can order the product using Cash on Delivery or Online Payments (additional 10% discount). |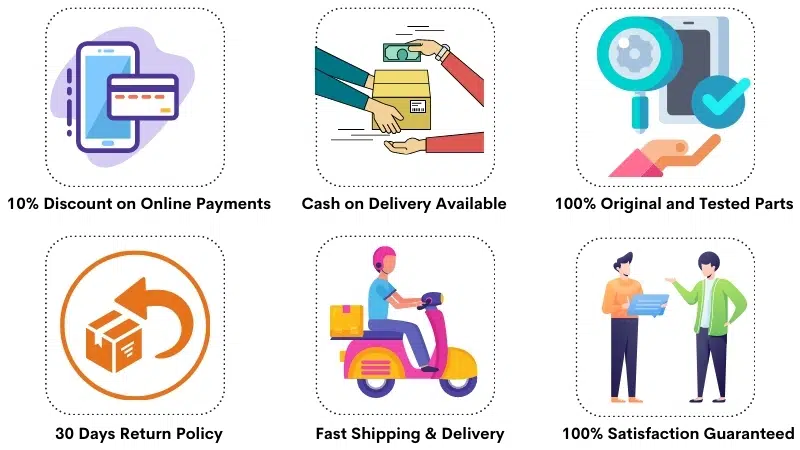 Frequently Asked Questions
Q: How much does it cost to replace a broken Oppo A76 display in India?
The price of a 100% original Oppo A76 display replacement (model number CPH2375) is around Rs 3800-4000. If you want to purchase a low-cost screen, you can go for the first copy screens, which offer 50% quality of the original, and their price is also budget-friendly.
Q: Can I get a display replacement for free under one year warranty?
The official one-year service center warranty covers defects that appear automatically. A broken display doesn't fall into that category because that's entirely the customer's fault. It doesn't matter if you broke the display accidentally or willfully. As you own the phone, you are responsible for its safety, and any physical damage is always out of warranty.
Q: I broke only the touch screen glass. What should I do?
If you broke only the touch screen glass, you should still be able to use the phone without problems. The touch screen operations must be perfectly working, and you won't face any other issues except having a broken glass. Many customers end up damaging only the touch screen glass while everything else works perfectly.
In such situations, you might mull about replacing only the touch screen glass, and that's possible. If you go to the local market, you can easily find many technicians who offer glass replacement services for Rs 500-600. In the next section, you can learn more about the negatives of glass replacement.
Q: What are the drawbacks of replacing only the touch screen glass?
It is possible to replace only the broken glass, but that doesn't approve it as the best solution. The glass replacement is a disapproved solution by the official service center, but people still try it to spare some cash. If you take a broken phone to the authorized service center, they will always replace the complete display unit and never replace only the glass.
The local technicians offer glass replacement services, and that's another way of making money. You want to save money and repair the phone for the lowest price, and technicians don't care about the quality and sell worthless products to you that never last long. Here are the drawbacks of glass replacement :
The original glass gets replaced with a cheap quality duplicate glass.
A duplicate glass will break again within 15-20 days with a minimal strike.
The display's quality, color, and brightness drop considerably.
You'll often see dust, white spots, yellow spots, and other flaws inside the display.
The experience of using a refurbished display will never satisfy you.
The glass replacement puts you into such a situation when you must repeatedly replace the broken glass because it will break repeatedly. The final costs of repeated replacements will be way over the original display's price, and that's why you should never embrace low-quality solutions.
Q: I saw the Oppo A76 display for a low price on another website. Can you offer?
Our prices are fixed, and you can find tons of other places that offer a display for a low price. It is normal because we offer original display replacement, and you are comparing it with the price of a duplicate display. Customers mostly compare only the prices and never care to compare the quality, so the comparison is flawed.
We are sorry, but we don't match anyone's else price because our price is fixed. We are sure about our product's quality and don't want to deceive our customers. Please feel free to purchase low-cost products if that's your intention, but we can't help.
Q: Do you deliver a new display after testing it properly?
Yes. We test each display manually using a real motherboard of Oppo A76, and that's why you'll never receive a defective product from us. We understand that delivering a product takes time, and if you receive a defective product that doesn't work as desired, it would be a frustrating experience. We test each display manually and dispatch it only when we are 100% confident about its quality and working condition.
Q: How can I test the new Oppo A76 display without assembling it?
Testing the display without assembling it is a very popular technique employed by all mobile phone technicians. Please follow these simple steps to test the new display :
First of all, decouple the back panel.
Open necessary screws to access the motherboard.
Carefully eject the old display's connection from the motherboard.
Connect the new display in the right direction and turn on the phone.
You can test the new display and also use the touch screen functionality.
Please note that disassembling the old display is not required to test the new display. Therefore, you should test the display on your phone's rear side by placing it on the bubble wrap and connecting it with the motherboard in the right direction. That's how we do it, and if you need any clarifications, please call us at 9587954273.
Q: How much would a technician take to install the display?
The typical installation charges are around Rs 200-300 to install a new display on your phone after testing it properly. We always send tested screen replacements, and that's why you wouldn't face any issues with our products. If you order low-quality products, they might not work when you test them, and the installation charges will also go waste. That's why purchasing original screens from reputable sources is a perfect idea, and you can never go wrong with us.
Q: What if a local technician condemns Touch LCD Baba's product?
Local technicians are always unhappy with online websites as they are already losing a lot of business. In every segment, now customers are moving towards online marketplaces for their needs, and local sellers are losing a large chunk of their existing business.
If a local technician speaks unfavorably about our product, we consider it a normal retaliation process. A technician's job is to install the display on your phone, and we request that you don't appoint a technician to judge the products because that will always speak bad things about the stuff you don't purchase from them.  Mobile phone technicians are usually very biased for their own business, and even when they know that the product is 100% original, they don't want you to buy screen replacements online.
Q: Why should I purchase the original display when duplicates are cheap?
You should know that the original Oppo A76 display offers incomparable quality, and no matter which other alternatives you purchase, you must make a huge compromise on the quality. We know about all the copy, duplicate, diamond quality, and OG quality products sold in the market, but they are nowhere close to the original display's offerings.
Here are the specialties of original display which you'll never get with alternative solutions :
An original glass that is very durable and comes with protection.
Smooth and accurately working touch screen glass.
Sharp display that offers accurate color reproduction and quality.
Outstanding brightness that allows using the phone in direct sunlight.
Best Camera Photos and support for all gestures and multi-touch features.
If you purchase a low-quality display, everything reliant on the display will drop to 50% levels, and that's why duplicate products are cheap. A duplicate display often overheats the phone, and there are many other consequences that a sane customer would always like to avoid.
Oppo A76 Display Photos
If you want to see the actual product photos, please refer to the below images. If you've got any questions, please call us at 9587954273.
Shipping, Return and Refund Policy
All the products supplied by us come with 30 days return, refund, and replacement guarantee. To return a product, It should be in the same condition as we sent. You can't use or fix the new Oppo A76 display if you want to return it for any reason. For complete details about Shipping, Returns and Warranty, please click here.