If your Poco F1 got damaged and you need to know about the Poco F1 display price, you can find all the information. We have done a complete study on the Poco F1 display, and If you want to get the best screen replacement for the lowest price, this page can help you a lot. In Poco F1, the display attaches to the touch screen glass, and you need to replace the complete combo in case of accidental damage.
How We Test Each Display
Many customers want to purchase the Poco F1 display, but they doubt what will happen If they receive a defective product. It is certainly possible to receive a defective display if the seller does not test the display. Most online sellers are not testing the screens before shipping, and this is why customers are so doubtful because they have faced such issues before.
At Touch LCD Baba, you can be 100% sure that you will receive 100% original and working products all the time. That is because we test each display manually one by one, and we want our customers to see the whole process. We have a brand new Poco F1 phone in open condition, and we use this phone's motherboard to verify each display's working condition.
This process is completely foolproof, and we have never had a case of a defective display shipped to the customers. You can also see the quality of the actual Poco F1 display, which you can order from our website. You can upscale the video quality up to 4k resolution to see the 100% original quality we offer.
Why does the Poco F1 display break so easily?
It is a great phone indeed, but despite having the Gorilla Glass 3 protection, It breaks easily even if you drop it from 1-2 feet height. You might recall that you had a phone which dropped many times but still didn't break, then it is because of its design at the corners. The design of this phone is different, and the outer frame doesn't cover the screen's edges. If you drop the phone, the display directly touches the ground, making it very prone to damage. The phone itself is just awesome, but you need to keep it very safe. Almost all phones come with such design patterns these days, and they are indeed more prone to breakage.
Earlier, If you used a phone with a metal frame covering the display (Like Xiaomi Mi5, Redmi Note 3), you may not face screen damage issues frequently. Even If you drop it accidentally, the frame will get scratches or dents, but the display will stay safe in such cases.
What should I do when the display damages?
First of all, don't panic if the screen is damaged. It is not the end of the world, and screen damage happens to all of us. In most accidental damage cases, you should still be able to use the phone with a scratched display as It doesn't stop working all of a sudden. If only the glass is scratched, then you can still use the phone carefully, but eventually, you will need to replace the combo.
Many customers look for cheap alternatives as soon as they have broken the screen. The first thing in the customer's mind is replacing only glass. Many customers believe that what is the need to replace the combo when the only glass is scratched. For your information, the combo is a combined module of display and touch screen. The way you are thinking of repairing your phone is the worst solution to the problem.
When a company makes a flagship phone, they combine the display and touch screen glass. A combined module provides additional clarity, brightness, and dustfree experience. Most customers do not know the advantage of a combo, and they visit mechanics who trap them in changing only glass as they can make huge money on that. A mechanic removes the broken glass using a separator machine and pastes a new duplicate glass, degrading the display's quality. The glue (LOCA Glue) used to affix the screen is low quality and reduces the brightness significantly.
What is the best solution to replace a broken Poco F1 display?
To all the customers looking for a screen replacement, don't go for cheaps solutions as later you will learn that you have made a wrong decision. If you want to maintain 100% display quality, always opt for complete combo replacement. It is because combo replacement is very durable, and quality stays intact.
If you try to replace the only glass, you face many risks as the display can break and, and when that happens, you have to go for combo replacement. To save yourself from lots of unforeseen issues, always opt for combo replacement. The display's price can indeed be a little costly if you replace the combo, but as you have invested a huge amount towards a quality phone, don't spoil everything just for saving a tiny amount.
Poco F1 Display Specifications
| | |
| --- | --- |
| | This combo is 100% original, brand new and suitable for Poco F1. |
| | The Poco F1 display size is 6.18″, display type is IPS Display, and resolution is 1080 x 2246 pixels @ 403 PPI. |
| | We offer 100% Original display of Poco F1 guaranteed to exhibit the same colors, brightness, and sharpness. |
| | You can use this Poco F1 folder to replace a broken display or touch screen glass. |
| | This combo  is 100% pure original and we test each piece for flawless working before dispatch. |
| | The touch screen works smoothly as before and supports all multitouch features and gestures. |
| | The display on this page supports all Variants of Poco F1. |
| | Poco F1 display comes with 2.5D Gorilla Glass protection on the top. |
| | We back our products with 100% Hassle Free Returns, Refund, and Replacement. |
| | The stock is readily available and shipping time is very fast. |
| | You can order the product using Cash on Delivery or Online Payment method. |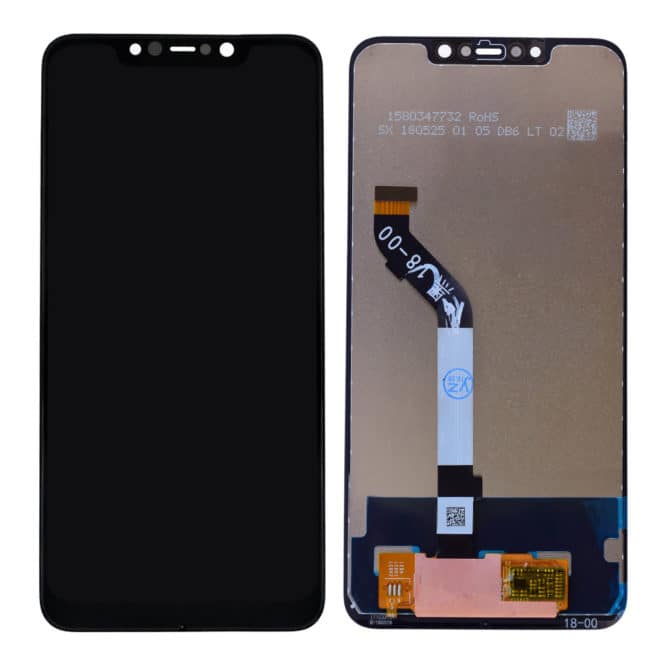 Frequently Asked Questions
Q: How much does it cost to replace the Poco F1 display in India?
The price of a 100% original Poco F1 display replacement is around Rs 2800-3000. If you buy a first copy screen replacement, then the combo costs about Rs 1200-1300 in India. You may have to pay additional repairing charges on top of the display's price to a mechanic.
You need to understand that paying 50% of the original display's price will get you 50% of the original quality. Many customers believe that they have found the original part for a low price, but this is not true. You are getting attracted to the lower price.
Q: Why do you advise against replacing only the glass without replacing the display? 
Before we answer this question, please ask yourself why you are considering only glass replacement. That is because now you need cheap solutions and when you bought the phone, you wanted the best quality. So when you buy a new phone, you want the best quality, and when it comes to the display replacement, anything is right for you. It surely doesn't work like that.
It is your choice to replace the only glass or complete combo, but If you want 100% original quality and the same feel as before, nothing compares to a combo replacement. If you replace the only glass, please be aware that you repair your phone with a Rs 100 glass to understand what you get.
Q: How can I prevent future damages to the phone? Any advice?
We want to repeat that the Poco F1 display is more prone to breakage due to its design. We suggest that you use a full coverage tempered glass and a flip cover If possible for you. If you don't like the flip cover, use a rough back cover, which prevents the drops. Most back covers are very slippery, and this also contributes to accidental drops.
Q: Why is the price of the display so high in the service center? 
If you want to get it repaired from the official service center, it is totally up to you. The service center always charges a hefty price but surely provides the original part. You can get the same part outside for a fraction of the price and still maintain the same quality. The parts we supply are 100% pure OEM (Original Equipment Manufacturer). It simply means that we source the part from the same manufacturer who makes for the company. Our prices are lower than the service center, but the quality is 100% the same in every aspect.
Q: Do you fix the display on my phone If I buy from you?
No. We don't install the display on your phone, but we can provide a 100% original and working combo to you. If you repair the phone in the local market, mostly, you won't be able to find the original display because local vendors are fully focused on low prices, not on quality. The advantage of buying from us is 100% original display, and then you can get it installed locally by a mechanic for Rs 200-300.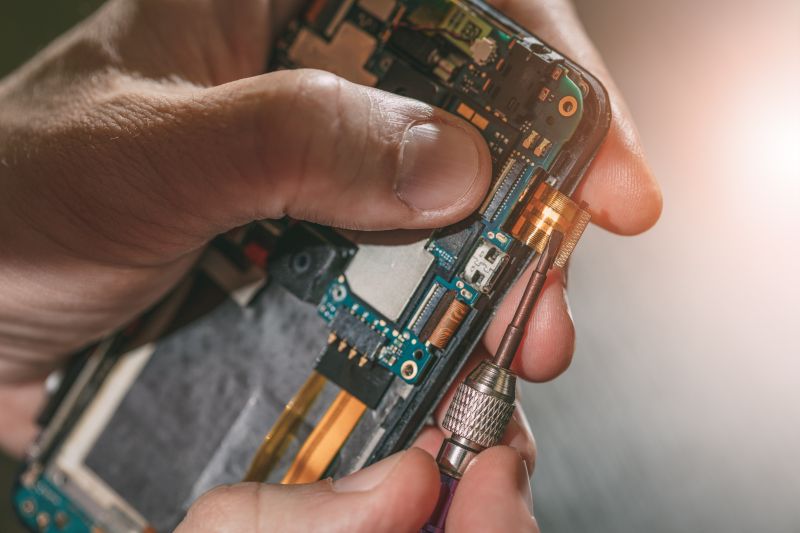 Q: Does the new display come with Gorilla protection?
Yes, the display we supply comes with Gorilla Glass 3 protection. The thickness of glass and curves are 100% ditto as your original combo. You can compare both of them side by side, and there will be no difference in the quality, colors, and brightness. Our combo also supports all gestures and multitouch features. If you double-tap to wake up and other similar features, they will also work perfectly. If you play high-end games, there won't be any lags in the touch screen response.
Q: How can I make sure that the new display is not defective? 
Customers always worry about defective products, and that indeed happens when the products are not tested. However, we test each display manually before we ship it to our customers. We use the Poco F1 phone's motherboard for testing the screens as there is no other reliable way to test the display properly.
We have a brand new phone in our office, which we always keep in an open condition. We use it to test the display and then send it to the customer. This testing is good for customers and boosts our confidence because we know what we are doing. We can easily mark defects in the products, and such goods never go out from our warehouse. We always send QC passed goods to our valued customers.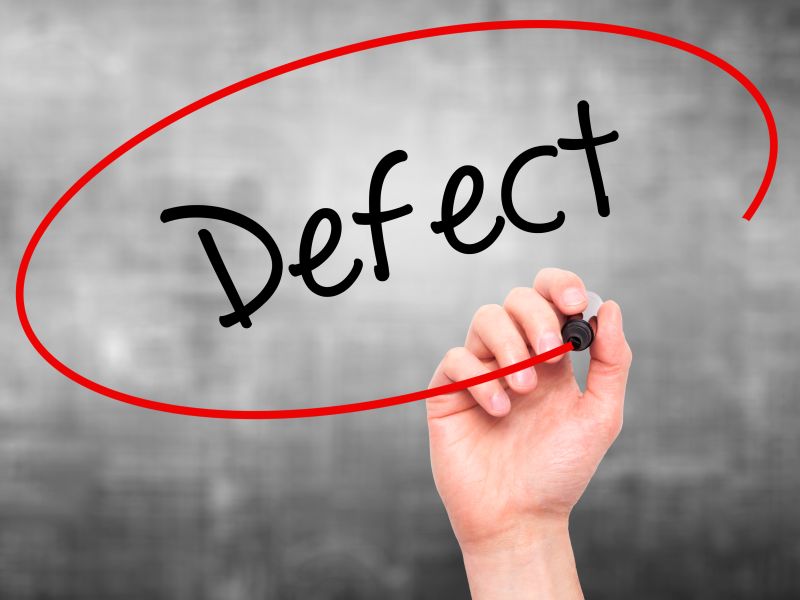 Q: Can I use this display in the Poco F1 Armoured Edition phone?
Yes. You can use this display in Poco F1 armored edition without any issues. Poco F1 armored edition was better in specifications, but the display is the same as Poco F1. We are not saying this based on our assumption, but we've actually fitted our display in Armoured Edition phone without any issues.
Shipping, Return and Refund Policy
All the products supplied by us come with 30 days return, refund, and replacement guarantee. To return a product, It should be in the same condition as we sent. You can't use or fix the items if you want to return them. For complete details about Shipping, Returns and Warranty, please click here.