A broken Poco X2 display doesn't mean that now you can't get the same versatile display again. It is certainly possible to get the original Poco X2 display and restore your phone's full functionality. You should only be worried about the quality if you are trying to find cheap solutions for your phone because it is impossible to buy the original Poco X2 display for low prices.
Most people in India have the best price concept in their minds and want to purchase the original Poco X2 display for the lowest price. It is practically impossible, and this is the main reason for the customer's dissatisfaction. Think about this yourself; can you get branded trousers for a super low price? You certainly can't.
Many people buy phones in installments, and when the display breaks, they start looking for the cheapest alternatives to repair the broken display. People usually search in the local market first and then search online to compare the prices like a pro to find the best deal. If you are trying to find a deal without understanding the low price's actual reason, you will get the first copy duplicate Poco X2 screen. If you are trapped in a low-price concept, you'll waste money and start to dislike the phone you loved a few days back.
How can I get the original display of Poco X2?
If you are indeed searching for an original display of Poco X2, stop believing that you'll find it for Rs 1200-1500. We have seen that even the most educated customers are entirely biased towards low prices and later blame online shopping rather than blaming themselves. Don't expect the same quality if you decide to buy the first copy Poco X2 display for a low price. You will get what you pay.
The original display of the Poco X2 will not be cheap in any case because it supports the 120Hz refresh rate. The original display of Poco X2 comes directly from the OEM manufacturer, and the prices are high. We offer a 100% pure original display of Poco X2 that comes directly from the OEM (Original Equipment Manufacturer), and the quality is guaranteed.
What is the quality of screens available in the local market?
The 99% of screens available in the local market come from third-party manufacturers. These manufacturers make low-quality screens purposefully and employ the cheapest quality material in crafting the new display. Such screens result in low brightness, strange color reproduction, malfunctioning touch screen, and other similar issues.
If you go to the local market for a Poco X2 display replacement, you will find a first copy display. The price will be low, but the quality will be nearly 50% of the original. So always make sure that you buy the OEM screen replacement, It will inevitably cost you more money, but it is worth the investment.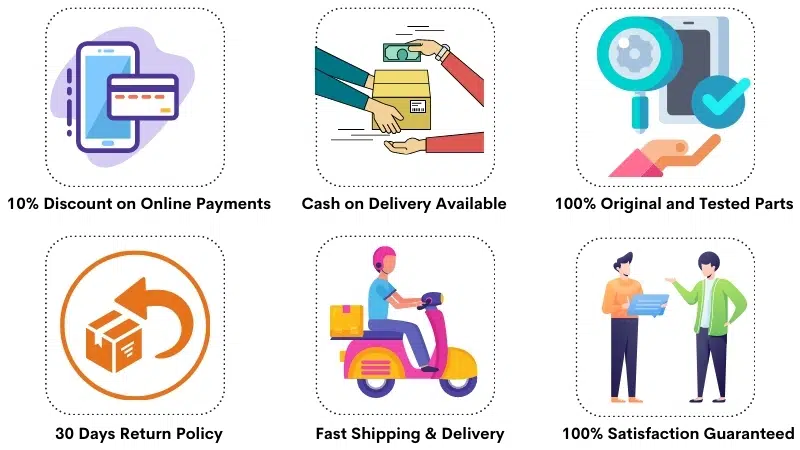 What is the meaning of the Poco X2 Display Combo?
The Poco X2 combo's simple meaning is a complete unit of display and touch screen combined into a single unit. So when you hear the word combo, you can understand that you are buying a display and the touch screen glass. This unit is also called a Poco X2 folder.
Is this display 100% original and supports a 120Hz refresh rate?
Yes, We offer a 100% original display of Poco X2 that supports a 120Hz refresh rate as your original one. We take pride in selling 100% original spare parts and don't focus on the low price because our motive is to sell 100% original screens even If the prices are higher.
We are fully aware that customers need a low-priced screen, and they are ready to accept even the first copies. However, as per our business policy, we are looking for 100% satisfied customers, and we are not selling first copies. If you need the first copy, please try finding it on other websites or the local market.
How can I replace only the touch screen glass without replacing the display? 
The idea of replacing only the glass comes into the mind of all customers who have a broken touch screen glass with an intact display. Only the touch screen glass will break in most physical damage cases, while the display will stay functional. Even in these cases, we don't suggest replacing only the glass due to quality issues.
The glass replacement is a workaround invented by the mechanics to earn quick money. There are low-quality glasses (not tempered glass, we are talking about the main touch screen glass here) available in the market that cost Rs 80, and mechanics will quickly charge Rs 1000-1200 from you. That is why glass replacement is a thriving business in the local market. Even If a mechanic can trap one customer in a day, he can easily earn his livelihood.
Customers are also fully biased towards cheap solutions so that they can save some money. The truth is bitter, but If you think an average mechanic can restore a broken display to its original condition as it comes from the factory, you are fooling yourself. To perfectly restore a broken Poco X2 display, no other solution is better than buying a complete combo.
Poco X2 Display Specifications
| | |
| --- | --- |
| | This is a 100% brand new, original and never before used combo of Poco X2. |
| | The Poco X2 display size is 6.67″, display type is IPS LCD and display resolution is 2400 x 1080 Pixels. |
| | It offers 100% original brightness, colors, sharpness and display refresh rate of 120Hz. |
| | The display we offer is 100% pure original, tested and comes with money back guarantee for any defects. |
| | We source the display from OEM manufacturer so that you can enjoy the original quality. |
| | The display supports all the gestures and features as supported by the original display. |
| | We religiously test each screen for flawless working before dispatch. |
| | We offer 30 days return, refund and replacement guarantee on our products. |
| | Our QC team scans the display via a series of tests to make sure you get what you need. |
| | The stock is readily available and shipping time is very fast. |
| | You can order the display using Cash on Delivery or Online Payments. |
Frequently Asked Questions
Q: How much does it cost to replace the Poco X2 display in India?
The price of a 100% original Poco X2 display replacement is around Rs 4800-5000. If you buy a first copy screen replacement, the combo costs about Rs 2200-2300 in India. You may have to pay additional repairing charges to a mechanic on top of the display's price.
Q: How can I buy the original display of Poco X2 for a low price? 
If you think about buying an original Poco X2 display for a low price, it is nothing more than daydreaming. The original spare parts are not available for cheap, and if you are getting them for low prices, please remember that there is always a catch. If you want to spend less money, It would be better to find it in the local market instead.
Q: Can I claim a broken display in a warranty from an official service center?
It is probably the favorite question of customers who are hopeful that they will get a display replacement for free. Unless you bought the insurance cover for your phone, you would never get a screen replacement for free from the official service center. You can get the display replaced by the official service center, but you've to pay the full price, which can be very high.
Q: How can you sell the original display for a low price compared with the service center? 
Many customers (especially with a skeptical mindset) often try to calculate how we can sell the original display at a lower price than the official service center. To ramp up your knowledge, the Poco X2 display is manufactured by an OEM manufacturer, not directly by the company. So if you are willing to buy the original Poco X2 display, you can buy it from the OEM, but the price will be quite high. We buy directly from the OEM and don't have other branding expenses, so we can sell it cheaper.
The official branded stores charge a lot of extra money for branding as they have tons of other expenses to cover, and that's why the price is much higher there. If you feel more satisfied after buying the same part for a higher price, you can do it per your desire.
Q: What if the display supplied by you is not original? 
Many customers usually tend not to trust any online website unless they have purchased from them before. Our regular customers buy from our store even without any confirmation because they had experienced the joy of original parts when they bought from us before. Many skeptical customers who purchased from us before once are now our regular customers. You don't have to trust our words because you get your chance of testing and verify the original Poco X2 display yourself. You can connect the screen to your phone's motherboard and take a trial.
At this point, you don't need to affix the display on your phone but test the screen in an open condition. You can play games, watch movies and try other things you usually do with your phone. The original display speaks for itself, and we guarantee 100% satisfaction. All the products supplied by us come with 30 days replacement, return, and refund guarantee.
Q: What if the new display combo doesn't work on my phone? 
There is no such thing that the display will not work on your phone. All the Poco X2 phones have the same screen, and If it is working on our phone, It is 100% guaranteed to work on your phone. So don't worry about this as there are no such compatibility issues.
Q: How do you test the new combo before shipping to customers? 
We have a separate quality assurance team where we keep a spare motherboard of Poco X2. We use this motherboard to check each incoming screen and isolate the defective ones so that they never go into our customers' hands.
Whenever we receive a new batch of screens from our suppliers, we thoroughly test them one by one and mark them as tested. We are using a very rigorous process to test the screens, and there is no chance of a defective product from Touch LCD Baba.
Q: Is it true that all the new screens are in working condition? 
No. It is not true that all the new screens are in working condition. As per our experience, even the screens coming from OEM manufacturers have a 1% defect rate, mostly due to the mishandling of the displays in transit. So It is imperative to test the combo before dispatch; otherwise, it is risky. We make sure to test each screen manually, and after that, we become sure about its 100% working condition.
Shipping, Return and Refund Policy
All the products supplied by us come with 30 days return, refund, and replacement guarantee. To return a product, It should be in the same condition as we sent. You can't use or fix the new Poco X2 display if you want to return it. For complete details about Shipping, Returns and Warranty, please click here.