If you are trying to find the best display replacement for Poco X3 Pro, you'll surely want to purchase it along with the outer frame. Lately, customers are getting more aware of the facts and often ask for a display replacement that comes with the outer panel. Around 30% of customers want to purchase the frame display because they are not concerned about the extra cost but need the best display for their phone. There is nothing wrong with buying a without-frame display, and around 70% of customers buy a without-frame display, but a frame display offers more benefits.
On this page, you can buy a 100% original display replacement for Poco X3 Pro and also get answers to the most common questions. If you've no idea of a frame and its usefulness, don't worry; we'll explain everything in detail, and you'll not have trouble understanding our meaning. If you've any questions that aren't answered here, please get in touch with us at 9587954273. Sometimes, customers have specific questions, and we are more than happy to discuss them.
What do you get with a Poco X3 Pro display with a frame?
If you order this display, you'll get a complete display assembly consisting of a display, touch screen digitizer glass, and the outer frame. The frame display feels more like the front half of the phone in brand-new condition, and you can also understand it like that. It is a complete package guaranteed to restore your phone to its 100% perfect levels.
What is the outer frame, and why do you need it?
The outer frame is the front side metal frame with volume and power buttons. You see a bezel all around the display, which contains the display inside; that portion is called a frame or bezel. In easier words, the frame acts as a base of the display, and it's where you fix the display using glue or double tape. If the outer frame is not in the right shape, it is impossible to assemble the display properly. A display needs a flat surface, and a frame fulfills that requirement.
Customers want to purchase a frame display because they want several benefits in one package. These benefits are :
You don't need to paste the display inside the old frame manually.
The display comes pre-assembled in a new frame, so you don't need to take off the broken display from the old frame.
A frame display is easier to install as you need to shift spare parts from one frame into another.
A frame consists of a factory-fitted display, and you can enjoy immaculate fitting.
You get rid of all the blemished you had on the old frame.
You will never face the most common light leaking issue from the edges of the display.
We hope you now understand the most vital benefits of a frame display. When you buy an original display replacement for your phone, that proves that you value your device. When you install the original display replacement, you'll feel gratitude because you got the desired replacement without breaking the bank.
Poco X3 Pro Display With Outer Frame Specifications
| | |
| --- | --- |
| | This combo is 100% original, tested, brand new, and suitable for Poco X3 Pro. |
| | The Poco X3 Pro display size is 6.67″, the display type is IPS Display, and the resolution is 1080 x 2400 pixels. |
| | The display supports a 120Hz refresh rate, HDR10, and brightness is 450 nits (goes up to 631 nits). |
| | It is a 100% original display like the one you get with a new phone. |
| | There is no need to use glue or double tapes to install the display as everything is pre-assembled for you. |
| | You also get the outer frame and display; everything comes pre-installed. |
| | We test each display manually for 100% flawless working before dispatch. |
| | You can also test the new display before installing it on your phone. |
| | We back our products with a 30 days return, refund, and replacement guarantee. |
| | The Poco X3 combo is readily available in stock and the turnaround time is very fast. |
| | You can order the product using the Cash on Delivery or Online Payment method (additional 10% discount). |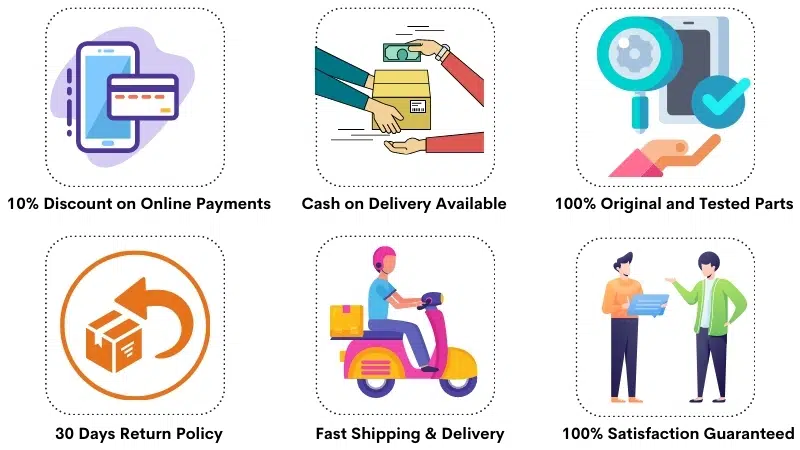 Frequently Asked Questions
Q: How much does it cost to replace the Poco X3 Pro display with a frame in India?
The price of a 100% original Poco X3 Pro display replacement with an outer frame is around Rs 4900-5000. A frame display completely renews the front side portion of your phone, and after installing the new display, you'll feel like you've just bought the phone today.
Q: Is it a 100% original display for Poco X3 Pro?
Yes. We offer a 100% original display for Poco X3 Pro, the same as in a brand-new phone. The display comes pre-assembled in the frame, and installation of the display is a breeze. You can install the display yourself or have a local technician install it. The normal installation charges are around Rs 250-300 for this model, and anything over this is excessive. These are the main benefits of buying an original display :
100% precise fitting and no lights leaking from the edges.
The original touchscreen glass is sturdy and can take minor drops easily.
You don't need to worry about sudden malfunctions, as that never happens.
The original display allows you to play games with great efficiency.
All the multi-touch features and gestures will continue to work.
You don't need to invest money every 2 months on duplicate products.
An original display never overheats the phone or draws more battery power.
Almost all customers want to buy an original display because they know its benefits. If your budget allows, you should also do the same, and you'll love the experience.
Q: Does it mean I should never buy the display without the frame?
We don't mean to say that you should never purchase the display without a frame. The frame display provides a cleaner finish, and glue will never be visible on the edges. In a display without a frame, customers often complain that the display protrudes outwards from the frame, and light is visible around the edges of the frame, and you'll not face that problem with the with-frame display.
A highly skilled technician can assemble the without-frame display properly without any complaints. However, most technicians assemble screens in a hurry, and customers are not 100% happy with the final results, and that's where a display with a frame is a life savior. If you want a Poco X3 Pro display without a frame, feel free to go for that.
Q: I need only the frame without the display. Do you have it?
A customer often finds a duplicate display online/offline for a low price in the market and then tries to find the frame separately. We are sorry, but only the frame is not available separately as it is an integral part of the display unit. We get the original frame only with the original display unit, which is not available separately.
Also, buying a frame separately and then pasting a duplicate display inside it will not make your display original. We know that customers do all this to save costs because a display is easily available while the frame is not easy to find. You can find duplicate frames in the market, but their quality is terrible compared to the originals.
Q: Does POCO X3 Pro have an Aluminium frame?
Yes. Poco X3 Pro comes with Aluminium fame which is quite sturdy and holds the display firmly in place. The frame's grip is solid and helps you hold the device firmly without any fear of skidding the phone from your hands. A display assembled inside a metal frame is more prone to damage because the glass will surely break when metal and glass clash after a drop.
Q: Does Poco X3 and X3 Pro have the same screen?
Yes. You can use the same display in Poco X3 and Poco X3 Pro. There are some hardware differences between these two devices, but the display unit is the same, and you can use it interchangeably. We've tried this several times and are speaking this based on real-world experience.
Q: Can I buy the original display from the Mi Store?
Yes. You can buy the original display from the official service center; nothing is wrong with that. However, the official service centers are not present in all the locations, and the availability of spare parts is not guaranteed. Sometimes a particular display might not be available in the service center for months, so you can't wait for a long time. If the service center is easily approachable and you are not hesitant to pay a premium price, the service center is also a good option.
Q: Do you allow open delivery and payment after testing the display?
Some customers think it is easy to take away the content without payment, test it to their satisfaction, and after that, they will decide whether they want to pay. If such a customer calls us and asks for all these unreasonable things, we are happy to turn down such requests and are not even looking for such customers.
We have not sold our souls for business and will not accept such requests or customers under any circumstances. We will even cancel a prepaid order if the customer is overly aggressive because we don't want hassle for our team members. We want to do our business with 100% honesty and customer satisfaction, but that doesn't mean we'll bow unnecessarily. When you buy a product from anyone, you are not in a superior position as many customers think. You need to buy a product, and a seller needs to sell a product, and everything should be handled in a friendly way.
Poco X3 Pro Display With Frame Photos
If you want to see the real images of the product, please refer to the below images. As you can see, the display and touchscreen combo is already glued to the frame, and manual pasting isn't required. For questions, call us at 9587954273.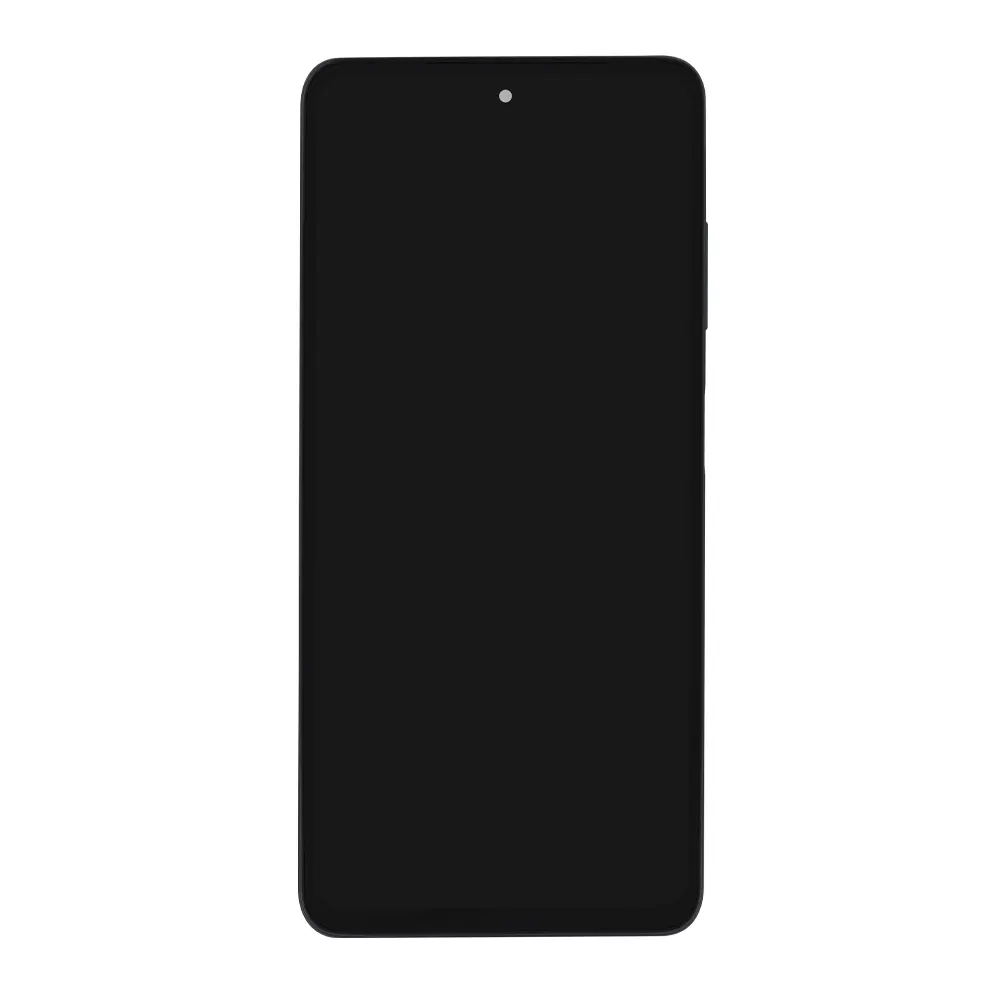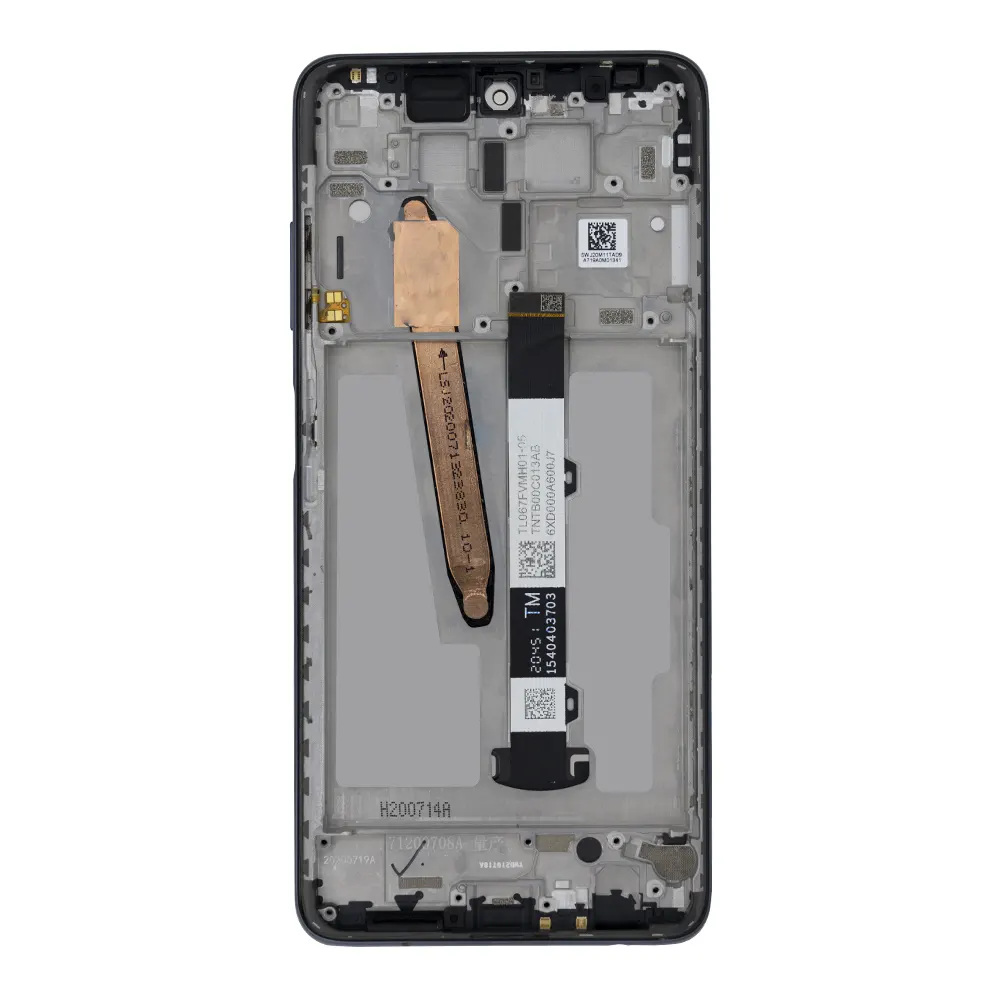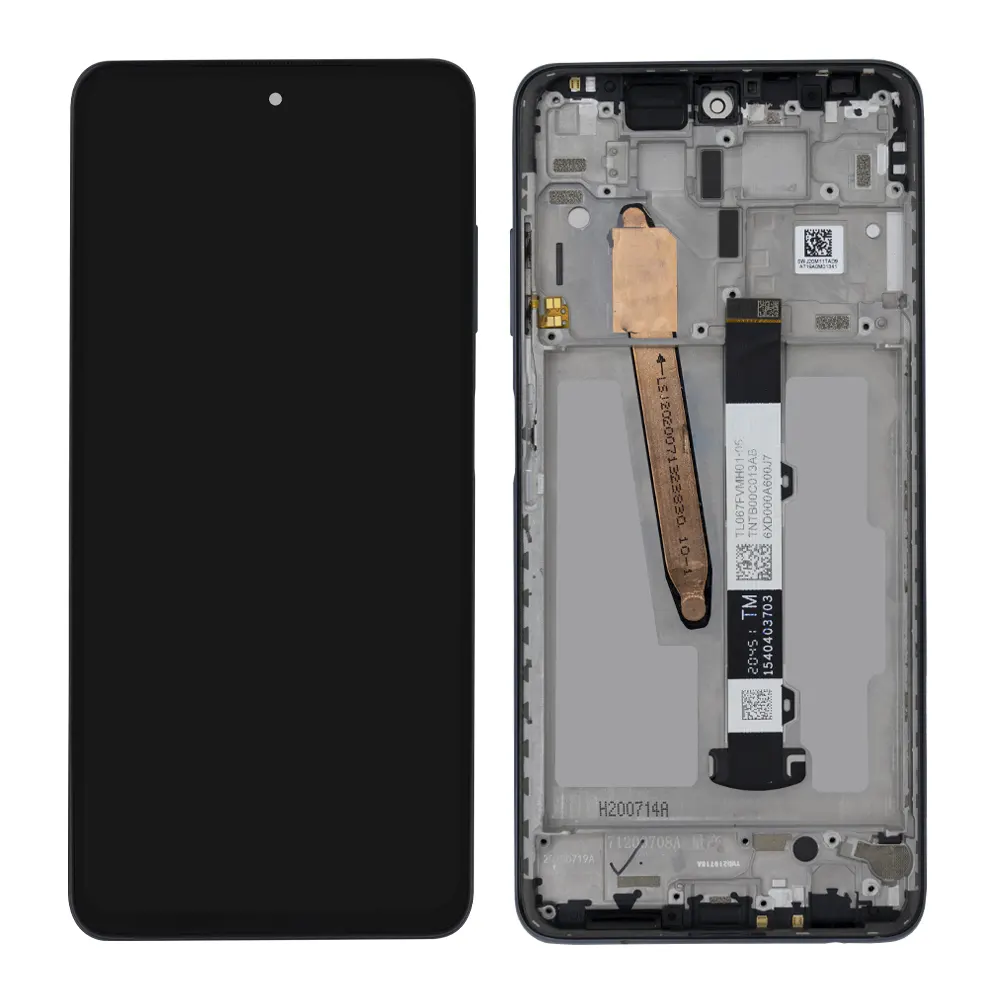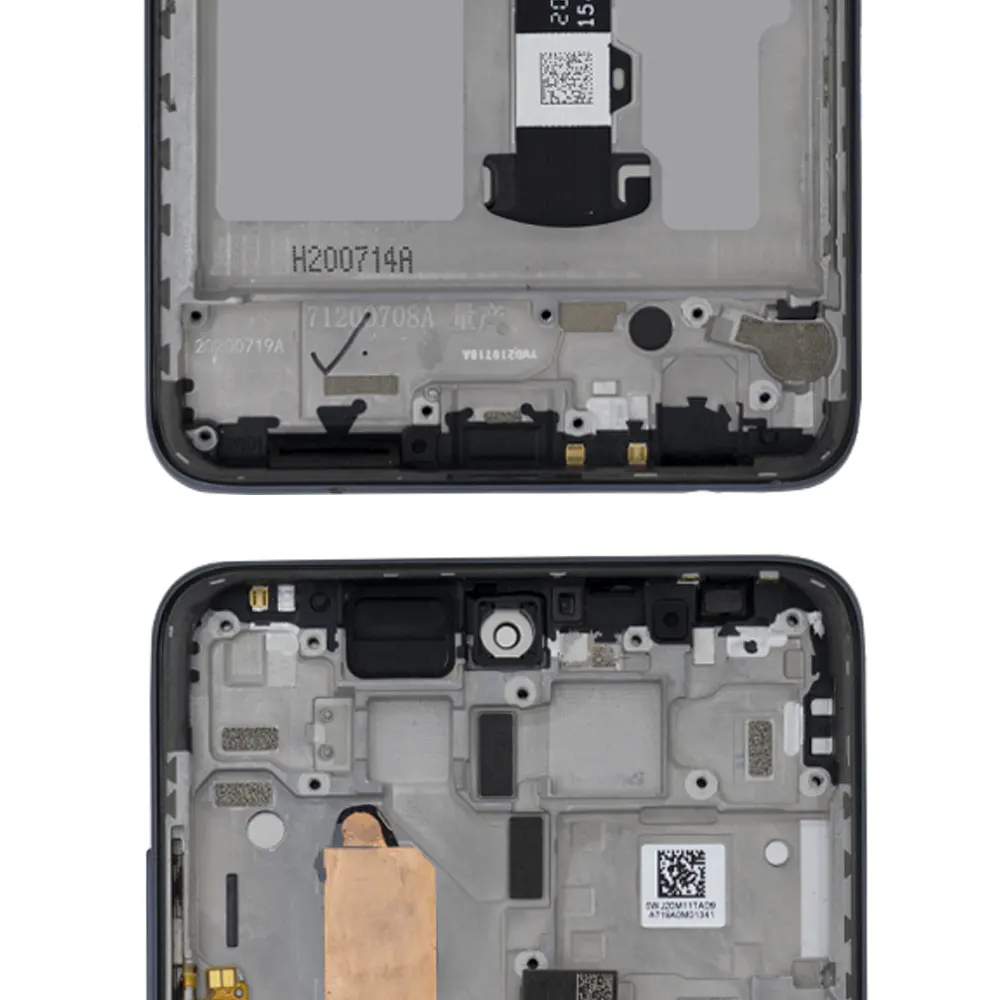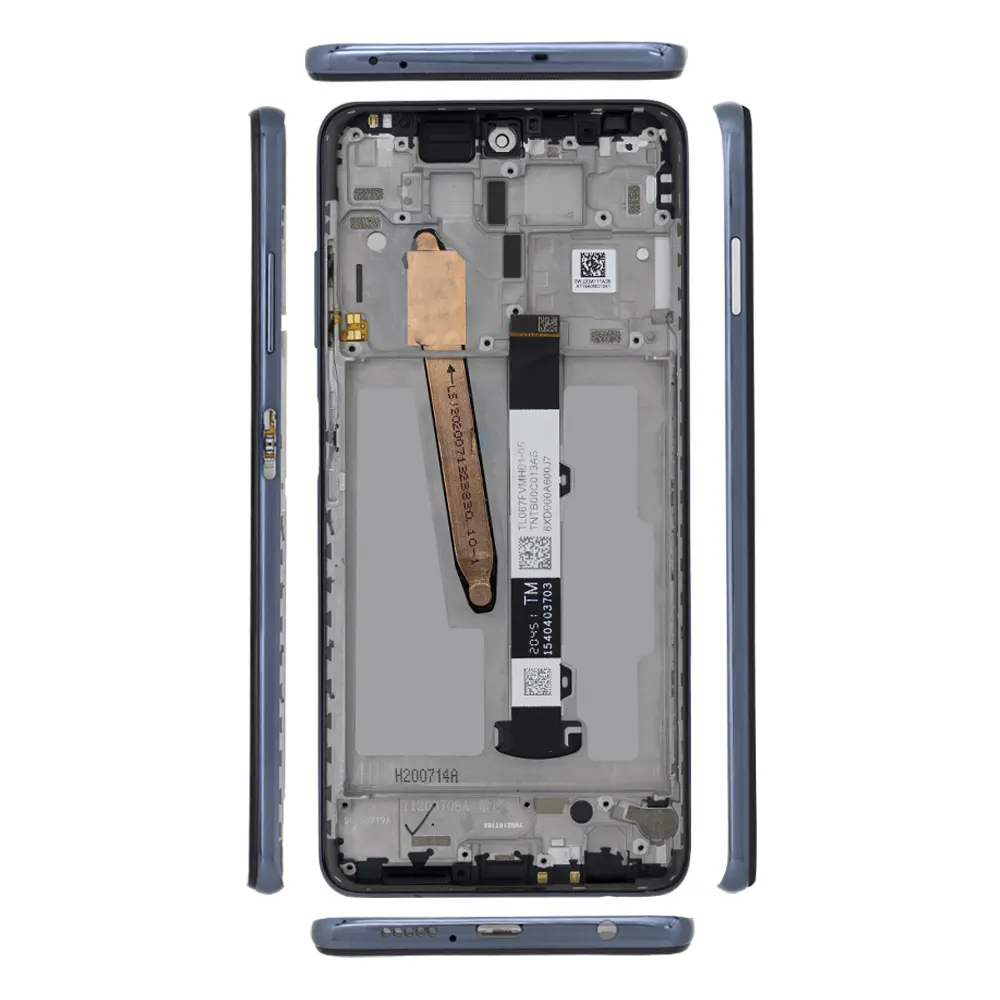 Shipping, Return and Refund Policy
All our products come with 30 days return, refund, and replacement guarantee. To return a product, it should be in the same condition as we sent. You can't use or fix the new Poco X3 Pro display if you want to return it. For complete details about Shipping, Returns and Warranty, please click here.