Looking for Realme 3 display price? If you have a broken Realme 3 display or touch screen glass, you can easily replace the Realme 3 combo and restore the full functionality of your phone. The part you see here is complete Realme 3 Combo, which can be used to replace a broken display or touch screen glass. Combo means the full set of Display and touch screen both parts.
In most cases, when Realme 3 phone is scratched, you will end up damaging the touch screen glass only. However, as the display and touch screen, both parts are combined, you can't separate them. Still, many customers try to opt for only glass replacement without understanding the quality issues it is going to create. If you opt for glass replacement of Realme 3, It is the worst thing you can do with your phone. It is because the quality of glass replacement is quite inferior and you will lose all the quality of your phone.
How do we test the Realme 3 display?
If you are worried about receiving a product that is not working, please watch this video. Customers are most afraid of what will happen if a bad display comes in, and this is why we have recorded a video. That is how we test each display for 100% perfect working before shipping to you.
That is why the parts supplied by Touch LCD Baba are always 100% working. We use the same phone's motherboard as you use to test the display, and that's why if the display is working on our phone, It will work on your phone also.
Do you sell the OEM display or aftermarket display?
The Realme 3 display we sell is 100% Pure OEM, and after fitting the display, you will not even realize that you have replaced the screen. It is the beauty of the OEM part because the part comes from the same factory that makes for the company. So essentially, the screen fitted in your phone and the screen we supply is 100% identical. That's why you can expect 100% the same color reproduction, brightness, sharpness, and smoothness in our Realme 3 display.
We don't sell aftermarket parts as they are duplicate ones. Mechanics call them with fancy names like a first copy, OG, 99% quality, and other similar words that sound good to mind. If the mechanic directly says that it is a duplicate screen, then you probably won't buy it. That's why mechanics and shopkeepers call duplicate screens using words like OG, so you can't figure it out quickly.
Can I replace the Realme 3 display myself?
It is effortless to replace a damaged screen of Realme 3, and you can get it done almost anywhere by a mechanic. If you have basic knowledge of mobile repairing, you can do this at your home, and If you don't know how to do the screen replacement, It is always a good idea to seek the help of a professional. After replacing the broken display, you can continue using your phone without any issue. If you have any questions about Realme 3 combo replacement, please feel free to call our helpline number.
A damaged Realme 3 screen is nothing to worry about, and If you are frustrated about what will happen now, calm down. It is quite easy to break your phone's screen, and It happens with everyone. However, as the screen replacement is readily available, you can always buy a new screen and replace the broken one.
Product Description
| | |
| --- | --- |
| | This combo is 100% original, brand new and suitable for Realme 3, model number RMX1825. |
| | Realme 3 display size is 6.22″, display type is HD+ IPS LCD display with a resolution of 1520 x 720 pixels @271 PPI density. |
| | You can use this Realme 3 Combo to replace a broken display or touch screen glass. |
| | The combo comes as a complete unit of display and touch screen combined together. |
| | The touch screen glass is protected by Corning Gorilla Glass 3 protection. |
| | Realme 3 combo supplied by us is 100% original and free from any defects. |
| | We test each display one by one to make sure you receive the best combo. |
| | We offer 30 days replacement and return guarantee in case of any problems. |
| | The combo is readily available in stock and shipping time is very fast. |
| | You can order the product using Cash on Delivery or Online Payments. |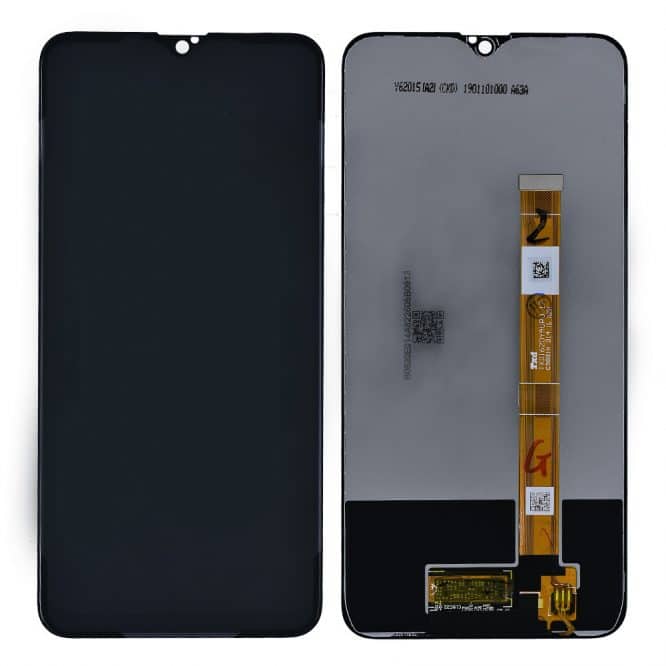 The Display is safe, but only the glass is broken. What to do now?
It is probably the most popular question asked by customers. When the display is scratched, the customer knows that he has to spend money now, but his mind wants to spend as little as possible. Then one thought comes in a customer's mind, and that is replacing only the glass and using the same display.
Although it is possible to replace only the glass yet after that, you will have a phone of much lower screen quality. As you know, cheap solutions always come with pain, and this is true with glass replacement. In most cases, after screen replacement, the brightness of the display will go down, and colors will be different from what they were before. So the screen quality will demolish, and you can not get the same quality with glass replacement.
Additionally, the official service center never replaces only glass but they always replace the entire combo. We also don't do or recommend only glass replacement because you are just wasting your money on a cheap quality glass, which will break again in no time. We strictly follow quality protocol, and that suggests combo replacement is always the best option.
Frequently Asked Questions
Q: How much does it cost to replace a broken Realme 3 display in India?
The price of a 100% original Realme 3 display replacement is around Rs 2400-2600. If you buy a first copy screen replacement, then the combo costs about Rs 1100-1300 in India. The quality difference between the original and first copy correlates with the price difference.
Q: Is it possible to replace a broken display under warranty for free?
Customers call us and emphasize that they still have a valid one year warranty on the phone, and they should get a display replacement for free. However, It doesn't make any sense because a broken Realme 3 display is your fault, and nobody will replace a broken screen. You can surely ask for repairs in the service center, but you've to pay the full price for the new display.
Q: I'm getting the display for a low price, and your price is high. Why?
We know that customers are biased towards low prices. Even when they search for products, they tend to buy the cheapest option available. However, the display replacement you usually see in the local market are first copies. They are not originals, and you will observe a massive difference in the quality.
Many customers feel that they are geniuses and found an awesome deal, but no one is running the business to make losses. If you are paying less, rest assured about getting a low-quality display, and it is very normal in local markets.
Q: Do you test the new Realme 3 display before shipping?
We do test each display before shipping it to our customers. You can see the video showing how we test each display on the top side of this page. We use Realme 3 mobile phone's motherboard, connect the new display to the actual phone, and then verify the working condition. This testing process is exhaustive, and there is no chance of any flaw afterward. Still, we back our products with 30 days replacement and return guarantee in case you face any unforeseen issues.
Q: Mechanic suggested me the glass replacement instead of combo. Why?
The glass replacement is not a guaranteed solution, but it is more like taking chances. If the replacement is successful, you'll have a refurbished display. If It fails, you will need to replace the entire combo as a final solution. All in all, we don't suggest glass replacement due to quality issues. If you don't have the budget to buy the original display, you can try your hands on it.
Mechanics always suggest glass replacement because they are aware of customer's inclination towards low prices. It is also a wonderful way for the mechanics to make nice money by applying a Rs 60 touch screen glass and charging Rs 1000 from the customer. If you thought, we are talking about the tempered glass, you are wrong. We are talking about the main touch screen glass, which costs Rs 60 only. Now the choice is yours if you want a quality solution or waste your money.
Q: How can I test the display before fixing it permanently? 
You should always take a trial of the display before you fix it. To do that, please connect the display to your phone's motherboard and turn on the phone. Please be informed that there is no need to fix or paste the display for testing it. You can simply connect the display when the phone is in open condition and take a trial like you are actually using the phone. When you are satisfied with the performance, you can go for the final pasting.
Shipping, Return and Refund Policy
All the products supplied by us come with 30 days return, refund, and replacement guarantee. To return a product, It should be in the same condition as we sent. You can't use or fix the items If you want to return. For complete details about Shipping and Returns, please click here.