If you don't want to go through the hassle of pasting the display manually in the frame, the Realme 9 Pro display combo with the outer frame is the way to go. If you damaged your phone extensively and the front side body twisted to some extent, you must buy a display with an outer frame. A Realme 9 Pro display combo with the outer frame is effortless to install because you need to swap the broken part with the new one.
Till now, you might not fully understand the outer frame and its use. On this page, we'll answer all the questions regarding Realme 9 Pro display replacement and enlighten you about when you must purchase a with-frame display and when a without-frame display can serve your purpose. Therefore, you should continue reading further, and you'll find useful information to help you make the right decision.
What is the outer frame/bezel/outer ring?
An outer frame is a front-side portion of a phone that holds the display firmly in place. A mobile phone display needs a flat surface for pasting, and the frame serves that purpose. A display always sticks inside the frame, and many customers call it a bezel / outer ring / outer body and other similar names.
You need the display replacement with the outer frame if the existing frame is chipped off or bent to some extent. In many cases, a severe accidental drop will not only break the display but also break the outer frame. In such cases, you need to purchase the display with the outer frame shown on this page. If the outer frame is not damaged, you can still purchase a with-frame display because it is easier to assemble and saves you a lot of hassle.
Do I need a Realme 9 Pro frame display in all cases?
You don't need the display with an outer frame in all cases but only in severe damage cases. If you want to purchase a display without the outer frame, please visit this page. Many customers always purchase a frame display because they are aware of these benefits :
You don't need glue/double tape to assemble the display.
The display comes pre-assembled in the frame, and manual pasting is not required.
A with-frame display is way easier to assemble, and there is no risk of damaging the display during installation.
You can install the display easily at home with basic mobile repairing skills.
As the OEM factory assembled the display, you won't see any gaps or glue around the corners, which is common with a manually assembled display.
The front side portion of your phone gets completely renewed.
Here, you should know that buying a display with a frame is more beneficial. If you aren't keen on saving a small amount, you should always purchase the display with the outer right for maximum benefits and long life. A frame display combo overpowers all other alternative methods in every aspect, and that's why tech-savvy customers prefer this solution.
Realme 9 Pro Display Specifications
| | |
| --- | --- |
| | This combo is 100% original, tested, and suitable for Realme 9 Pro, model number RMX3471. |
| | The screen size is 6.6″, the display type is an IPS LCD, and the resolution is 2412 x 1080 Pixels. |
| | The new display offers 100% original colors, quality, and brightness. |
| | We test and verify the working condition of each display before dispatch. |
| | It is a factory-assembled display, and you won't see any glue or pasting signs on the product. |
| | You'll get the same product as it comes assembled with a brand-new phone. |
| | We securely pack the fragile content in hard plastic boxes with additional protective layers. |
| | A frame display helps you resolve all the damage cases with great ease. |
| | We back our products with a 30 days return, refund, and replacement guarantee. |
| | You can always contact us on WhatsApp or our support team at 9587954273. |
| | You can order the product using Cash on Delivery or Online Payments (an additional 10% discount). |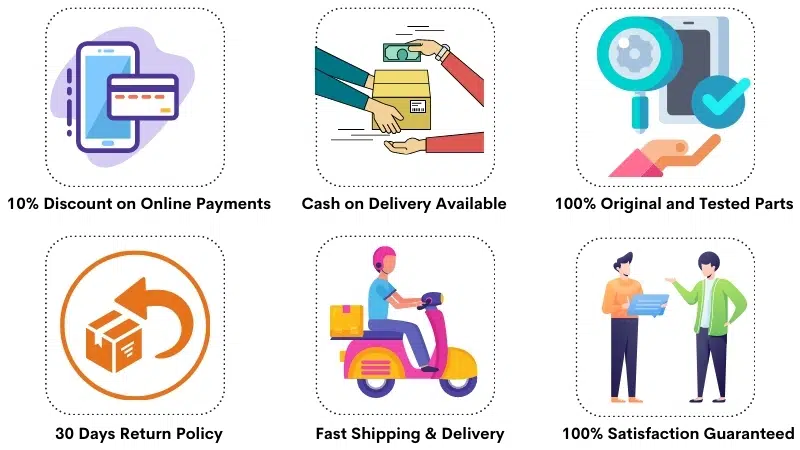 Frequently Asked Questions
Q: How much does a Realme 9 Pro display with frame cost in India?
The price of a 100% original Realme 9 Pro display replacement with an outer frame is around Rs 3800-4000. You can buy a without-frame display for Rs 3200-3300, so the price difference is really not massive, and you should always purchase a pre-assembled display with the outer frame whenever possible.
Q: How can I replace only the glass and reuse the display?
Replacing only the broken glass and reusing the old display is called glass replacement. You can find many technicians in the local market doing this job, but the quality of glass replacement is terrible. You can try on glass replacement if that is what you want, but we don't recommend such solutions because of quality issues.
A technician will remove the broken main touchscreen glass from your phone and install a duplicate glass (which is available for Rs 50 in the wholesale market) on it. They use various techniques to replace the glass, and you can find complete glass replacement videos on YouTube to see how messy this process is. One thing is for sure, the glass replacement can never yield the quality of the original brand-new display, and this fact will never change.
Q: What can I do if the new display doesn't work?
We test each display manually before shipment, and if you face any problems, you're covered by a 30 days return, refund, and replacement guarantee. If you test a display before installation and face any issues, call us, and we'll arrange a return for you. Please note that used/installed products are not eligible for a return.
However, please also note that the chances of receiving a defective product are non-existent. That's because new original screens are as good as new mobile phones. Each display goes through several suppliers, who would test it before supplying it to the next party. Therefore, you should worry about this, and you also get a 30 days return time anyway.
Q: How can I test the display If I don't install it?
If you thought installing the display was mandatory to test it, that's not true. You can easily test a new display, without installation, by following these steps :
First, please decouple the back panel of your phone.
Open the necessary screws to access the motherboard.
Gently Eject the old display's connection from the motherboard.
Now connect the new display's cable to the motherboard in the right direction.
Turn on the phone, and you can easily test/use the new display.
To test the new display, you don't even need to remove the old display from your phone. After testing and verifying the working condition of the new display, you should proceed further with the following installation steps to assemble the new display on your phone.
Q: Should I purchase the display and the frame separately and combine them?
If you want to purchase a display and a frame separately to save some money, that idea might not be the best. That's because all frames sold separately are duplicate ones and don't provide proper fitting to the customer. If you purchase a used original frame (possible), you will end up with an old worn-out product. Therefore, you should try to invent the wheel, and a better approach would be to purchase a factory-fitted original part.
You can easily purchase a factory-fitted Realme 9 Pro display combo and the frame. The OEM manufacturer assembles the part, and their installation techniques are immaculate. They paste the display using adhesive stickers, and for this reason, the final fitting is excellent, and you'll not see any glue or other remainder adhesive anywhere on display. That's why customers love factory-fitted products because manually assembled products are always a bit messy.
Q: Why should I purchase original spare parts?
You can find duplicate/low-quality products on every corner, but their life is short-lived. If you purchase a duplicate display replacement,  you'll lose a large chunk of display quality and colors. Many customers complain that they bought a local display and now it is blinking or its touch screen works automatically. These issues are prevalent with fake screen replacements, which are prevalent in the market.
You can avoid all these issues if you purchase an original display replacement. Original spare parts undergo strict quality testing, and manufacturers use the best quality material to construct original screens. That's why original screens last much longer without disruptions, which is never possible with duplicate spare parts. You should always purchase original spare parts for longevity, hassle-free experience, and long-term durability.
Q: Where is the official Realme service center in my city?
We are sorry, but we have no affiliation with Realme and are unaware of the information you need. In this case, you should visit Realme India's official website or call their toll-free number to get the necessary information.
Q: What is the meaning of a display Combo/Folder?
A display unit is also called using words like combo/folder/display assembly. It would help if you weren't confused because all these words indicate a unit of display and touch screen digitizer glass. So if someone says you need a folder, they refer to a display and touch screen unit.
You should also know that display and touch screen glass are manufactured separately, but later, the manufacturers combine them using LOCA glue. It is an optically clear glue that prevents dust and other particles from getting between the display and touch screen glass.
Q: Does Realme 9 Pro consist of an AMOLED display?
Realme 9 Pro doesn't have an AMOLED display, but here is a catch that confuses the customers. Another model, the Realme 9 Pro Plus 5G, comes with an AMOLED display, while the Realme 9 Pro phone comes with an IPS LCD. It would help if you always bought the display after ensuring the proper model of your phone.
Realme 9 Pro Display Photos
Please refer to the images below to see the display's appearance before ordering. If you've any questions, please call us at 9587954273.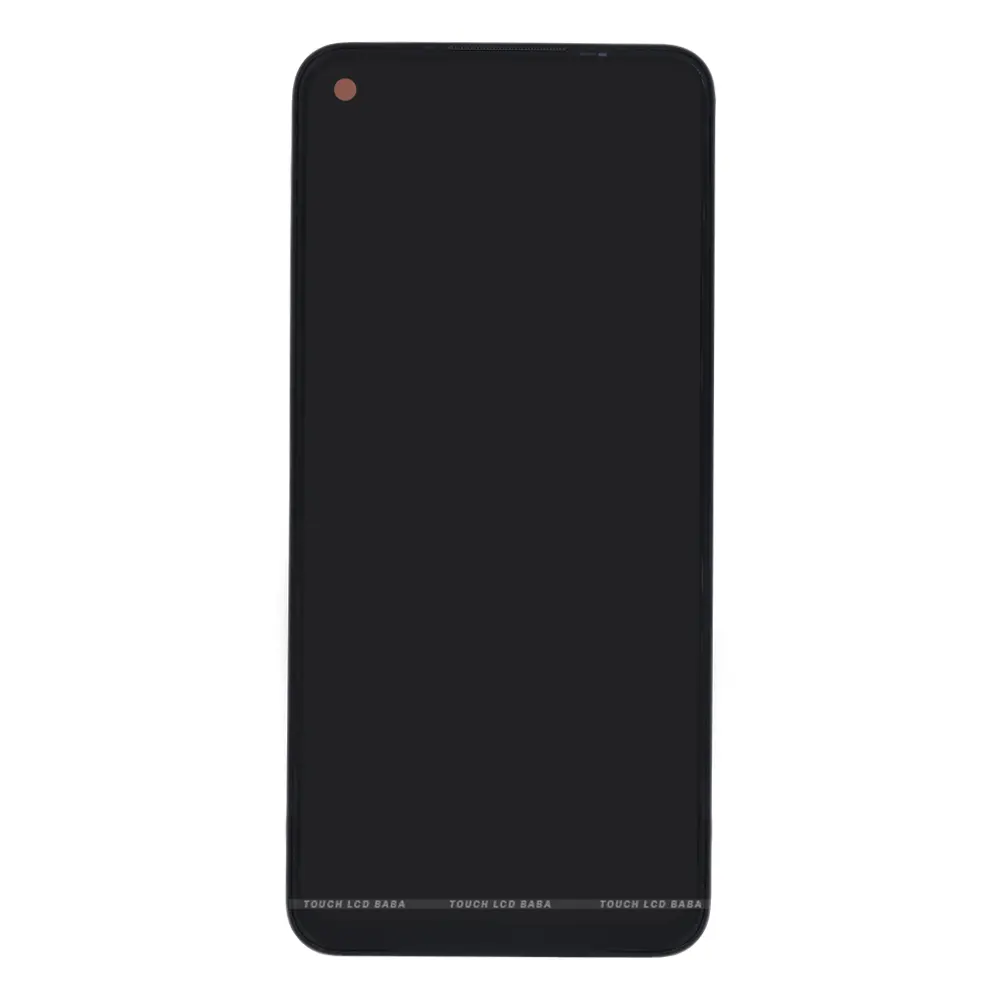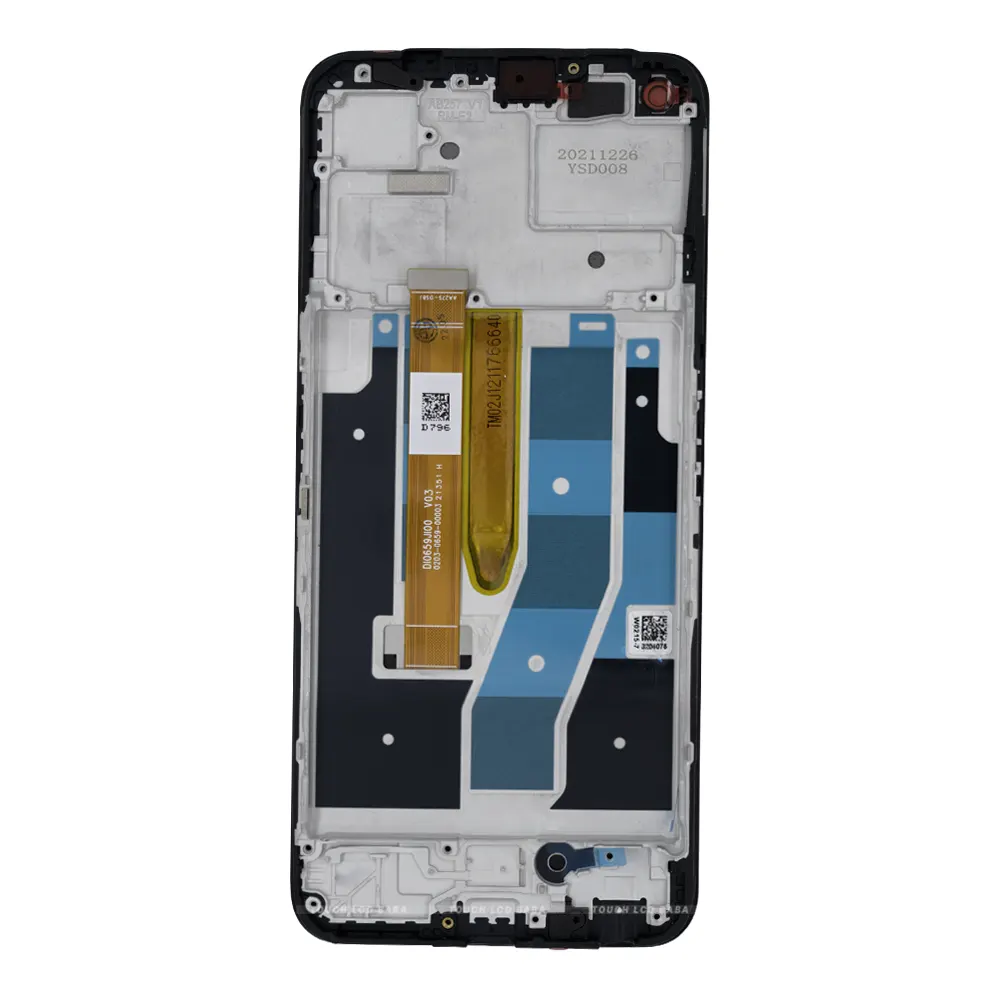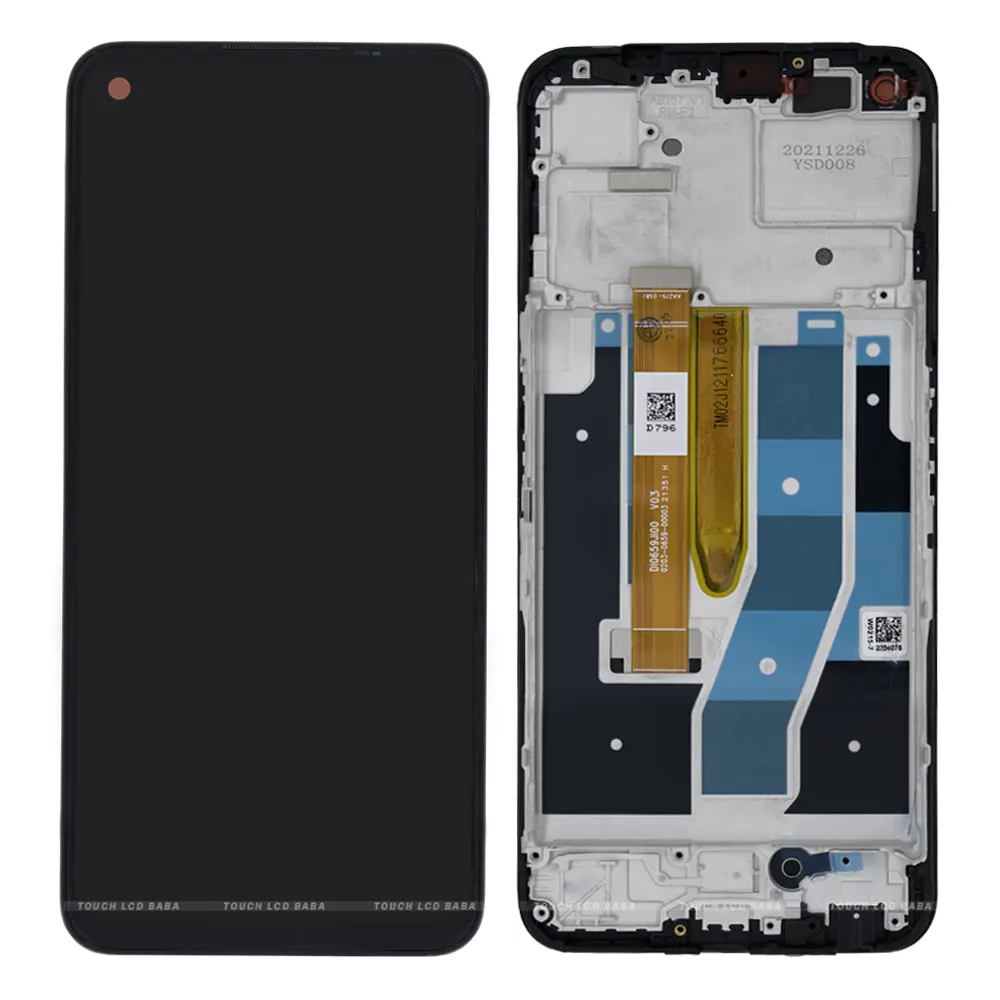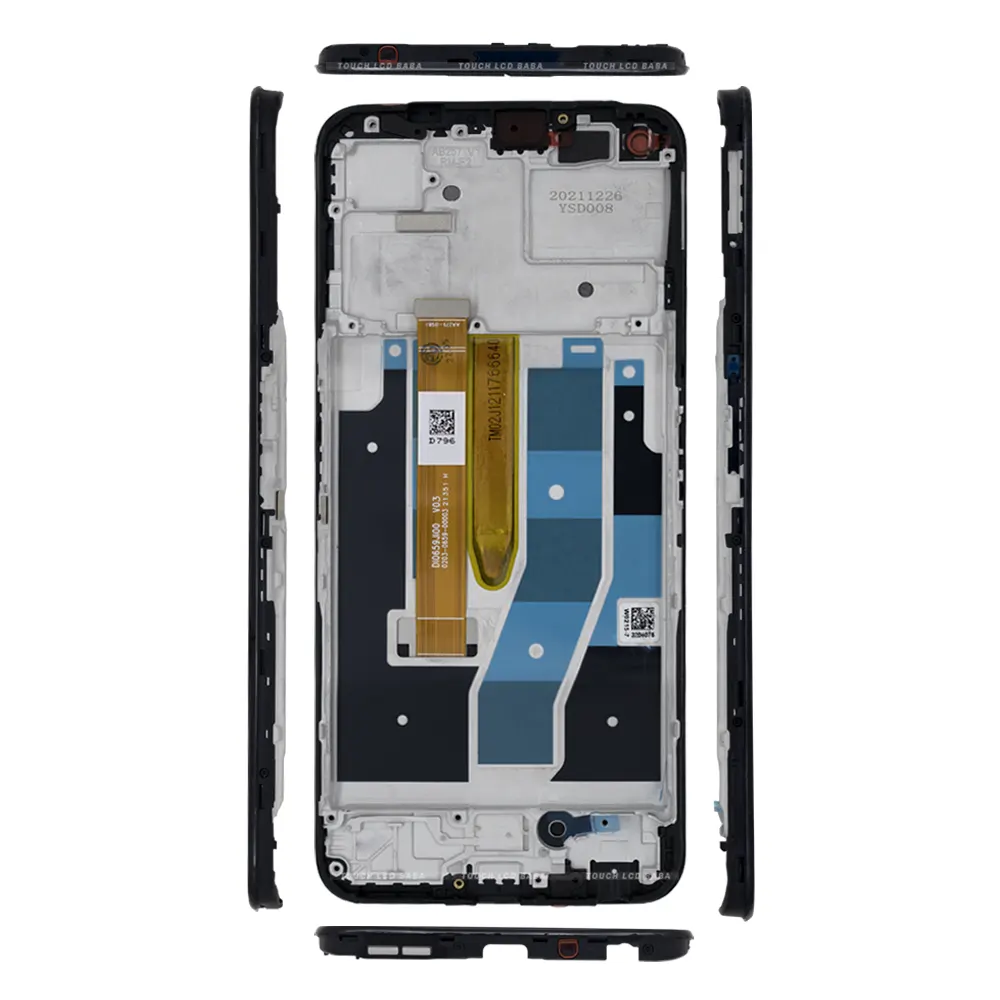 Shipping, Return and Refund Policy
All our products come with 30 days return, refund, and replacement guarantee. To return a product, It should be in the same condition we sent. You can't use or fix the new Realme 9 Pro display if you want to return it for any reason. For complete details about Shipping, Returns and Warranty, please click here.