Your search ends here if you need a 100% original display replacement for the Realme GT Neo 2 phone. Many customers need trustworthy vendors to buy original screen replacements, and things become super tough when all the local vendors use non-original screen replacements. Many customers have gone through the pain of getting a non-original display even when they paid for the original to the technician. If you want a 100% original display replacement without any quality compromise, you should at least try our products for once.
You might have bought screens from the local market several times before, and we are not sure about your experience. Most customers who buy products within their city get non-original screens because of neck-to-neck competition between shopkeepers. Shopkeepers want to retain customers by offering the lowest prices, and selling the cheapest quality products is the only way for them. On this page, you can find a lot of information about Realme GT Neo 2 display replacement and buy a 100% original display for your phone without worrying.
What is the meaning of the Realme GT Neo 2 display combo?
A display combo consists of an inner display and a top layer of touchscreen digitizer glass. The touchscreen glass is combined with the display, and the resultant unit is called a display combo. All over the world, display combos are the answer to any damaged display or touchscreen glass. Please note that combo always consists of two individual parts into one, and you can't take away individual parts from it as per your necessity.
For example, you might have cracked only the top layer of glass, and everything else might function flawlessly on your phone. Even if the inner display is good, the touchscreen works, and everything is fine except the touchscreen glass, you still need to replace the complete display unit regardless of what is broken and what is good. If an individual part is broken (either the display or the touchscreen glass), you must still replace the complete display unit.
Can't I replace only the touchscreen glass to save money?
Please note that the structure of a display combo completely disallows glass replacement, as the display is closely combined with the touchscreen glass. If you try to separate the broken glass from the display, the inner display will also break, and then you must replace the complete combo. Still, technicians and customers ignore all the quality protocols and tend to override the standard display replacement methods. Glass replacement is a popular method of replacing broken touchscreen glass with a new one.
If glass replacement is possible, that doesn't mean it is a good solution. All the technicians recommend glass replacement to make money for themselves, and as customers are fully biased to get cheap solutions, they are easily convinced of glass replacement. So, glass replacement feels like a perfect solution for both parties, but it is not a worthy solution for the customer. Here are the major setbacks of glass replacement :
Glass replacement is entirely based on using a duplicate touchscreen glass to replace the original glass.
The non-original touchscreen glass doesn't have the Gorilla Glass protection and cracks easily.
If you drop the phone again after replacing the glass, it will break easily as it is too delicate.
After replacing the glass, the display loses its original glory, and the brightness becomes dull.
The customer always bears the risk of damaging the display during glass replacement.
A duplicate touchscreen glass is not smooth and doesn't work fluidly like the original Gorilla Glass.
The display becomes patchy, having white spots, dull colors, and other similar issues.
We don't recommend glass replacement because of its low-quality outcome, and you will forever lose the durability of your phone. A local touchscreen glass costs only Rs 100, and technicians charge several times more, up to Rs 2000. The total amount charged towards glass replacement goes into the technician's pocket, and you don't get any value. Therefore, always avoid glass replacement if you want a flawless display.
Realme GT Neo 2 Display Specifications
| | |
| --- | --- |
| | This display is 100% original, tested, and suitable for the Realme GT Neo 2 (Model No. RMX3370). |
| | The Realme GT Neo 2 display is 6.62″ AMOLED with a 120Hz refresh rate and 1080 x 2400 pixels resolution. |
| | We offer a 100% authentic display replacement with Corning® Gorilla® Glass 5 protection, HDR10+. |
| | The screens we sell arrive directly from the OEM manufacturer and are 100% genuine spares. |
| | Our testing team tests and verifies the flawless condition of each display before shipping. |
| | The new display also supports the under-display fingerprint scanner. |
| | The display's colors, brightness, and contrast are 100% impeccable. |
| | You can also verify the new display's working condition before fixing it. |
| | After delivery, you've 30 days in your hand to verify the working condition of our product. |
| | The display is readily available in stock, and the shipping time is fast. |
| | You can order the display using Cash on Delivery or Online Payments (10% additional discount). |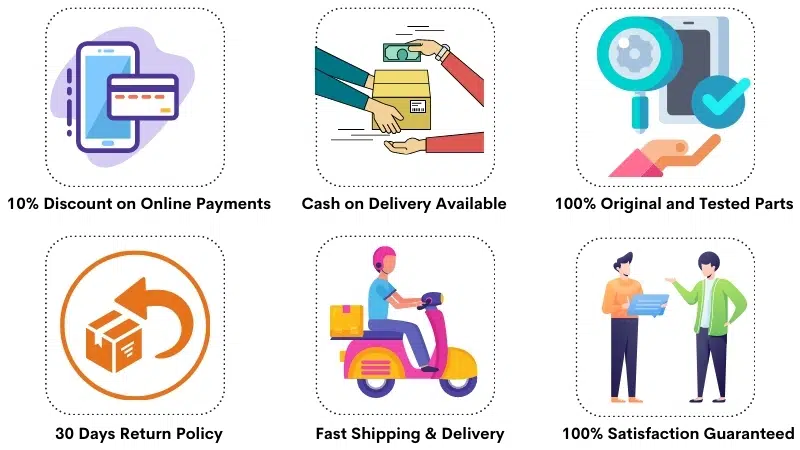 Frequently Asked Questions
Q: How much does a new original Realme GT Neo 2 display cost?
A 100% original Realme GT Neo 2 display replacement costs Rs 8800-9000 rupees. This price is valid for a 100% genuine OEM display identical to what you get with a brand-new phone. You might also be able to find compatible duplicate screens for this model for less price, but their quality is nowhere near the original. You can save money with duplicate screens but can't get the flawless experience of the original display.
---
Q: How come you have the original display? Isn't it available only in the service center?
All the official service centers indeed offer original display replacements, but it is not true that original screens are not available anywhere else. To summarize this concept, the original screens arrive from the OEM manufacturer, a specific factory making and supplying original screens to mobile phone manufacturers. It is possible to buy screens directly from the OEM, and all these screens are identical to what comes assembled with a brand new phone, and you can even compare the screens without any hesitation.
If you visit the official service center, they always try to plant a theory in the customer's mind that the original display isn't available anywhere except them. So the customer feels that when the brand says it isn't available anywhere, how can someone have it? We request you come out of this misconception as it is not true, and original screens are available outside, but their price is not cheap.
---
Q: What are the most common problems with duplicate screens?
Customers buy duplicate screens to save money, but a fake display doesn't offer the quality and features of the original display. First, you should understand that duplicate screens arrive from small third-party manufacturers who use trashy raw materials to reduce the cost and manufacture a duplicate display. The glass, flex cables, and components are all low-quality spares, and a duplicate display doesn't support several features supported only by the original display. These are the major differences between an original and a copy display :
A duplicate display's colors, brightness, and all other aspects are 50% lower than the original.
You can't enjoy the 120Hz refresh rate with a duplicate display, but only the original display supports that.
The multi-touch features vital for playing games don't work with a duplicate display, and you can't play games with multiple fingers.
You can't use the in-display fingerprint unlocking with a compatible display.
A duplicate display is too dull to watch multimedia content like movies on the display.
A duplicate display draws much more battery power than the original one.
You don't get the Gorilla Glass protection on duplicate display, so it breaks easily.
Please note that the original display is expensive, and a copy display is around 50% cheaper. You should never expect that an original display is easily available for a low price because that won't happen. Any attempt to get an original display for cheap results in fake products is something you should always understand.
---
Q: How can I verify the new Realme GT Neo 2 display's working condition?
You can easily test and verify the new display's working condition by connecting it to your phone's motherboard in an open condition. A customer would always like to try the display in real-time before installing it, and that's possible with open-condition testing. Open condition testing lets you operate the display and touchscreen without pasting/installing it on your phone. Here is how you can test the new display in an open condition :
 First, you need to remove the back glass of your phone using the appropriate technique.
Then open screws from the ringer and charging section at the bottom.
Once you open the screws and remove the speaker, you'll see the display's flex cable connected to the charging PCB.
Gently eject the old display's connection and then connect the new display's flex cable.
Disconnect and reconnect the battery, and then turn on the phone.
Now, you can see the graphics on the new display, and once the phone boots up, you can also use the touchscreen.
Open condition testing is the final step to verify the display's working condition. Once you've verified that the display is good and works perfectly, you must install it carefully. Some customers have asked if the display cracks during installation, would it be possible to return it, and the answer is pretty obvious. Our responsibility is limited to testing the display, and you can't return a display after installing it.
---
Q: I can't install the display myself. What should I do?
A customer obviously can't install the display and would need some support.  These days, you can easily find mobile phone technicians in the local market and have them install the display for Rs 300-500. You can easily find trained professional technicians in the local market who do this job regularly. Before ordering the display, you can discuss it with a technician and order the product.
---
Q: What should I do If I can't afford the original?
If you can't afford the original display, It makes sense to look for cheaper alternatives. These alternatives are typically fake screens sold for low prices, but their quality is not worthwhile. You can use these screens for a short period, and a duplicate display does not support the fascinating features of the original display, like multi-touch, higher refresh rates, and fingerprint scanner.
Please note that duplicate screens are manufactured to reduce costs and attract most customers. Any typical customer will always try to find screens for low prices, and first-copy screens are the trap. You can repair your phone temporarily using duplicate screens, but such products don't last long.
---
Q: Does the new display support in-display fingerprint?
Yes. The new display is 100% original, and the in-display fingerprint scanner works flawlessly. Please note that fingerprint scanning also depends on other hardware components of your phone, including the optical reader and charging flex. So, all other supporting components must be in good condition; otherwise, the fingerprint will not work. In 99% of the cases, the fingerprint works without any additional tweaks, but in some cases, you might need to do fingerprint calibration to make it work. If you need any assistance, please get in touch with us at 9587954273.
---
Realme GT Neo 2 Display Photos
If you want to see the actual product photos, please refer to the below images. These images represent the actual product you'll get after your order. In case of any questions, please feel free to call us at 9587954273, and we'll be more than happy to assist you further.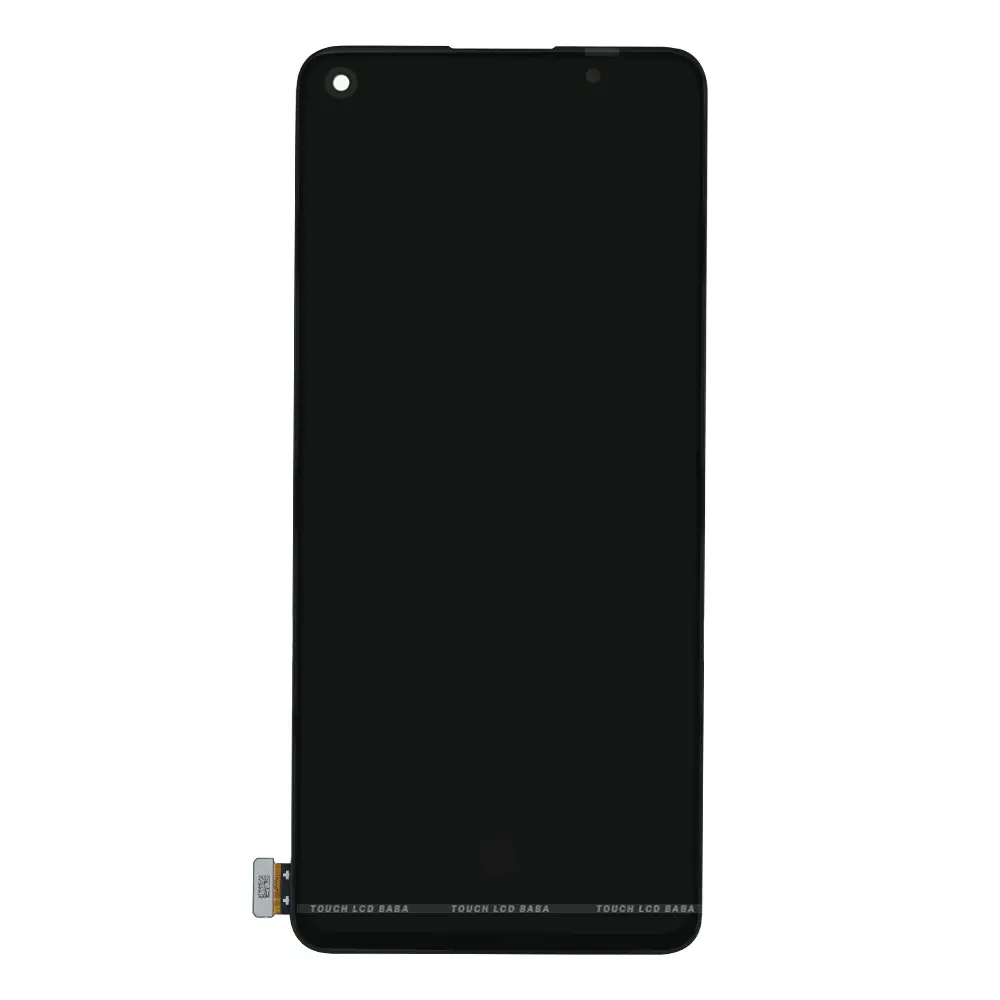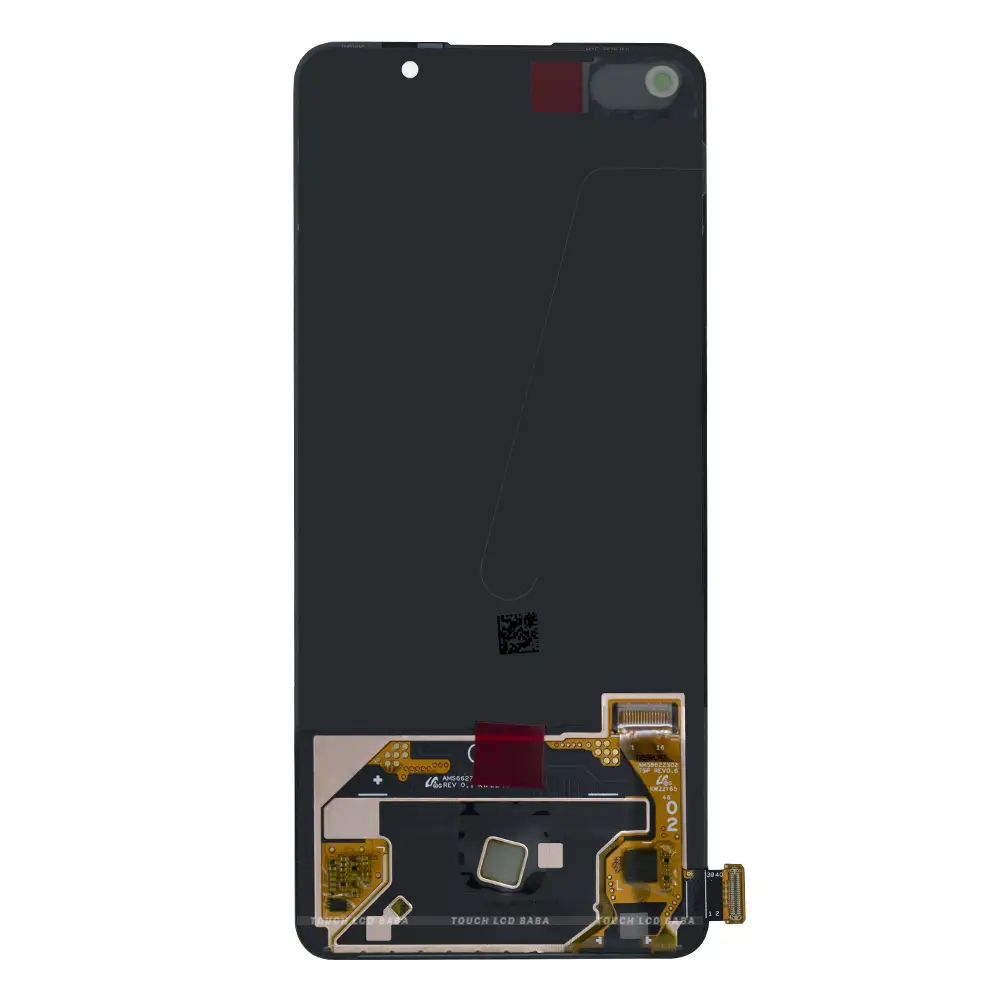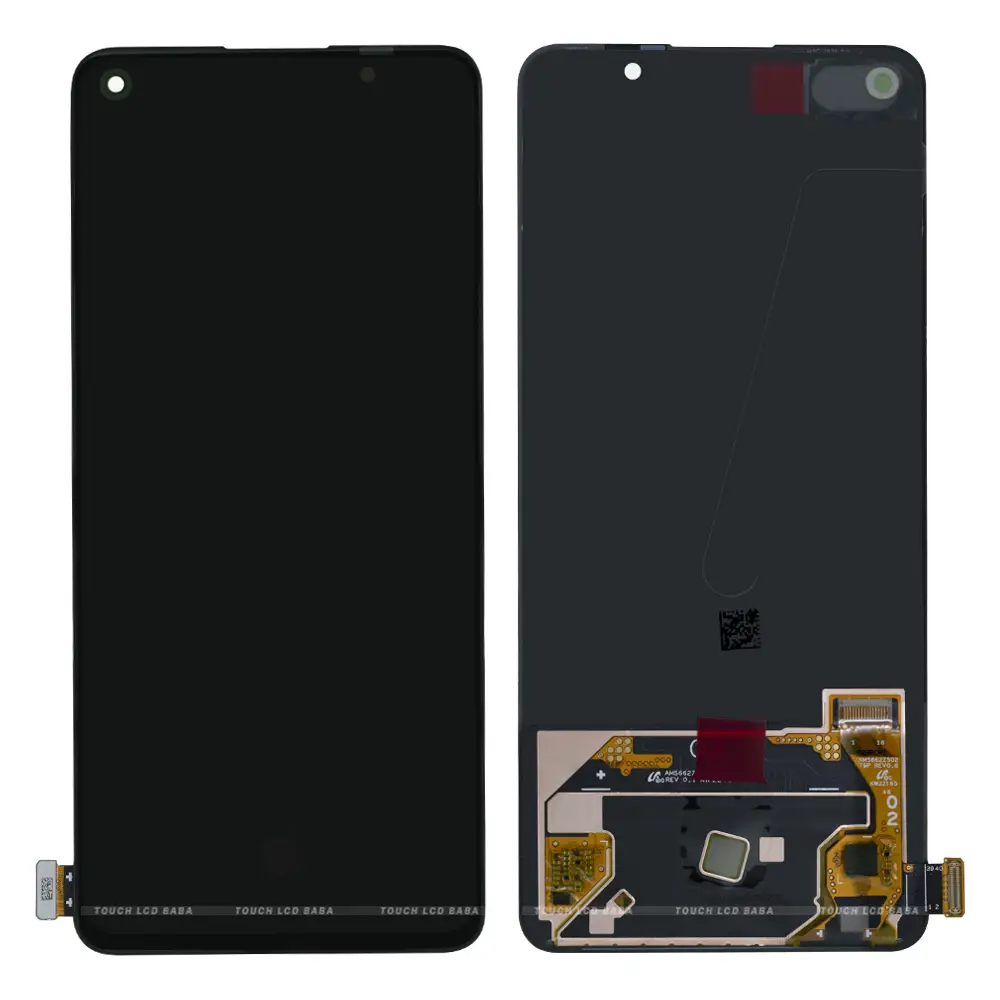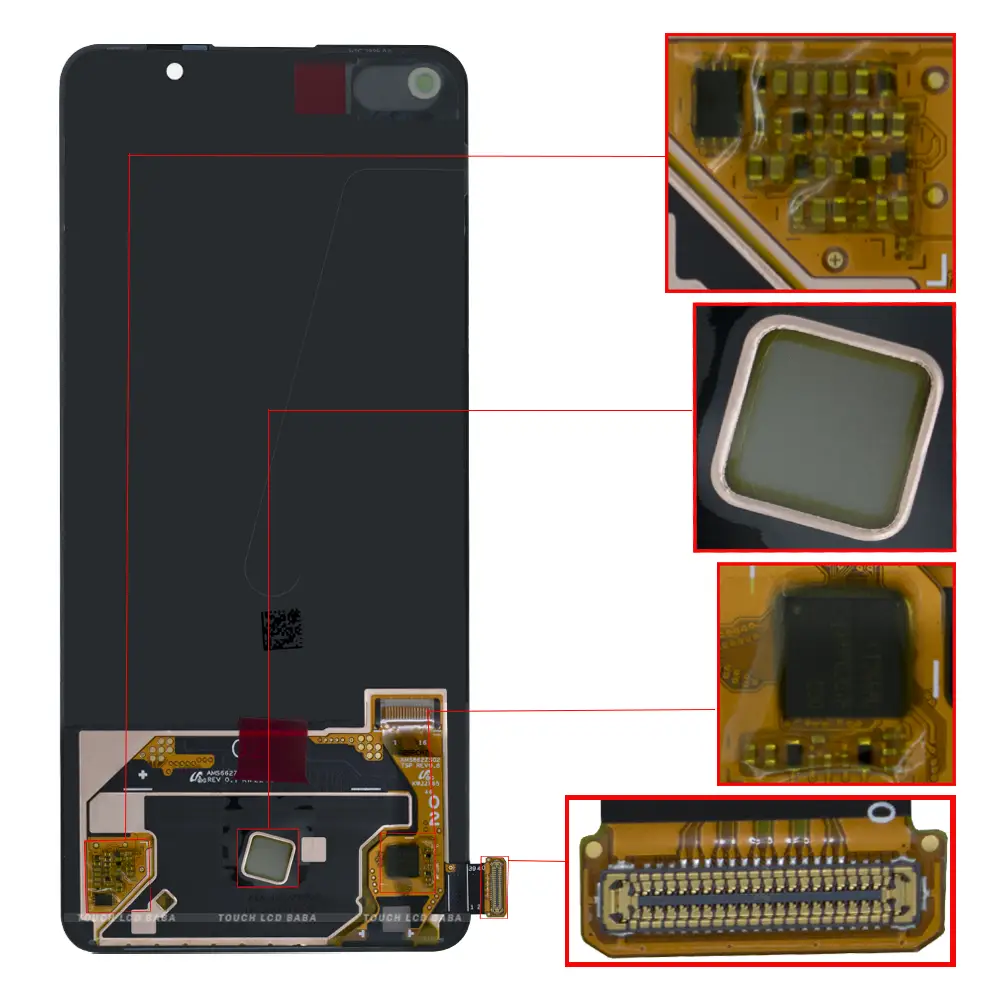 Shipping, Return, and Refund Policy
All our products come with a 30-day return, refund, and replacement guarantee. To return a product, It should be in the same condition we sent. You can't use or fix the new Realme GT Neo 2 display if you want to return it. For complete details about Shipping, Returns, and Warranty, please click here.