It is truly tragic to see the display of Realme Narzo 20 break, but it accidentally happens all the time with almost everyone. Smartphones are compact to carry, and we keep them with us almost everywhere because they have become an integral part of our daily lives. As we spend more time with the smartphone, it sometimes slips out of our hands, and it is also a medium to vent out anger for some people.
Mostly, Realme Narzo 20 display damage cases are related to accidental drops that happen without any prior warnings. No one will want to intentionally break the smartphone, but it breaks due to an inadvertent setback. We think that display damage is nothing to worry about because you can replace the broken screen easily and restore the phone to its glaring condition. On this page, we offer a Realme Narzo 20 display and touch screen combo, which you can use to replace a broken display or touch screen glass on your phone.
Realme Narzo 20 Display Specifications
| | |
| --- | --- |
| | This combo is 100% original, brand new, and suitable for Realme Narzo 20, Model Number RMX2193. |
| | The Narzo 20 display size is 6.5″, the display type is HD+ and display resolution is 720 x 1600 pixels. |
| | The main touch screen glass comes with Corning Gorilla Glass 3 protection layer. |
| | You get exactly the same display as it comes assembled in a brand new phone. |
| | Our QC team tests each display on the actual motherboard of Realme Narzo 20 for flawless performance. |
| | We buy our stock from the OEM manufactures to assure the original screens for our customers. |
| | We always test and verify the working condition of our parts before shipping. |
| | It is very easy to test and verify the new display before installation. |
| | The display supports all the gestures as well as multitouch features. |
| | The screen is readily available in stock and turnaround time is very fast. |
| | You can order the product using Cash on Delivery or Online Payments. |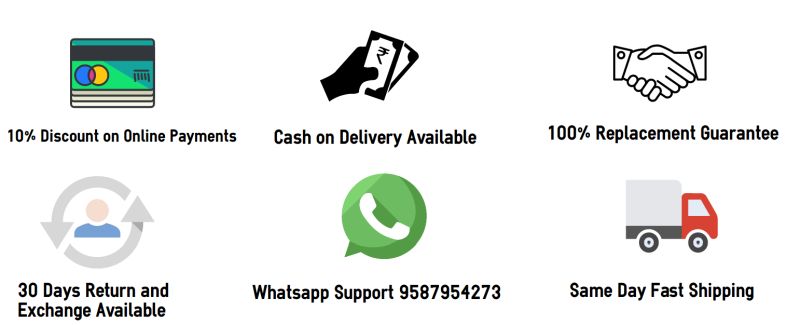 How does the broken display or touch screen replacement work?
If you have accidentally dropped your smartphone and broken its display (or the top layer of touch screen glass), you would be extremely upset, tensed, and for obvious reasons. A broken Realme Narzo 20 display is a widespread issue that happens to almost everyone, and it is elementary to replace it with an identical new display. Once the display breaks, many customers think now it is impossible to get the original display again. Oh, come on now.
If you cracked the display, don't worry a single bit because the original screen replacement is available with us, the same as you were using with no strings attached. The screen replacement is very straightforward as you need to remove the broken display from your phone and install a new one in the same place. If you replace a broken part with an identical combo, there is no chance of any quality degradation. The degradation in quality happens only when you purchase cheap first copy screens.
Are you worried about receiving a bad quality product?
You must be hurt and regretful to have dropped the smartphone and now worry that you will get a lousy quality screen. People had met with such experiences before when they dropped the phone and got such a bad product that now they have concluded that original screens aren't available anywhere. It is simply not true because original screens are available, but you've to pay a reasonable price.
People go to the local market and bargain like a pro to get the best possible cheap deals. The technicians have also concluded that customers love the cheap pricing and It is the best way to dupe them. You get the best sounding deal; you pay the money and get a bad product. It is going on for years, and the main culprit in this process is the customer's mindset which is so inclined towards buying original products for low prices and that will never work out. Even technicians do the forgery in many cases, and when the client is paying a high price, they still install the first copy in the phone and overcharge the customer.
Your experience can be bad, but at Touch LCD Baba, we are 100% committed to providing original screen replacements to our customers. Surely, the prices are not the cheapest, but the satisfaction is 100% because you don't have to go through the hassle of duplicate screens. We suggest that you invest one time but invest in original products.
What is the difference between OEM and first copy local display?
The word OEM stands for Original Equipment Manufacturer, a particular factory that makes original display for Realme Narzo 20. If you buy the original product sourced from this factory, you will get the original display because your phone is also having the display manufactured by this company.
The local first copy screens come from third-party manufacturers who specialize in making duplicate screens for low prices. If you wonder why they do so, the demand for local products is huge because 90% of customers are looking for bargain deals without understanding the pricing concept. If you also buy a phone worth Rs 20k and then expect the original display to be Rs 1500, you are a straightforward target for the duplicate products.
The main difference between both products is the brightness level, the accuracy of color reproduction, and the touch screen's smoothness. A duplicate screen is far behind the original one because it uses the cheapest quality material to take its shape, and that's why copy screens cost low. If you pay 40% price of the original display, the quality will also reduce in equal proportion.
Frequently Asked Questions
Q: How much does it cost to replace a broken Realme Narzo 20 display?
The price of a 100% original Realme Narzo 20 display replacement is around Rs 2800-3000. If you buy a duplicate screen replacement, then the combo costs about Rs 1100-1300 in India. We don't offer duplicate screen replacements, but such cheap screens are prevalent in local markets.
Q: Why do these duplicate display screens cost so less?
The duplicate screens are cheap because they are made of low-quality material. The price of these products is attractive, but the display quality and glass quality are not attractive. The display offers around 40-50% quality of the original, and the Gorilla Glass does not protect the duplicate glass and that's why it breaks again so easily.
That is why these so-called first copy screens break on a single drop. Such duplicate screens can't take on the quality of original screen replacement in any aspect. In the long term, this cheap-sounding option also becomes more expensive because of frequent display replacements.
Q: Should you get a complete combo replacement or only the glass replacement?
Customers are often perplexed while getting a display replacement for their broken screen. They want to save money, but they also want the best for their phone. While the only glass replacement is cheaper, the complete combo replacement is much more secure and recommended.
The reason why complete combo replacement is expensive because it replaces your broken screen with a fresh, brand new set. On the other hand, the glass replacement is based on replacing only the broken part (i.e., touch screen glass), and that's why the final quality is horrible. Most of the time, the only glass replacement fails, but if by chance you get it done successfully, you would still regret it. This is because the display quality after this procedure would drastically drop down, and you would see a major difference in brightness, colors, and touch screen smoothness.
Q: Do you test the Realme Narzo 20 display before shipment?
Yes, we make sure that every inch of every display is thoroughly tested and checked before sending it to you. If a display product passes all the internal tests, then we approve it for delivery to the end customer. To test the new screens, we have hired some highly skilled professionals who work as a team to test all the display aspects. We test screens on the motherboard of Realme Narzo 20 to get 100% accurate results all the time.
Q: Does the new display have Gorilla Glass 3 protection?
Yes, the Realme Narzo 20 has Gorilla Glass 3 pre-installed on it, which is exactly what we offer. The new display that you purchase from us is identical to what you were using in every aspect and comes with Corning Gorilla Glass 3 protection.
Q: If the new display product does not work, What should I do?
We make our display products go through some highly effective tests and therefore, it is surprising for us to come across a complaint regarding the display product we sell. Still, we will try our best to resolve your issue at the earliest, and for that, you need to report your issue to the Support Team at LCD Baba. You can apply for a return if the product comes under the 30 days return policy. If you return a product within 30 days of its delivery, then we can either initiate a refund or a replacement for you.
However, to return a display product, you need to make sure that the display product is unused and in the same condition as you received it. It should not be glued to your smartphone's display, and the protective film on the product should be intact as well.
Shipping, Return and Refund Policy
All the products supplied by us come with 30 days return, refund, and replacement guarantee. To return a product, It should be in the same condition as we sent. You can't use or fix the display if you want to return it. For complete details about Shipping, Returns and Warranty, please click here.