If you don't know why your Redmi Note 7 Pro battery is no longer performant as it used to be, you might be dealing with a worn-out battery. Battery issues make you feel like something is seriously wrong with your device because strange things start to happen. For example, you tap on an application, and your phone reboot itself. These issues appear because of a bad battery because it can't supply the necessary power.
If you travel or do field work, you must keep a charger or a power bank, which defeats maintaining a phone. Many people keep a power bank connected to the phone because their battery needs to be charged 3-4 times a day. That's very strange because replacing the battery would be a much better choice instead of keeping a power bank.
Redmi Note 7 Pro Battery Specifications
| | |
| --- | --- |
| | This battery is 100% original, tested, and suitable for Redmi Note 7 Pro. |
| | The battery model number is BN4A, and the battery capacity is 4000 mAh. |
| | This original battery can replace a swelled / defective / draining battery. |
| | Rated Capacity: 3900mAh |
| | Typical Capacity: 4000mAh |
| | Rated Voltage: 3.85V |
| | Limited Charge Voltage: 4.40V |
| | You can easily overcome all the battery related issues with the new battery. |
| | We offer 7 days testing and replacement warranty on the battery so that you can ensure backup time. |
| | The battery is readily available in stock and shipping time is very fast. |
| | You can order the product by using Cash on Delivery or Online Payments (additional 10% discount). |
How can you easily identify the battery issues?
If you've just bought a brand new phone, facing battery issues is relatively uncommon. According to what customers report, they start facing battery issues after two years of phone usage. So first, you need to ensure that you've already used the battery for around two years and are not a heavy user of the phone. If you are a gamer or from day one, you are using your new phone for playing games for hours; the battery can go bad even after a year.
After ensuring that you've used the old battery for around two years, please check if you are facing one of these issues :
The battery drains very fast and empties in a very short time.
After a full charge, the battery works for 3-4 hours, and then you must charge it again.
The phone turned off even when the 20% charge was still left.
Your phone automatically reboots whenever you try to use resource consuming application.
The batter is puffed up, and you can feel a bulge inside your device.
You can't charge the battery as fast as before, and the charge doesn't stay long.
The remaining charge percentage is not steady and moves up and down automatically.
The battery drains heavily even in standby mode without using the phone.
We've tried to compile a list of common issues, and there can be other similar issues. If you are unsure and need an expert hand, please feel free to call us at 9587954273.
Why should you buy the original Redmi Note 7 Pro battery?
Buying an original Redmi Note 7 Pro battery can save you from tons of issues. Most people mistake purchasing a copy battery for a low price which later becomes a nightmare. We know that low prices automatically attract buyers, and they forget about all the negatives. If you want to know the differences between an original and a copy battery, here you go :
The original battery provides the stipulated backup time while a copy battery doesn't.
A duplicate battery doesn't come with an actual 4000 mAh capacity but way lesser.
An original battery comes with several added protections not present in a duplicate battery.
The original battery holds the charge perfectly, and a copy quickly drains.
If you weigh an original and a duplicate battery, the duplicate will be less in weight.
The original battery fits perfectly, and a duplicate one can leave gaps all around.
You should never make a quality compromise to save money because the later hassles aren't worth it. You can't go to technicians every few days and ask them to check the battery. Original battery replacements come with no issues and peace of mind, and that's why customers love such products.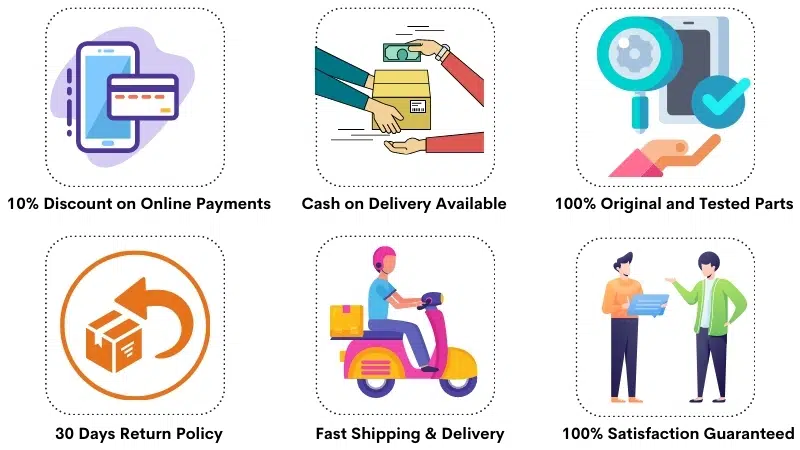 Common Customer Questions
Q: How much does it cost to replace a Redmi Note 7 Pro battery?
The price of a 100% original Redmi Note 7 Pro battery replacement is around Rs 1300-1400. If you buy a duplicate battery, the price is around Rs Rs 350-450, including installation. Please note that counterfeit batteries are infamous for their performance issues, and your phone starts to scramble with such products.
Q: How would I replace the battery if I purchase it online?
To replace the battery, you need to seek the help of a local technician. We don't suggest replacing the battery yourself at home because it is not that easy. One wrong move can cause issues with other parts of your phone, and that's why replacing the battery without needing expertise is a big no. Local technicians undertake such jobs every day and charge around Rs 150 for replacing the battery. We believe that rather than taking risks, paying a small amount is the best way to go.
Q: What are the basic steps for replacing the battery?
The Redmi Note 7 Pro phone comes with an in-built battery that you can't take off easily. It is easy for a trained person to replace the battery, and these are the basic steps :
First, you need to decouple the back panel from the frame.
Then open the mold that covers the motherboard and other relevant parts.
After take, eject the battery's connection from the motherboard and take it off.
Removing a pasted battery is not easy, and you might need additional tools.
After that, connect the new battery and put up everything back together.
It will help if you test the battery for an hour before re-assembling the phone. Keep the new battery connected and use the phone for one hour to see how much drain occurs. If it is like 5%, then the battery is good, and everything is working as desired. If you face any issues, you can always report to us so that we can discuss them further.
Q: How can I place an order?
You can easily place an order on Touch LCD Baba by clicking on the "Add To Cart" button and completing the checkout process. You can find an Add To Cart (or Buy Now) button on every product page, which allows you to order the product. If you've any questions or face issues, please get in touch with us at 9587954273.
Q: Can I return/replace the battery in case of any issues?
You can surely return/replace a battery in case of any issues. However, please note that returns are possible only if the product is not used/pasted. If you paste the battery inside your phone and then take it out, the battery will bend, and its outer will become wrinkly. In such cases, you can't return the battery because we don't deal in used products.
Before assembling the battery, you can easily test its performance. Connect the battery to your phone, and don't paste it yet. Fully charge the battery and use the phone for an hour in an open condition. Then go to Settings-->Battery section, and you can see a battery drain graph there. It will show all the required details, which should help you understand the battery life. In 99.9% of the cases, new batteries are perfect, and you won't face any issues unless your phone has some queer hardware problems.
Redmi Note 7 Pro Battery Photos
If you want to see the actual product photos of the Redmi Note 7 Pro, please refer to the below images. You can match the model number and other vital information with your existing battery. If you find any discrepancies, please feel free to contact us at 9587954273.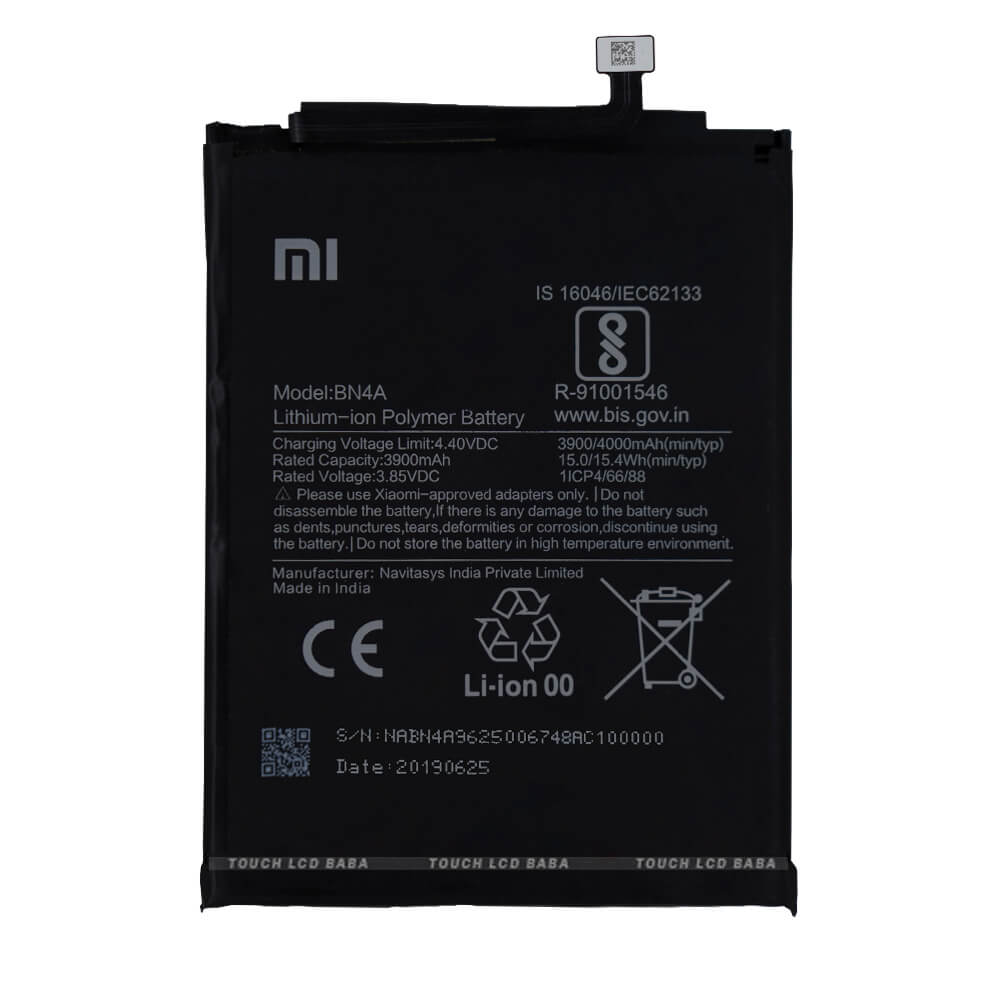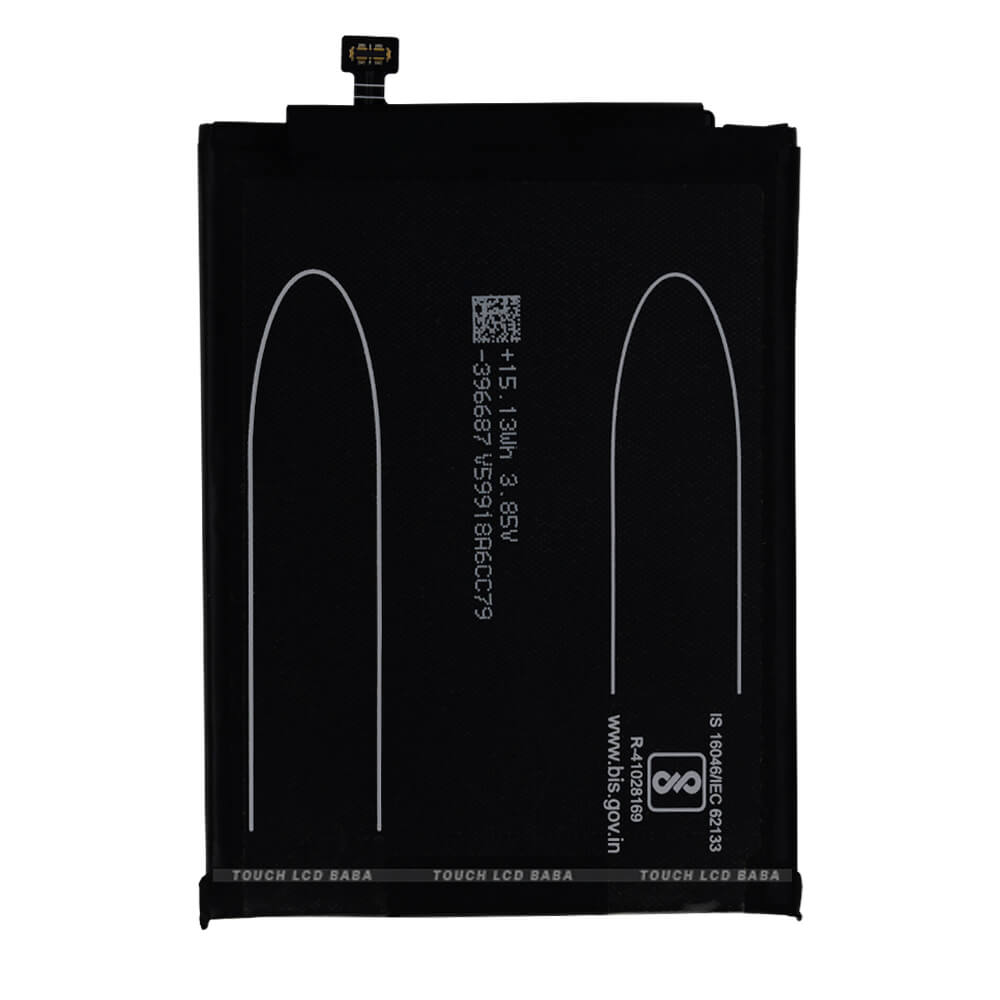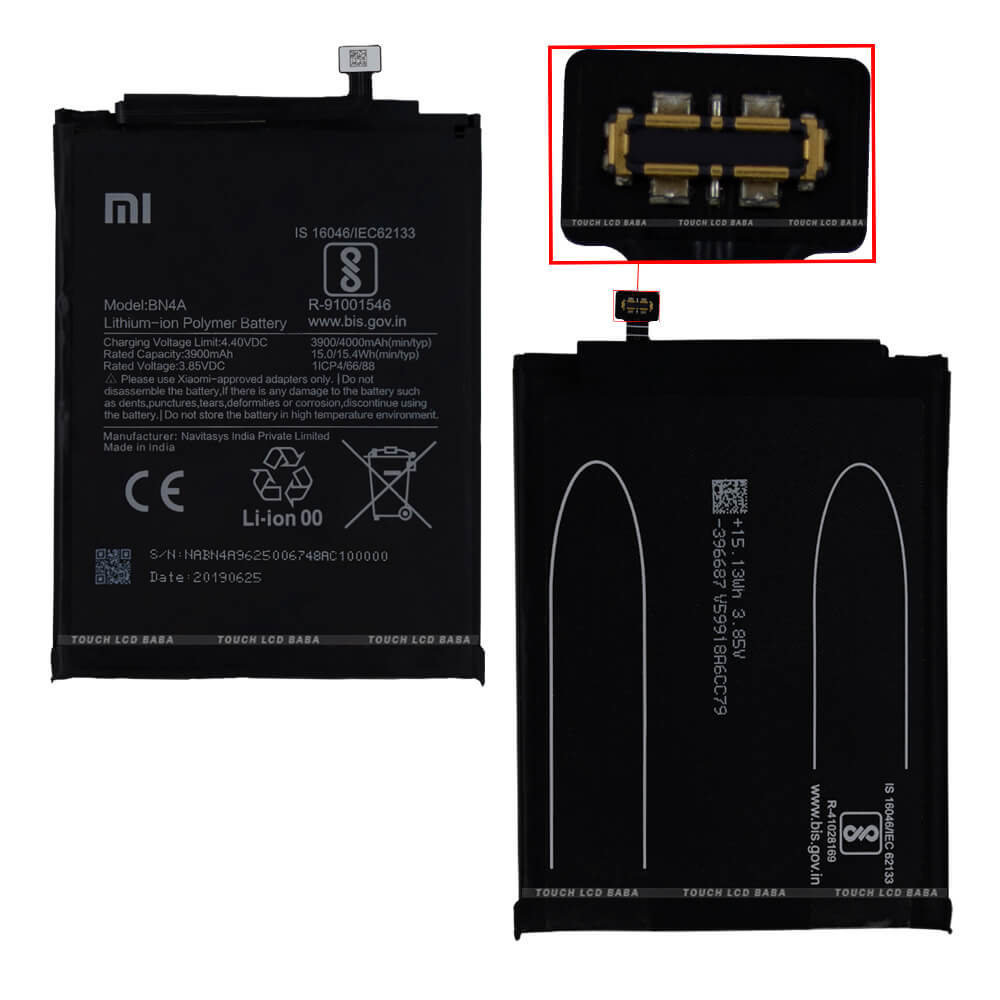 Shipping, Return and Refund Policy
All the products supplied by us come with 30 days return, refund, and replacement guarantee. To return a product, It should be in the same condition as we sent. You can't use or fix the new Redmi Note 7 Pro Battery if you want to return it. For complete details about Shipping, Returns and Warranty, please click here.