A healthy Redmi Note 7s battery is essential for your phone; otherwise, you'll face unexpected issues while using the phone. Before you replace the battery, please recall how long you've used it because mobile phone batteries are sturdy, and you don't need to replace them in six months. Most customers who contact us for a battery replacement have already used the battery for two years, and now the replacement is needed.
The Redmi Note 7s battery will not stop working suddenly, but you'll start facing issues with it. The battery will charge normally but cannot keep up the charge for a long time. In the later section of this page, we'll tell you a lot more about the issues you'll face and how you can easily solve all those issues by replacing the bad battery with a new one.
You will face strange issues if the battery is worn-out
According to our practical experience, when customers approached us, they were into strange issues that didn't feel like battery issues. Still, they were later identified as battery issues, and we would specifically like to mention two such cases :
A customer came with a Redmi Note 7s phone, and everything was working normally, but as soon as he inserted the Sim Card 2 into his phone, the phone rebooted itself and will continue to restart unless the sim card is taken out. At first, we thought it could be an issue with the Sim Card, but later we discovered that the battery was bad, and as soon as the phone started searching for the network for Sim Card 2, the battery couldn't supply the necessary power, and the phone started rebooting. It was a strange case, and everything worked flawlessly as soon as the battery was replaced.
Another customer had a Redmi Note 7s phone and could use it normally until he played a video on YouTube. First, we thought it could be a problem with the YouTube App and reinstalled it, but that didn't solve it. After trying everything else, we replaced the battery temporarily to check if the problem was resolved, and to our surprise, the problem was resolved and never appeared again.
We concluded that if the battery is worn-out and a customer does a resource-intensive task, the battery can't keep up, and the phone restarts. After that, we resolved many strange issues by replacing the battery and establishing our theory.
Which issues are common with a depleted Redmi Note 7s Battery?
When the battery's lifespan ends, you'll see some apparent issues, and it is easy to identify them in 99% of cases. A customer's mind can easily identify the problems, but lingering on the expenses is a common practice. These are the most commonly reported problems when the battery is no longer in good shape :
Your phone will start rebooting randomly without having an obvious reason.
The remaining battery percentage will jump up and down without charging the battery.
In standby mode, the battery will drain much faster than it used to.
If you leave your phone overnight, the battery will go down by 50% even without using the phone.
Sometimes, the battery will stop charging even after connecting the charge.
The battery percentage has come to a standstill and not increasing at all.
After charging the battery to 100% levels, you must charge it again within 4-5 hours.
You are charging your phone 3-4 times daily to keep up with it.
The phone automatically turns off inside your pocket without your knowledge.
These are the most common issues with an exhausted battery. Please note that replacing the battery doesn't cost a fortune and when you need to replace it very soon, why don't you replace it today and get rid of all the battery-related issues without facing further hassle?
Redmi Note 7s Battery Specifications
| | |
| --- | --- |
| | This battery is 100% original, tested, and suitable for Redmi Note 7s. |
| | The battery model number is BN4A, and the battery capacity is 4000 mAh. |
| | This original battery can replace a swelled/defective/draining battery. |
| | Rated Capacity: 3900mAh |
| | Typical Capacity: 4000mAh |
| | Rated Voltage: 3.85V |
| | Limited Charge Voltage: 4.40V |
| | All the issues related to the battery will end after replacement. |
| | We offer seven days testing and replacement warranty on the battery so that you can ensure backup time. |
| | The battery is readily available in stock, and shipping is fast. |
| | You can order the product using Cash on Delivery or Online Payments (an additional 10% discount). |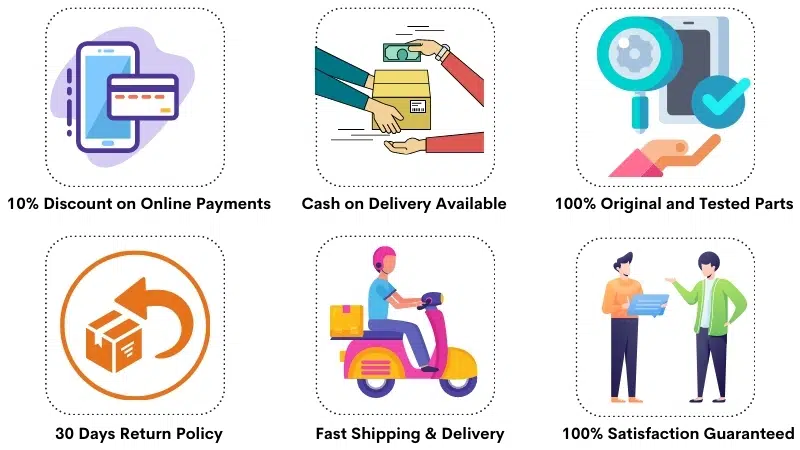 Common Customer Questions
Q: How much does it cost to replace a Redmi Note 7s battery?
The price of a 100% original Redmi Note 7s battery replacement is around Rs 1300-1400. The price of a duplicate battery is around Rs 350-450, including installation. Counterfeit batteries are infamous for their performance issues, and your phone starts to scramble with such products.
Q: Why is buying a low-cost battery not worthwhile?
Most customers want to buy battery replacements for the local market so they can hold someone responsible in case of any issues. You can find many different types of batteries in the market, all of which come from particular brands and are compatible. Their price is around Rs 450-600, including the installation and six-month warranty. We know that warranty parts feel so satisfying to a customer, but you don't know about the conspiracy theory behind this warranty policy.
The warranty on duplicate parts makes you feel confident and buy the product. However, a warranty will not improve the battery's performance, and you'll not be satisfied with the backup time. You can't return the battery you bought but can replace it with another one having the same low capacity. The capacity of a duplicate battery is much lower than advertised, which is why it doesn't last long. We hope you understand why duplicate batteries are not worth it, even if you get a warranty.
Q: How can I check the battery health in the phone's settings?
You can easily check the existing battery's health by going into your phone's Settings-->Battery section. This section shows the battery's performance and how quickly it charges and discharges. If you have got a bad battery, the battery graph will show big ups and downs. If the battery is in good condition, the decline will be much more gradual and completely normal.
If the battery drops to 40% from 60% in a minute, it can't hold the charge, which is why you are facing issues. In such cases, you should replace the battery, and that would end all the problems. Please note that having a bad battery doesn't mean that your device has aged and you must change it. A worn-out battery is perfectly normal and bound to happen at some point.
Q: Can you give a basic overview of the battery replacement process?
Please note that replacing the Redmi Note 7s battery is not technical but still requires some expertise. These are the basic steps for replacing the battery :
First, you must decouple the back panel using a hot air gun and pry tool.
After that, you should remove the existing battery carefully without erupting other flex cables.
Always use plastic tools when removing the battery because metal tools can easily prick it and cause it to explode.
Connect the new battery to your phone temporarily, and don't assemble it yet.
Test the new battery in open condition for 2 hours to check the backup and draining time.
When everything works perfectly, you can finally install the battery on your phone.
We've concisely outlined the steps to give you a basic overview of the process. We suggest you don't take the command into your hands if you've not done it before. Please visit a local technician and it hardly takes 15 minutes to replace the battery. If you've any questions, feel free to call us at 9587954273.
Redmi Note 7s Battery Photos
If you want to see the actual product photos of the Redmi Note 7s, please refer to the below images. You can match your existing battery's model number and other vital information. If you find any discrepancies, please get in touch with us at 9587954273.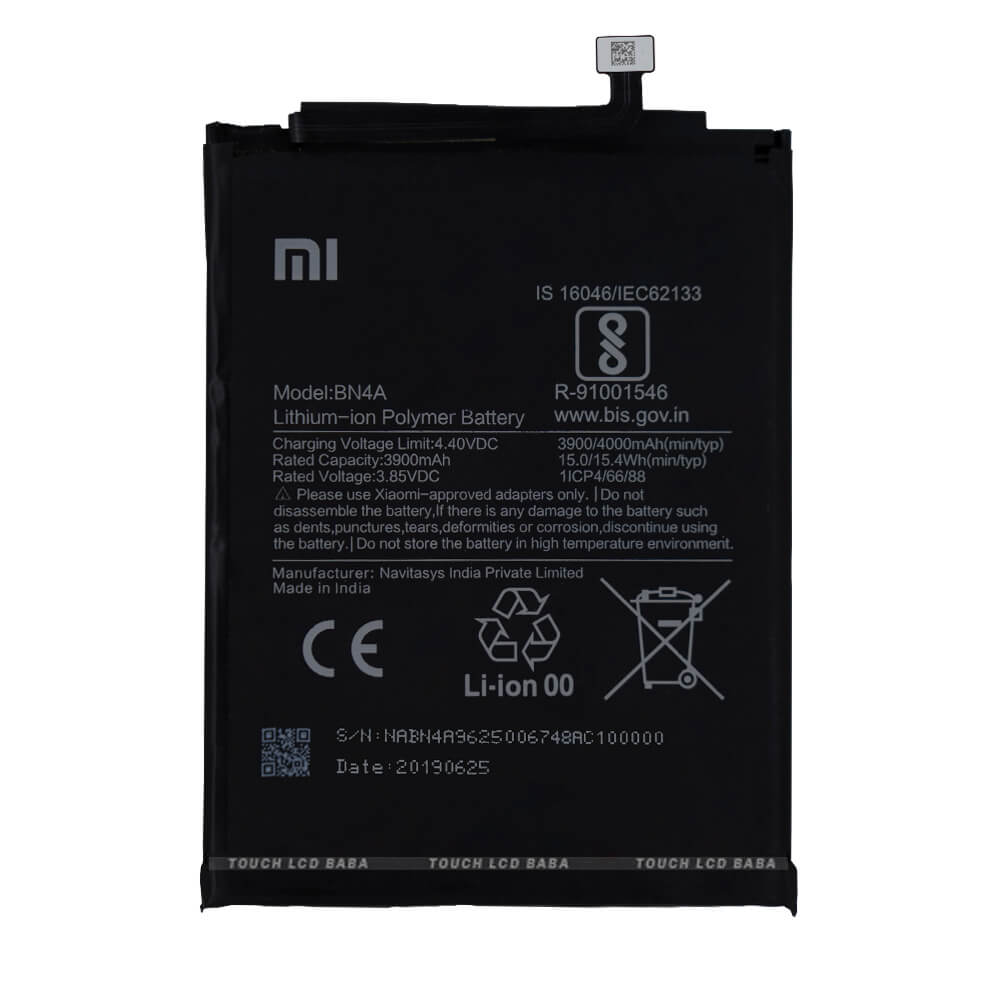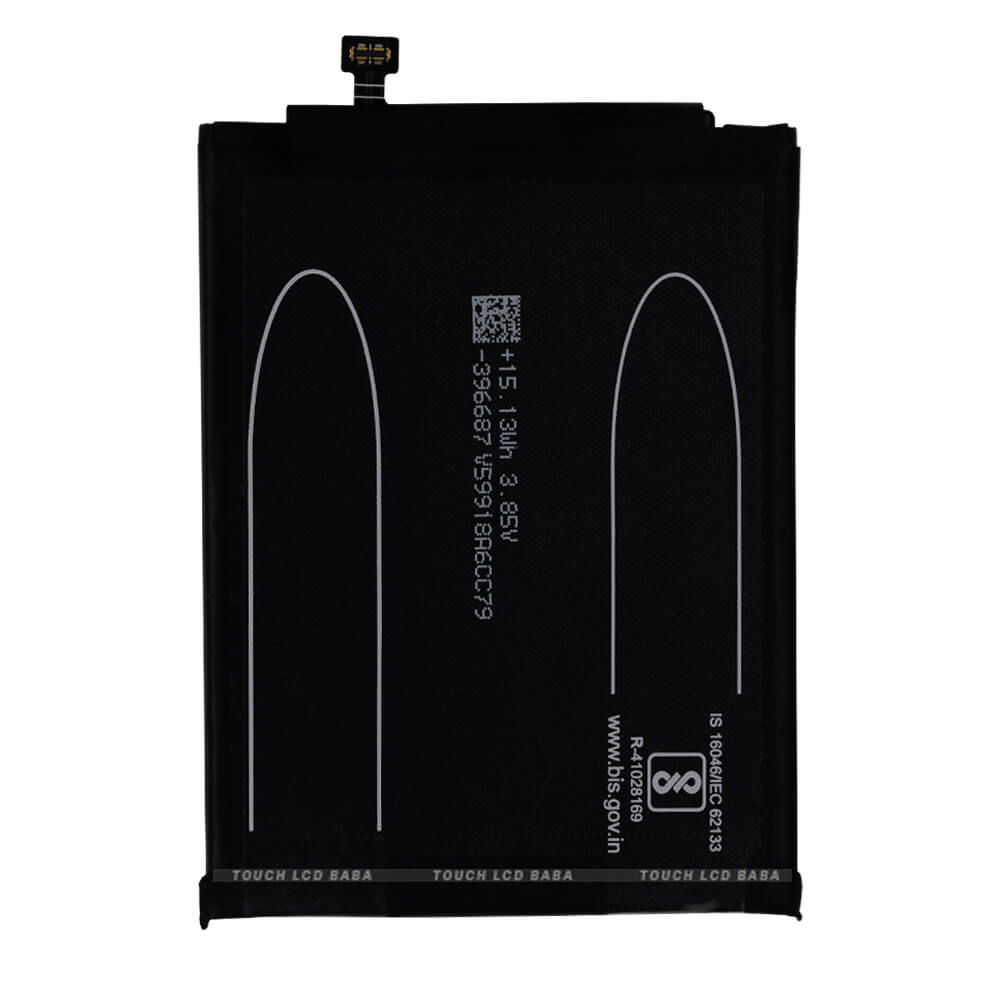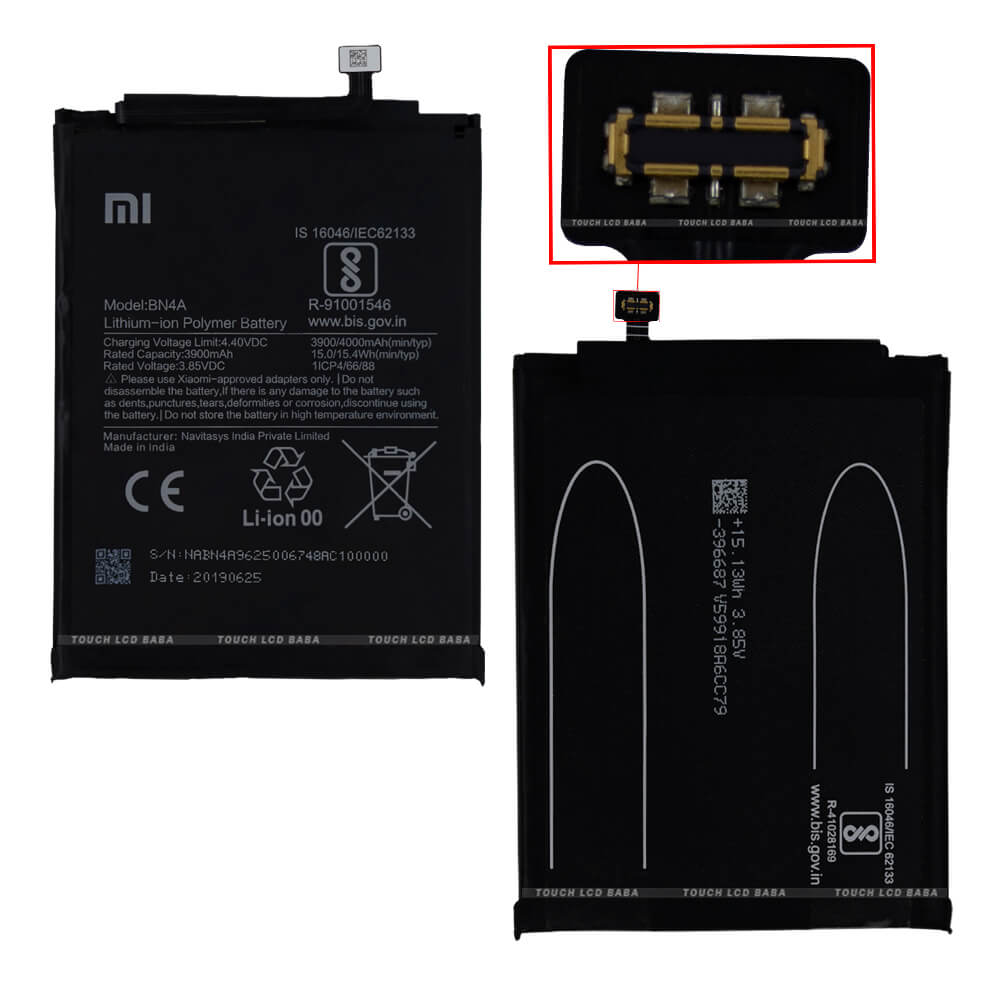 Shipping, Return and Refund Policy
All our products come with 30 days return, refund, and replacement guarantee. To return a product, It should be in the same condition we sent. You can't use or fix the new Redmi Note 7s Battery if you want to return it. For complete details about Shipping, Returns and Warranty, please click here.