If you arrived here looking for a Vivo Nex display replacement, you can order one from our website and easily restore your phone's working condition. Dipping the mobile phone and damaging the display or touchscreen digitizer glass is easy, but finding a proper display replacement is hard. Please note that models like Vivo Nex (Vivo 1805) are not easily available, and if you live in a small town, finding a proper screen can be truly a hassle. You might find duplicate screens for low prices, but fingerprint-working screens are tough to find.
Please note that Vivo Nex has an AMOLED display panel, and to restore the phone to its 100% working condition, you need the original display. You can find duplicate screens in the market, but they are not worthy because they are not AMOLED, and the fingerprint scanner also doesn't work on such screens. On this page, you can buy a 100% original display replacement for the Vivo Nex and efficiently resolve the broken display issue. If you've any questions about the display combo, please call us at 9587954273; we'll surely help you.
Vivo Nex Display Specifications
| | |
| --- | --- |
| | This display is 100% original, tested, and suitable for Vivo Nex. (Vivo 1805). |
| | The Vivo Nex display is 6.59″ AMOLED, and the resolution is 1080 x 2316 pixels. |
| | We offer a 100% OEM display, the same as assembled with a brand-new phone. |
| | Our QC team tests and approves the functional condition of each display before shipping it. |
| | You can also use the in-display fingerprint scanner without any problems. |
| | You get 100% accurate colors, full brightness, and perfect contrast. |
| | It is a 100% original display, and you can easily play games without issues. |
| | You can order and get the display from any corner of India. |
| | We securely pack the new screens in hard plastic boxes with additional protection. |
| | All screens come with intransit insurance; you don't need to worry about intransit damage. |
| | You can order the product using Online Payments (10% discount). |
What is the meaning of the Vivo Nex display combo?
A Vivo Nex display combo combines a unit of display and touchscreen digitizer glass. You should know that display and touchscreen glass function as one, and any damage to one requires replacing both. So, the display combo helps you replace the broken display or touchscreen glass completely. If you've damaged only the touchscreen glass or display, you still need to replace the complete display without considering other things. If you were considering replacing only the glass, that is possible, but glass replacement is risky, and we'll discuss that in the next section.
What is touchscreen glass replacement, and how it works?
Just so you know, display and touchscreen glass are combined, but both don't have to be damaged in one go. Often, only the front layer of touchscreen glass will crack, and in such situations, you'll ponder replacing only the touchscreen glass and reusing the inner display. In such incidents, the touchscreen will continue to work, and only the broken glass will look bad, so you'll consider replacing it alone.
In theory, replacing the touchscreen glass might feel easy because you don't know the practical process of replacing it. In reality, touchscreen glass replacement is a tough task, and the display (which was safe) also cracks during this procedure. Most technicians don't take any responsibility if the complete display unit dies during replacement, as that's a hit-and-miss technique, and results are not guaranteed. Here are some additional drawbacks of glass replacement you should be aware of :
Glass replacement is a gamble, and a favorable outcome is not guaranteed.
The display often cracks during this procedure, or other flaws appear.
A technician replaces the original with a duplicate touchscreen glass worth Rs 50.
All the payment towards glass replacement goes directly into the technician's pocket.
Glass replacement costs, all-inclusive, are less than Rs 100, and technicians charge Rs 1500-2000.
A glass-replaced display cracks again very easily on the next drop.
After glass replacement, the display becomes patchy, with a different brightness tint.
Glass replacement focuses on delivering a refurbished display that doesn't work like the original.  We always recommend buying original brand new screens for maximum life and durability. If you've any questions, please get in touch with us at 9587954273.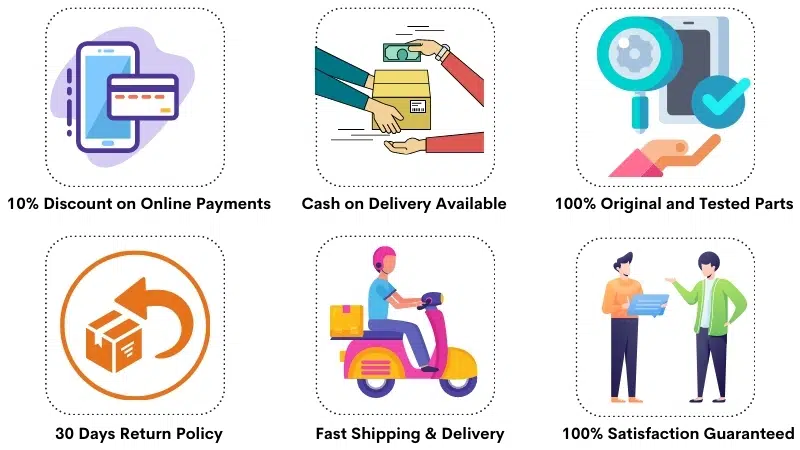 Frequently Asked Questions
Q: How much does buying a new Vivo Nex display cost in India?
A 100% original Vivo Nex AMOLED display replacement costs around Rs 6400-6500 in India. You should know that AMOLED display offers 100% original quality, and you can also use the in-display fingerprint unlocking without issues. You can also buy TFT screens from the local market that cost Rs 1200-1500, but you must sacrifice a large chunk of the display's quality and features.
---
Q: How can I verify the perfect functional condition of the new display?
Mobile phone screens have a testing guarantee; you can easily verify their functional condition before installation. Please note that you can easily test a Vivo Nex display without installing/pasting it on your phone. It is easy to test the display by following these simple steps:
First, you need to back panel by following a proper technique.
Then, open the speaker section at the bottom to find the old display's connection.
Gently eject the old display's connection and connect the new display there.
Turn on the phone, and you can easily test the new display assembled on your phone.
After testing, you can install the display permanently on your phone.
Please note that you need to make a simple connection with the motherboard to test the new display, and that's how easy it is. It is called open condition testing, which allows you to test and verify a display's working condition without installation. We also test new screens by following the same procedure, and you can too.
---
Q: I want an AMOLED display for Vivo Nex. Is it an AMOLED or TFT display?
We offer an AMOLED display for Vivo Nex, which is 100% original, and that's why this product is expensive. If you buy local TFT/IPS panels from the market, their quality is nowhere near the original, so you don't get the AMOLED feel. Please also note that in-display fingerprint works only on AMOLED screens. A TFT display doesn't support the fingerprint unlocking feature, which is another reason it is cheap.
---
Q: What if the new Vivo Nex display doesn't support my phone?
Please note that each display is designated for a particular model and will work perfectly in that model. So if your Vivo Nex phone is good and you buy a display, it will work without any questions. You can always test the compatibility of the new display by connecting it to your phone's motherboard in an open condition. Please note that installing/pasting the display is unnecessary; you can check in open condition.
Furthermore, please don't worry; incompatibility issues are only your assumption, not a reality. A technician will always test the new display before installing it, and that's when compatibility is always tested, whether you ask or not. A technician will never install the display on your phone without testing it, so you are always safe.
---
Q: I want to buy only the original glass of Vivo Nex without display. Do you have it?
If you're considering replacing the broken touchscreen glass with an identical glass, that's not possible. You should know that original touchscreen glass is not available separately, and the glass replacement industry always relies on using duplicate spare parts to restore the broken display. If you want to buy only the touchscreen glass, you cannot purchase a duplicate one.
---
Q: Why would I replace the combo when only the glass has broken? 
The display and touchscreen glass are combined, and you can't replace them separately. If you try removing the broken touchscreen glass, the display will also come out because it is closely attached. While you might think that display and touchscreen glass are two individual parts, they are closely amalgamated. You must replace the complete folder even if an individual part has cracked.
---
Q: Can I return the display if it doesn't work?
Yes. You can easily choose the return option if you face any problems with the display while testing it.  We want to clarify that replacement or return is possible only on used parts. If you install a display on your phone and later want to return it for any reason, that's unacceptable. When you apply glue to paste the display permanently, that denotes your acceptance of the product. When you install the display permanently, it confirms that you've already tested the display and found it working satisfactorily, and that's why you're assembling it.
---
Q: Does the display support an in-display fingerprint unlocking feature?
Yes. We offer a 100% original AMOLED display for Vivo Nex, and fingerprint scanning works perfectly. You can compare your old broken display and our display side by side.  You'll find that both screens are identical as they come from the same manufacturer. Before shipping the display to you, we verify the fingerprint reading functionality, and you don't have to worry.
---
Vivo Nex Display Photos
These product images refer to the Vivo Nex original display you'll get after your order. If you've already removed the broken display, you can compare it with the display on our website, and you'll find both screens identical.  For any questions about the product, please call us at 9587954273.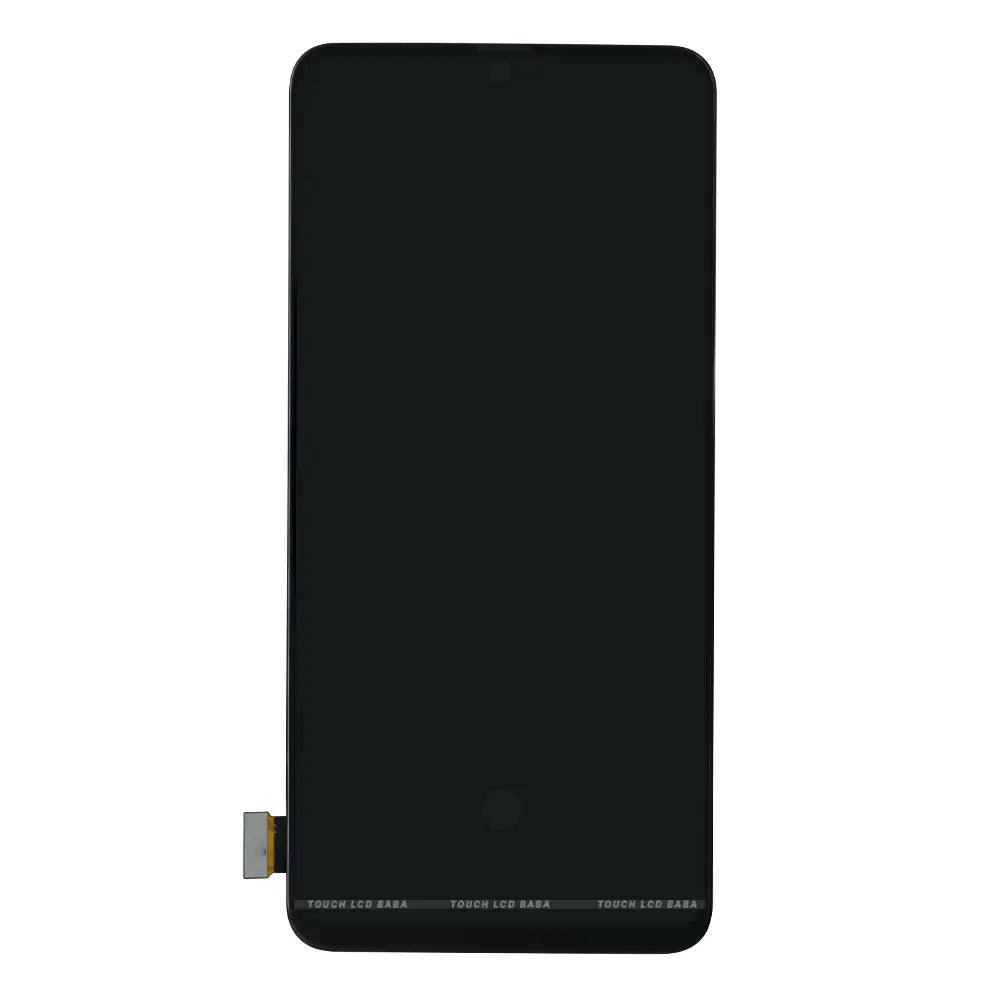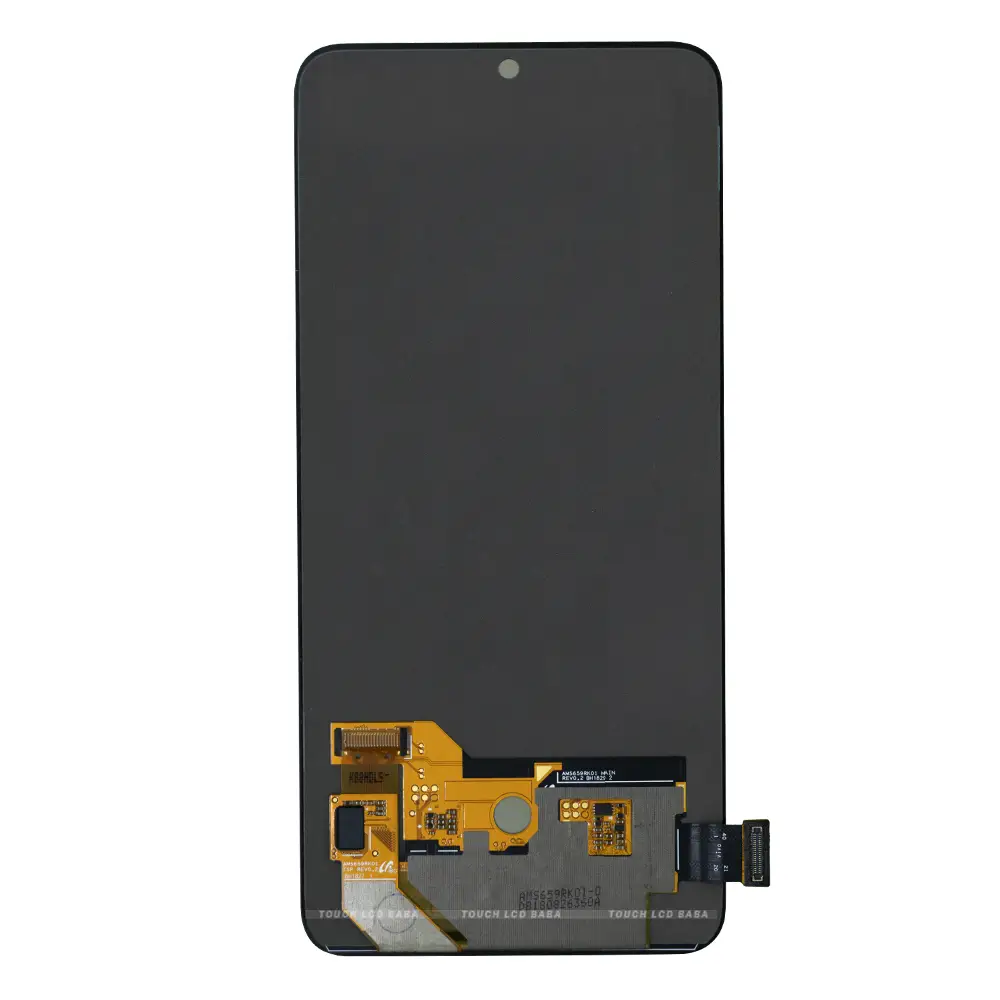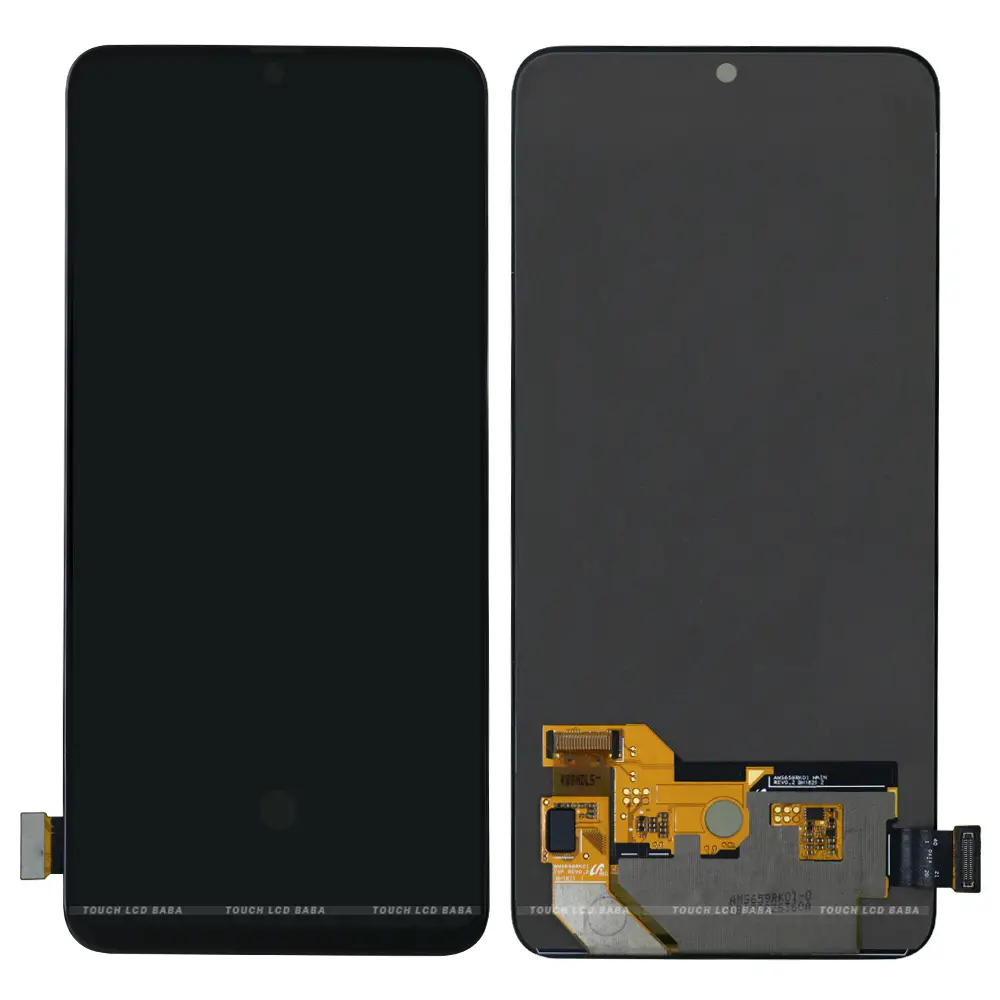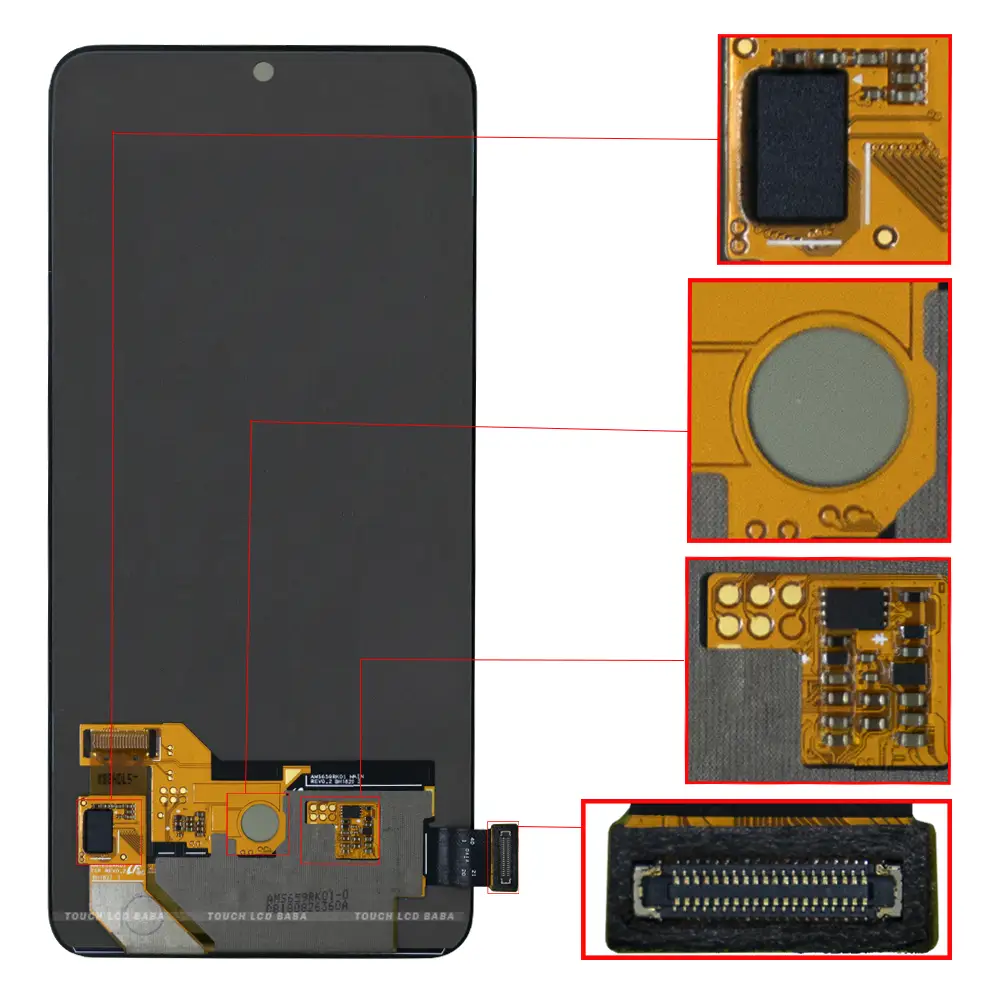 Shipping, Return, and Refund Policy
All our products come with 30 days return, refund, and replacement guarantee. To return a product, It should be in the same condition we sent. You can't use or fix the new Vivo Nex display if you want to return it. For complete details about Shipping, Returns, and Warranty, please click here.