Vivo V11 Pro was a great phone of its time and won customers' hearts. This phone featured a Super AMOLED display and offered the quality customers always wanted. As possible with every mobile phone, the Vivo V11 Pro display can damage if you drop the phone. We offer a Vivo V11 Pro display and touch screen combo on this page, which you can use to replace a broken display or touch screen glass.
You might feel quite disappointed when the Vivo V11 Pro display or touch screen glass cracks, but it happens to all of us. Even the most pricey mobile phones drop, and the screen breaks in a blink of an eye. Now an organized industry offers mobile phone replacement parts, and you can quickly get hold of the original parts. Many vendors deal with first-copy screen replacements, but we only deal in original screens.
Why do I need to replace the complete combo?
Many customers describe how they broke the Vivo V11 Pro display and emphasize that everything except the touch screen glass is good. Customers assume that touch screen glass is not a worthy part, and they can easily replace it without hassle.
However, such things as easy glass replacement are theory only. The touch screen glass is closely attached to the inner display using a powerful adhesive (known as LOCA Glue), and to replace only the glass, you've to make a lot of effort. Even after that, you will not have a perfect display as before.
You can't depart the glass easily because the glass is combined with the display. In most cases, when you will try to separate Vivo V11 Pro LCD and touch screen glass, both parts will eventually demolish. That's why you must replace the complete combo comprising the display and touch screen digitizer glass.
Why does the mechanic suggest only the glass replacement?
Only glass replacement is a thriving business in the local market because mechanics can make excessive money. Customers are easily biased towards glass replacement because it costs less. Customers generally tend to be very hopeful toward cheap solutions because they want to save money.
Please note that if you pursue cheap display replacement options, you will always have difficulty retaining the quality. Mechanics suggest only the glass replacement because it makes easy money for them. If the glass replacement fails, they will return the handset to you, and there is no risk or responsibility toward your phone.
To sum it up, glass replacement is only like taking chances. If it succeeds, you will still have a phone with a low-quality display for less price. If the glass replacement fails, you will be in a dilemma about what to do next. If repairing the broken screen is still worthwhile, now you must purchase a complete Vivo V11 Pro combo.
Repairing The Broken Display of the Vivo V11 Pro
A)

Visit The Official Service Center
You can visit the official service and ask them to replace the broken Vivo V11 Pro display. You might need to wait for a few days if the combo is unavailable readily, and service centers usually charge a very hefty price for the Vivo V11 Pro screen replacement.
It is also possible that you live in a place where the service center is unavailable, and you might need to travel a lot to visit the nearest service center. Going far may not be a viable option for all customers. This option may not suit everyone, especially customers in small cities.
B)

Fix the Display At the Local Market
There are small markets for mobile repair in every city, and you might visit such repair shops in search of a Vivo V11 Pro display. The bad thing about small markets is that either the product will not be available there or it will be of inferior quality. The first copy screen in the local market is 40% of the original quality.
In local markets, you will spend the same amount as the original product, and still, you will get a first copy duplicate screen that will not satisfy you. It is the main drawback of buying at local markets.
C)

Buy the display online and have a technician install it for you
This option is the easiest and safest method if you buy the original Vivo V11 Pro display online. Please also note that many online sellers sell the first copy for low prices, like Rs 2000-2200, but the original AMOLED display comes for Rs 6000-6500. Base your decision on the quality of the product and never lean towards low prices.
If you decide to purchase the original display online, first, please consult with a competent mechanic in your city who is capable of doing the installation perfectly. We offer a 100% original AMOLED display of Vivo V11 Pro, which is costly but worth the investment.
Always buy a tested product and save yourself from any hassle that comes from defective products.

Vivo V11 Pro Display Specifications
| | |
| --- | --- |
| | This display is 100% original, brand new, and suitable for Vivo V11 Pro, model number Vivo 1804. |
| | Vivo V11 Pro display size is 6.41″, and the display type is Super AMOLED. |
| | The Vivo V11 Pro display resolution is Full HD+, exhibiting 2340×1080 pixels @402PPI density. |
| | The main touchscreen glass is protected by Corning Gorilla Glass 3. |
| | It offers the same colors, quality, and brightness as the original one. |
| | It is a 100% pure original display that supports the In-display fingerprint scanning feature. |
| | We test the display on the actual Vivo V11 Pro motherboard before shipping. |
| | The product comes with 30 days replacement and refund guarantee. |
| | We also offer 100% hassle-free returns, refunds, and replacements. |
| | The display is readily available in stock, and the shipping turnaround time is quick. |
| | We offer Cash on Delivery and an additional 10% discount on online payments. |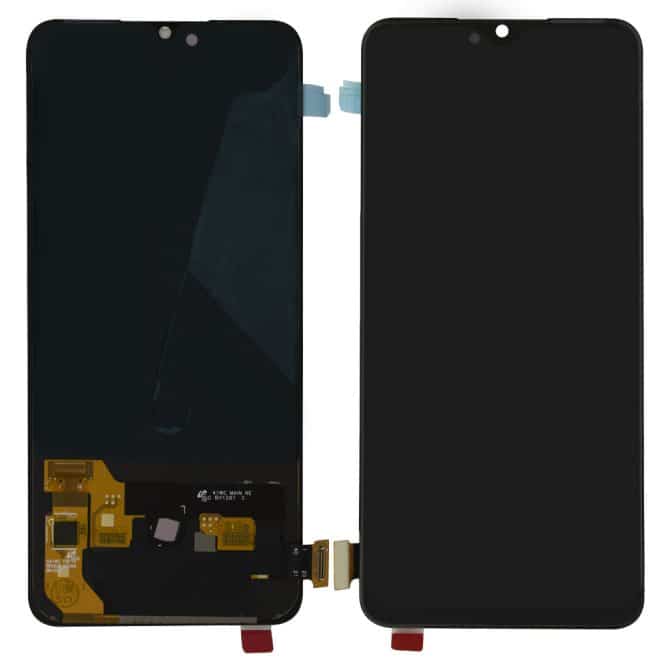 Frequently Asked Questions
Q: How much does it cost to replace a broken Vivo V11 Pro display in India?
The price of a 100% original Vivo V11 Pro Super AMOLED display replacement is around Rs 6200-6500. The combo costs about Rs 2300-2500 in India if you buy a first copy screen replacement.
Q: Why is the first copy display cheap, and how is it possible? 
The price of the display depends on the quality you purchase. The first copy display is cheap because it is not the AMOLED display as it comes with a brand new phone. The first copy display quality is either TFT or Incell quality, and both are very poor in brightness and color reproduction.
Many people buy the phone in installments, but replacing a broken display is an additional burden many customers can't afford. That is why they search for cheap quality screens so they can use the phone anyhow. Such first-copy screens are marketed as OG quality to target customers searching for a subpar product, and that's why the local market is full of first-copy screens.
Q: Should I install the Vivo V11 Pro display at home? 
We advise against installing the Vivo V11 Pro display at home. That is because the display has a very delicate structure, and a wrong step can make the entire display useless. We strongly suggest you visit an expert technician and have him install the display on your behalf. The mechanic will charge you for installation charges like Rs 250-300 and install the display perfectly. Always make sure that :
Never try to install or test the display yourself without experience.
Always seek a trained technician's help to install the display.
Always test the display before fixing it permanently on your phone.
Q: Can I replace only the broken glass without replacing the inner display?
We understand that you want to save money and opt for only glass replacement. But only the glass replacement is rarely successful; if it is, you will have many new flaws inside the display. After all, you are not buying a new display with your money, but now you are using a refurbished display.
After changing the glass, the screens offer a different tint, lower brightness, less sharp colors, dust particles inside the display, white or yellow spots, and other impurities. The only glass replacement option is unsuitable for customers who love the quality.
Q: Can I get a new display for free under warranty from an official service center?
You can't claim a broken display under warranty from the official service center. If you've bought the phone in a one-time free screen replacement offer period, it is possible. Additionally, If you bought an insurance cover with the phone, please get in touch with the insurance company to claim the broken display replacement for free.
Q: Why am I having a hard time finding the display locally? 
The local market vendors sell popular and cheap products, making them easy money. The Vivo V11 Pro's original display is costly, and not all shopkeepers are stocking this item. That's why you might face issues finding this product in offline markets.
Q: Can't I use the same display on both Vivo V11 and Vivo V11 Pro?
No. You can't use the same display on both phones as they are different in terms of display quality and type. The Vivo V11 smartphone has an IPS LCD, while Vivo V11 Pro has a Super AMOLED display. The display connectors are different in both, and they are not interchangeable.
Q: What if the display supplied by Touch LCD Baba doesn't work on my phone? 
Before dispatch, we examine each Vivo V11 Pro display for 100% perfect working. Still, if you face any problems after receiving the display, we offer 30 days replacement and return guarantee.
To claim a replacement or a refund, you must return the part in its original condition to us. If you want to return or replace it, you can't paste the product into your phone or use it in any condition. We will not replace a used/ fitted product because it is beyond our policy. Please also ensure you don't tear off the protective film before testing the product.
Q: Will the In-display Fingerprint work after display replacement?
Yes. The In-display Fingerprint scanner will continue to work after the display replacement. It would help if you made sure that you properly placed the fingerprint scanner on the backside of the display. There is a transparent square inside the display, and you should gently set the fingerprint scanner. We have tested this here, and the fingerprint scanner works perfectly on the Vivo 11 Pro screen we supplied.
Please note that If you buy a first copy display from the local market, the In-display fingerprint scanner will no longer work. Then you have to use Pattern lock to lock/unlock the device. It is another drawback of buying duplicate screens.
Q: How do you ensure the new display works 100% perfectly?
We follow a rigorous testing routine to ensure each Vivo V11 Pro display combo works 100% correctly. To test the product, we use an actual motherboard of the Vivo V11 Pro phone. In our testing unit, we keep a Vivo V11 Pro phone in an open condition and use that phone to examine the screens. That is 100% perfect and the best way to test the screens. Our customer and we are using the same phone, and If a display is working on our phone, It is bound to work on a customer's phone. That's why Vivo V11 Pro screens supplied by us always work perfectly.
Shipping, Return and Refund Policy
All our products come with 30 days return, refund, and replacement guarantee. To return a product, It should be in the same condition we sent. You can't use or fix the new Vivo V11 Pro display if you want to return it. For complete details about Shipping, Returns and Warranty, please click here.