You are likely trying to find a 100% original display replacement for Vivo Y16, which we offer on this page. Finding the original display replacement is nearly impossible if you live in a small village or a town. Even in Metro cities, mobile phone technicians offer duplicate screens to customers and charge high prices for such crap products. You must buy the display replacement compulsively because it is impossible to use a broken phone. If you want to buy a 100% original display replacement without compromising quality, Touch LCD Baba is the right place.
The Vivo Y16 display replacement available on this page is 100% original and fits seamlessly to your device. Please note that the Vivo Y16 display on this page comes with a middle frame and is most useful when your phone is damaged beyond normal. In extreme cases, when your phone's middle frame twists or loses shape, you must buy a display with the middle frame to resolve the problem. The new with-frame display combo supplants the broken combo, and that's how you restore the working condition of your phone.
What is a middle frame, and how does it help?
A middle frame provides a firm base to the display; if the frame is not in good shape, you can't assemble a new display combo inside it. For example, if the front side portion of your phone bends after an accident and you want to replace the display, you can't do that without the frame. A twisted frame is nearly useless and can't hold the display firmly in place, so buying a new frame becomes necessary.
Please also note that buying the Vivo Y16 display with the outer frame resolves so many problems. When you get a display with an outer frame, the front portion of your phone completely renews without sacrificing the display quality. A display with the middle frame comes pre-assembled, and manually pasting is unnecessary. The official service center always replaces the display with the outer frame to provide immaculate finishing.
Is buying the Vivo Y16 display replacement with a middle frame compulsive?
If your phone's existing outer frame is not damaged, buying the display replacement with the outer frame is optional. If the outer frame is extensively damaged, buying the display with the middle frame is mandatory. You can buy the display with the middle frame if you don't mind investing extra to get a 100% original quality product.
Customers who don't want to assemble the display manually often buy a replacement display with an outer frame. You can buy the without-frame display if you care to save a small amount and don't want to invest extra money for your benefit. You get these additional benefits when you buy a display and frame as a complete package :
The Vivo Y16 display combo arrives pre-installed, and manual pasting is unnecessary.
You don't need glue/gum or any other adhesive, as the display combo is assembled in the frame.
It is easy to install the display when it comes factory-fitted.
The front side portion of your phone completely renews, and you get an awesome feeling.
After replacing the display, you won't even realize if you've installed a new display.
You'll not see any signs of pasting because the display is installed using gaskets.
A factory-fitted display is much more durable and never bulges out of the frame.
Overall, you get a 100% original display and don't need to spend money repeatedly. The original display replacement fits well and lasts for a long time. As the fitting is perfect, you don't need to worry about small drops, and your phone will stay safe for a long time.
Vivo Y16 Display With Frame Specifications
| | |
| --- | --- |
| | This display is 100% original, tested, and suitable for Vivo Y16, model number Vivo V2204 | V2214. |
| | The Vivo Y16 display size is 6.51″, the display type is IPS LCD, and the resolution is 1600 x 720 Pixels. |
| | You get a 100% original display combo pre-fitted in the middle frame. |
| | We test and verify each display for 100% flawless working before shipping it to our customers. |
| | We sell strictly OEM products and source directly from the manufacturing factory. |
| | The new Vivo Y16 folder fits very well because the frame is also 100% original. |
| | You can also test and verify the new display on your phone before pasting it. |
| | You will not face touchscreen lags or low brightness issues with the original display. |
| | We securely pack the new screens in hard plastic boxes with additional protection. |
| | You can order the product from anywhere in India, and we'll deliver it to your doorstep. |
| | You can order the product using Cash on Delivery or Online Payments (10% discount). |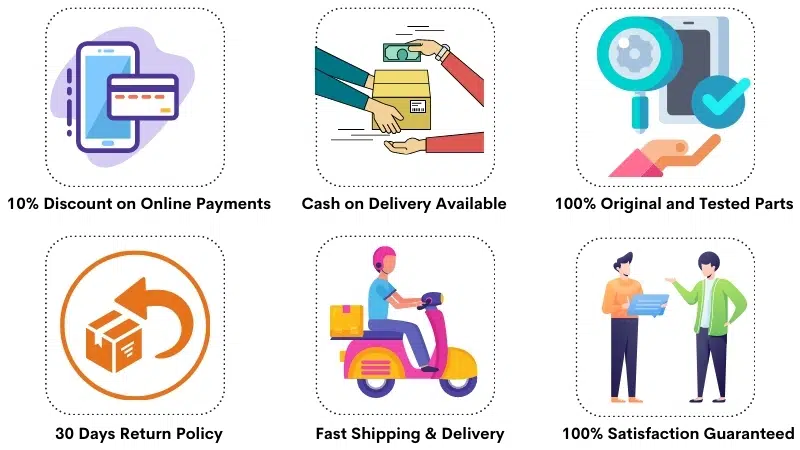 Frequently Asked Questions
Q: How much does replacing a broken Vivo Y16 display in India cost?
The price of a 100% original Vivo Y16 display replacement with the middle frame is around Rs 3300-3500. This price is valid for a 100% original display that arrives pre-installed in the frame and furnishes 100% original colors, quality, and brightness. This spare part is identical to what comes assembled in a brand-new Vivo Y16 phone.
Q: How can I verify the working condition of the new display?
You should verify the new display's working condition before installing it on your phone. Before installation, all technicians and service centers briefly test the display in real-time. This test helps them verify a product's working condition before installation. Here are the steps you should take :
First, dismantle the phone following a proper technique.
Locate the old display's connection on the motherboard and gently eject it.
Connect the new display's flex cable to the motherboard in the right direction.
Turn on the phone, and you can easily test the new display without installing it.
Please note that you don't need to take off the old display from its place to test the new display. You can easily connect the new display on the rear side of your phone and place the new display on a bubble wrap. This testing is more than enough to verify a display's working condition.  If you face any problems while testing the display, you can easily replace it without any hassle.
Q: Do you test and verify the new Vivo Y16 combo before shipping?
We always test the display replacement before shipping them to our customers, and that's a routine process. If we send a display without testing it, hundreds of customers will face problems, but that's false. We always test and verify the new display on a real Vivo Y16 motherboard, diminishing the chances of a defective product. What we see on display during the testing phase is what our customers will see in their tests, and we become 100% sure that our customers will not face any problems with the product.
Q: Is this a manually installed display combo and the frame?
We don't sell manually installed display combos, but these are all factory fitted. You might find the Vivo Y16 display combo with frame for a low price elsewhere, but those are manually installed folders. The seller manually installs a duplicate display in a duplicate frame. Such products can be cheap but don't offer the quality you need. Therefore, please don't assume that low-cost products offer the best value because selling original screen replacements for throwaway prices is impossible without mixing up things.
Q: Is this a 100% original Vivo Y16 display replacement?
Yes. It is a 100% original display replacement for Vivo Y16. Whenever you buy and install a local display, you will notice a huge reduction in display quality and touchscreen experience. All that happens because you bought a duplicate display for a low price. Our product is 100% original, and you'll not face quality degradation issues. Customers pay money for original screen replacements because they don't want to give up on the joyful experience of using the phone.
Q: What if I don't get the display replacement as advertised?
Most customers assume they will not get a good product, and the fear of receiving a lousy product always haunts them. We don't understand why you will get a bad product when you are paying what it takes to buy an original display. You might have heard horror stories from customers, but they won't tell you they wanted to buy a product for the lowest/unrealistic price and fell into a trap.
You should never trust unrealistic prices because such deals are hand-crafted to entrap you. We offer 100% original screen replacements with confidence with a 30-day money-back guarantee. If you don't receive a product that exactly matches your expectations, we'll issue a refund to you. We offer a 30 days return period, and you can buy from us confidently.
Q: What if the new Vivo Y16 display doesn't work with my phone?
Please note that a proper Vivo Y16 display universally works in the pertinent model, and you won't face any issues. Some customers think their phone might have a display that isn't available anywhere, but that is a surreal thought. If you have a phone with a broken display, our product will work flawlessly without any problems.
If your phone is water damaged or has other hardware issues, the new display will not work. To use a new display, your phone's motherboard and other vital parts must be in 100% perfect condition. When you can't use the display, you can easily return it to us without using it. Always maintain the brand-new condition of the display replacement and return within 30 days after delivery, and that's all we need.
Q: Can I buy a display and a frame separately and later assemble them?
Buying a duplicate display and frame separately and assembling them is possible. Such actions only help you cut repair costs because you install duplicate products on your phone. The quality of the display or frame will not be equal to the original one. When you assemble the display using glue, the outcome will not be squeaky clean.
You'll see glue all around the frame, which looks bad. The display we offer comes pre-assembled from the factory using gasket stickers and consists of an original frame and display combo. The final output and fitting quality of the original product are exceptional.
Q: Do you offer an original frame individually without a display combo?
We are sorry, but the original frame is not available separately. Some customers want to buy the original frame for perfect fitting, but you'll only get a duplicate frame individually. The original frame comes from the OEM factory, and they don't sell the frames without the display. You might find a second-hand original frame in the market, but its condition will not equal a brand-new original product. Uses products will surely have some dents, scratches, and other similar issues.
Vivo Y16 Display With Middle Frame Photos
The display combo on this page suits Vivo Y16 and comes with the middle frame/bezel, as you see in the product photos. This display combo can replace a broken display or touchscreen glass or the outer frame. For any questions about the product, please call us at 9587954273.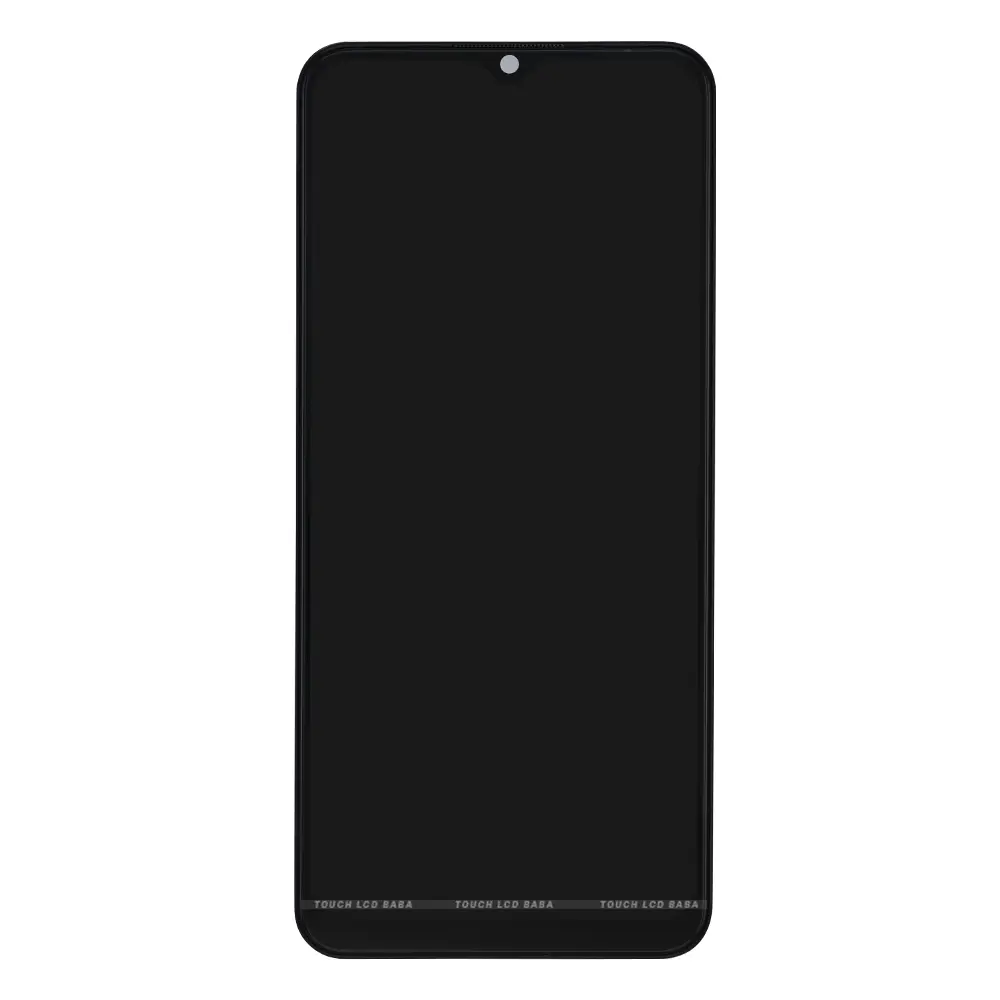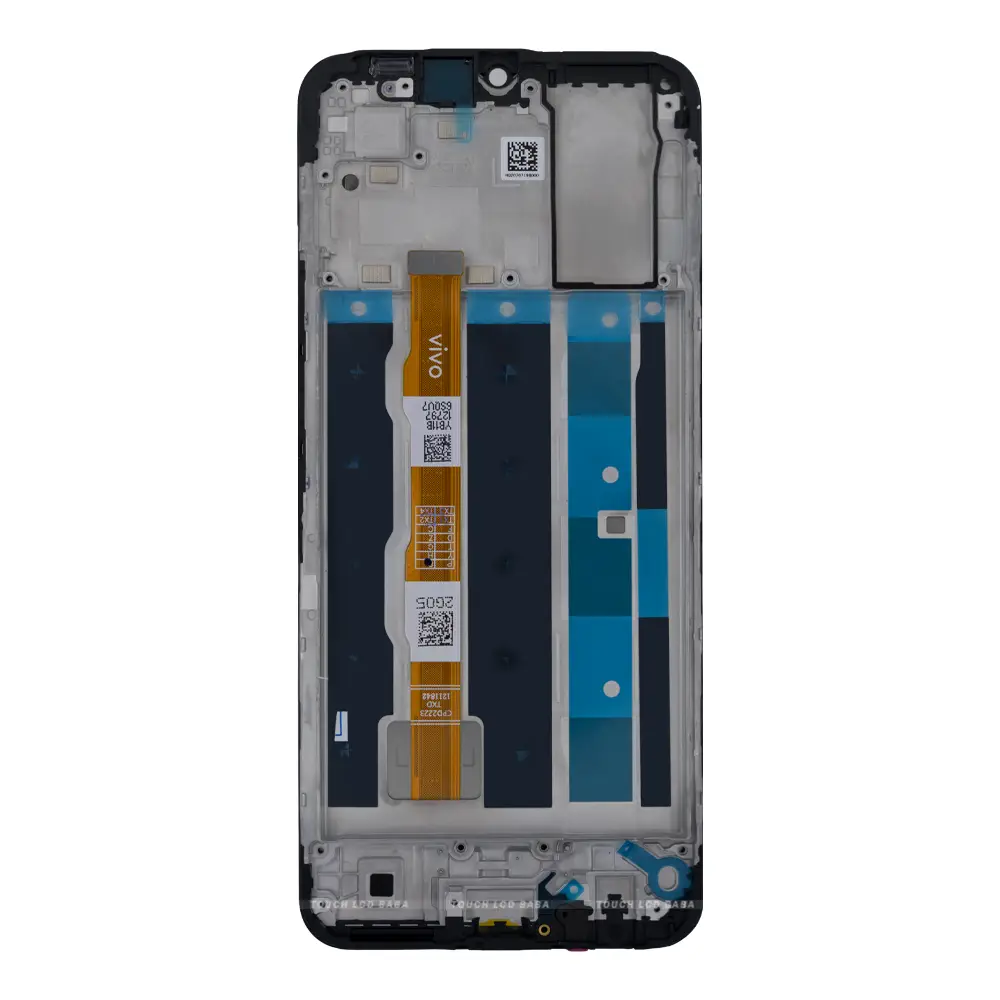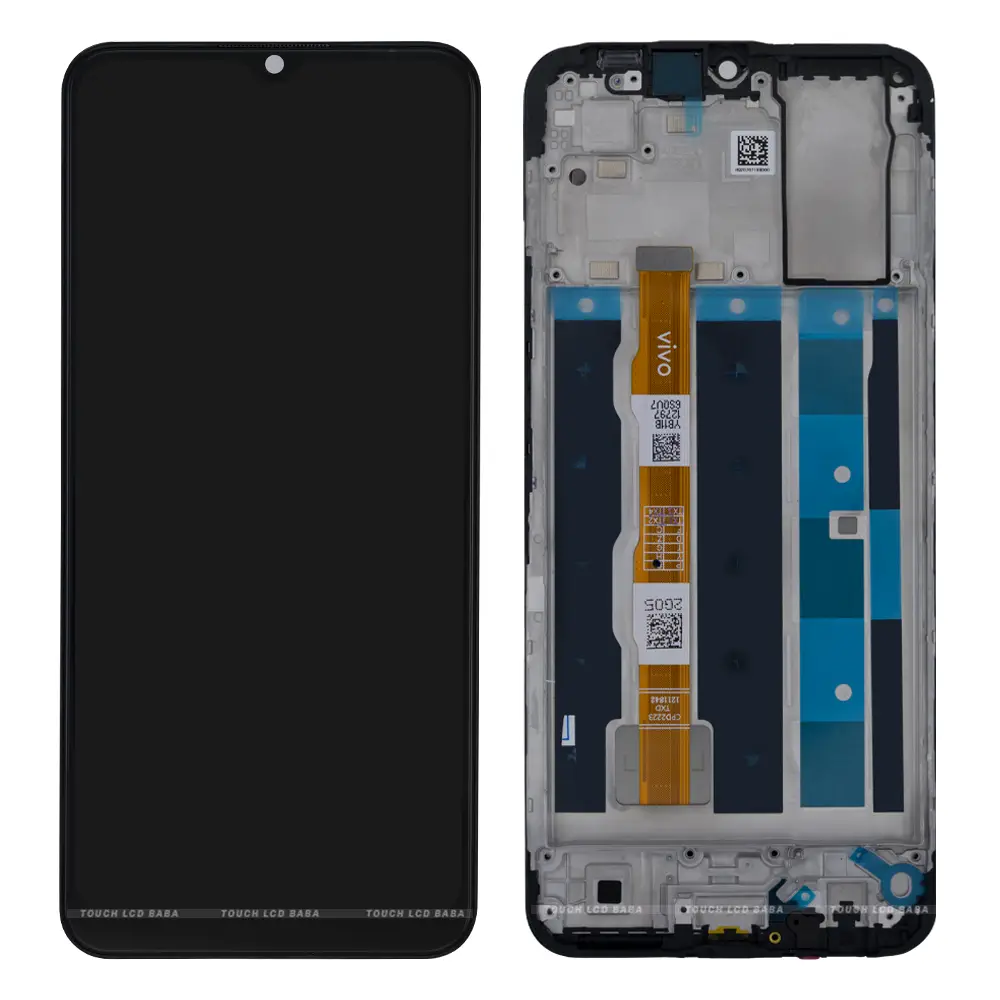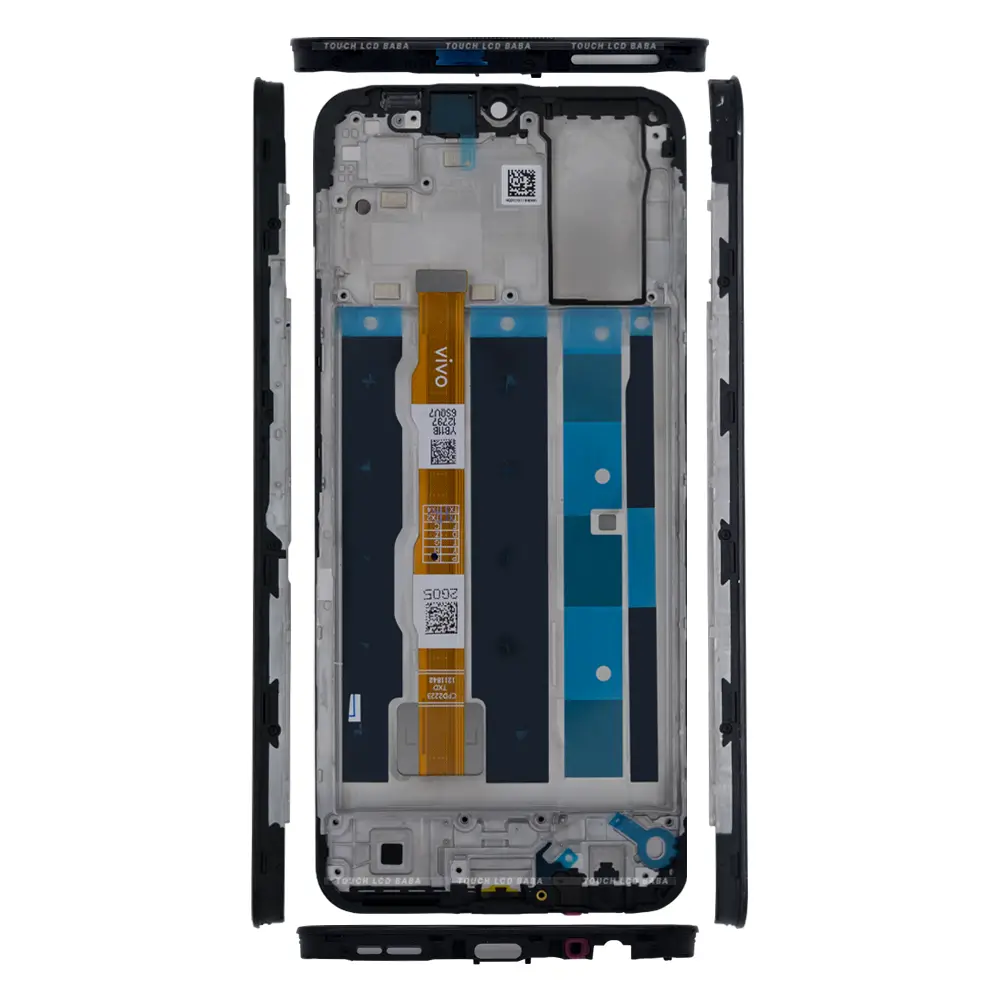 Shipping, Return and Refund Policy
All our products come with 30 days return, refund, and replacement guarantee. To return a product, It should be in the same condition we sent. You can't use or fix the new Vivo Y16 display if you want to return it. For complete details about Shipping, Returns, and Warranty, please click here.