Your long journey of searching for the Redmi Note 8 Pro display price ends here. We understand that the phone is the most valuable device, and if the display damages or the touch screen stops working, you might think that it is all over, and you have to get a new phone. But we are here to tell you that you can easily replace a damaged display at an affordable price and keep on the same quality as before.
Those who are searching for a brand new screen replacement, please read all the information provided on the page as it will help you in making the right decision. We don't believe in first copy compatible or duplicate spare parts, that's why our prices a little bit higher than those products you'll find in the market. We provide 100% original display and touch screen combo, precisely the same as comes fitted in a brand new phone.
What To Do When Redmi Note 8 Pro Display Is Not Working?
Once your phone's display or touch screen stops working, you might tense and think it's irreplaceable. The display damage is nothing new and happens to all of us, so relax because you can quickly reverse the damage with a new screen. When screens get broken, the worst choice many customers do is to look for cheap displays in local markets. They are desperate at the moment to get anything that will fix the broken display problem right away. And that's when they get trapped by a con man who is selling cheap and fake products.
If your display stops working, then fret not. You can easily replace the broken display with a new original combo. When you search for a display replacement, the core thing you should focus on is the quality of the product. Many third party manufacturers also make the first copy display, and you should choose the right product to avoid hassle later. It is because compatible products are cheap, but the quality is inferior.
You need to understand that getting a cheap first copy display from the local markets means that you'll get 50% quality if you compare it with the original. So stop thinking that you will get a high-quality product at a low price. That never happens in this industry, and the product's quality depends on how much you are willing to spend. If you don't care about the quality, you can buy just anything.
How to Replace Redmi Note 8 Pro Display Folder?
If you decide to order an original display from us, you can fix it anywhere. We encourage our buyers to take the phones to the technicians who will help with the installation. That is because mechanics have done the same stuff many times before, and they are aware of the whole process. As the mechanic replace the screens regularly, your phone is in safe hands. You can also try to do it yourself but better stay away if you are a first-timer.
There are lots of helpful videos on Youtube demonstrating how to replace the broken display and you can get a general idea there. But replacing the Redmi Note 8 Pro display practically can be tough for you in case you don't have all the required tools and expertise. The best way is, buy the original display online and fit it with the help of a local mechanic.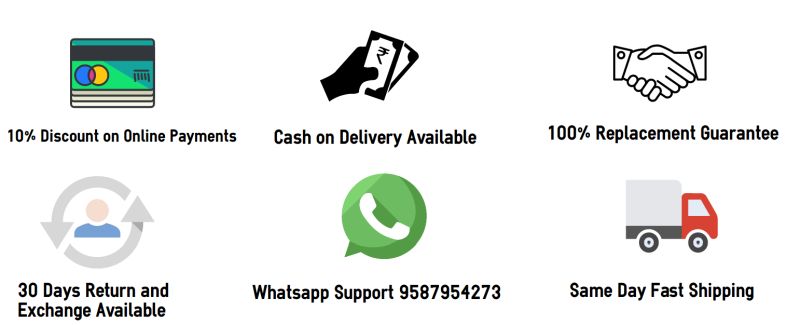 Product Description
| | |
| --- | --- |
| | This Redmi Note 8 Pro display combo is 100% original and brand new. |
| | Redmi Note 8 Pro display size is 6.53 inches and screen resolution is 2340 x 1080 pixels @395 ppi density. |
| | It can be used to replace a broken touch screen glass or a damaged display. |
| | We individually test every combo before send-off to the customer. |
| | We use actual motherboard of Redmi Note 8 Pro to test the combo. |
| | This combo offers 100% same colors, quality, brightness and multi-touch support. |
| | All the gestures will also continue to work as your authentic display. |
| | You can play all the games that require multi-touch to work properly. |
| | The main touch screen glass is protected by Corning® Gorilla® Glass 5. |
| | We have its Ready Stock Available and turnaround time is very fast. |
| | You can order the display using Cash on Delivery or Online Payments. |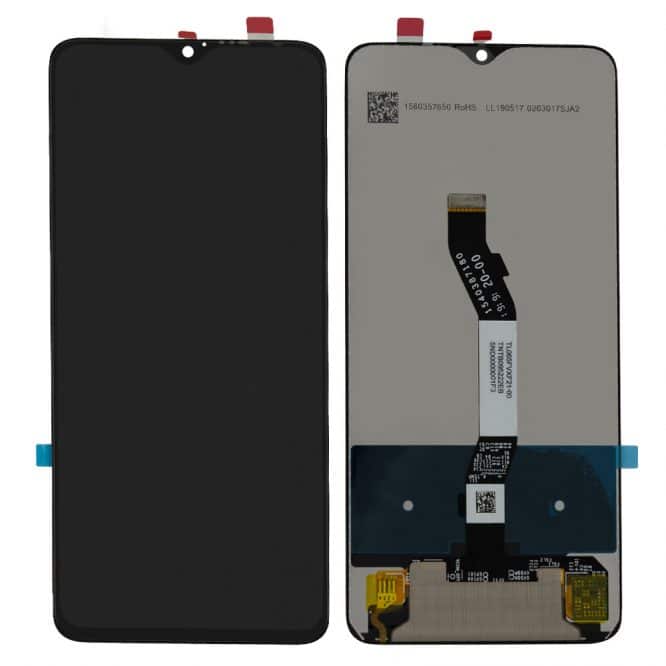 Frequently Asked Questions
Q: How much does Redmi Note 8 Pro display replacement cost in India?
The price of a 100% original Redmi Note 8 Pro display replacement is around Rs 3600-3900. If you purchase the first copy screen replacement, then the combo costs about Rs 1500-1700 in India.
Please note that the original product comes from the OEM manufacturer, and the first copy comes from third-party manufacturers. If you are looking for a genuine product, then don't go for the one in the local market. Remember that the market sells you a product that you have paid for. So if you go for the original yet pricey combo, you'll receive nothing but the top-notch product. But if you go for the first and cheap copy, you'll receive poor quality.
Q: Is there a difference between the first copy and the original display?
Yes, both options are completely different in terms of quality, as well as the price. First copy displays are usually the duplicate of the original one; hence, they come with half the quality and characteristics of the authentic ones. They can serve the users for a maximum of two months. You will start seeing issues very soon because the material used to produce the display is subpar.
The customers who opted for the first copy replacement before will never repurchase it. Many customers elaborate on the consequences they had to face because they purchased the duplicate version. Such customers want to make sure that those problems will not be present in the original display. Many customers still won't listen to anyone and go for cheap quality products always because they think that It is all marketing and everything is equal. When they end up wasting the money, only then they realize the true meaning of the original display.
The products we sell come from the manufacturers who make the original goods directly from the manufacturer. The purchase cost of the original display is way higher than the selling price of the first copy display. That is why such parts seem costly to customers, and they want to stay away from buying them. There is nothing that can match the satisfaction of the original combo, and as they are durable, lasting three years and more If you handle your device carefully.
Q: How can I change only the front glass without replacing the display? 
This solution is preferred by many customers who want to save their money by using the same display and just replacing the front side glass. This solution is top-rated in the local markets because the sole focus is cheap pricing, and quality doesn't matter. We don't recommend this option as in our eyes, and It is just a workaround, not a solution. The actual cost of glass replacement is like Rs 160, but mechanics charge like Rs 1600 from customers. Your money goes down the drain, and the new glass will break again in a short while because it is not a gorilla glass.
Even the official service center will never replace only glass due to quality issues. Some customers will call up the service center and force them for glass replacement. A few customers will even start teaching to the official service center that It is not necessary to replace the display, and they have seen it on YouTube and blah blah. Many customers don't understand that there is a quality protocol in every business, and if you want quality, you must follow that protocol.
Q: What is the average lifespan of the display bought from Touch LCD Baba? 
The average life of the original display is a minimum of 2 years. If you keep your phone carefully, the display will continue to work for a long time without any flaws. Sometimes, your phone can slide away from your hands without your intentions. It may fall and result in a broken screen and a damaged display. That is understandable. But at other times, one can place their phones anyhow, maybe at the edge of the table or put a glass of water on it. It is what we can now refer to as carelessness. Small things like these determine the durability of your phone.
Don't live in the illusion that the gorilla glass is strong enough to stand any pressure you put on it. Having gorilla glass indeed protects the phone, but it also has its limits. If you want the screen to last longer, use a screen protector and a back cover which is not slippery. Many customers use slick back covers, and you can't grip on such covers. Such covers also contribute to accidental drops of the phone.
Our experience says that an original screen lasts much longer, the touch screen gorilla glass is robust, the display backlight is simply superb, and touch works without any lags. The experience of using the original screen is awesome, and just for saving a little money, don't compromise with the quality.
Q: How do you test your Redmi Note 8 Pro display for 100% perfectness? 
Yes! We have a simple and straightforward way of testing all our products. Our top priority is to see our clients happy with our services. We can assure you that all of our combos are tested before sending them to the customer.
In our testing unit, we have purchased a brand new phone of Redmi Note 8 Pro, and we keep this phone in the open condition. We use the motherboard of this phone to test each display we receive from our suppliers. Once we test the product and it is working properly, we apply a TESTED OK sticker and put it in a separate room. Those that have faults we take back to the manufacturer. When a customer orders a new display from our store, we take the one from the already tested screens, wrap it carefully and then send it to the customer.
Q: Why are other websites offering me the display at a low price?
Many online sellers are selling the first copy of the Redmi Note 8 Pro display at very low prices. But we are only selling original products, and that's why our prices are much higher. The first copies are readily available even in the local markets, and every mechanic has them ready in stock. But why go for a product that everyone on the streets seems to be selling? Such products are counterfeit, easily available everywhere, and not worth buying due to quality issues.
Most of these sellers are only selling with one thing in mind, how to make easy cash. It will lead to the buyer getting a cheap and low-quality product. Remember, your phone is allowing you to connect with family and friends. It also provides you with maximum fun during your free time. So then why don't you show your phone a little bit of appreciation by getting it something valuable and long-lasting?
On the other side, If you want to buy a truly genuine display in the local market, you will indeed have a hard time. That is because no one is stocking the original display and giving precedence to first copy parts because of low prices. We take our customers' satisfaction as the highest priority. Money comes second to us. We only sell brand new and original combo from the manufacturer. We are not looking for a one-time relationship with you but a long-term friendship. You don't know you might need us again in the future.
Q: Can I open the phone and fix the display at home?
Replacing your display does not seem like a tough task. But we do not recommend that you fix it for yourself, even if it seems that easy unless you know what you are doing. Taking to the technician is the right option. Fixing the display at home will require some mechanic tools which you may not have. To save yourself from a lot of hassle, we recommend that you take it to the technician. The display replacement cost from a mechanic is affordable and will cost you nearly 200-350 rupees.
Q: What do I do if the display is not working?
It is nearly impossible for you to receive a display that is not working from us. But if you do, then don't mess or force the display on the screen. Check whether you have connected the display properly and try to see if it's working again. If, after doing this, the display is still not working, you can always contact our helpline at 9587954273. Make sure that it is in its original form, and you have not tampered with it. You'll receive a replacement or a refund according to your desire.
Q: Is it possible to test the display without fitting it permanently?
Yes, it is possible to test the new display without fixing it. Connect the display to the motherboard in the open condition and turn on the phone to see if it is working. In most cases, you can test the screen successfully in one go. Make sure that the phone is turned off, and the battery is fully charged before you connect the new display.
If you face any issues while testing, please re-check if the display flex cable is attached correctly to the motherboard. Checking your phone's display without securing the screws will save you the time, and you can also assure the working condition of the display before fixing it.
Q: Will you do the display for me if I pay extra?
No. We only provide you with brand new and original displays. Since you are ordering online, it will be hard for us to fix it for you. However, you can fit in the display anywhere for yourself if you are familiar with the various parts of the phone. If not, you can take it to the mechanic who will fix it for you at an affordable price.
Q: What if the product gets damaged during shipment?
We make sure to pack the products safely in quality materials so that they never break during transit. It is rare to find a display that is broke during shipping. If you find one, don't hesitate to contact us. We will take appropriate measures and arrange a free replacement for you.
Final Thoughts
Most of the time, customers are afraid of buying items online. They mostly do wonder what will happen if the product they have ordered and received is faulty. But you should worry not. Our customers' satisfaction will always be primary for us. That's why we offer a 30 days return policy and accept returned goods if you face any issues.
Shipping, Return and Refund Policy
All the products supplied by us come with 30 days return, refund, and replacement guarantee. To return a product, It should be in the same condition as we sent. You can't use or fix the items If you want to return. For complete details about Shipping and Returns, please click here.