If you broke your Redmi Note 10s display and want to purchase a replacement, you've found the right website. We know the pain of a broken display or touchscreen glass, but sadly, it happens to almost everyone. As mobile phones are portable and we carry them almost everywhere, accidental drops are unavoidable and can happen anytime. Despite having tempered glass protection, mobile phone screens easily break, even on the first drop.
If you break the Redmi Note 10s display and think that the display is very weak, that's not the case. The display is very sturdy, but you are having an unlucky day. You might have dropped the phone several times before, but the display stayed safe, and now it broke. It can be a matter of luck or the drop angle that causes the damage.
Any frontal drop that causes the display to strike the hard surface will surely damage the display or touchscreen glass. If the phone skids on the rear side, you'll likely not incur any damage to the main screen, but the backside components might scratch or crack. On this page, you can find all the answers regarding the Redmi Note 10s display replacement and buy a 100% original display for your phone if needed.
Why do you need a Redmi Note 10s display combo?
A broken Redmi Note 10s display needs replacement, which is possible only using a new display combo. Redmi Note 10s display combo is a brand new display unit that helps you replace the broken display unit on your phone. You swap the broken folder with a new one and restore the working condition of your phone easily and effectively.
If you have ever wondered how mobile phone technicians repair broken phones, the answer is a brand-new display combo. Mobile phone display manufacturing factories constantly make new screens and supply them via various channels to the retail market. These screens come from many manufacturers, which are not original, and we'll discuss that in the next section.
Where do the original and duplicate displays come from?
The original Redmi Note 10s display arrives from the OEM (Original Equipment Manufacturer), and this factory supplies original screens that go into brand-new phones. The OEM is a particular factory designated to provide strictly authentic products. You can buy original screens from the manufacturer, but their prices are quite high, and not everyone knows about them. We buy our stock from OEM manufacturers, so our products are 100% real and work exactly as your original display.
On the other hand, duplicate screens are not manufactured by the OEM but by a third-party factory. These screens are low quality because customers want to purchase duplicate products provided the price is low. Such screens are known as first copy, diamond quality, and OG quality and are easily available in the local markets. These are non-original screens, and you'll not get the same quality as before. The original display is super AMOLED in this case, but the duplicate display is IPS/TFT.
Redmi Note 10s Display Specifications
| | |
| --- | --- |
| | This display is 100% original, tested, and suitable for Redmi Note 10s, model number MZB08POIN. |
| | The Redmi Note 10s display size is 6.43″, the display type is Super AMOLED, and the resolution is 2400 x 1080 Pixels. |
| | Contrast Ratio: 4,500,000:1, Color Gamut: DCI-P3, Brightness: HBM 700 nits (Peak Brightness1100 nits) |
| | Our testing team verifies each display for 100% flawless working before dispatch. |
| | We use a real motherboard of Redmi Note 10s to test and verify the new screens. |
| | We buy our stock from OEM manufacturers to ensure 100% original spare parts. |
| | You'll not face any quality degradation issues because the display is 100% original. |
| | Before installing the display, you can easily test and verify the quality and working condition of the product. |
| | This display perfectly works with all variants of Redmi Note 10s phones. |
| | The display replacement is readily available in stock, and the turnaround time is very fast. |
| | You can place your order using Cash on Delivery or Online Payment (additional 10% discount). |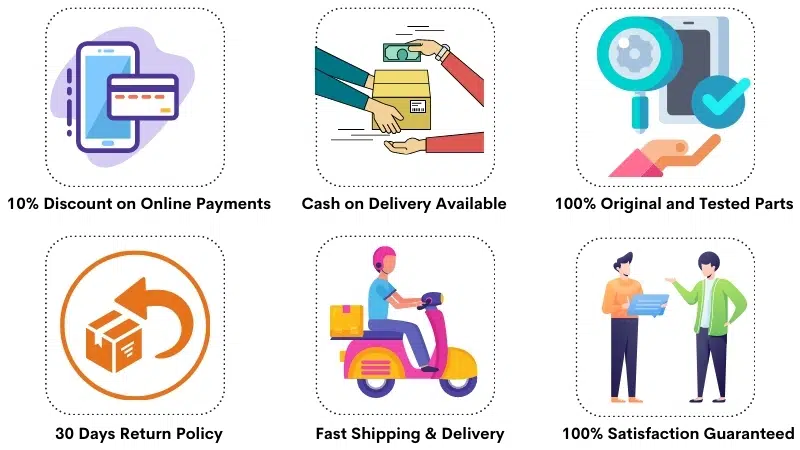 Frequently Asked Questions
Q: How much does it cost to replace a broken Redmi Note 10s display in India?
The price of a 100% original Redmi Note 10s display replacement (Super AMOLED) is around Rs 5200-5500. If you want cheaper products, you can go for duplicate TFP/IPS quality screens that cost around Rs 1500-1800. You'll not get the original quality with duplicate screens, but at least you can use your phone.
Q: Is this a Super AMOLED display for Redmi Note 10s?
Yes. The product sold on this page is a 100% original Super AMOLED display, as you get with a brand-new phone. We know that customers want to purchase original screens, but their availability is very limited in the local market. You can order a 100% original Redmi Note 10s display from our store and install it with a technician's help.
Q: Why is the price low in the local market/other online websites?
Please note that reducing the price is possible by reducing the quality. In this case, the original Redmi Note 10s display is AMOLED, and a low-quality display available in the market is IPS/TFT quality. When the quality is different, the price will be different. Many customers think they found an original display for such a low price, but that's not true. If you purchase compatible/local products, surely the price will be on the lower side.
Please note that duplicate screens target a large customer segment because not all customers want to purchase original products. Many customers want low-cost duplicate screens, so counterfeit products are easily available. Such products are sold as first copies in the local market and many other online websites. Their price is low because the quality is terrible, and you'll better understand such products as makeshift solutions.
Q: My display had a blue spot, and the entire screen slowly turned black. What is that?
You might see deal pixels/blue spots on display after a harsh drop or pressure. You'll often not see any physical damage on the touchscreen glass, but the display cracks internally. Some customers think that if the display looks fresh, it means it is not damaged, but that's not the case. A display doesn't have to be considered broken only if visible scratches exist.
A display can very well crack internally, and you might not recognize this damage. One can argue that cracks are not visible, but that doesn't make sense, as internal cracks happen in many cases. If you see blue spots on the display, they might spread, and the whole display will slowly turn black. That's normal and typically happens with AMOLED screens once they are damaged internally.
Q: Why are the AMOLED screens so costly?
The manufacturing costs of AMOLED screens are much higher compared with IPS Quality screens. An AMOLED display surpasses an individual customer's quality expectations, and that's why these screens are costly. Although the Redmi Note 10s is a budget phone, it still comes with an AMOLED display, and that's why it is such a popular phone.
When replacing a broken AMOLED screen with a new one, you've to pay a premium price. Some customers feel it is not justified to pay Rs 5500 for a display when the phone costs Rs 15000. We understand this concern, but that doesn't affect the screen price, and AMOLED screens will continue to be expensive.
Q: How can I replace the Redmi Note 10s display for the lowest price?
You can easily purchase duplicate TFT/IPS quality screen replacements from the market and repair the phone for the lowest price. Please note that compatible screens furnish poor output, and you've to sacrifice a large chunk of display quality in favor of a low price. Many unforeseen problems stem from duplicate screens, and you should always keep that in mind.
If you want to know how to get the original display for the lowest price, for around Rs 2000, It is nothing more than daydreaming. The greed of a customer to get original screens for low prices opens doors for online scams; if you want to burn your hands yourself, that's your wish. It becomes easy for thieves to facilitate scams because customers don't understand the other side when they become greedy.
Q: I have broken only the touch screen glass. What is the way forward?
Customers often think that a broken touchscreen glass is straightforward to replace, and they can get another one for low prices. Here, you must understand that touch screen glass is not standalone but combined with the display. If you try to remove a pasted glass from the display, the display, which is fine so far, will also break.
If the touch screen still works after damage, it doesn't mean that everything is fine on the phone and merely the glass is broken. Many customers think that way and purchase a duplicate touch screen glass online and later realize that they can't use it. That's because you must replace the display and touch screen if you follow the quality standards.
You can find many technicians in the local market providing glass replacement services. They will replace only the broken glass with a new duplicate glass, and the final result will be a refurbished display whose quality will be far worse than the original. These are makeshift solutions and can never furnish the original brand-new display quality.
Q: What are the most common issues afterward glass replacement?
These issues are very common, and almost all customers face them after glass replacement :
The brightness tint changes completely, and the display becomes hazy.
You'll see dead pixels, dust spots, and other patches inside the display.
A duplicate touchscreen feels very cheap and low quality.
Your phone becomes more prone to damage because a duplicate touch screen glass breaks very easily.
All in all, glass replacement is not a solution but an alternative way to repair a broken display. A technician uses duplicate spares to replace the broken parts and infuse new life in the display, but that never works well. Mobile phone technicians make nice money on glass replacements, and that's why they always speak in their favor.
Q: How can I test and verify the working condition of the new Redmi Note 10s display?
After delivery, you can easily test and verify the working condition of the new display, even without assembling it. To test the new display, please follow these steps :
First, disassemble the phone using the proper procedure (Watch a YouTube Video to learn how it works).
Then, you need to find the display's connection (Jack) on the motherboard and gently eject the old display's connection.
Connect the new display in an open condition without pasting or assembling it.
Turn on the phone, and you can test the new display like it's installed on your phone.
After testing the new display properly for at least 10-15 minutes, you can finally install it.
You don't need to decouple the broken display from the frame to test the display. You can easily test the new display on the rear side of your phone by connecting it properly. If you are unsure how to do it, you can take a local technician's help. In most cases, customers always seek a professional technician's help, and that's always the right way.
Redmi Note 10s Display Photos
Please refer to the images below to see the actual product photos. As you can see, the display and touch screen glass are combined and form a single unit.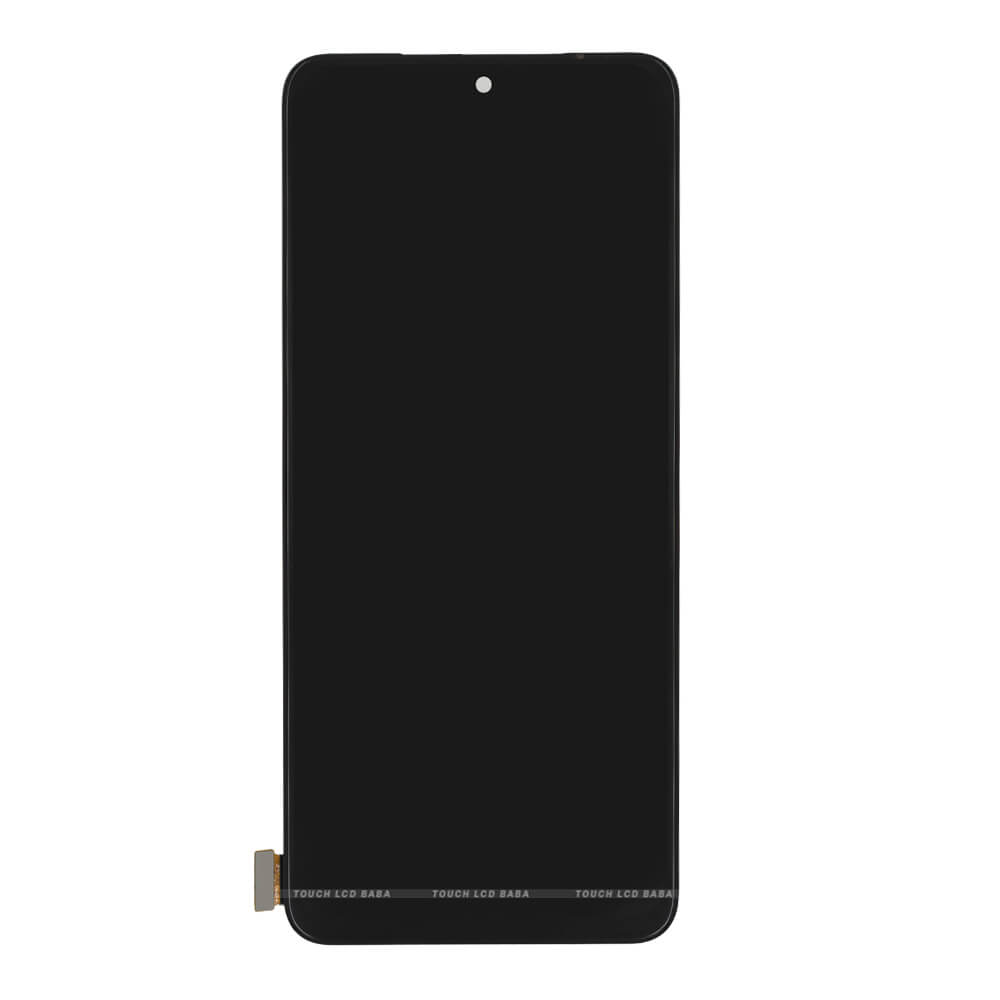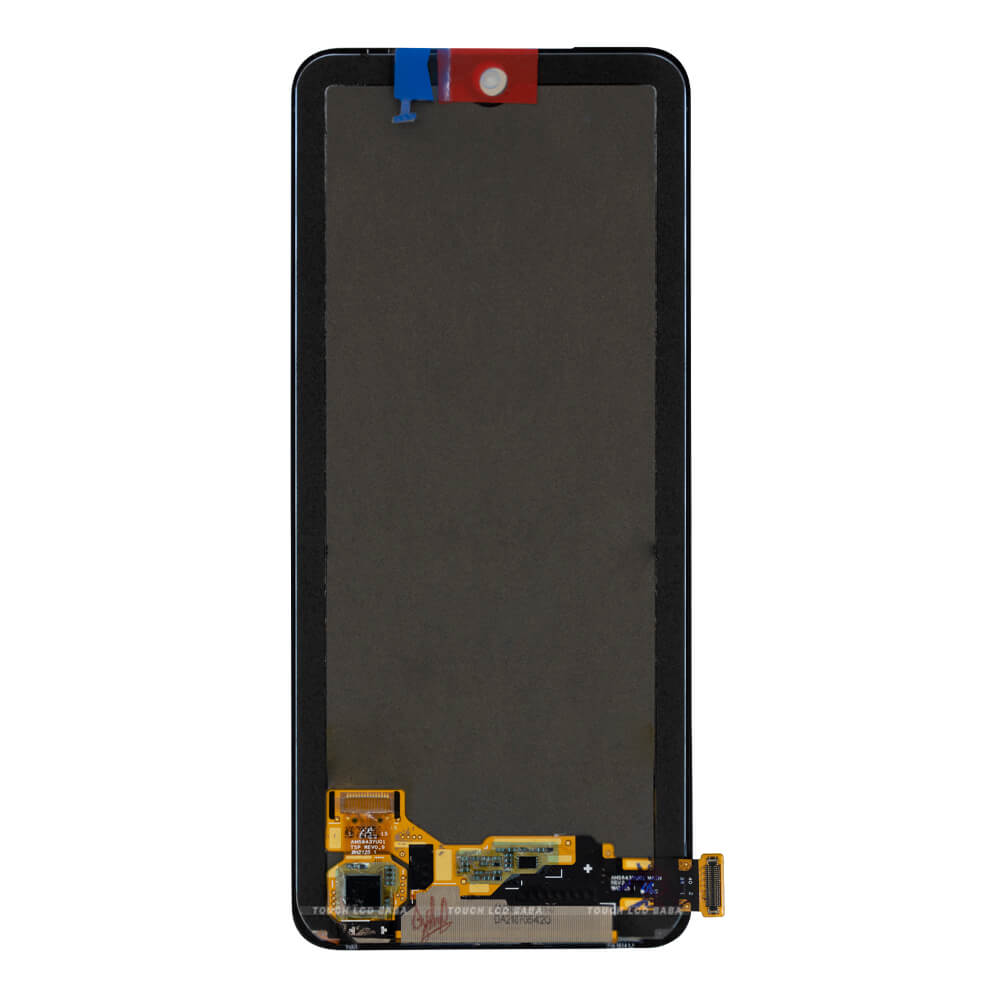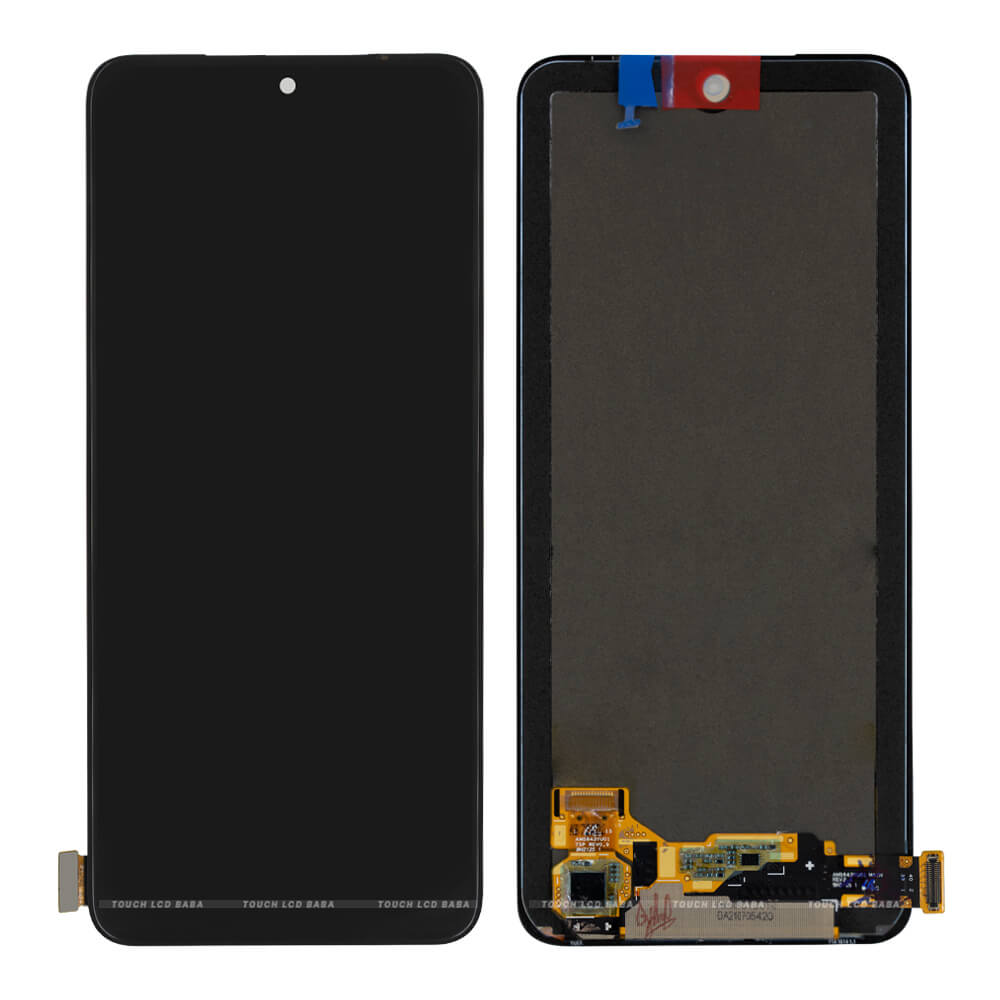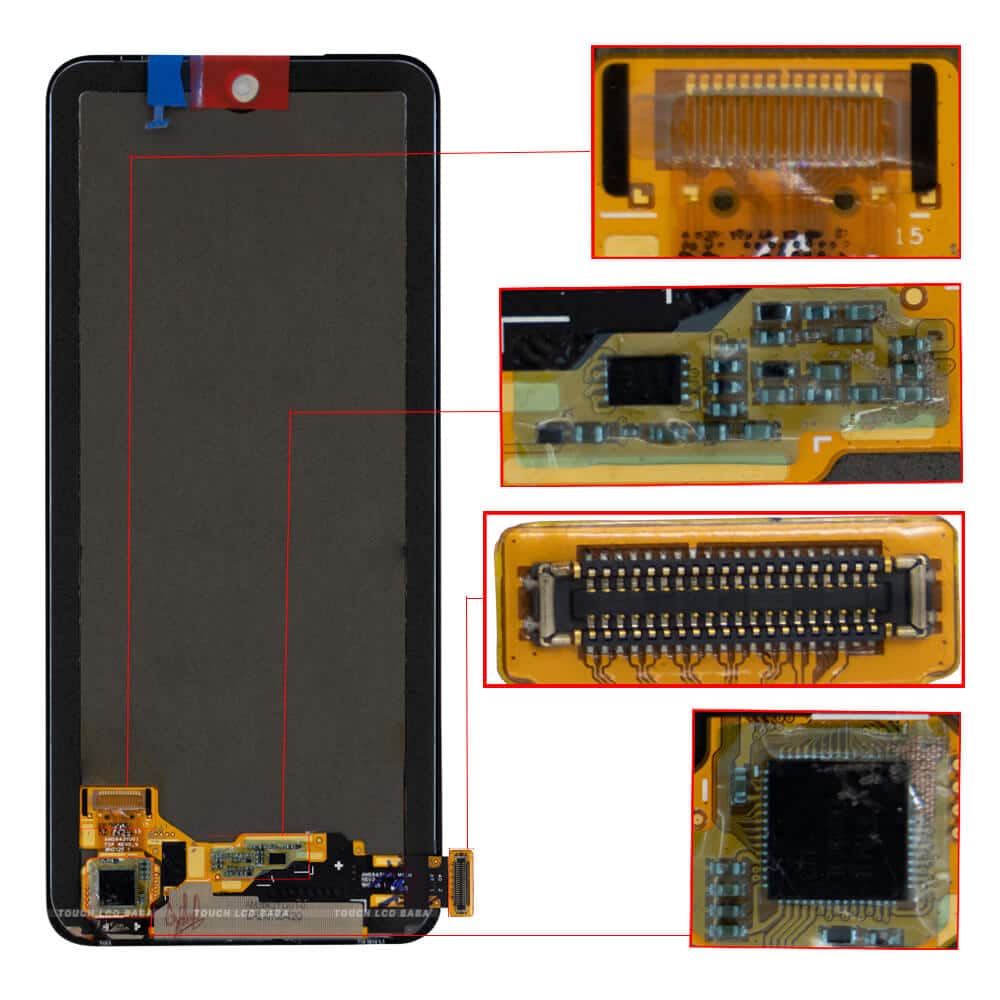 Shipping, Return and Refund Policy
All our products come with 30 days return, refund, and replacement guarantee. To return a product, it should be in the same condition we sent. You can't use or fix the new Redmi Note 10s display if you want to return it. For complete details about Shipping, Returns and Warranty, please click here.