If you arrived here searching for Redmi Note 5 display and touch screen combo, we would certainly help you get a 100% original display replacement. On this page, we offer Redmi Note 5 Display and touchscreen combo, which you can use to replace a broken display or touch screen glass. Redmi Note 5 display is a complete unit of IPS LCD display and touch screen digitizer glass, and that's why you need to replace the combo in case of any damage.
Redmi Note 5 display or touch screen glass can break easily. If you put down your mobile phone accidentally, the touchscreen glass is very prone to breakage. Even after damage, the touchscreen will continue to work for some time, and after that, It may eventually stop working all of a sudden.
The broken touchscreen glass looks very bad, and It can even hurt your fingers. Therefore, It is always a good idea to replace the display as soon as possible. The part you see here is the Redmi Note 5 combo, which is a combined unit of the display as well as the touchscreen glass. All you need to do is, take out the broken display unit and replace it with a new one.
Now, It may not be possible for you to replace the display as you are not a mechanic. Most people who buy the display parts online seek the help of local technicians for replacement. You can also buy a new display and then visit a nearby mobile repairing shop to get the replacement done. The display replacement is quite easy, and you can repair it almost anywhere, either yourself or with the help of a mechanic.
Why are you letting the mechanic choose the display for you?
In your life, you choose everything yourself, your clothes, shoes, and all the other stuff. Now when it comes to the display replacement, why do you let the mechanic decide the fate of your mobile and choose a first copy display for you? Have you ever even thought about this?
We also run a shop locally (which is totally separate from the online segment in all the aspects), the mechanics come and ask about the cheapest screens we can offer. Even when we inform them that this screen has lots of issues like dull brightness, poor quality and It will overheat the phone. The mechanics simply say that they want to earn their money. If they start caring for each customer, they can't make money.
They also tell that customers ask for the cheap junk themselves and not willing to pay for the quality stuff, so why they would take all the burden. Mechanics don't have any soft corner for customer's phone because some customers bargain in a way which is enough to make anyone mad.
So if you replace a broken screen and care for your phone, buy the original one wisely. If you don't get a 100% pure original display offline, you can order online from us but invest your money wisely.
Why Redmi Note 5 Display Combo Replacement is the best choice?
People repair their phones according to their budgets and how further they want to use the phone. In any case, Redmi Note 5 display combo replacement is the best option by the books. The combo replacement is always preferred by the customers who want to restore their phone to the same condition as It was before the breakage. The service centers also follow the same quality protocol, and they will always replace a combo without any discussion.
So, the most preferred solution for a broken Redmi Note 5 display is a complete combo replacement. All the other solutions are a workaround, and you'll never get the same quality again. Such cheap solutions are first copy screens and only glass replacement. We will discuss these later in this article. The combo replacement is the best option because :
You are buying a completely brand new screen of Redmi Note 5 which will serve you a long time.
If you buy the original combo, there is no compromise with the display quality, brightness, colors, and sharpness.
You will not even realize if you've replaced the screen because the old and new screens are identical.
You can still play games and type as swiftly as you want with a perfect touch screen response.
The original screen replacement will never put a strain on the battery.
It doesn't matter how selective you are; the Redmi Note 5 original combo guarantees 100% satisfaction.
You don't need to replace the screen three times in less than six months because It is a durable one and will last long.
All in all, the original display of Redmi Note 5 is the best solution for customers who prefer quality. If you are just after duplicate parts, you can find a ton of other solutions for the broken display issue.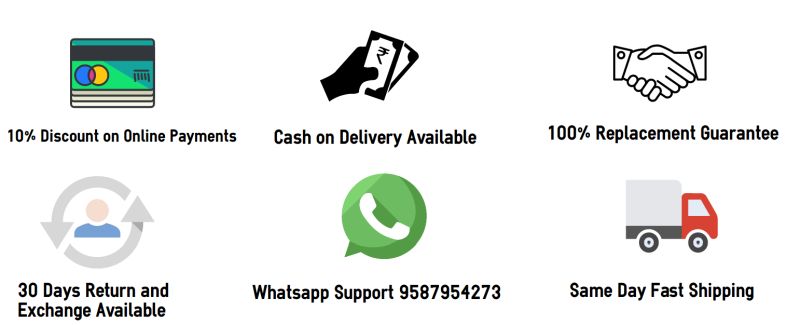 What is the Only Glass Replacement? How does It work?
The display unit mainly comprises two components, the IPS LCD and the touch screen glass. When the phone accidentally drops on the floor or any hard surface, most of the time, only the touch screen glass will break. The touch screen glass is the topmost layer that protects the screen. Whenever a force hits the glass, first, the glass will break, and then conditionally, the display will break.
So in most cases, only the touch screen glass breaks, and the display remains intact. In such cases, many technicians will advise you to replace only the glass because it makes them money. As a general customer, you might not have an idea of how the glass replacement works and how much it costs. So the technicians will give you a quote of Rs 800-1000 while the only glass costs them Rs 50. It is the main reason why the glass replacement is touted so much by the mechanics.  The sole purpose is, it is a money-making machine for them, and they can easily extort money from customers.
Customers are also fully biased towards glass replacement because they want to save money. Although they are paying ten times more than what they get in return yet, they will still go for glass replacement because spending little amount feels good to them.
The glass replacement never guarantees success, but lots of other variables are in the mix. If the display breaks during the process, then you've to buy the first copy duplicate combo as there is no other option left for you. You don't know what the quality of their combo is, but they will force you to buy that china copy for a higher price with cheap marketing tactics.
What If the Only Glass Replacement Fails?
In many instances, the display will also break during the separation process, and the mechanic will ask you to buy the combo. If you don't buy the combo, they will simply return the handset to you in a turned-off condition, and in this case, you don't even know If they have taken out some parts from the phone stealthy.
We are not saying that It is always true, but it happens in many cases. After that, If you take your phone to the service center or any other place, they will say that some parts are missing and you might start blaming the wrong people.
Another point is, the guys doing glass replacement won't let you see what's happening inside. In many cases, they will take out the display from your phone and use it for their own purposes and tell you that your screen broke during the process.
While in reality, they handed over someone's else broken screen to you, and now you can't recognize anything. Such shallow gimmicks are going on in the market for so many years but if you are careful, such things can't happen to you.
Redmi Note 5 Display Specifications
| | |
| --- | --- |
| | This combo is 100% original, tested, and suitable for all variants of Redmi Note 5. |
| | The Redmi Note 5 display size is 5.99″, the display type is IPS LCD, and display resolution is 1080 x 2160 pixels @403 PPI. |
| | You can use this combo to replace a broken display or touch screen glass. |
| | Corning Gorilla Glass protects the main touch screen glass. |
| | We buy our stock from OEM manufacturers so that you always get 100% original products. |
| | The display offers 100% the same colors, quality, and brightness as your original display. |
| | We test the display on the actual motherboard of Redmi Note 5 before shipping it to our customers. |
| | We back our products with a solid 30 days return, refund, and replacement guarantee. |
| | You can place an order anywhere from India, and we'll deliver your parcel. |
| | The stock is always available with us, and the shipping time is very fast. |
| | You can order the display using Cash on Delivery or Online Payments. |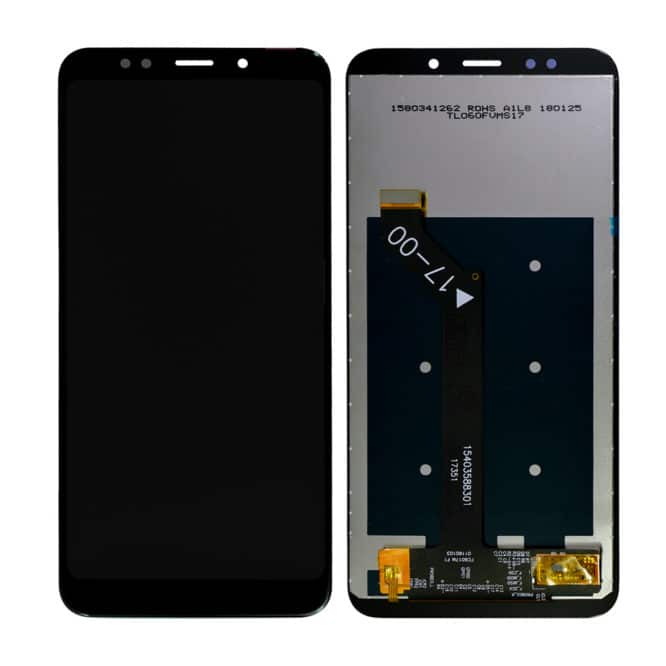 Frequently Asked Questions
Q: How much does it cost to replace a broken Redmi Note 5 display in India?
The price of a 100% original Redmi Note 5 display replacement is around Rs 2400-2600. If you buy a first copy screen replacement, then the combo costs about Rs 1000-1200 in India. You may have to pay additional repairing charges on top of the display's price to a mechanic.
Q: How can I replace the Redmi Note 5 display myself at home? 
The Redmi Note 5 phone is relatively easy to repair, and we don't think you will face any trouble installing the display at home if you have the necessary tools. You can watch the related videos on YouTube and understand how to open the phone and how the screen replacement works.
Most customers will not have the required tools at the home because it is not worth buying them for onetime repair. So in such cases, you can simply visit a local technician and have him affix the display in front of you. Never just handover the part and come back home. Please get everything done in front of your own eyes to avoid any betraying practices.
Q: What is the source of the original display you provide to us?
We source our stock directly from OEM manufacturers who make for the company. That's why the prices are higher, but the quality is simply original. So the display fitted in your phone and what we sell is essentially the same product. That's why we are so confident about the quality of our products.
Q: How can I order a new display from your website?
There is a Buy Now button on each product page, which is specifically for purchasing the product. If you are not sure about how to checkout, you can also send in your address on WhatsApp 9587954273, and we'll create a manual order for you.
Q: What is the average lifespan of the new display? 
The average life of a display replacement depends on your usage style. If you keep your phone safe and use all sorts of protective measures, you can easily use the original display for more than three years, without any issues or flaws. Always protect the screen, handle the phone carefully, and use a tempered glass to protect the display.
Q: Should I stick display using Glue or Double tapes? 
In our experience, the double tapes are not as strong as the Glue. In hot weather, the adhesive of double tapes will soften, and the display will start to bulge out from corners. We suggest that you use Glue to stick the display, and It will be a much better experience for you.
Q: How can I simulate the testing process before fixing the display? 
To test the new display, you just need to connect it to your phone's motherboard and turn on the phone. The display will turn on like you use your phone every day. Then you can use the touch screen and take a full test drive of the new display. You can type messages, use WhatsApp, dial random numbers, and do all the stuff you want.  When you are satisfied that the display is working alright, you can finally fix it on your phone.
Please note that when you test the display, you should not remove any screen guard or seals from the product. Please also make sure that you don't hold the display in your hands in an open condition; otherwise, you may face issues with the touch screen. When you test the display, place the display on bubble wrap, and then simulate the testing process.
Q: How do you pack the parcels, and what If the display arrives in a damaged condition? 
We pack your parcels very securely and diligently. We want to make sure that the parcel reaches to customers without any damage, and that's why we use plastic boxes to pack our screens. We pack your products in a tough plastic box and then cover it all around using thermacol and bubble wrap.
Then we place the container in a solid cartoon, seal the cartoon with a tamperproof bag and then ship it to you. So far, we've never had a case of in-transit damage. Still, all parcels come insured, and you can always record an unboxing video. If you find any anomalies, you'll get a 100% free replacement.
Shipping, Return and Refund Policy
All the products supplied by us come with 30 days return, refund, and replacement guarantee. To return a product, It should be in the same condition as we sent. You can't use or fix the items If you want to return. For complete details about Shipping and Returns, please click here.