Redmi Note 7s display is available here, and If you are searching for a brand new original screen, you are on the right web page. We don't believe in first copy and inferior quality parts, and that's why our prices are higher, but the quality is 100% pure OEM, which means you are getting precisely the same combo as fitted in a brand new phone. We have seen lots of customers who feel incredibly frustrated when they have broken their Note 7s display. However, It is not the end of the world as original screen replacement for Note 7s is readily available here.
What to do when the Redmi Note 7s display breaks?
When the Redmi Note 7s display gets broken, the customers start looking on how to replace the display, and during this period, they go through various options online and offline. They go through several Youtube videos, and other stuff, and tons of customers start leaning towards the cheap solutions like only glass replacement and buying first copy product. If you are one of those customers, keep reading further as the information may help you in making a wise decision.
The thing which you need to understand is, cheap screen replacement comes with 50% quality of the original, and that's why it's cheap. So stop thinking that you are getting a deal of some kind because you get what you pay. A low-quality display will heat your phone so badly that you won't be able to talk for a few minutes because first copy screens get manufactured with cheap material without proper testing.
On the other hand, the combo which we sell is 100% original, tested, and comes with a money-back guarantee for any defects. In Redmi 7s combo, display, and touch screen, both form a single unit, and you can't separate them. When the display damages, you need to replace the complete display unit if you want to retain the quality of your phone. If you have any further questions about the price, please feel free to contact us at 9587954273.
What are the various options to replace a broken Redmi Note 7s display?
Once the display or touch screen glass breaks, you can choose one from these various options to restore the working condition of your phone. All these options are viable, but selecting them depends on your budget and your willingness to keep your mobile in perfect shape.
A) Visit The Official Service Center
It is the first option that comes in mind after a broken screen. Many customers rush to the service center to replace the broken screen, and if the service center is available in your city, that's good. However, in most villages/small towns, the service center is non-existent, and you can't repair the phone via this method.
On the other hand, the prices in the service center are usually sky high, and sometimes you may need to wait for a long time until the spare part comes in stock. So this option might not be feasible for everyone because of the high prices and non-availability of proper support.
B) Buy a Duplicate First Copy Display From The Local Market
The second option is buying a duplicate display of Redmi Note 7s from the local market and get it fixed by a mechanic. In the local market, mechanics usually overcharge customers by selling them duplicate screens for high rates. So you pay the price, which is very close to the original screen's price, and still, you get the duplicate screen. So this option is like wasting your money on duplicate parts while paying high prices.
If you want to get a duplicate screen due to the budget problems, the price is nearly 1100-1300 rupees, including fitting charges. We are telling you the price so that you don't overpay for the first copy screen. This option is suitable for customers who want cheap products and don't care much about quality.
C) Buy the Original Redmi Note 7s Display Online
We are not saying that buying online is always the best option because lots of big retailers are selling duplicate products under the hood. However, If you buy online from trusted vendors like us, you will get a 100% original product and full value of the money spent. Our prices are not low because we don't offer first copy duplicate screens.
We source our products from OEM manufacturers who make for the company, and as we buy directly, we can sell the original display at a much lower price. So if you have the necessary arrangements to install the screen on your phone, you can buy online and then fix the display. You'll not be overpaying and still enjoy all the benefits and features of the original Redmi Note 7s display.
When you buy the combo online, don't look for cheap products, and if you need affordable, It would be a lot better to buy from the local offline market because you'll get the same duplicate screen there for a lesser price. Buying from us is only beneficial if you don't want to make any compromise with the display quality.
See How We Test Each Display
If you want to see the quality of the Redmi Note 7s display, we have made this video for you. It is a demo of the actual screen you will receive after your order. We always test the display one-by-one to make sure it is 100% perfect and defect-free.
Customers are always worried about receiving defective parts, and that's why we are sharing this video with you. In this video, you can see how our QC team tests each display and why you will never receive a defective product. We examine the screen on the same phone as you are using. Watch the Video.
Redmi Note 7s Display Specifications
| | |
| --- | --- |
| | This combo is 100% original, brand new and suitable for Redmi Note 7s. |
| | The Redmi Note 7s display size is 6.3″, display type is IPS (In-cell) and display resolution is Full HD+ 2340 x 1080 pixels. |
| | We sell only 100% original screens, exactly the same as comes assembled in a brand new phone. |
| | It is a complete unit of display and touch screen combined together in a single unit. |
| | The display offers 100% original colors, perfect brightness and super smooth touch screen experience. |
| | We make sure to test each Redmi Note 7s display for proper working before dispatch. |
| | It comes with a replacement warranty for manufacturing defects. |
| | We can deliver and pick up the parcels from almost all locations in India. |
| | The display is readily available in stock and shipping time is very swift. |
| | You can order the screen using Cash on Delivery or Online Payments. |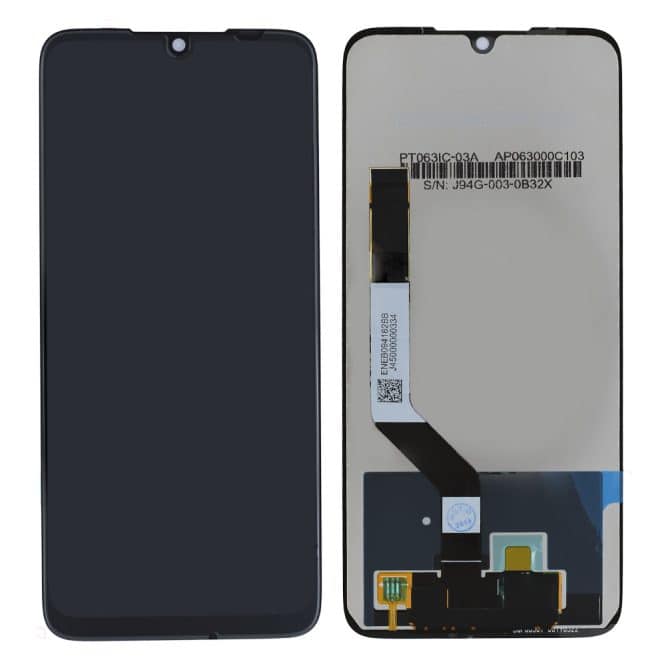 Product Description
Q: How much does it cost to replace a broken Redmi Note 7s display in India?
The price of a 100% original Redmi Note 7s display replacement is around Rs 2700-3000. If you buy a first copy screen replacement, then the combo costs about Rs 1200-1300 in India. Please note that the correlation between price and quality is still very true. You will get the quality you are paying for.
Q: Can I replace only the touch screen glass without replacing the display?
Yes. It is possible to replace only the glass without replacing the display, but we don't recommend such solutions due to loads of future problems. If you call the official service center or any other person doing quality screen replacement, they will always recommend complete combo replacement. The service center always does quality screen replacement because they always replace the complete combo.
We also recommend replacing the complete combo because of the unmatched quality and durability it provides. You will not even realize If you have replaced the display because the display fitted in your phone and the display we provide come from the same OEM manufacturer. For this reason, there will be no difference in the quality, and we guarantee to deliver 100% original display replacement for your phone.
Even If only glass replacement is successful, you will see dust particles, white spots, and other flaws inside the display and touch screen glass layer. If you still want to go for only glass replacement, it's your choice, but we don't suggest saving a very negligible amount and opening the door for future problems.
Q: I replaced the display from the local market, but now the quality is terrible. Why?
The display you buy in local markets is a first copy, not original. That is why when you replace the display in the local market, you will feel that the new display is very different if you compare it with the original. The first copy (or duplicate) display provides very different color tint and brightness.
The touch screen will also start lagging and will not respond properly to the commands. If you also love finding cheap deals, you will never get satisfied with the quality. If you want 100% satisfaction with the same quality as It used you, you have to purchase the original products.
Q: I always compare prices and buy the lowest priced products. Is this a good strategy?
It is not a good strategy, and here is why. The price comparison strategy works if you compare the same products. In this business, the quality of the products varies a lot. You can't compare the price of a duplicate display with the original display. It is just like you are comparing a generic product with a branded one.
So If you are hunting for low prices, you will always get a first copy product. For this reason, we recommend that you compare products on the same ground, of the same quality. If you think that one website is selling at a low price, you have to understand that you will get a low-quality product.
Q: Do you sell first copy products as I don't want to spend more?
We don't sell first copy products, and that's why you can't find them on our website. There is no solid reason to sell such products online because those are easily available in any local market. Our goal is to provide original and durable parts to our customers, which makes them happy. If you purchase the first copy, we can assure you that you will not appreciate the quality.
Q: How can you sell at a lower price and still have the original display?
You have likely received a high price quote from the service center, and you might be wondering about how we can sell for a lower price. So that you know, parts are not that costly as you often see in the official service center. You are paying a lot of extra money for branding, and It is a very normal thing. We sell the same item at a reasonable price and assure you about 100% original quality.
Q: How can I make sure that you have supplied an original product to me?
You can recognize the original product by its appearance and quality. If you take an original product in hand, you can see the barcode on the backside and other stuff which you will also find on your broken display. There can be slight differences as the display is manufactured by several OEM vendors, but the quality will be 100% the same. When you connect the display to your phone and take a trial, you can see the wonderful quality It offers.
You can The original product can be recognized by its appearance and quality. If you take an original product in hand, you can see the barcode on the backside and other stuff which you will also find on your broken display. There can be slight differences as the display is manufactured by several OEM vendors, but the quality will be 100% the same. When you connect the screen to your phone and take a trial, you can see the incredible quality it offers.
Shipping, Return and Refund Policy
All the products supplied by us come with 30 days return, refund, and replacement guarantee. To return a product, It should be in the same condition as we sent. You can't use or fix the items If you want to return. For complete details about Shipping and Returns, please click here.