This Redmi Note 9 Pro display replacement is for customers who don't want to compromise on any aspect of the display. The Redmi Note 9 Pro display sold on this page is 100% original, tested, and comes with a money-back guarantee for any defects. The best part is that you get a factory-fitted display with the middle frame and don't need to assemble/fit the display inside the frame manually. It stands true that 90% of customers buy a display without the middle frame, and that's why this product is for picky customers.
Buying a Redmi Note 9 Pro display with an outer frame becomes a compulsion if your phone's existing outer frame is cracked, bent, or entirely out of shape. In many cases, exceptional accidents happen; the front portion of your phone curves, and it feels like the end of the phone. In such cases, you can't assemble a display if you don't have a new outer frame, and the product sold on this page resolves that purpose very well. We have the best product available if you need the display replacement accompanied by the outer frame.
What is the middle frame, and why do you need it?
The middle frame (outer frame) is the front side body that securely holds the display. If the outer frame is bent, curved, or deformed, you can't paste a new display inside it because a display needs a flat surface, or it can't be adequately pasted. That's why you need the frame when the damage is beyond normal or you want to renew the front side body of your phone for aesthetic reasons. If you purchase a display with the outer casing, your phone completely renews like you've bought it today.
Furthermore, when you buy the display with the middle frame, you don't need to assemble it manually as it comes pre-fitted in the frame. You don't need glue, double tapes, or similar adhesives to stick the display in the frame, and that's the most significant advantage. After installing the display, you will be surprisingly happy with the outcome. It costs money to buy the original display, but this investment is worth it.
Do you always need the outer frame in all damage cases?
You don't need the middle frame when your phone's existing frame is reasonable. Using the old frame is fine if you slightly scratched the display and your existing frame is pristine. Just install the display properly using glue, and everything should be fine. We also offer a without-frame display replacement for Redmi Note 9 Pro that offers 100% original quality and comes without the frame. The price of that product is lower, and you can retain 100% original display quality.
On the flip side, many customers buy the with-frame display because they don't want to reuse the old frame. Some don't want to assemble the display manually and don't care about investing extra money for the sake of their device. So even if the old frame is good and you still want to buy a display with the middle frame, you can do so, and then you can keep the old frame with you in case you need it for some reason.
Redmi Note 9 Pro Display With Frame Specifications
| | |
| --- | --- |
| | This combo is 100% original, tested, and suitable for Redmi Note 9 Pro. |
| | The Redmi Note 9 Pro display is IPS LCD measuring 6.67″, and the resolution is 1080 x 2400 pixels @395 ppi. |
| | You get a 100% brand-new display and touchscreen combo with the middle frame. |
| | Replacing the broken display and frame using this new product is elementary. |
| | The top layer of touch screen glass comes with Corning Gorilla Glass 5 protection. |
| | The touch screen supports all multi-touch features and gestures. |
| | You will always get a 100% tested and verified product without any faults. |
| | All the products are backed by 30 days replacement, return, and refund guarantee. |
| | You can order the display from any part of India, and we'll deliver it. |
| | The stock is readily available, and the turnaround time is speedy. |
| | You can order using Cash on Delivery or Online Payment(10% additional discount). |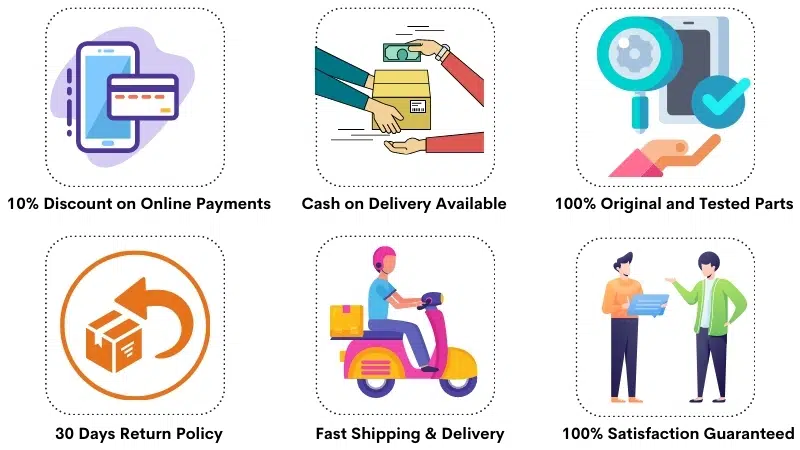 Common Customer Questions
Q: How much does replacing a broken Redmi Note 9 Pro display with a middle frame cost?
The price of a 100% original Redmi Note 9 Pro display replacement with the middle frame is around Rs 3800-4000. A folder with a middle frame is a dream come true for many customers and helps you retain 100% original display quality without compromising quality. It is a factory-fitted display using gasket stickers, and you'll appreciate its quality and fitting.
---
Q: What are the major benefits of a Redmi Note 9 Pro display with a middle frame?
A Redmi Note 9 Pro display with a middle frame always outweighs the without-frame display. Here are the significant benefits you can enjoy :
You don't need glue/double tapes as the display comes pre-installed in the frame.
A factory-fitted display never bulges out of the frame, but a manually assembled display will come out of the frame in summer.
A factory-fitted display is pasted using gasket stickers, while a manually assembled display uses glue/double tapes.
You don't get immaculate finishing with a manually assembled display, while a factory-fitted display is 100% perfect.
The front side portion of your phone completely renews because you also get a new frame.
Installing a display with a middle frame is easy and risk-free because pasting isn't required.
You also get a new earpiece mesh which usually clogs after using the phone for a long time.
All tech-savvy customers buy a with-frame display without considering other products because the benefits are much greater than the investment. If you've any questions about this product or confusion, please call us at 9587954273, and we'll assist you in the right direction.
---
Q: Do you test the new Redmi Note 9 Pro display before shipping it?
Yes. We always test and verify a product's working condition before shipping it to our clients. We understand that a new display can rarely be defective, and we always rule out such possibilities. To test the display, we use a Redmi Note 9 Pro motherboard, and here is how we do it :
We keep a new Redmi Note 9 Pro phone whose back panel is removed, and the motherboard is directly visible.
To test the new display, we eject the installed display's connection and connect the new display on the rear side itself.
After that, we turn on the phone to test the new display in real-time without any guesswork.
After verifying all the aspects of the new display, it is ready to ship.
Please note that you can test the display on the rear side of the motherboard without removing the broken display. We do that, and the original display always stays in its place. We test a new display using the motherboard; this method is 100% error-free and accurate. All mobile phone technicians also test the display similarly and verify its working condition.
---
Q: Can I assemble the new Redmi Note 9 Pro display at home?
Installing the Redmi Note 9 Pro display is easy, and a professional technician hardly takes 20 minutes to install it. However, if you have never done this before, it would be wise not to do it at home. That's because the inner structure of a mobile phone and its parts can overwhelm you sometimes, and you might find it difficult to complete the operation.
The best option would be to seek a professional technician's help in the local market for installation. Mobile phone technicians charge around Rs 200 for installing the display, and that's a hassle-free process. Mobile phone technicians are fully aware of the process, and you can stay beside them and test the new display yourself before installation.
---
Q: What if the new display comes in damaged condition?
We pack the products very carefully and take all the measures to protect the content during transportation. We use hard plastic boxes accompanied by additional layers of protection, and so far, we've never had a case when the product got damaged during transportation. Still, we take complete responsibility for any calamity during transit and always provide you with a free replacement.
After delivery, you can record an unboxing video showing all the parcel's corners first.  If you get a damaged display inside the shipment, that would be visible, and we'll provide a free replacement to you. Please note that unboxing video is compulsory in damage cases because many customers try forgery attempts and violate the policy.
---
Q: Do you supply the frame separately without the display combo?
We don't sell the frame individually as it comes as shown in the product images. The display comes assembled by the factory, and we don't assemble it manually. You can buy a Redmi Note 9 Pro frame separately, but such frames are duplicates and wear out very soon. They are way less sturdy than the original frame and hence not very useful.
---
Q: Do you buy the display and frame separately and then combine them?
No. We supply a factory-fitted display replacement and don't assemble it manually. A factory-fitted Redmi Note 9 Pro display looks squeaky clean, and you won't find any pasting signs around the display. Normally, you would see glue, gum, and other messy things around the frame if you buy local products, but that is not the case with this product.
---
Q: I will open the parcel first, test the display and then pay. Is that possible?
No. It is impossible in any condition, and we don't permit open delivery. If you're a customer with trust issues, that's usually a mindset problem, and we can do nothing. Asking for unreasonable things shows a customer's overcautious mind, and we don't want to trust customers who don't trust us. Business without trust is impossible, and we also don't want to deal with skeptical customers.
---
Q: My frame is slightly curved. Isn't it usable?
You might have a slightly bent frame or only bent from a particular corner, but you shouldn't use it. A bent frame is not good, and if you re-twist it in the opposite direction to straighten it out, that also won't work as desired. If you ignore the bent portion and assemble the new display anyhow, that won't last long. That's because a curved frame will return to its curved position, creating pressure on the display.
People also use rubber bands or similar materials to force the display into the frame, but the display will crack again easily. A curved frame can't provide ample support to the display, so it should never be used. Saving a little doesn't matter because the risks outweigh your savings. Always buy a ready-to-use original display replacement, and you're good to go.
---
Q: What is the return policy, and how long does delivery take?
You can always return a product within 30 days after delivery in unused condition, and we don't accept used/tempered returns. The return policy is crystal clear and helps customers return their products without messing up with them. Therefore, always return a product in the same condition as delivered, which would be the best approach.
The delivery time depends on your exact location, and we can easily deliver within 2-3 days to most Metro locations. If you live in a small village, the delivery time extends to 5-6 working days and can be even more in hilly or tough-to-reach areas where few options are available.
Redmi Note 9 Pro Display With Middle Frame Photos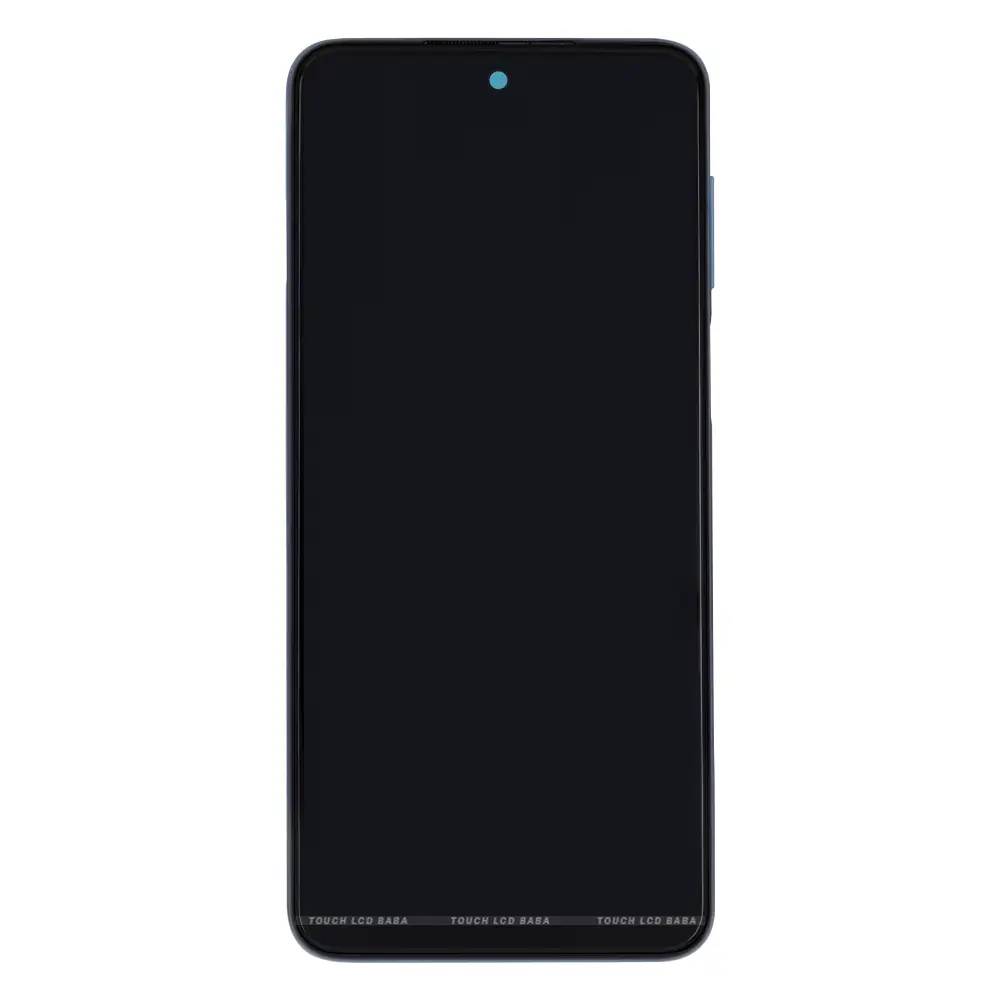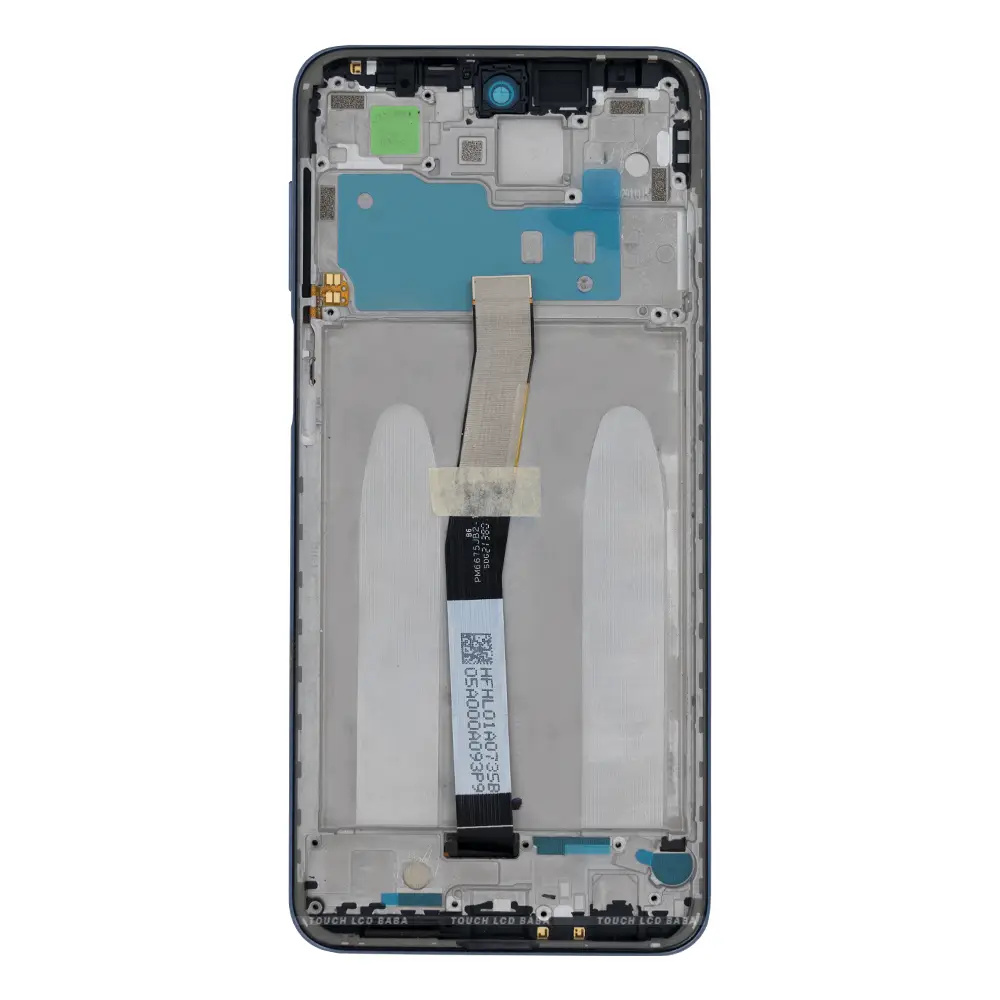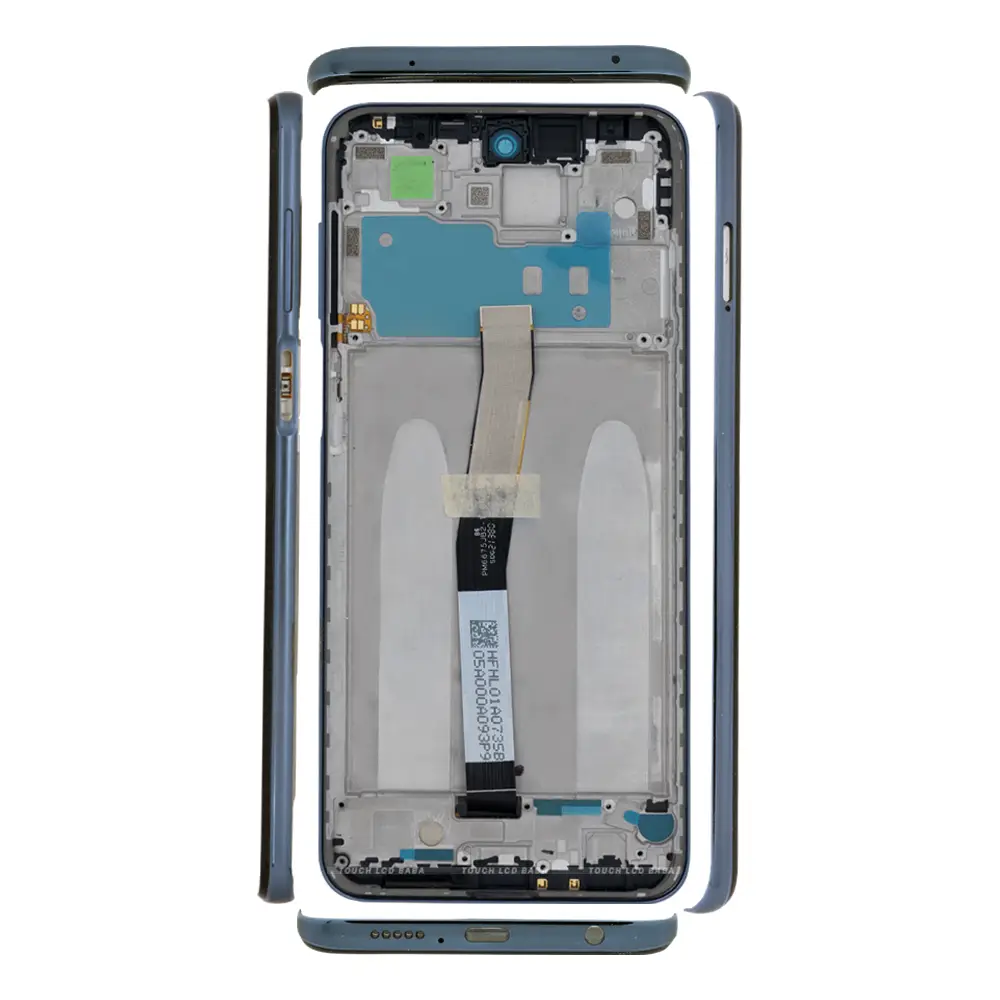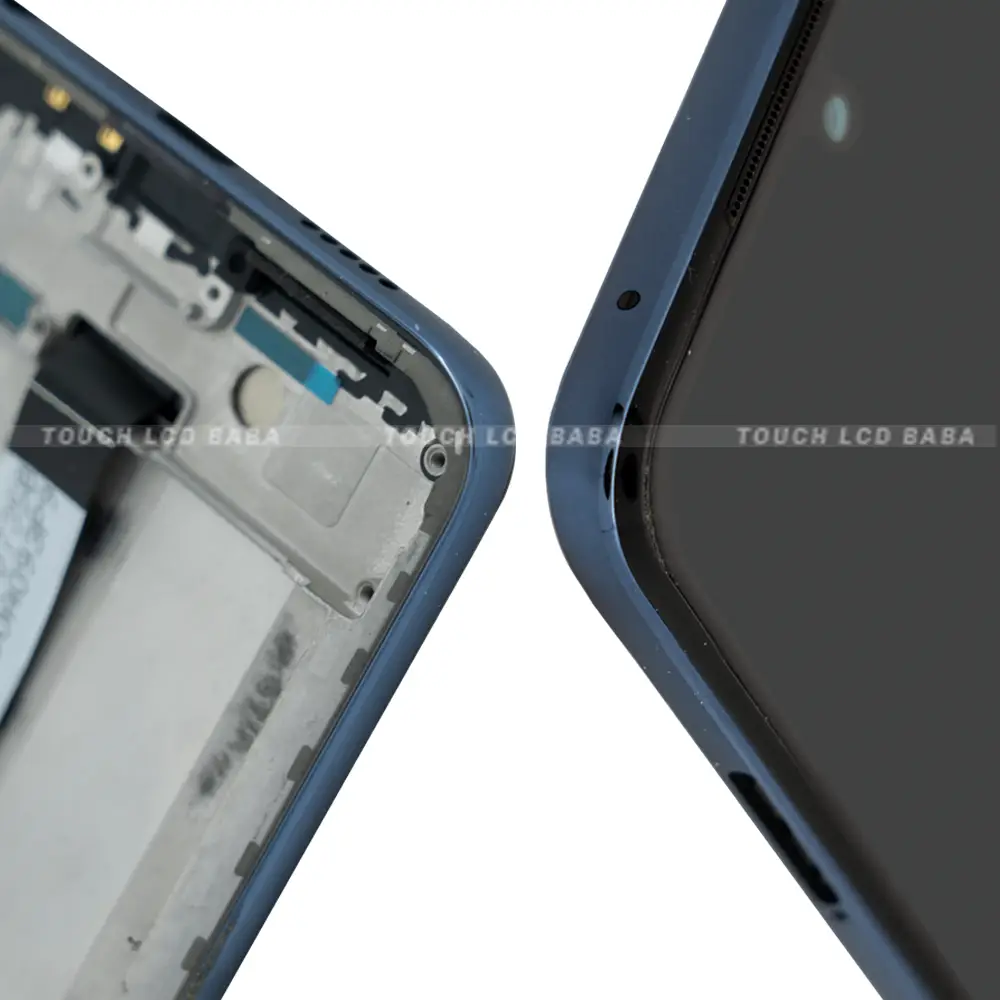 Shipping, Return and Refund Policy
All our products come with 30 days return, refund, and replacement guarantee. To return a product, It should be in the same condition we sent. You can't use or fix the items If you want to return them. For complete details about Shipping, Returns, and Warranty, please click here.