Are you looking for Blackberry Key 2 display and touch screen combo? If yes, then you are on the right page. On this page, we offer the Blackberry Key 2 display and touch screen combo, which is a perfect replacement for a broken display. Blackberry Key 2 comes with a pasted module of display and touch screen glass, so you can't replace the parts individually. In any case of accidental damage, you need to replace the complete display unit.
These days, all mobile phone screens have turned into folders. It means that display and touch screen glass both parts come pre-attached in an assembly. Now even if only touch screen glass is scratched, you are required to replace the complete combo. You can see the actual photos of Blackberry Key 2 in the product photos section.
Blackberry Key 2 Model Numbers
Blackberry Key 2 sells in many countries with different model numbers, but the display is the same in all countries. So the origin of the phone really doesn't matter, and this display will equally work in all Blackberry Key 2 phones.  Some of the supported model numbers are :
BBF100-1 (EU, Africa, AU)
BBF100-2 (Canada, US, LATAM)
BBF100-6 (ME, APAC, India)
BBF100-4 (China) Also known as BlackBerry Athena
If you have a Blackberry Key 2 phone and its model number is not listed here, please feel free to contact us. This Blackberry Key 2 display is 100% Original, tested, and comes with a money-back guarantee for any defects. These days all mobile phones are made upon folder technology, and display and touch screen are combined.
Product Specifications
| | |
| --- | --- |
| | The model number of Blackberry Key 2 is BBF100-6 (Indian Variant). |
| | Blackberry Key 2 display size is 6.3 inch and display resolution is FHD+ with a resolution of 2340 x 1080 pixels @443 PPI. |
| | The product demonstrated on this page is complete display assembly for Blackberry Key 2. |
| | The display and touch screen is combined together in a single unit called Combo |
| | This display is 100% original, exactly the same as comes packed in a brand new phone. |
| | The new Blackberry Key 2 display offers the same colors, quality and brightness. |
| | We make sure to test the product for 100% flawless working before dispatch. |
| | We back our products with a 30 days replacement and return guarantee. |
| | Free Delivery and pickup services are available all over India. |
| | The spare part is readily available in stock. |
| | We also offer Cash on Delivery services all over India. |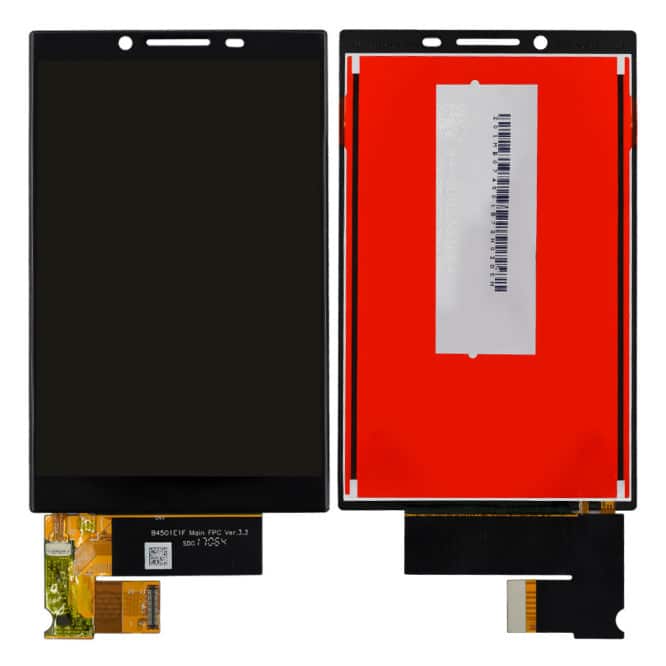 Frequently Asked Questions
Q: What is the price of the Blackberry Key 2 display screen in India? 
A: The 100% original display of Blackberry Key 2 costs Rs 5200-5700 in India. It is the same display as it comes with a brand new phone.
Q: I bought the Blackberry Key 2 phone overseas. Can I still use this display?
A: Yes, you can still use the same display shown on this page as It works perfectly in all Indian and foreign variants. We have sold this display to lots of customers who returned to India after staying in foreign for years. The feedback from those customers has been very positive, and that's why we are so confident.
Q: Can I repair the phone myself at home? 
A: Blackberry phones are usually not easy to repair, and if you have not done a similar job before, you won't be able to do it. If you compare the Blackberry phones with other companies, the design structure of Blackberry Key is quite perplexed, and you should visit an expert technician to repair the screen.
The display replacement of Blackberry Key 2 is not difficult for a mechanic because he is doing such kind of stuff every day. It is also very easy to watch a Youtube video before you start repairing the phone. It gives you a general idea of how things will pan out.
Q: Where is the official service center of Blackberry in India? 
A: We are not sure about how many customers are having Blackberry phones, but we know for sure that Blackberry phones are uncommon. That's why you might not be able to find the service centers easily in your locality. There are a few service centers in India, but sending the phone to and fro may not be suitable for a vast majority of customers.  That's why customers prefer to order the spare part online and easily install them in local repair shops.
Shipping, Return and Refund Policy
We test each combo for 100% perfect working before shipping it to the customer. We always ensure that every piece is 100% original, tested, and working without any flaws. Still, our products come with 30 days return, refund, and replacement guarantee. To return a product, It should be in the same condition as we sent. You can't use or fix the items If you want to return. For complete details about Shipping and Returns, please click here.