You have arrived at the right destination if you want to buy the Huawei P20 Lite display with an outer frame. Huawei P20 Lite is a popular phone of its time, and still, customers enquire about its display and touchscreen glass. Huawei P20 Lite display is a complete combo of LCD and the touch screen glass. It means that both parts are combined, and you can't replace them individually.
Huawei P20 Lite display problems are nothing new and always happen at some point. If you don't keep the phone carefully, It is more prone to breakage and accidental damage. If you drop the phone on a hard surface, you are lucky If it is not damaged. A mobile phone touch screen glass can't withstand drops as glass is always fragile. Even the latest phones break quite easily despite having the higher version of Gorilla glass protection.
Once the phone drops accidentally, only touch screen glass will get scratched in most cases. However, the display also attaches to the glass, so a complete P20 Lite combo replacement is required to overcome the problem. If you try to separate them, you can also damage the display, and once that happens, you need to replace the complete combo of P20 Lite.
What is a Huawei P20 Lite Display Combo With Outer Frame?
A Huawei P20 Lite display combo with the outer frame consists of a display, touchscreen glass, and the outer frame. A display that comes pre-assembled in the frame is easy to install, and you need to shift the motherboard and other spare parts into the new display assembly. In all cases of accidental damage, you need to replace the complete display unit that consists of IPS LCD and touchscreen glass.
If you are wondering about the outer frame, the front side middle frame holds the display firmly in place. It is impossible to paste a display without the frame; in many cases, the front side frame also loses its shape due to accidental damage. If the front side portion of your phone is curved, bent, or broken, you need the display with the outer frame to overcome the problem.  Please refer to the product images to see what you get with the display assembly.
Huawei P20 Lite Display With Frame Specifications
| | |
| --- | --- |
| | This display is 100% original, brand new, and suitable for Huawei P20 Lite ANE-AL00. |
| | The display size is 5.84″ inches with a resolution of 1080 x2280 Pixels(~ 432 PPI) |
| | It is a perfect replacement for a broken display or touchscreen glass. |
| | Honor P20 Lite folder offers 100% same brightness, colors, and brightness. |
| | You get a display and touchscreen combo with a frame and battery. |
| | We have fresh ready stock available with fast shipping. |
| | You can order the display replacement using Cash on Delivery or Online Payments. |
| | We carefully pack the products using Plastic boxes, bubble wrap, Thermacol, and cartoons. |
| | We offer 30 days replacement, refund, and return guarantee. |
| | All parcels are insured during transit; you don't need to worry about damage. |
| | We offer 30 days of easy returns, and you can always contact us. |
Frequently Asked Questions
Q: How much does it cost to replace a broken Huawei P20 Lite display with the middle frame in India?
The price of a 100% original Huawei P20 Lite display replacement with a middle frame is around Rs 3800-4000. If you buy a first copy screen replacement, the combo costs about Rs 1300-1500 in India. You may have to pay a mechanic additional repair charges on top of the display's price.
---
Q: What is the specific use of the outer frame in the display combo? 
The outer frame of the Huawei P20 Lite holds the display firmly in place. After accidental damage or prolonged use of the phone, you can have dents, scratches, and color defects on the frame as well. If you replace the display with the outer frame, It will make your phone look completely new. You can see actual product photos to grasp the full meaning of the frame.
---
Q: How can I replace only the touchscreen glass of the Huawei P20 Lite? 
This is the most frequently asked question by our customers. Generally, a customer is not ready to replace the display If It is still fine. Although It is certainly possible to replace the touchscreen glass alone, it is not recommended. Huawei P20 Lite touchscreen glass is separately available in the local markets because the job of a local technician focuses on low-quality replacements, which makes them money. What happens to the customer's phone is not their responsibility.
Often, you will hear people around us complaining that they went for low-quality repairs and facing lots of issues now. It is because low-quality replacements indeed come with a headache. If you want to keep your phone in good shape, always give precedence to quality, not price. If you have no issues with poor quality, you can only go for glass replacement.
---
Q: What is the difference between a first copy and an original display? 
Please note that the price difference translates into the quality difference. So If you buy a duplicate first copy display, don't expect the same original quality. The display we sell offers the same colors, quality, and brightness, and your experience using the phone will not descend. On the other hand, a copy display will offer a 40% quality of the original. The difference between an original and a first-copy display is brightness and color reproduction quality. Remember that nothing can beat an original display in brightness, colors, and durability.
---
Q: What comes with the Huawei P20 Lite combo with the outer frame? 
The part shown on this page has a display, touch screen, outer frame, and an original brand new battery. In more precise words, you get the front half of your phone completely new. To replace a broken display, you must relocate your phone's motherboard and other components into the new frame. That's all. The Huawei P20 Lite combo with frame makes it relatively easy to self-replace the display at home. It is because there is no need for pasting the new display. You don't even need to depart the broken display from the frame as you also get a new frame along with the display.
---
Q: I don't need a display with an outer frame. What can I do? 
The Huawei P20 Lite folder without the frame is also available with us. Please refer to this page for more information regarding the Huawei P20 Lite combo without a frame. However, the Huawei P20 Lite combo with the outer frame is always better in quality. If you don't mind spending around 1k extra, you should always purchase the display replacement with the outer frame.
---
Q: What are the different model numbers of the Huawei P20 Lite?
The Huawei P20 Lite is one of the most popular phones of its time. This device was launched in many countries and had many different model numbers. You likely bought the device in Dubai (or any other country) and now need its display replacement in India. Our display on this page supports all variants of Huawei P20 Lite regardless of where you bought the phone. The supported model numbers are :
NE-TL00
ANE-LX1
ANE-LX2
ANE-LX3
ANE-LX2J
ANE-AL00
ANE-L23
ANE-L22
ANE-L21
HWV32
ANE-TL00
ANY-LX2
If you have got a phone that matches to one of the above model numbers, you can use the display offered on this page. If you need any assistance with the model number, please feel free to call us at 9587954273 and one of our support team members will assist you further.
---
Q: What makes you sure you have a 100% original display of Huawei P20 Lite?
The display we provide comes from the OEM manufacturer. It means the folder assembled in a new phone and what we supply come from the same manufacturer. That is why we are so sure about the original quality of our display. Before we ship the product to the customer, we check it in our testing unit and then send it. Our motive is 100% original screen replacements without any hassle of returns.
---
Q: Do I get a warranty on the broken display of the Huawei P20 Lite?
A broken display is always out of warranty because It is the customer's fault. If you assemble a new display and damage it later, you can't claim it under warranty. You can ask the official service center to repair your phone, but you have to pay a hefty price per their price list.
Huawei P20 Lite Display Display With Middle Frame Photos
If you want to see the Huawei P20 Lite Display with the middle frame's actual photos, please check the images below. You can easily replace a broken touchscreen glass or internal display with this part and restore the original condition of your phone in less than 30 minutes.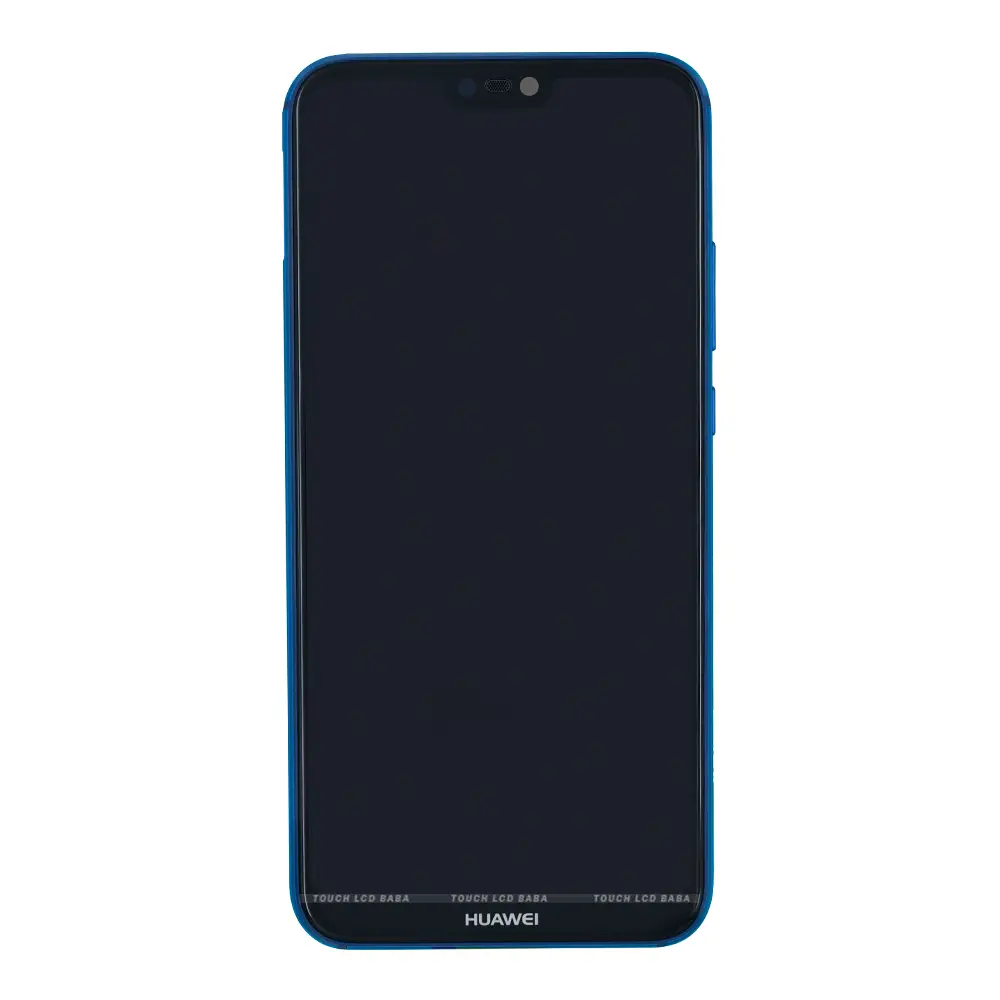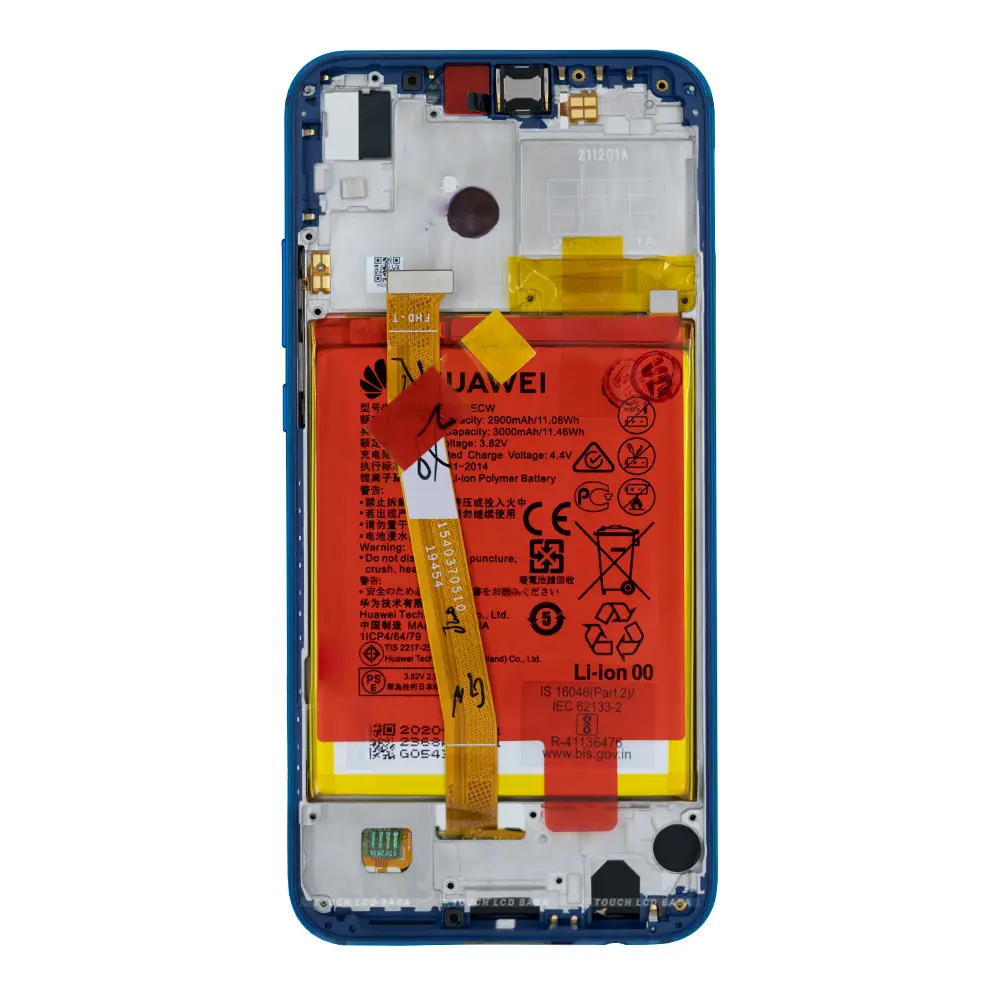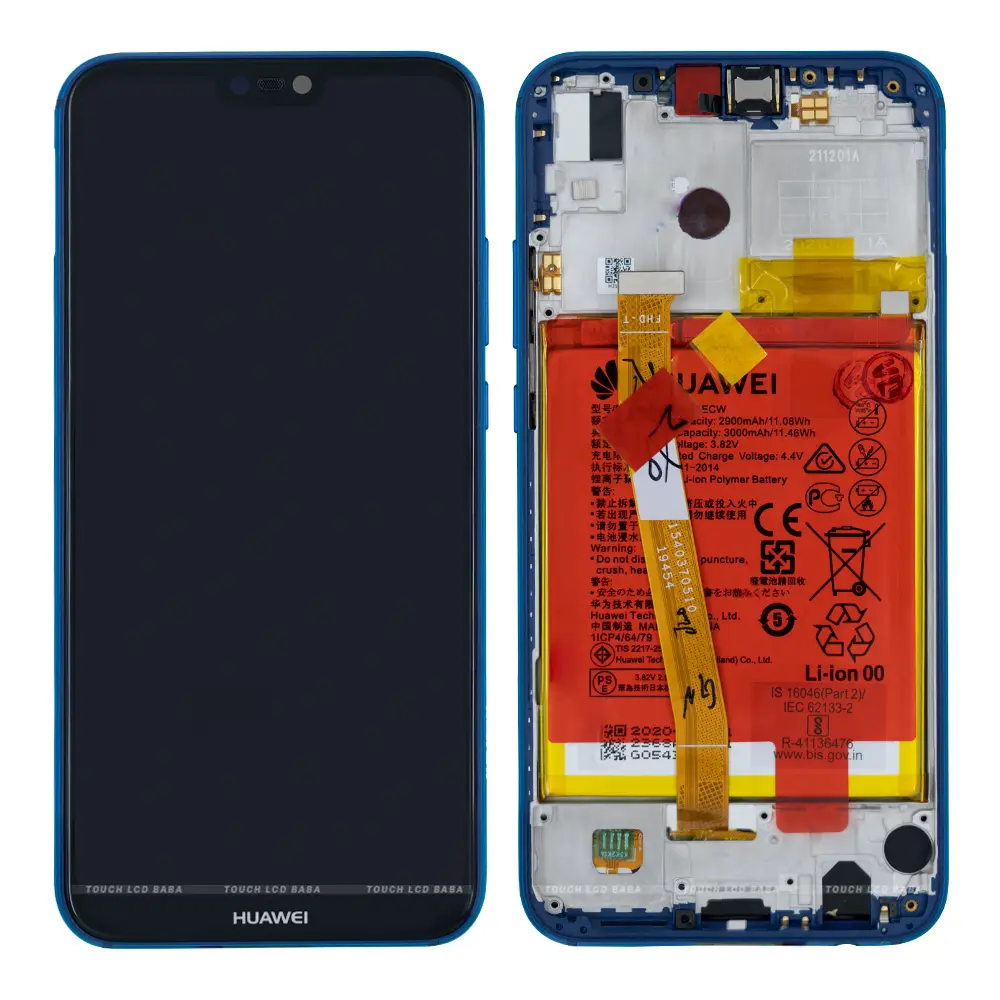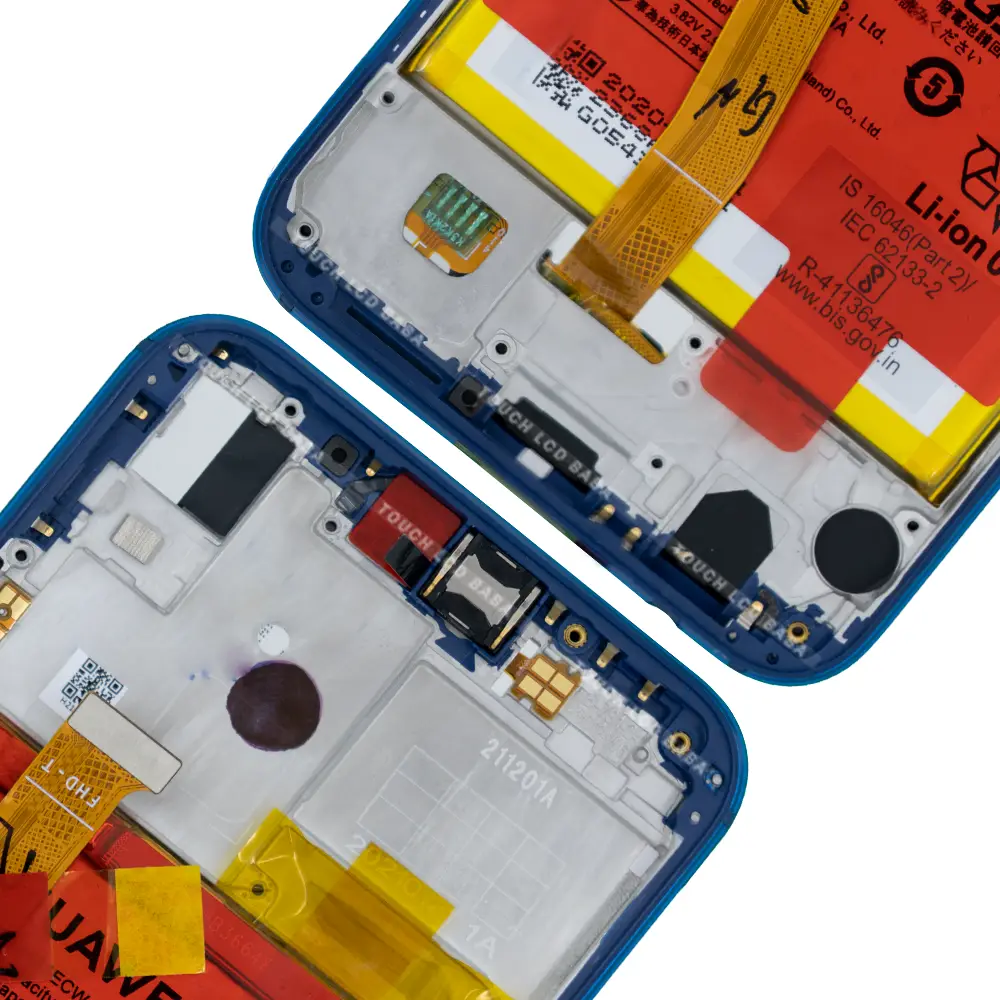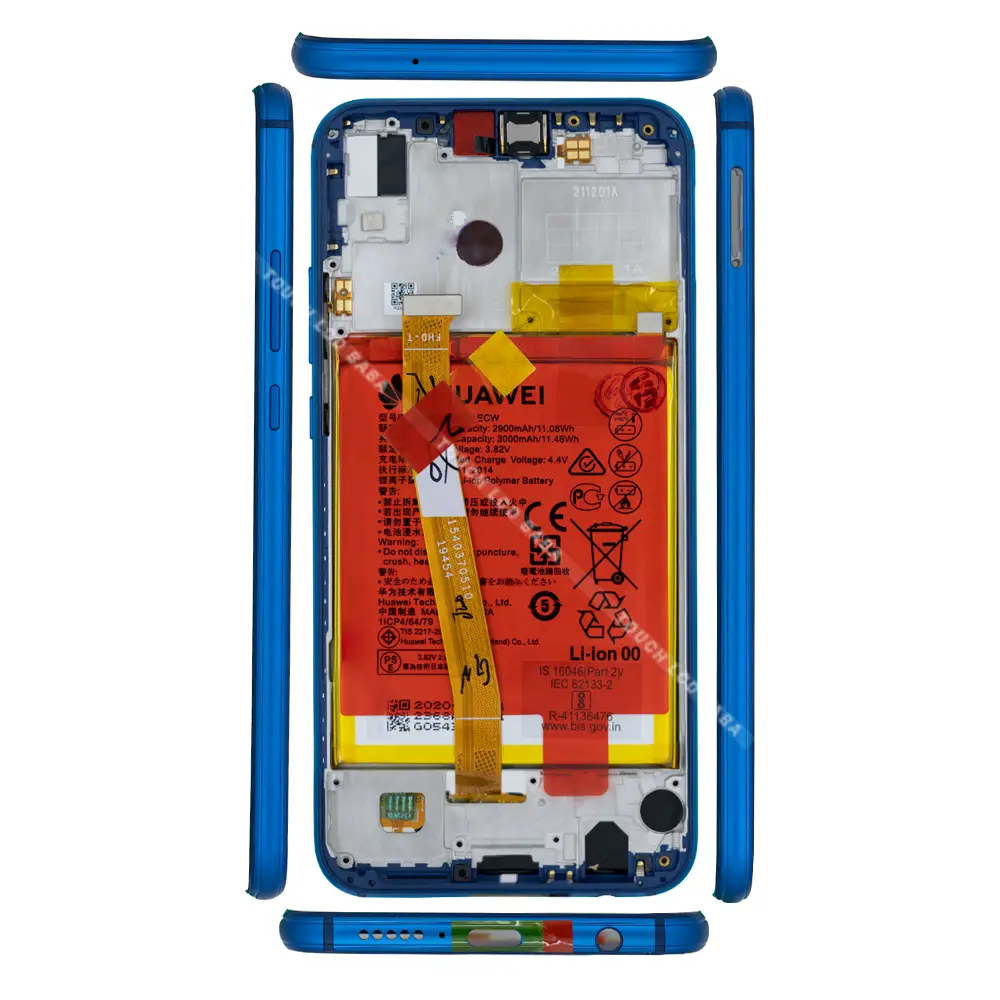 Shipping, Return and Refund Policy
All our products come with 30 days return, refund, and replacement guarantee. To return a product, It should be in the same condition we sent. You can't use or fix the new Huawei P20 Lite Display With Frame if you want to return it. For complete details about Shipping, Returns, and Warranty, please click here.