When we accidentally break the display of the Huawei Nova 5T, it is a very depressing moment. Mobile phones are our best companions, and we spend a lot of time with our phones every day. Be it connecting with friends or making digital payments; mobile phones are so convenient that life is now impossible without phones.
The Huawei Nova 5T is a stunning phone which offers lots of unique features and a beloved phone for many customers. The mobile phone screens are quite fragile because they are made of glass. Any glass is prone to breakage, and although we all use tempered glasses to protect the screen, and these do work to some extent, it is not possible to avoid display damage on harsh drops. If you drop the phone and the frontal side directly hits the hard surface, you'll see some damage to the display or touch screen glass.
The Huawei Nova 5T phone is not going to release in India.
Several customers in India use this phone, but they have bought or sourced it from overseas. Lots of people travel to foreign countries and buy a mobile phone there and bring it to India. Later the display of Huawei Nova 5T breaks, and it gets very tough to find the display locally because foreign country models are rarely available in India.
At Touch LCD Baba, we serve a huge customer base and always receive inquires for peculiar models. We make a note of them and try to source as many models as possible. Therefore, the Huawei Nova 5T display replacement is readily available with us, and you don't need to worry a bit. This display is 100% original, and we've verified it for working with the said model.
These are the model numbers of the Huawei Nova 5T Phone.
The phone name can be confusing sometimes because companies often launch more new phones with similar names. After using the phone for more than a year, we often forget the exact model name or get confused. We receive a handful of orders when customers order wrong models in confusion, and to avoid that, it is always a great idea to double-check the model numbers. The Huawei Nova 5T model numbers are :
YAL-L21
YAL-L61
YAL-L71
YAL-L61D
Please browse to Settings-->About Phone section, and you can see the device name and device model number there. If you are confused, feel free to consult with our support team to straighten this out. Please send us a message on WhatsApp at 9587954273, including your device's photos and model number. We'll check it and suggest the right display for your phone.
What are your options to replace the broken Huawei Nova 5T Display?
As soon as we break the display, we immediately start looking for display replacement options to bring the display back to its original condition. In this case, locally finding a display replacement will be very tough because such models are not easily available. 
If you visit the Huawei Official Service center, they might not support the models that are not launched in India. The Huawei India service center only deals with India's models, and finding overseas models in India can be different.
The last and easily approachable method is buying a display online from a trusted vendor like us and then assemble the display in the local market. This option is suitable for everyone and works perfectly without any issues. You can repair the phone by staying in your home town and we accept orders from all over India.
Honor Nova 5T Display Specifications
| | |
| --- | --- |
| | This display is 100% original, brand new and suitable for Huawei Nova 5T. |
| | The  Huawei Nova 5T Display Size is 6.26″, display type is IPS LCD and display resolution is 1080 x 2340 pixels. |
| | This display support all variants of Huawei Nova 5T. |
| | We buy our stock from OEM manufacturers to ensure 100% original quality. |
| | This combo is exactly the same as it comes assembled with a brand new phone. |
| | We always test each display for 100% perfect working before dispatch. |
| | We back our products with a 30 days returns, refund and replacement guarantee. |
| | All shipments are insured for damage during transit. |
| | The display is readily available in stock and shipping time is very fast. |
| | We accept orders using Cash on Delivery and Online Payments (additional 10% discount). |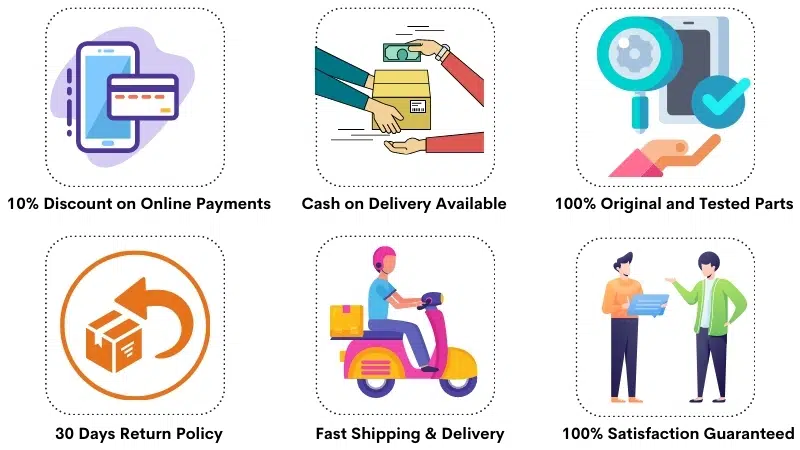 Frequently Asked Questions
Q: How much does it cost to replace a broken Huawei Nova 5T display in India?
The price of a 100% original Huawei Nova 5T display replacement is around Rs 4800-5000. If you buy a first copy screen replacement, then the combo costs about Rs 1800-2000 in India. The price difference between the original and first copy display directly relates to the quality difference.
Q: Why shouldn't you opt for cheap short-term solutions?
Customers often try to save as much money as possible and forget that quality is also essential. The local market technicians often try to offer low-quality solutions like glass replacement or duplicate screens, but such solutions are short-lived and don't last long. If you have a fantastic phone, but the screen quality is awful, what is the point of having such a phone?
Most of these cheap alternatives are simply some direct duplicates of the original display products. Therefore, they do not produce the same actual colors, brightness, and sharpness. The duplicate display products can not compete with the original ones because of huge quality differences. If you test an original and a copy display side by side, the duplicate display offers only 40% of the original, and we never suggest such screens for our customers. We recommend that you purchase a display replacement once but always invest in authentic products.
Q: Why do the service centers never do or suggest only glass replacement?
The service centers are a trusted place for original screen replacements, and they won't suggest low-quality solutions. The company always works on a very high standard of original products, and workaround solutions are completely neglected. Many customers assume that it is not recommended by any service centers just because only glass replacements cost less. Thus, the glass replacement does not provide a significant profit margin; however, that is entirely a myth.
Many customers who have broken only the touch screen glass want to replace the top layer of only glass. The touch screen glass has some complex mechanisms integrated into it, and replacing it alone is possible, but not easy. The display and the touch screen glass are stuck by strong glue, which makes it hard to separate them, and this is why they are instead considered one unit rather than two different components.
The procedure is quite tricky and not even worth taking these efforts because, after the replacement, the display quality never stays up to the mark. People who often go for such procedures face these issues afterward glass replacement :
The tint of brightness completely changes.
You'll see lots of dust particles inside the display.
White Spots, Yellow Spots, and other flaws are easily visible in the display.
All the scars which appear during glass replacement stay permanent.
The glass replacement is a hack, especially for users who can't afford to spend money on the real quality stuff. We don't suggest glass replacement because of quality issues as an original display is far more important than all the other aspects.
Q: What is the meaning of a complete Huawei Nova 5T display combo?
A combo is a combination of the display and touch screen glass, interlinked into a single unit. A display combo is a readymade spare part widely used to replace the broken display or touch screen glass. You'll find several qualities of the combo, and the local market sells only the duplicate stuff.
At Touch LCD Baba, we sell 100% original screens to our customers, and while the prices are high, the experience after replacing a broken display is top-notch. Even after the replacement, your phone stays in 100% original shape without compromise in any aspect of the display.
Q: How can I test the new display before installation?

 
You can easily test a new Huawei Nova 5T display before installation by connecting the new display to your phone's motherboard in an open condition. To test the new display, you don't even need to remove your old broken display. Open the back panel, disconnect the old display's connection, and connect the new display there. Then turn on the phone, and while the display is in open condition, you can still use it and test it to your satisfaction. Open condition testing is widely recognized as a 100% perfect way of verifying the screens before fitting.
Q: What if the new display is not compatible with my device?
We test each screen one by one and verify its compatibility with Huawei Nova 5T phone. When you receive the product, you also get a chance to verify the display before installation. If you face any problems while testing the display on your phone, we take full responsibility for that.
All the products supplied by us come with an interim 30 days testing period. You can always report any issues to us while testing the display, and we'll gladly replace the product or refund the amount as per your desire. Please note that only unused products are eligible for a return, refund, or replacement. You can't claim anything after using/fixing the display on your phone.
Shipping, Return and Refund Policy
All the products supplied by us come with 30 days return, refund, and replacement guarantee. To return a product, It should be in the same condition as we sent. You can't use or fix the items If you want to return them. For complete details about Shipping, Returns and Warranty, please click here.