Honor 8 Lite was a very popular phone of its time and still love by many people. If your needs are very basic, this phone is still not outdated, and you can make good use of it. In this long journey, you likely dropped the phone and broke its display, but luckily you can easily replace Honor 8 Lite display with a new one and restore the full functionality of your phone.
What is the meaning of Honor 8 Lite Display Combo?
In general language, the meaning of the combo is a complete set of display and touch screen glass. When you put down the phone, you'll end up breaking either the touch screen glass or the display. In both cases, you need to replace the complete combo as both parts are firmly attached.
The product you see on this page is a complete combo of Honor 8 Lite consisting of the inner display and the top layer of the touch screen glass. So essentially, you are buying a complete display unit having everything you need.
How can I replace only the touch screen glass?
Our customers call us and ask If they can replace only touch screen glass. From our point of view, if you try to replace only the touch screen glass or buy first copy screens, you will not get the same quality as before.
The only glass replacement is a very popular job in the local market because it costs less. Customers have a natural tendency towards low prices, and before jumping into the mud, customers don't even think twice. If you purchase only the touch screen glass, it will not provide the same experience as before. The duplicate parts are so cheap in quality that you'll start hating your phone after replacement.
Why can't I find the Honor 8 Lite Display in the Local Markets?
Honor 8 Lite is not the latest model now, and such models often go out of stock from the local markets. Because of less demand from retail customers, the shopkeepers stop buying old models very quickly and move to new models.
If someone still has the Honor 8 Lite phone and needs a screen replacement, he might face trouble finding the screen in the market. We also don't have this item in stock all the time because It is hard to source products as they move into the category of old models. Still, many people ask for this model because the phone itself was a masterpiece.
Honor 8 Lite Display Replacement Video
We have made this video for demonstration purposes on how the display replacement works for Honor 8 Lite. Please note that It is not that easy to repair as It looks in the video. Therefore it is our sincere advice that you always visit a technician.
If you are not doing this for the first time and have some prior experience, you can go for self-replacement. It is effortless for us to do as we do this almost every day! Watch the video, and If you need the Honor 8 Lite display, you can order it right here.
Honor 8 Lite Combo Specifications
| | |
| --- | --- |
| | The display is 100% original, brand new, and suitable for Honor 8 Lite (Model Number: PRA-AL00X). |
| | The Honor 8 Lite display size is 5.2″, the display type is IPS LCD, and display resolution is 1080 x 1920 Pixels. |
| | It is a complete set of display and touch screen glass combined in a single unit. |
| | You can use this combo to replace a broken display or touch screen glass. |
| | The main touch screen is protected by 2.5D curved strengthened glass. |
| | The new display offers 100% the same brightness, colors, and sharpness as your stock display. |
| | We test each display on Honor 8 Lite motherboard before dispatch. |
| | The combo comes with full replacement, return, and refund warranty for manufacturing defects. |
| | You can get an additional 10% discount on online payments. |
| | The stock is readily available, and the shipping time is very fast. |
| | You can order the product using Cash on Delivery or Online Payments. |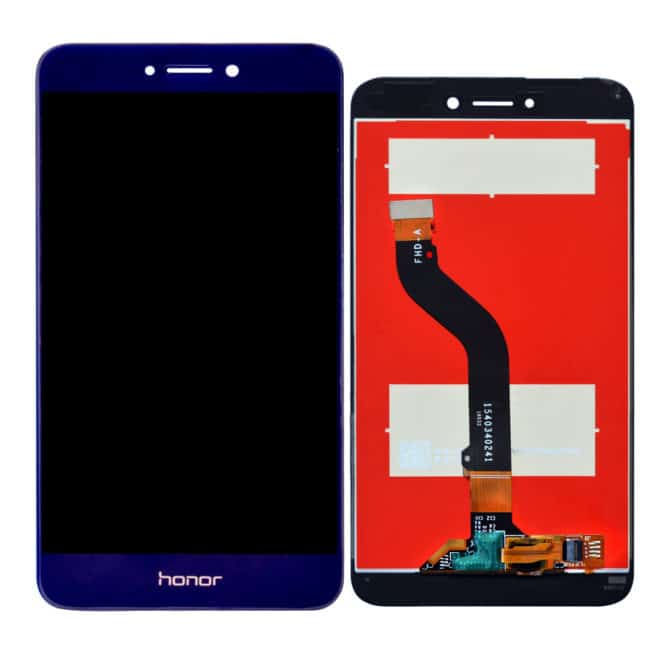 Frequently Asked Questions
Q: How much does it cost to replace a broken Honor 8 Lite display in India?
The price of a 100% original Honor 8 Lite display replacement is around Rs 2200-2400. If you buy a first copy screen replacement, the combo costs about Rs 1300-1500 in India. You may have to pay additional repairing charges on top of the display's price to a mechanic.
Q: Can I replace the broken Honor 8 Lite display at home? 
We don't think that It is possible to replace the Honor 8 Lite display at home. The main challenge is removing the back glass safely because It is tough to remove without skills. If you see repairing videos, you might feel that it is very easy to remove, but It is not. If you don't remove the back glass safely, it will break and increase repair costs.
Q: Do you also provide combo installation services?
We don't provide combo installation services as our job is limited to delivering the parts to your doorstep. After receiving the display, you'll need to visit a technician to fix the display on your phone. The mechanic will also charge like Rs 150-250 towards installation charges.
Q: Does the display works in the foreign variants of Honor 8 Lite? 
Yes. The display works in all variants of Honor 8 Lite. So It doesn't matter If you bought the Honor 8 Lite phone from a foreign country. The display provided on this page will still work correctly. If you've any questions or confusion about the model number, please feel free to contact us at 9587954273.
Q: Why is your price high than other websites? 
As we don't sell local first copy screens, our prices are high. The cost of acquiring original parts is very high, and you can't expect such products at low prices. So If you buy from a website which is selling Chinese copies, you'll find them at low prices.
Such copies might be available in the local market for even more low prices, so why buy online. If you need a first copy duplicate screen, buy it from the local market and forget about the quality.
Q: Do you offer discounts on the listed price?
Yes. We offer a flat 10% discount on Online Payments, and you need to pay the amount after applying the discount. So It is an instant discount and not the cashback type of funnel. The online payment discount gets automatically applied for every customer who pays to us via Credit Cards, Debit Cards, and other similar instruments.
Q: Can I use the same display in Honor 8 and Honor 8 Lite?
No. You can't use the same display in Honor 8 and Honor 8 Lite. Both phones have different screen sizes and resolutions. Don't even try to interchange screens because if you connect a wrong display to the motherboard and turn on the device, the motherboard will fry in less than 30 seconds, accompanied by a weird smell.
India is full of self-endorsed engineers, and some of them have tried such things and then lost the phone completely. We have included this question in the FAQ section because some customers have asked for this specifically.
Q: What forethought should you exercise before going to a local mechanic for fitting the display?
If you purchase the Honor 8 Lite display online, you'll go to a local technician to fix the screen on your phone. The first and foremost precaution for you is, please never leave the display and your phone with the mechanic and come back home. Many people make this mistake considering that mechanic is their known person, or he is a long-term friend, etc.
If he is your friend, that's a great thing, but there is no harm in getting everything done in front of your own eyes. Many mechanics (yes, we know this industry very practically) will intentionally harm your phone or the new display because you didn't buy from them.
They even take out parts from the phone and fix duplicate ones in place of that, and when you are in good faith, you start blaming others. So never do that, and your security is in your hands, don't allow anyone to betray you in overconfidence.
Q: Do you have any retail outlets where I and come and collect the display? 
No. We don't have retail outlets anywhere. Our concept is to sell spare parts from one centralized location and have much better control over everything. People indeed prefer to buy from their nearest stores, but it is not possible for us.
When we supply everything from a centralized location, we can control the inventory and tests much better than outsourcing them. It is right that people get their screens after 1-2 days delay (because we send them parcel) but in our perspective because we are so happy and confident in our work. We are sure that it will be a completely hassle-free experience for our customers, and It matters the most to us.
Shipping, Return and Refund Policy
All the products supplied by us come with 30 days return, refund, and replacement guarantee. To return a product, It should be in the same condition as we sent. You can't use or fix the new display if you want to return it. For complete details about Shipping, Returns and Warranty, please click here.